Entries by tag:
Wednesday
Lady Gaga concert! I went with a co-worker who's never been to a big spectacle concert before and has always wanted to see Gaga. This is my 3rd time seeing her in concert (and most likely my last cause ticket prices are ridic). I have to say she's looking much healthier. There were 2 older - at least 60-something - ladies seated beside us and they were dancing and enjoying themselves, loved it! Stage not as elaborate as the previous tours but still lots of costume changes. Have some pictures: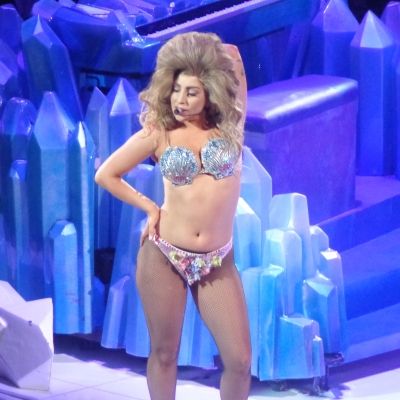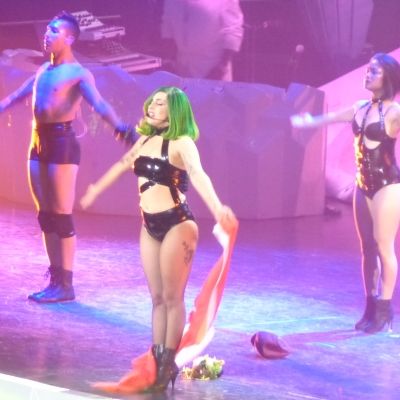 Also took a bunch of video
(
more gaga videos under the cut
Collapse
)
Friday & Saturday
Flew to Chicago for Chris Colfer's book signings of his 3rd book in
The Land of Stories
series. I met up with fellow Gleeks/Klainers for dinner on Friday night and then the signing -- Lori, I totally shook his hand, soft but cold! -- went out for drinks afterwards. I ended up driving to Heather's (the girl with whom I stayed with) and on the way back, I went right over a pothole which blew out the tire! I didn't even see the pothole, it literally happened just as I was changing lanes and checking over my shoulder. Heather had AAA but it took almost a hour. We killed time reading *really* bad fanfic and glaring at police/security as they drove by THREE times without stopping!
I did the 2nd signing on my own as Heather went to Dashcon (which turned out to be a clusterfuck, boooo). Actually talked to him a bit this time, told him I flew in from Toronto (he said he's trying to get up to Canada but I'll believe it when I see) and both him & Alla (his PR) asked if I was at the signing the day before. Most fans freak out when they're recognized; I felt creepy lol. Anyway, here are my extremely crappy pics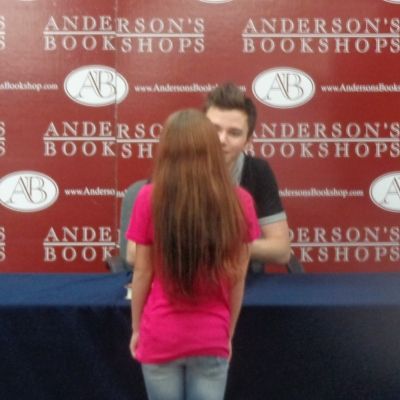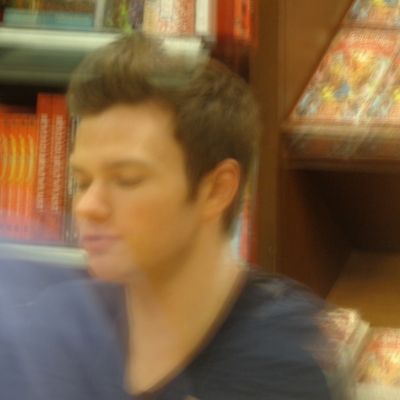 Went directly to the airport from the signing. Knew I was early but was informed upon check-in that my flight was delayed. For 3 hours. I ended up spending almost 6 hours in O'Hare. Lovely.
Sunday
Queen+Adam Lambert concert with a couple fellow Klainers, Ali & Sam. Had a light dinner and then walked down to the ACC. I must confess, it wasn't my favourite concert. I only recognized about half of the Queen songs. Adam sounded AMAZING but I expected a lot more, I dunno, energy(?) from him. And, I'm sorry, but 5 minute long guitar solos are just not my thing. I can appreciate the talent but after a couple of minutes, it just starts to sound like noise to me. I really liked how they incorporated video of Freddie throughout the show. Ali & Sam really enjoyed themselves so I'm glad about that.
Here are a couple of pics and a bunch of videos: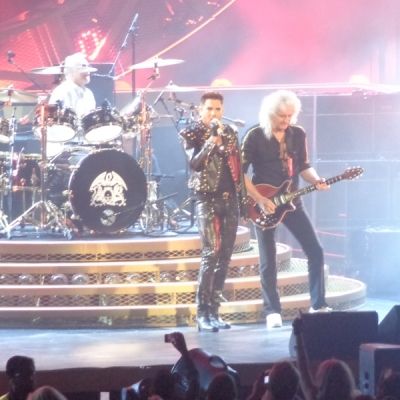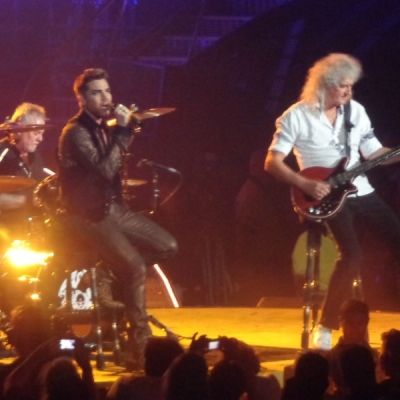 (
more queen videos under the cut
Collapse
)
3 days later and I'm still trying to catch up on sleep :) I have no plans for the next 2 weeks and I look forward to doing absolutely nothing.
Current Mood:

tired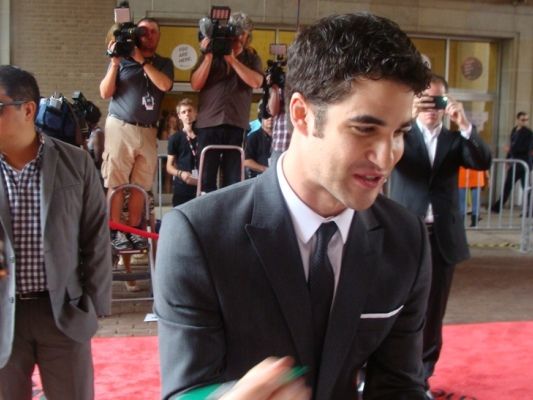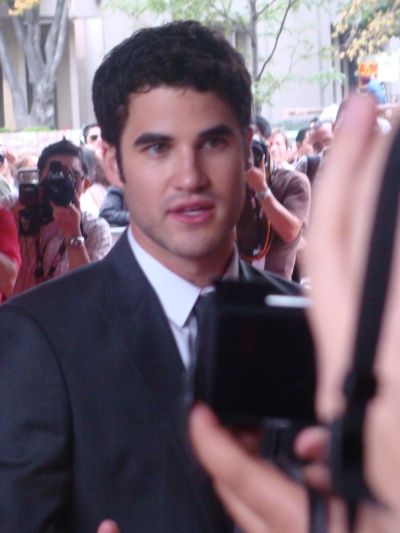 I saw
Imogene
and it was good. Darren had 2 make-out scenes, was shirtless twice, wore guyliner, spoke French, sang twice and dirty danced with Wiig. What? I noticed the important things ;P The movie is funny -- not
Bridemaids/Hangover
funny, more character-driven funny (I think that's how you describe it). Main complaint was the ending -- it felt abrupt and was your standard cliched everybody-got-what-they-wanted ending.
(2) Madonna concert. Damn woman didn't start until 10:30, which meant concert ended at 12:30. On a week night *head desk* She looked great. Did a pretty good mix of her old & new stuff. The first 4-5 songs was some sort of storyline with all this religious imagery (still doing that, Madge?) and Madonna killing some guy, having a fight in a hotel room & going to jail. It was weird and over-the-top. The rest of the concert was more standard fare and much more enjoyable. As I was pretty far away, I just took some video. Here's "Like a Prayer" and "Celebration", the 2 closing numbers.
(3) Who's watching
The New Normal
? How cute is that show!? Of course, it doesn't hurt that Ryan Murphy has described it as future!Klaine deciding to have a baby :) Apparently though, a lot of it is based on Murphy's own life. I have a soft spot for Justin Bartha since
National Treasure
. I know of Andrew Rannells as he's the Book of Mormon guy. I hope they have him sing on the show. Oh! Reading up on Rannells, he was here as part of the
Jersey Boys
cast but I missed him :( His last show was Dec 8, 2008 and I saw the show on Dec 28th.
(1) So I noticed that I never actually posted my TIFF Darren pictures (and Kristen Wiig's) on my LJ LOL Brain fart, wow
Current Mood:

lazy
(
nick carter
Collapse
)
THIS WEEKEND: FanExpo. I'm so tired. I think I'm going to miss today cause I need a day of rest LOL If I can barely handle FanExpo, how would I survive ComicCon?
(
pictures
Collapse
)
IN-BETWEEN: I discovered this web series called
Husbands
. It's written by Brad "Cheeks" Bell (an ex of Adam Lambert, I believe?) and Jane Espenson of Buffy & Caprica fame. The second season just started & I clicked the link on a whim. The first season was 11 short episodes, a few minutes each. The second season will be 3 episodes of about 8 minutes.
The series is about a recently out baseball player, Brady, who gets drunk married in Vegas to flamboyant actor, Cheeks and what happens. It's actually amazing how much they could fit in such a short time frame. And lots of cameos!!
Here's the first episode



And the link for the rest: GoCheeksGo youtube channel
LAST WEEKEND: CNE (Canadian National Exhibition) with Rina & Shirley. We ate Korean tacos & Rina had her first beaver tail (next time, deep fried mars bars!). Watched the ice skating show with Virtue & Moir. I was finally introduced to the cuteness that is the SuperDogs. Can't believe I've been going to the CNE since I was child and never saw the SuperDogs. Ended the day with a Nick Carter concert.
Current Mood:

tired


Saw Keane last night and it was awesome. This was my 4th concert and they're fabulous every time. It's been a few years since the last one but they have a new album out and it looks like the lead singer is doing well (I believe he went into rehab for alcohol). Keane is one of those bands that I love but I know nothing about them, not even their names! I think the singer's name is Tom...?

Took video mainly. Here's everyone's favourite song (and yes, it gives me Klaine feels now ♥)


I was hoping to post last night but it's Wed morning and this will be short cause I'm running late.
Current Mood:

awake
Tickets to HT$: $284.50
NYC hotel: $180.56 (WTH are all these extra taxes?!) Stayed at
The Sanctuary Hotel
, complimentary breakfast + internet and excellent location (half a block away from Times Square!)
Program: $20
Purses purchased (cause I know y'all are wondering): $0! BUT an adorable MiuMiu bag in blue totally caught my eye omgiwantitsobad had a pricetag of $1,395 which is a very good deterrent.
Being there for Darren's last 2 shows:
(
priceless
Collapse
)
Flight to NYC: $331.58
Current Mood:

content
* trying to get pictures when there's 13 people on stage is
hard
* but apparently all my camera wanted to do was to take pictures of Darren (and Chris)
* my celeb-crush on Darren is pretty much out of control ♥
* my inappropriate small crush on Riker (aka the blonde Warbler) -- he's only 19! -- continues
* and I apparently have girl-crushes on Naya and Dianna
* Puck has some *really* loud fans. As do Finn.
* Cory must never learn to dance properly cause his dorky dancing is the best.thing.ever.
* Chris Colfer is probably the most precious thing in the world (who can shake his hips like whoa!)
(
New Directions and The Warblers!!
Collapse
)
Things I learned:
Current Mood:

gleeky
But I eventually arrived and with my 3rd row seat scored some pretty good pictures and not-so-good video. I love my camera but it can't zoom while it's recording which SUCKS. And I had
stupid
tall girl in front of me to my right so you'll see her head a lot in my videos.
From what I saw, the setlist was pretty much the same, they just switched up the order. The place wasn't sold out, most of the upper level was empty, but damn, it was loud! After the show, there was a crowd by the trailers -- where I just happened to park my car, coincidence, I swear ;) -- so I hung around for about 30 minutes. Did mention to catch a glimpse of Jordan, Danny and Jon(?) as they made their way to their buses. Only Danny came right up to the fans though. I didn't hang around much longer cause I had to drive back. I drank one of those energy drinks so I won't fall asleep on the drive. Worked like a charm but damn, I couldn't fall asleep once I got home LOL Oh well, I had Supernatural LA con reports to read and pictures & videos to upload.
They've just annouced a summer tour but the only Canadian stop is Montreal. BOO. There's a Buffalo which is a possibility. And shows in Cincinnati & Memphis (is this close to you, Jersey?). Just throwing that out there, ya know, in case certain people wouldn't mind a visit from a crazy fan. ;) Hopefully, a TO show will be announced later. Full show list
here
.
One more thing -- THESE BOYS MAKE ME HAPPY =)
(
lots of pictures & videos
Collapse
)
Yesterday, I went to the NKOTB show in London, ON which is 2 hour drive from Toronto. I got there late so missed a good 15-20 minutes because I clearly FAIL at time estimation. To make matters worse, it started to pour rain about 30 minutes outside of London so there I am, in a strange city trying to read street signs at night while it's raining. FAIL AGAIN.
Current Mood:

stressed
hard
. Stupid work.
I think my endocrinologist is tired of seeing me -- she recommended that I have surgery to remove my thyroid. Bottom line: I have an inflammed thyroid which will eventually stop working. Chance of cancer is approx 3% so if it's removed, obviously the possibility drops to zero. Take it out and take pills for the rest of life. But it doesn't bother me so I figure why go through all that surgery crap? I figure I'll just leave it until it dies out on its own. Good plan? Good plan.
Last week,
bauersgirl
and I trekked to Hamilton to see the CI6 Top 3 perform. Because we were able to get tickets within the first 5 rows, we got to do a Meet & Greet with the guys after the show.
Someone
wanted to see pictures so here a couple plus videos of my favourite performances from each of the guys (although now I'm so regretting that I didn't tape Drew's "Where the Streets has no Names" cause the sound on my camera turned out pretty well)
(
the last of CI as the show is taking a break for 2009
Collapse
)
Convincing myself to go to work this morning was
Current Mood:

lethargic
Saturday night, I froze my ass off, along with equally crazy friends, to see the Top3 perform at the Cavalcade of Lights, a free outdoor show at City Hall. Took some pictures, took some video. If you're interested, click the cut!
Current Mood:

crappy
phetch
and I went to see Matt Nathanson at the El Mo. I really liked Matty Nay's (I can't stop calling him that now) music but after seeing him live, I now kinda love it =)
(
pictures and videos this way...
Collapse
)
Last weekend, the wonderful and understanding and quite hardy -- her bad Florida self laughs at the Toronto cold! --
Current Mood:

okay