Entries by tag:
*wipes dust off* *sneeze sneeze*
Fandom
. Klaine/
Glee
is still my primary fandom. The next season - which will be a short one - will be its last. I don't have another fandom to go to! I'm on the fringes of a few --
Teen Wolf, Arrow, The Flash
(omg I am so EXCITED about this show), Marvel universe,
Sherlock, Doctor Who,
I miss Eleven already but really looking forward to Twelve -- but nothing is sticking *sigh* I'm still reading tons of
Merlin
fanfic though. Man, I miss that show. Right now, my tumblr dash is full of
Orange is the New Black
because S2 was just released. I just watched the pilot this morning and I will definitely be continuing on.
Real Life
. Working the same job at the same place. Blergh. I did get moved into an office though. We hired someone back in February and there really is a lack of space. I ended up moving into an empty office but it's temporary as that office has been designated for a to-be-hired project manager. However, it looks like the hiring process has hit a snag so yay for me! Looked into the possibility of purchasing a condo for investment purposes. And then I saw the prices and holy crap. Obviously, I want certain locations where rental prospects are high which, of course, means higher prices and basically, I can afford like a bachelor. I was so lucky that I purchased my own place when I did cause the market started to swing up the next year and it hasn't really stopped.
Family is doing fine. My brother & SIL are expecting baby #2 (it's a boy!) real soon. I think she's due end of June. We actually have tickets for
The Lion King
on Father's Day so she better not go into labour at the show! And little Juju is growing up fast and remains fucking adorable.
(
here are pictures of juju
Collapse
)
Travel
. Original plan for this year was to join a tour covering Finland, Norway, Sweden & Russia. A co-worker of mine took the tour last year and really enjoyed it. Unfortunately, the timing wasn't good so that's been pushed to (hopefully) next year. Instead, my 'big' trip is a bus tour to the eastern provinces. I've only been once, way back in my early teens, and I've always wanted to go back. In addition, Rina, Anj & I are planning on LA for a few days in October so yay for that!
Last month, Anj & I went to NYC. We saw
The Cripple of Inishmaan
starring Daniel Radcliffe and
Hedwig and the Angry Itch
with Neil Patrick Harris. Both shows were excellent. Our seats for
Cripple
were so close to the stage! There was no orchestra pit in this theatre so first row was literally right up to the stage. We were in 2nd row. I thought Daniel was great. The character he plays has cerebral palsy and the control he had over his body, I thought, was amazing. The play itself was pretty good, a little difficult to understand with the Irish accents & slang. A couple of twists & turns at the end which I did not see coming. NPH as Hedwig was fantastic. How he performs the majority of the show in those heels, I will never know. But Lena Hall, the co-lead, blew me away. Holy crap, the pipes on her! We never did the stage door for Daniel cause it was just too crowded. Ended up doing the Hedwig stage door the day after so I was able to get NPH & Lena's autograph. In addition to theatre, we also did the hop-on hop-off bus plus river cruise. It's been a long time since I did the whole tourist-y NYC thing so that was fun.
(
nyc pictures
Collapse
)
In April, over the Easter weekend, I visited my tumblr friend, Heather, in Chicago. Visited Cloud Gate (or the Bean). That area of downtown was pretty dead on a Saturday yet so many people around Cloud Gate. It was like a people magnet. Went to see Buckingham Fountain but unfortunately, the water wasn't turned on yet :( We took a river cruise. Walked around Magnificent Mile (I saw a really
pretty Tory Birch bag
but I didn't buy it, go me!
omg it's on sale right now, I want it!!!!
). Drove by Wrigley Field and ate some deep dish pizza. How do people eat this?! The sheer amount of cheese blew my mind. We got a small for the 2 of us and I managed only 1 slice. During the river cruise, the guide would point out certain buildings that were featured in movies. I only cared about one in particular and I recognized it immediately -- can anyone guess?
(
chicago pictures
Collapse
)
What's been happening the past few months...
Current Mood:

lazy
faninohio
and her nephew. Would love to go back some day -- visit Muir Woods, the Sonoma/Napa region even though I don't like wine, the sea lions at the Wharf, Golden Gate Park, walk through Haight-Ashbury.
(
pictures under the cut
Collapse
)
... make sure to bring a jacket and a scarf cause while it may look bright & sunny, it is deceiving! The wind, OMG no one warned me about the wind *brrrrrrrr* As a result, we all came back from SF with colds lol Anyhoo, had a great time with
Current Mood:

tired
It has been at least 20 years since I've been that far north and I visited places where I've never been before so all in all, it was a nice 3-day trip.
(
pictures under the cut
Collapse
)
This past long weekend (Thanksgiving, for us), I took another one of those bus tours and headed north to Sault Ste Marie for viewing of the autumn colours. Unfortunately, due to the weather turning colder faster than normal and it being windy, by the time we got there, not only did we miss the peak viewing, most of the leaves had already fallen. And to top it off, we got snow.
Current Mood:

lazy
faninohio
for indulging me and driving me and coming with me to the Colfer signings *BIG HUG*
The Book Loft @ Columbus, OH. They started the line at the front of the store but we went to the back entrance to see if we could see Chris arrive. Which we did but (a) my camera decided to go on a weird fritz & wouldn't focus (b) I was probably shaking too badly to take a decent picture anyway and (c) Fan was looking at a cat so missed the whole thing haha. After Chris arrives, they actually moved the line from the front to the back of the store and as we're trying to find our place in line (everyone got numbers), a girl dressed like Snow White stopped me and said she recognized me. A couple of questions later and we figure out we were TIFF red carpet buddies for Cory's film last year! Such a small world, eh?
For both signings, difficult to get pictures approaching Chris (which was discouraged anyway) so all my pictures were taken afterwards.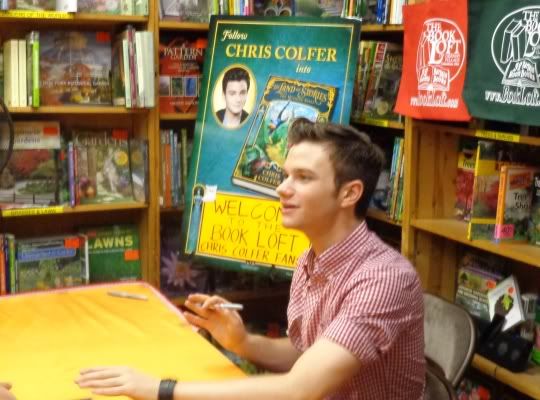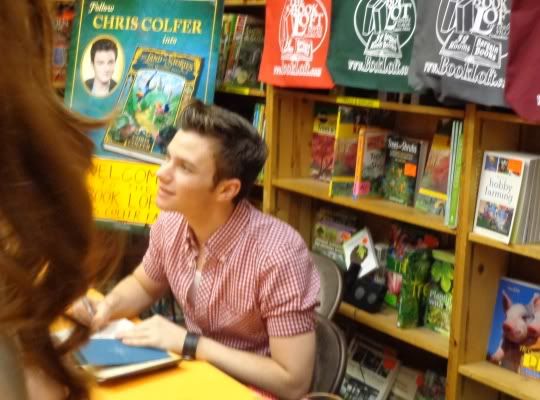 I did pull myself together enough to ask whether or not his movie,
Struck By Lightning
will come to TIFF and he said no. His publicist basically said there was no reason to as the movie already had its premiere at TriBeCa plus a few other festivals and it has already been purchased by a distributor. So there goes my hopes of a Darren/Chris TIFF :(
Cincinnati signing. I really liked this bookstore and we totally scored an awesome parking spot! I didn't ask him anything this time but I did notice how he basically signs the books without even looking and instead will establish eye contact and say, at minimum, something like "thank you for coming".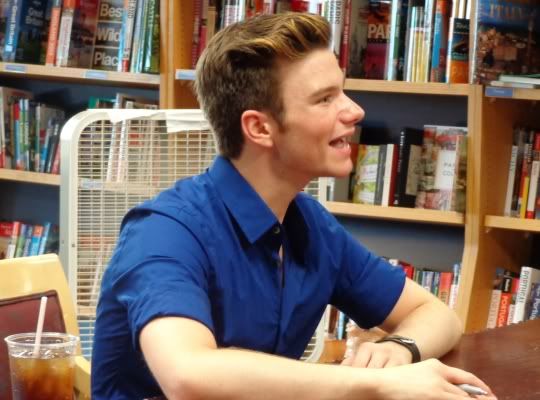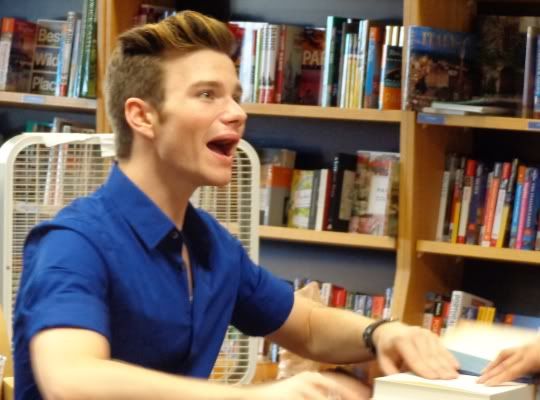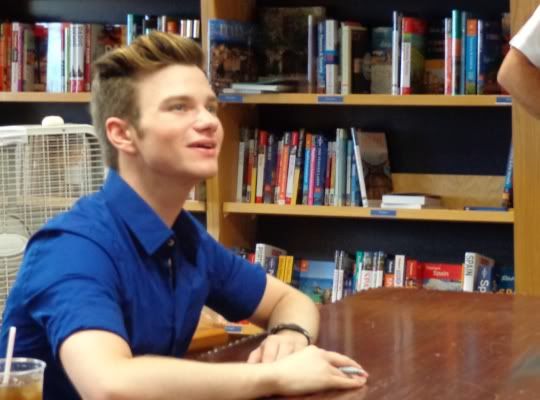 As I was checking in at the airport, the woman in front of me, Connie, totally remembered me as we both flew in on the same flight (there was only 11 people on that flight which was pretty awesome!). So we ended up chatting (she's a sales rep so she could talk lol) for the entire time and throughout the actual flight cause our assigned seats were right beside each other. Anyway, turns out she's a fellow Gleek and had no idea Chris was in the area that weekend. She didn't even know he released a book. Her 5 year old daughter loves Chris too so I offered her one of my signed copies.
For my f-list first, Fan has an extra signed copy so if anyone is interested, let me (or Fan) know!
So wrap up. Had an awesome time. Met Chris and did not burst into tears like I saw so many girls do. So great to see Fan again as it's been too long. Can't believe I actually met someone I knew at one of the signings and I made an adorable 5 year old girl happy. A good weekend was had. And now I can't believe I have to go work, ugh.
First off, I would just like to express my sincerest thanks to
Current Mood:

cheerful
Over the Easter weekend, I did a bus tour down to Washington DC as I haven't been there in 10+ years. Would've liked to see the cherry blossoms but they bloomed early this year so by the time I went, they were all gone.
Current Mood:

busy
Tickets to HT$: $284.50
NYC hotel: $180.56 (WTH are all these extra taxes?!) Stayed at
The Sanctuary Hotel
, complimentary breakfast + internet and excellent location (half a block away from Times Square!)
Program: $20
Purses purchased (cause I know y'all are wondering): $0! BUT an adorable MiuMiu bag in blue totally caught my eye omgiwantitsobad had a pricetag of $1,395 which is a very good deterrent.
Being there for Darren's last 2 shows:
(
priceless
Collapse
)
Flight to NYC: $331.58
Current Mood:

content
* Went to an advance screening of
30 Minutes or Less
tonight. I quite enjoyed it. Lot funnier than I expected. And also, pretty short, no more than 90 minutes. I wouldn't pay $13 to see it but I'll definitely d/l it :D
* Speaking of advance screenings, I got my ticket to the advance screening for
Glee 3D
today!! That's next Wednesday. I'm also really psyched it's playing at the theatre that's practically across the street from me. Ahhhhh the joys of living downtown.
* Got my ticket to
How to Succeed...
for Darren's last show on the 22nd!! Row N, centre. Not too shabby :D I'm also going to try to get discount tickets to
Book of Mormom
or, if not, possibly
Avenue Q
. Everything else, I'm either not interested, have already seen it or will be seeing it.
* Also, just purchased a deluxe pass to FanExpo because OMG DRACO MALFOY!!!! And Eliza Dushku. And a whole bunch of other cool peeps but really, I'm going cause of Tom Felton. Anyone else planning on going?
*
(
Boston! And whales!
Collapse
)
First, the stuff.
Current Mood:

okay


Spent the long weekend on bus tour to Boston. Actually, did not spend a lot of time in actual Boston as Day 1 & 3 were spent mostly traveling. Day 2 was mainly spent whale watching, which was the main reason I wanted to go on this trip. For some reason, putting on sunscreen completely slipped my mind and I came back from boat trip BURNT. Complete with raccoon face *embarrassed* and a really red chest. But did see lots of whales so yay! Pics hopefully tomorrow.

In other news. It's been confirmed that Darren will be succeeding Daniel Radcliffe in How to Succeed in Business Without Really Trying for 3 weeks in January. I have so many proud feelings. So looks like I'm heading back to NYC this January :D
Hello peeps :D
Current Mood:

tired
So this post was planned to go up a whole lot sooner but then I was completely distracted by
Current Mood:

exhausted