Entries by tag:
Wow, I am one lazy mofo. I came back from this trip 2 weeks ago. I uploaded the pictures days ago. Procrastination queen.
Current Mood:

accomplished
It has been at least 20 years since I've been that far north and I visited places where I've never been before so all in all, it was a nice 3-day trip.
(
pictures under the cut
Collapse
)
This past long weekend (Thanksgiving, for us), I took another one of those bus tours and headed north to Sault Ste Marie for viewing of the autumn colours. Unfortunately, due to the weather turning colder faster than normal and it being windy, by the time we got there, not only did we miss the peak viewing, most of the leaves had already fallen. And to top it off, we got snow.
Current Mood:

lazy
Spending the Thanksgiving long weekend on a bus tour to Sault Ste Marie to see the pretty autumn colours. Unforthcoming, the weather did not co-operate & turned colder too early so the reports are saying the we missed the peak viewing time. Oh well, should still be nice. Spent the time from Sudbury to the Sault reading an awesome Avengers fic, "Four (or Five) Reasons to Kidnap Tony Stark". Hilarious! The author really got everyone's once down, esp Stark's & Clint's. Almost at the hotel so logging off. Have a good weekend flits!
~~
Chuck
finale. How awesome was that?! The kick ass gene really does run in the Bartowski family -- go Ellie! Routh as evil!Shaw was so good. He needs to play bad more. Jeffster's "Blaze of Glory" was epic and the video was so awesomely bad LOL And unlike another tv show *cough*Supernatural*cough* when
Chuck
sets up a showdown fight, it actually delivers. Chuck's "I just needed to reboot" was brilliant!
~~ Watched the
24
finale while in Winnipeg. Didn't catch all of it as I was moving stuff out of my brother's apartment but I did see the final minutes between Jack and Chloe. Very well done.
~~
Glee
. How brilliant was Bad Romance? LOVED IT. Santana KILLED it and Quinn was gorgeous in her outfit, although those eyelashes look super annoying to wear. Burt continues to be The Best Father Ever. The TWOP gang continues to beat the dead horse that is (a) whether or not Burt was justified in how he treated Finn; (b) Finn's motivation behind his rant; (c) whether or not Kurt received any fallout blah blah blabbity blah for 50+ pages. My
Glee
music post has been updated
here
. Only 2 more eps left :(
~~ Somebody somehow found Jared & Genevieve's
wedding pictures online
. I admit to feeling a bit uncomfortable/stalkerish watching the slideshow
but not enough to stop me from screencapping a good portion of the pictures
.
~~ I finally relented and turned on the AC this afternoon.
~~
bauersgirl
, Anj & I will be visiting the
Wizarding World of Harry Potter
in November. I'm super excited about this! I believe Anj timed it so we'll be there when the next movie is released. I can't wait to try butterbeer!! Speaking of HP, I never posted my HP exhibit pictures here! Pictures were strictly forbidden but I had to sneak some shots! I only got about 10 pictures but if you're interested, you can check them out
over at my facebook
.
~~ I really would love to go see
Broadway Bares
once. Looks like it happens every year in June. I'm thinking next year. Who wants to come with? Even if one doesn't want to see BB, a weekend in NYC is always fun.
~~
(
pictures of Winnipeg trip complete with some history & youtube clips
Collapse
)
I have this thing where I think of something to post but then I don't and I was too lazy to post my Winnipeg pictures last week so the result is one big giant post. Sorry! *sheepish grin*
Current Mood:

productive


Have a great Victoria Day long weekend! We're here til Tuesday. Downloading the new Doctor Who, thank goodness for free wi-fi!
Hello from Winnipeg, Manitoba :) It's, uh, pretty dull here, ain't gonna lie. Arrived this evening so haven't seen much except for the airport (small!) and a quick drive through the nice & not so nice areas of the city. Had a brilliant dinner though -- went to a family-owned ribs & wings place. SO GOOD.
Current Mood:

tired
Last of the pics before I head out for lunch and then the airport.
(
more pics from around Vancity
Collapse
)
This is my 4th time in Vancouver and can you believe I've never made the trek down to Seattle? So yesterday, I finally went!
(
seattle: space needle & starbucks
Collapse
)
See y'all back in TO! I've got some shows to catch up and my f-list as I've been just quickly skimming through. Bye sunny Vancouver, it's been a blast. GO CANADA GO!!!
Did you hear that the Canada vs USA hockey game is tonight? At 4:30 PST/7:30 EST. No, really, did you know? Cause just in case anyone was wondering, CTV has only mentioned this fact about a million times this morning. They even had a NBC sports analyst guy to talk about the game and he basically said that most of the USA probably doesn't even care LOL.
Current Mood:

calm
was not impressed
. I kinda get what he's saying about the quad but I don't think it should be the be all and end all of male skating. Now, moving on to cheering for Virtue & Moir! They're probably our last chance at a figure skating medal.
Spent Thursday at Whistler. Why is it I always see all this action on tv but when I'm actually there? Nada. I must have the worst timing ever.
(
a beautiful day at Whistler, BC
Collapse
)
Thanks to everyone for their birthday wishes and gifts *hugs & kisses*. More pics coming soon!
I missed the men's free skate and I still haven't seen any of the performances but I was SHOCKED that Lysacek won. I figured the only way Plushenko would lose the gold is if he chucked his program out the window and gave the judges the finger lol. Well, congrats to him and yay for Chan for moving up a spot. Elvis Stokjo, on the other hand,
Current Mood:

loved
Being here with no tickets is a tad depressing. Tickets were available for the men's short program but only the top priced ones and I didn't feel like dropping $478. Lots of
fan-to-fan
scalpers but the prices are ridiculous. Tickets for the medal ceremony of Bilodeau -- original price $20, scalpers were asking for $200+. No thank you.
So, I'm playing tourist instead. Today was Stanley Park and back downtown.
(
dolphins, totem poles and swedes!
Collapse
)
Oh yeah, Stephen Colbert is somewhere in town filming but I was too lazy to find out where.
I had plans yesterday but I did nothing. Sat on the couch and watched Olympics all day \o/ Maelle Ricker - ladies' snowboard cross winner - is the cutest thing ever. I don't think she's stopped smiling! *squishes her* I also can not watch Olympic hockey. I give myself heart attacks! Watched almost the entirety of the men's figure skating short program last night. Oh Patrick Chan. I don't think you'll medal -- Plushenko is practically guaranteed gold and the Japanese skaters are on fire -- but go you! And go Vaughn C (our other male skater) who just squeezed into the top 24. At least he'll get a chance to skate his long program at the Olympics.
Current Mood:

sore
Today was short as I am tired (waking up at 4am does that to you) and walking around downtown Vancouver just wiped me out. So am chilling at my cousin's place and wrestled the computer away from Leo (my cousin's 16 y.o. son) with promises of being done quickly (he has v important video games to play, you understand ;)).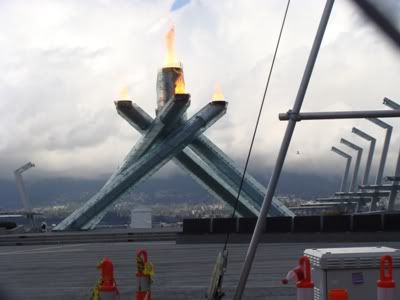 (
a few more pictures
Collapse
)
Am in Vancouver! Damn, the weather is so nice here. No jacket required. I saw a couple of guys in shorts!
Current Mood:

tired
Current Mood:

hungry