Entries by tag:
Sense8, has anyone watched this? I've already downloaded the series but I'm going to save it for my trip at the end of July. I really kinda wanna watch it right now before I get too spoiled

** I've read so much Matt/Foggy fanfic, I'm at the point of checking AO3 daily for updates. And, for once, I don't care about the rating or if it's slash, pre-slash, gen, brotp etc

** I also want Daredevil season 2 like right now

** Works sucks and it's June. Our busy season gets longer every freaking year.

** Mockingjay Part 2 trailer looks awesome!!!!

** I miss Chinese food. Seriously. I have a craving for good dim sum that doesn't cost an arm and a leg. My office is surrounded by Japanese and Korean food. Yeah, there's some Chinese restaurants close to me but they either are in a food court (only when desperate) or they lean more towards a fusion style. And I can't cook for shit. Basically wah wah wah I want my mom to cook for me :(

** Travel plans! Northern Europe & Russia at the end of July! Alberta over Labour Day weekend! Chicago to hang with Lori & Becky in October! Maybe another NYC trip in Oct/Nov! (that would be dependent on the state of Broadway)

** Due to above travel plans, I will be missing FanExpo this year. I was already bummed cause Jenna Coleman, Hayley Atwell and Tyler Posey were already announced. Since then, Billie Piper, Karen Gillan (who cancelled last minute last year because of filming) and the Weasley twins from HP have been added. Every time I get an e-mail update announcing another guest, it hurrrrrrrrrts.

** The thought of diving back into Supernatural over the summer has been floating around my brain lately. If I do, I'm thinking of starting at the very beginning cause I really don't remember much anymore

** One of my New Year Resolutions was to purge and de-clutter my life. It's June and I've barely made a dent *sigh* Donated most of my movie DVDs and a bunch of books (which have already been replaced with new books *double sigh*) and sold some CDs. But I need to do more! Hopefully, this weekend will be the weekend I get off my lazy ass and clean out my closet (seriously there are clothes that I haven't worn in 5+ years that are taking up space!) and then I need to tackle The Stuff. I have too much Stuff and I need to be brutal and trash/recycle away.
**
Current Mood:

tired
Wednesday
Lady Gaga concert! I went with a co-worker who's never been to a big spectacle concert before and has always wanted to see Gaga. This is my 3rd time seeing her in concert (and most likely my last cause ticket prices are ridic). I have to say she's looking much healthier. There were 2 older - at least 60-something - ladies seated beside us and they were dancing and enjoying themselves, loved it! Stage not as elaborate as the previous tours but still lots of costume changes. Have some pictures: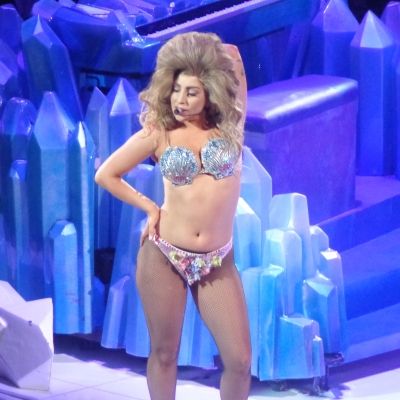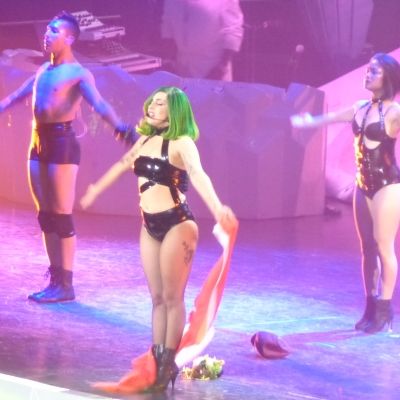 Also took a bunch of video
(
more gaga videos under the cut
Collapse
)
Friday & Saturday
Flew to Chicago for Chris Colfer's book signings of his 3rd book in
The Land of Stories
series. I met up with fellow Gleeks/Klainers for dinner on Friday night and then the signing -- Lori, I totally shook his hand, soft but cold! -- went out for drinks afterwards. I ended up driving to Heather's (the girl with whom I stayed with) and on the way back, I went right over a pothole which blew out the tire! I didn't even see the pothole, it literally happened just as I was changing lanes and checking over my shoulder. Heather had AAA but it took almost a hour. We killed time reading *really* bad fanfic and glaring at police/security as they drove by THREE times without stopping!
I did the 2nd signing on my own as Heather went to Dashcon (which turned out to be a clusterfuck, boooo). Actually talked to him a bit this time, told him I flew in from Toronto (he said he's trying to get up to Canada but I'll believe it when I see) and both him & Alla (his PR) asked if I was at the signing the day before. Most fans freak out when they're recognized; I felt creepy lol. Anyway, here are my extremely crappy pics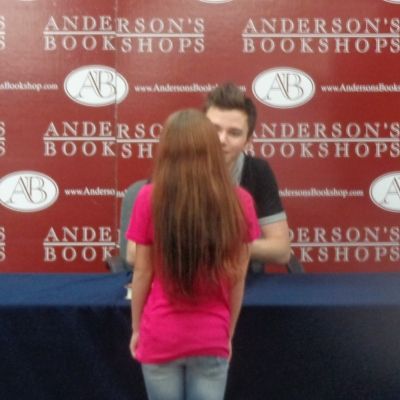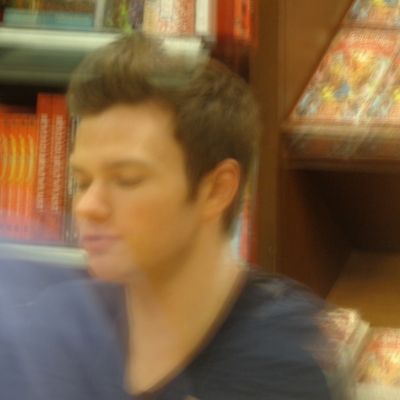 Went directly to the airport from the signing. Knew I was early but was informed upon check-in that my flight was delayed. For 3 hours. I ended up spending almost 6 hours in O'Hare. Lovely.
Sunday
Queen+Adam Lambert concert with a couple fellow Klainers, Ali & Sam. Had a light dinner and then walked down to the ACC. I must confess, it wasn't my favourite concert. I only recognized about half of the Queen songs. Adam sounded AMAZING but I expected a lot more, I dunno, energy(?) from him. And, I'm sorry, but 5 minute long guitar solos are just not my thing. I can appreciate the talent but after a couple of minutes, it just starts to sound like noise to me. I really liked how they incorporated video of Freddie throughout the show. Ali & Sam really enjoyed themselves so I'm glad about that.
Here are a couple of pics and a bunch of videos: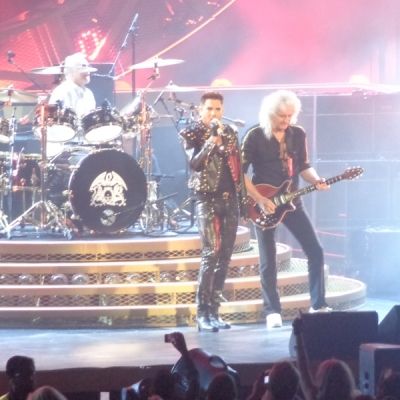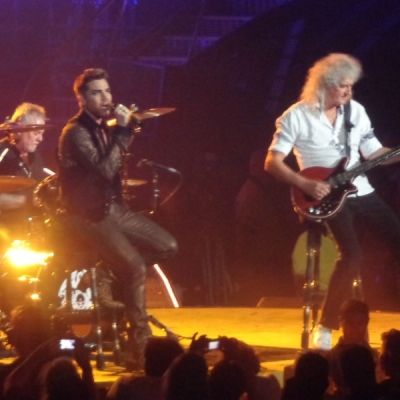 (
more queen videos under the cut
Collapse
)
3 days later and I'm still trying to catch up on sleep :) I have no plans for the next 2 weeks and I look forward to doing absolutely nothing.
Current Mood:

tired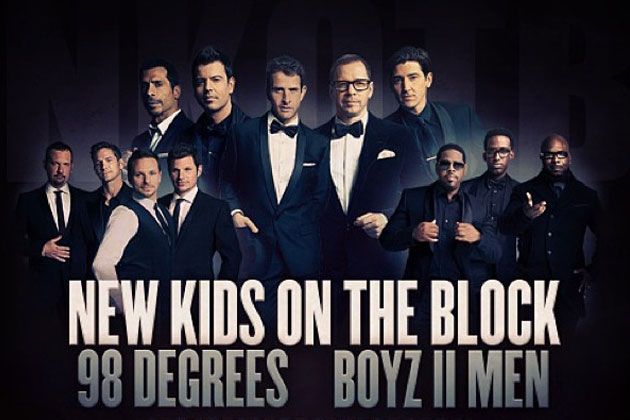 I TOTALLY BOUGHT A TICKET!!! I admit I was a bit hesitant but I would love to see Boyz II Men live and hopefully, NKOTB will be performing some of their new music (about time!) 98 Degrees are al'right.
I was thinking of getting the cheapest VIP ticket but I was about 15 minutes late logging on and ALL the VIP packages were sold out! Even the $999 package! Yeah. A THOUSAND DOLLARS. SOLD OUT. WHAT.
Anyway, 2013 is so far shaping up to be an awesome year! Here's what I have lined up so far:
** Flight booked to NYC for Good Friday/Passover long weekend! (
Newsies
for sure!)
** Flight booked to Memphis for friend's wedding!
** Lady Gaga concert next week!
** Happy Glee spoilers!
** My niece is scheduled to arrive in March!
**
Struck By Lightning
at the TIFF Next Wave Film Fest!
**
Book of Mormon
in May (in TO)!
** San Francisco in June! (just need the OK from the boss)
** Comic Con in July!
** Trip to the Martimes is on the list for August!
** Couple of long weekends in September courtesy of the Jewish holidays so maybe LA? Or visit a friend in Bermuda?
Current Mood:

bouncy
The weekends left: 1) Sep 15 - 18 and 2) Sep 29 - Oct 2. Where to go, where to go. NYC again? I do want to watch
Newsies
&
Once
. Maybe Halifax, to make up for giving up my eastern tour but why are the flights so expensive?! I can fly to LA for almost the same price so what about LA? But with the 5.5 hr flight time & time difference, a 4-day weekend is basically shrunk to 2.5 days. So, now, I'm leaning towards Chicago. The last 2 times I've been in Chicago were for SPN cons which meant I didn't leave the hotel LOL
Any Chicago tips or suggestions? I remember
phetch
did a Wright tour? Oh, and what was that food place that had the huge line? Any one in the area for a possible meet up?
Now that my vacation will be used for non-fun stuff, all I'm left with are 3 4-day weekends, thanks to the Jewish holidays. One weekend, hopefully, is to take a bus tour up north (Sudbury & Sault Ste Marie) for the fall colours. I haven't been that far north since I was a kid so looking forward to that.
Current Mood:

bored
faninohio
♥ Chris Colfer book signing(s) ♥ Sightseeing - have never been to Columbus and only driven through Cincy ♥ Hanging out with
faninohio
♥
~~ I have a new travel points Visa as my main cc which means cancelling my old main cc, my Sony MC. In order to use up my Sony points, I decided to get a new camera cause I can get one with a higher zoom in a slimmer model. Found one I liked on-line but couldn't remember my exact balance of points but I figured, if anything, I would be under and have to pay the difference. Going through the check-out process, I discover my point balance was almost dead-on, under by only $0.69!!!! *self high-five*
Meet my cute new camera.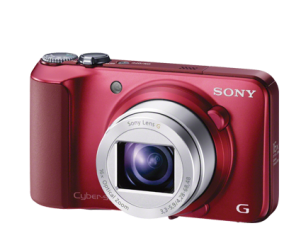 It's got a 16x zoom (my camera now has 10x) and it's red!
~~ Found this cute twitpic of Chord, Darren & Rico backstage at the MMVAs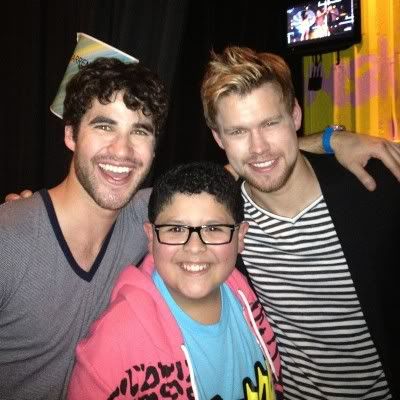 ~~ Did you know
Star Trek: The Next Generation
had their first cast reunion recently at the Calgary Comic Con? I didn't! And a brilliant fan recorded & uploaded the whole panel to YouTube. This is the beauty of the internet. I'm off to watch it, hope everyone's Monday was good (well, as good as Mondays can be) :D
~~ I booked my flight to Cincinatti!!! Hanging out with
Current Mood:

calm
Don't know much about the upcoming movie, Magic Mike, except that it's about male strippers. But with stills like this, who really cares about plot? Matt Bomer UNFFFFFFF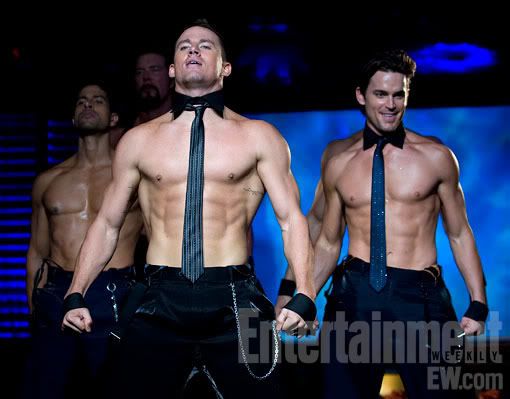 A couple of weeks ago, before his Broadway debut, Darren Criss did an interview & photoshoot with the New York Times.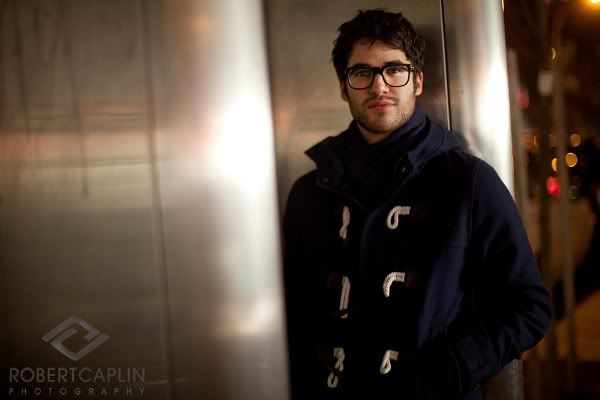 (
more under the cut
Collapse
)
Speaking of Darren, my NYC trip is this weekend! I can't wait. Ended up being perfect timing too as I really need a weekend away from work. Hotel has been booked, looks like I'm close to Rockfeller Centre and 5th Ave. Excellent. Have decided that in order I don't spend too much time shopping, I'm going to visit the Guggenheim. I've never been! And the weather is predicted to be pretty good, ie above freezing, so yay for that.
Watched the Golden Globes red carpet last night. What is with all the mermaid/fish tail dresses? I hate that style so much. The women could barely walk and watching them trying to navigate stairs was amusing. Can't remember much off the top of my head but liked Angelina's dress. Hated Reese Witherspoon & Sarah Michelle Geller's. Thought Tilda Swinton looked awesome (loved that pale blue). Loved Charlize Theron's sparkly headband. She's pulls off that 20s/30s look so well. Her dress was lovely but what is with that bow? Didn't that happen another year, where the dress was ruined by some hideous bow on her shoulder?
Anyway, didn't end up watching much of the GG's cause I got sucked into watching WALL-E. Damn, I love that little robot. But by the time that was done, I was so tired that I didn't watch Sherlock! *gasp* Don't tell me what happens! I read on Moffat's twitter that a 3rd series has already been commissioned, let's just hope it won't take almost 2 years to return.
After some pretty stressful weeks filled with long hours at work and other not fun stuff, nothing quite cheers me up like pretty boys. Especially on this cold (but thank goodness, not as cold as it was this weeknd) Monday morning.
Current Mood:

working
The plan is to fly into London and then do the BritRail pass. I have 3 weeks. I can do the UK in 3 weeks, right? At first, I originally thought of missing Ireland but it feels like such a shame since we'll be, ya know, practically there.
Any tips, suggestions would be great appreciated :D
**
For those who want something special other than store-bought cards, check out my good friend,
faninohio
's handmade cards site:
fanmade_cards
. She does cards, notepads, invitations, bookmarks, journals, etc. Everything is so pretty!
**
Reading challenge:
(4)
Mansfield Park
, Jane Austen. I found this book quite boring to be honest. Fanny Price doesn't really
do
anything, does she?
(5)
The Last Olympian
, Rick Riordan. Part of me wishes the movie did better so we can get the rest of the series but then I think, how in the world would they film it? The films would be like 99% CGI. I'm looking forward to reading his 2 new series (what's the plural of 'series'? *google* huh that is the plural, sounds weird though) using Roman & Egyptian gods but I'll wait a bit. Write faster, Mr Riordan!
**
(
cut for Glee song spoiler
Collapse
)
And that's my
Glee
/Klaine squee for this post :D
**
(
100Crushes #003
Collapse
)
If all things according to plan ie getting my vacation approved and no emergencies, my often talked about UK trip will finally happen this September/October \o/ But you see, I have this little problem -- I don't like planning. So I need some help, f-list. Where in the UK (England, Wales, Scotland, Ireland) are Must See places? Minus London cause we've already been. Or even conversely, tell me what I can miss.
Current Mood:

relaxed


Am back from the trip! The weather was better than expected *thumbs up* I had sucky throat issues *thumbs down* Our hotel in Quebec City was right beside where the NYE celebrations were taking place *thumbs up* Overall, it was good. A bit quick - a lot of the sightseeing through the bus window. I definitely want to go back to Ottawa in the spring. I'm thinking Easter long weekend. After working in public accounting for so long, I forget that hey, I actually don't have to work on the 2 stat holidays between January and April yay! I'm still at parents' so pictures over the weekend.

I haven't watched the Doctor Who 2-parter yet. I've been sorta staying clear of spoilers but it's HARD. Am I going to cry? I'm flipping between anticipation and dread.

But first things first -- OLTL's NYE episode where Kyle & Fish consummate their relationship make love have sex. God bless YouTube and the uploaders. OH MY GOD that may have been the SWEETEST love scene I've seen on a soap. I gather from other sources that there was also a Gigi/Sky love scene and Kish wasn't shortchanged in any way. There was even humping \o/!! Oh, it was a long shot and with a soft focus but there was definite humping!! Kudos to ABC and OLTL. Two men in bed on daytime television. And the world did not end =)
Watching the NYE coverage, I had no idea the BIG ISSUE was "how will YOU say '2010'?" LOL It's the Twenty-Ten vs Two Thousand & Ten showdown!! Just for the record, I say Twenty-Ten :)
Current Mood:

sleepy
So, what have I been doing?
1.
(
trip research for memphis and uk
Collapse
)
2. Watching a very cute video of Thomas Dekker thanking the fans for fighting to save T:SCC.
I love that he left a voicemail for Fox! And he's too adorable for having just woken up.
3. This weekend, the lottery is at $40m and everyone chipped in at the office for tickets. So of course, this meant perusing the real estate sites and looking at multi-million dollar homes that are currently on sale in the area. We sure can dream, can't we? If we do win, it'll come to $1.4m per person. Not too shabby *crosses fingers*
4.
(
the 11th doctor in cannes
Collapse
)
5. It's the long weeknd for us. I'll be spending it doing much needed spring cleaning and maybe catching a movie. 1.5 hours to go...
Guys. I am so bored right now. I have done nothing today, NOTHING! There's no work. Enjoy it while it lasts, right?
Current Mood:

restless


I've been watching How I Met Your Mother and omg what a great show! So far I'm halfway through season 2 and Neil Patrick Harris completely steals the show as the womanizing Barney. He gets the greatest lines and catchphrases. Also, this show is awesome with the continuity, like Arrested Development-level awesome.



So, in the last few months I've re-discovered Chad Allen, Neil Patrick Harris and Brian Austin Green. I wonder which teen idol from my youth will be the next to wow me.



Also started to watch download/watch Psych. I've only watched the first 2 eps but so far, so good. In other tv news, I've tried Life, New Amsterdam & The Tudors but none of them captured my interest



I don't even watch American Idol but I've promised my co-worker that I'll go with her to the concert when they tour. Maybe I'll start watching next week



Sad news -- my Dallas trip is no more =( Man, I was so looking forward to hanging out with my girls. However, it has come to my attention that they've ganged up on someone else is possibly contemplating considering attending... *cough*phetch*cough* I have a J2 photoshoot ticket... *waves bait* Also, any hopes of attending Dragon*Con and Comic Con are kaput. Guess my stalking fangirly activities for 2008 will be limited to the TIFF. It's all my brother's fault. Him and his stupid wedding!



Japan may also be out. It's looking to be way too expensive. So we're debating on alternatives -- China (although not Beijing cause Olympics = chaos), Korea (although one brother has already been) or one of the SE Asian countries (Thailand, Indonesia, Malayisa, Vietnam, Singapore, etc).



My unpopular opinion of the day. After watching some of the concert footage of John Barrowman's tour on YouTube, I found parts of his show kinda cheesy. His stage movements/"dancing" made me giggle and not in a good way. However, his voice is as gorgeous as ever and I would've gladly sat through awkward dancing to see him live. Dammit for not being in the UK!



Donna continues to be awesome on Doctor Who.



Last weekend, I purchased my first ever designer clothing -- Calvin Klein. And only because the store had plus sizes! Granted, it was one little table in the huge store but still, it took me by surprise. I never go in these type of stores as I can't wear any of the clothes but I was with my SIL. Proceeded to drop $220 on 3 tops and a pair of capris. This should be a lesson to all the other stores, we may be fat but we've also got money.



It's April 16th and you know what that means? Only 14 more days til tax season is OVER!!
Current Mood:

thirsty