Entries by tag:


Side note: Anyone else fascinated w Bill Kaulitz from Tokio Hotel. Never seen a more gloriously androgynous beauty. He's like an alien :)

OMG can you even imagine Adam and Bill together in the same room? Would they compare eyeliner brands? Commiserate over crazy fangirls? I NEED TO KNOW.

And congrats to Adam for winning a TCA (Choice Male Reality Celeb)! Still think the TCA surfboard is the stupidest award ever.
I just read this twitter from Adam Lambert:
Current Mood:

giggly
(
Glee spoilers snagged from TWOP
Collapse
)
For
claireyfairy1
, thought you might be interested to know that our flagship H&M store does carry the Tokio Hotel tees. I think they have all of them. TH wasn't part of the big window display but that's not surprising. And I bought one. Support the cause :)
Adorable item of the day: spotted at the mall, cute Chinese baby boy sporting a mohawk XD
Current Mood:

blah
Current Mood:

relaxed
Thank you for (a) starting your set at 8:30 instead of 9:00 as per Ticketmaster and (b) only playing a 50 minute set. I was home by 10pm.
Dear TTC,
15 minutes in the -16C freezing cold. FOUR westbound streetcars pass us. How many eastbound streetcars? NONE. You suck. And you owe me $10 for forcing me to take a taxi.
Dear Stupid Fan With the Sign,
Thank you for holding your sign up for the ENTIRE SET, thereby blocking our view of Tom & Gustav in the beginning and Bill at the end. You REALLY suck.
PS. Bill will not notice you. Ever.
Dear Me,
Next time you go to a concert, make sure the camera battery is
fully
charged. Moron.
****
So, yea, the concert. Very good. Had a glitch with Tom's guitar during "Don't Jump" -- it just kinda died -- so they cut that song short. Lots of screaming. LOTS. Lots of singing along, even the German songs. Lots of fangirls, a few parents and various other adults. Most of the girls were your typical teenagers, a lot of skin was showing, lots of quasi-goth wardrobes. There was the one chick, I wish I had taken a picture. I was by the bar so she came up beside me to order drinks. Way too much make-up. Fake tan. Blonde extensions were so obvious. Entire outfit was made of pleather -- this low cut red pleather top with an open back, a black miniskirt and red shiny pleather thigh-high boots. EW. And she ordered a drink I've never seen before -- the bartender poured her a shot of some kind, she puts the shot glass in another glass and then adds Red Bull to it. What?? Later, a girl and her mom moved into the space beside me. The girl was so excited to be there, it was quite adorable. The show was sold out but the place wasn't at capacity. I've seen it a lot fuller.
Sorry, Clairey & 4_leafclover, my camera-fu was not up to par tonight. Not only was I thwarted by evil fan-with-a-sign *stabs her* and all the hands in my way, the battery also died due to my stupidness. However, there were so many cameras there that night, I'm sure they'll be flooding the internets soon. I also noticed a guy videotaping the show on stage tonight. Maybe for their website?
As for the show, it was really good. I believe they sang all the songs on "Scream", a German song I didn't recognize, "By Your Side" (?) and the German version of "Monsoon". At the end, lots of water flinging and throwing the bottles into the audience. Bill & Tom threw their towels. Guitar picks and drumsticks were also thrown. After the encore, everyone left the stage except for Gustav who did the whole touching-hands thing. Best view I had of him all night.
(
under the cut are 4 really crappy pictures and a short video
Collapse
)
Dear TH,


Spent 1.5 hours this morning at the passport office. What a way to start the morning. Ugh.

A friend of mine works at the Bulk Barn head office so she gets a discount. The catch is all the candy/chips comes in the bulk sizes (ie 10kg = 22 lbs). I just put in an order for reese pieces for the office as we start the first phase of tax season hours (42.5 hrs/week). 10 kilos of reese pieces. I think I'm gonna be really sick of them by April 30th! On top of that, one of my co-workers, her mother, works for Nestle. We'll be hitting her up for chocolate for sure!

Picked up my Tokio Hotel ticket last night! The guy thought I wanted to buy one and informed me that the show was sold out. I'm really surprised. And now I'm kinda worried cause this means I have to go earlier than I originally planned to get a decent spot.

Speaking of concerts, going to another Kalan one. This makes it 3 Kalan concerts in 3 days. What am I thinking?!? That's it, I'm drawing the line. No more concerts.

2 co-workers complimented me this morning, said I looked really nice today. I haven't done anything special, in fact, I thought I looked all frazzled with the whole being-late-cause-of-the-passport-thing. Don't usually get compliments so that was nice.

I switched my mood theme to a Sammy one. I loved the David Tennant one but I needed a change.
I fell asleep last night on the couch (which is getting to be a bad habit) with the window open and I was actually hot. The weather has been up-and-down lately, not that I'm complaining about the ups.
Current Mood:

okay
Thanks to
claireyfairy1
's post for the heads up, I am now the proud owner of a TH concert ticket!! \o/ !!!!! I think this would be the perfect time to try out my flip video, too!
Also have plans to attend 2 Kalan concerts in March. That's 3 concerts in a span of 1.5 months. Right in the middle of busy/tax season. Why must these people tour (a) in the middle of tax season and (b) in the middle of winter?!
4_leafclover
-- no Kalan or TH dates for BC =( There's still hope for Kalan cause I don't think he's released all his dates yet but he's doing like 10 shows in Alberta. Maybe go on a roadtrip?
ETA: I just purchased a subscription to the Torchwood magazine. I figure it's cheaper than buying them on the newsstand. *rationalizes* Wow, today has been quite a fangirly day, lol.
What is this? I have a Tokio Hotel icon now? When did I become a fangirl? LOL
Current Mood:

working
During the commercials, I would flip over to MuchMusic for the MTV European Music Awards. I managed to catch Tokio Hotel win the Interact (?) award earlier. I never realized how tall Bill is. He is pretty tall, isn't he? Or maybe it's the hair giving the illusion of tallness? ;) I was actually a bit disappointed he didn't speak at least some German given the show was in Munich. I was afraid I would miss their performance but the timing was perfect. End credits for SPN, flip the channel right into the intro for TH.
Were people booing at the beginning? Boo on them. Anyway, great performance. My excitement over seeing them perform live surprised me. When did I become a TH fangirl? LOL! I totally blame you,
claireyfairy1
. I was amused how the wind machine could barely make Bill's hair move. But wow, when the rain came down? Hotness. Even with the hair deflation :) And now I think I'm kinda crushing on the drummer. He's the cutest to me. What's his name again?
Current Mood:

tired
High School Musical: The Musical
. The touring company is currently performing here so last Sunday,
bauersgirl
and I went to the show.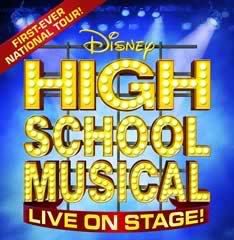 First, I am happy to say that we were not the only child-less people there! Man, I have never seen so many kids at the theatre before. When the lights went down, there was actual screaming, like a concert. That was different, LOL.
Anyway, the show. The show wasn't bad. The hardest thing for me to get over was the fact all the performers were all in their late-20s playing teenagers. Logically, I knew this was what was gonna happen but the brain just wouldn't compute and it was distracting. The plus side? The guys playing the Wildcats weren't teen boys but buff guys wearing basketball uniforms that displayed their lovely muscular arms. =)
All the songs from the movie were performed plus a couple of new ones. Many of the songs that were originally solos were re-arranged into duets or group sings. I liked Musical!Gabrielle better than Vanessa Hudgens but I missed Ashley Tisdale as Sharpay. Ryan's part was also expanded which was nice.
The finale was a rousing rendition of "We're All in This Together" that had everyone clapping along and ended with a big bang! as streamers were shot in the audience. The kids loved that.
HSM: The Ice Tour is next but that's where I draw the line. When will the HSM madness end?
****
Hey
claireyfairy1
-- I was in HMV today and I looked to see if they had any Tokio Hotel stuff out of curiousity. I was surprised to see a copy of
Schrei.
There was also 2 CD singles, one was in German and the other was for
Monsoon
which also included a song called
Black
. Is
Black
a "new" song ie not included on the CD?
****
They're filming
The Incredible Hulk
on a stretch of Yonge St right by my place. They've shut down a portion of the street and it's lined with NYC taxi cabs and some beat up cars. Street signs have been changed -- Yonge Street is now Dr Martin Luther King Drive -- and a couple of new store signs have been erected. I was wondering why The Apollo all of sudden appeared, LOL! As far as I can tell, they're filming FX stuff with stuntmen, there's a burned out bus and we were told by the police that a few cars will be set on fire.
What I found interesting was the amount of trailers, people and equipment required for, what will probably be, a few minutes of footage. And that's not even taking into account all the CGI that will be inserted at a later date.
It all started with a tv movie. Then came the concert tour. Now, it's
Current Mood:

bored