Entries by tag: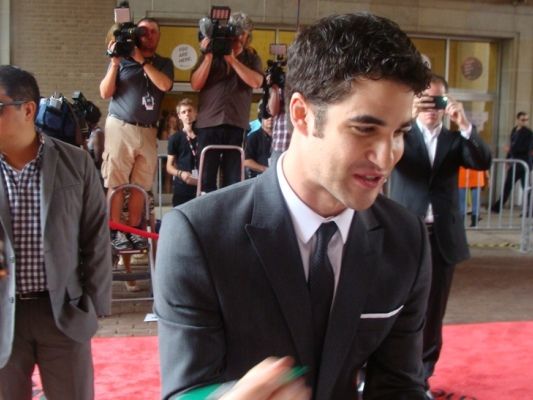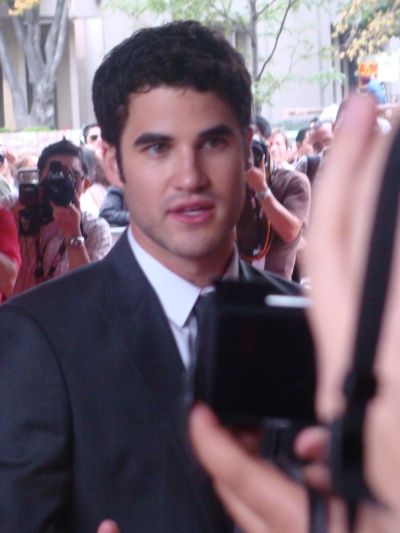 I saw
Imogene
and it was good. Darren had 2 make-out scenes, was shirtless twice, wore guyliner, spoke French, sang twice and dirty danced with Wiig. What? I noticed the important things ;P The movie is funny -- not
Bridemaids/Hangover
funny, more character-driven funny (I think that's how you describe it). Main complaint was the ending -- it felt abrupt and was your standard cliched everybody-got-what-they-wanted ending.
(2) Madonna concert. Damn woman didn't start until 10:30, which meant concert ended at 12:30. On a week night *head desk* She looked great. Did a pretty good mix of her old & new stuff. The first 4-5 songs was some sort of storyline with all this religious imagery (still doing that, Madge?) and Madonna killing some guy, having a fight in a hotel room & going to jail. It was weird and over-the-top. The rest of the concert was more standard fare and much more enjoyable. As I was pretty far away, I just took some video. Here's "Like a Prayer" and "Celebration", the 2 closing numbers.
(3) Who's watching
The New Normal
? How cute is that show!? Of course, it doesn't hurt that Ryan Murphy has described it as future!Klaine deciding to have a baby :) Apparently though, a lot of it is based on Murphy's own life. I have a soft spot for Justin Bartha since
National Treasure
. I know of Andrew Rannells as he's the Book of Mormon guy. I hope they have him sing on the show. Oh! Reading up on Rannells, he was here as part of the
Jersey Boys
cast but I missed him :( His last show was Dec 8, 2008 and I saw the show on Dec 28th.
(1) So I noticed that I never actually posted my TIFF Darren pictures (and Kristen Wiig's) on my LJ LOL Brain fart, wow
Current Mood:

lazy
Cloud Atlas
cause that movie has a shitton of actors in it!
(
Depp, Kinnear, Berry, Hanks, Grant, Weaving, Lawrence, Ruffalo, Wishaw, Cooper, Smith, Watson, Dobrev and more
Collapse
)
It was a long & tiring weekend. Got about 4 hours of sleep each night. Played host to 2 crazy Darren fangirls and met many more. Thank goodness for
Current Mood:

tired
But before all that, here are pictures from last night from the premieres of
Looper
and
On the Road
.
(
click for pics
Collapse
)
TIFF 2012 begun. 2 red carpets in 1 night. My feet still hurt. Was up VERY early this morning and currently have 2 crazy Darren Criss fans sleeping in my living room after driving all night from NYC because today is DARREN CRISS DAY at TIFF!
Current Mood:

awake
Current Mood:

tired
Killer Elite
:( Jason Statham? Robert DeNiro? Whatever. I wanted to see Sarah Walker!! *criez*
Disappointment: Press conference for
A Dangerous Method
, Fassbender was a no show but did see the other cast
(
basically ignore the fans
Collapse
)
Success: Red carpet for
Melancholia
.
(
Hello pretty pretty men whose shows I never really watched (and one Kirsten Dunst)
Collapse
)
Disappointment/Success: Red carpet for
Drive
. Considering the crowd, I was in a pretty good position to see Ryan Gosling and Bryan Cranston. But the fail that is my camera + night time continued so let's look at R's pictures instead!
(
Gosling and Cranston
Collapse
)
All in all, it wasn't a bad night. Not too disappointed with my Gosling failure as I
got great pictures last year.
Still bummed about Yvonne though.
Off to the suburbs to have lunch with the family for Mid-Autumn Festival. Hopefully will be back in time to see Cory Montieth tonight! From his tweet, sounds like he flew in last night.
Disappointment: Missed Yvonne Strahovski who was here for
Current Mood:

rushed
Moneyball
because of Brad & Angelina, I've declared it a success already!
By the time I got to the red carpet after work, the crowd was already huge, especially the area across from the press. I remembered how the last time Brad & Angelina were here for TIFF, they walked the entire line so I banked on that happening again and waited further down where the crowd wasn't as big. Other stars came -- Phillip Seymour Hoffman, Anna Faris, Jonah Hill -- and not one of them made it down my way.
Brad & Angelina arrive. The crowd goes nuts. Looked like they signed some autographs and then did what I hoped they would do. They walked down to our end, didn't sign anything but just spent about 30 seconds waving to the crowd. I don't know why all the actors don't do this, it takes less than a minute and endears them to the fans.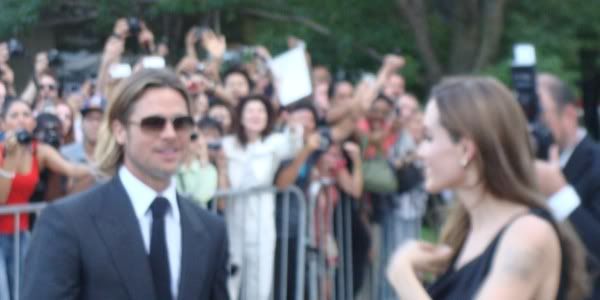 (
a few more under the cut
Collapse
)
The next gala was for
Ides of March
. Clooney is another one that would walk the entire line and he did so again this time. I barely got a glimpse of the other actors. Gone are the days when you can show up about 45 mins earlier and still get a decent spot. People's ladders are getting taller and the crowds are getting bigger. You really have to camp out for hours now if you want a prime location. I miss the good ol' days of TIFF stalking LOL
Then again, it was
only
Clooney and Gosling and I've got great pictures of them in the past so I wasn't too bummed. You know when you've been doing this for too long when your reaction is "Clooney
again
??" :D
For me, this year's TIFF will be a short one. Due to work, not taking any days off cause I've used up all my vacation days and having the Mid-Autumn Festival falling this weekend (read: trekking to Markham for family get-together), my stalking will be limited. However, after tonight's gala of
Current Mood:

pleased
Anyway, Wednesday night, R and I split duties -- I went to Ryerson; she went to Roy Thomson Hall.
(
the night of 2 Ryans, a serial killer & a missed opportunity
Collapse
)
**
I have spent the last 2 days spending way too much time reading Merlin Big Bang fanfics. Does anyone have any favourites? I've read about 6 of them, gave up on one and while the others were good, they weren't 'I can't stop reading this!' good.
**
I don't follow tennis at all but thought this was v cute
**
OK this has been all over my f-list but it just needs to be re-posted so apologies if you've seen this a million times already.
OK, if I didn't do RPS before, I do now. COLIN HAS A PIECE OF BRADLEY'S HEART OMG THEY WRITE SONGS TOGETHER OMG OMG ♥♥♥♥
Last post for TIFF 2010 (unless a certain Ms Knightley is in town tomorrow). Can't believe we survived another one. Met some new people -- one just happened to be the wife of the head security guy at the Hyatt so score on that!
Current Mood:

calm
Small post today. Neither Winona Ryder or Natalie Portman stopped which sucked but R was able to get a good pic of Portman as she practically ran to the car. And I missed the red carpet with Sam Worthington and Helen Mirren cause I fell asleep but R was there and scored with great pics. I did go to the red carpet for
Current Mood:

accomplished
Ceremony
was a success with Uma Thurman, Lee Pace & Micheal Angarano \o/ Red carpet for
Black Swan
was a total non-success as I didn't get one decent shot of Vincent Cassell, Barbara Hersey, Winona Ryder, Dominic Cooper & Natalie Portman /o\ Here's hoping for a press conference *crosses fingers*
(
click for pics
Collapse
)
Smaller post today. Missed some celebs at the press conferences but did get who I really wanted -- Hilary Swank and Ryan Reynolds *swoons*. Red carpet for
Current Mood:

sleepy
Current Mood:

drained