Entries by tag:


QUEST CREWWWWWWWW!!! Hello new female crew member! Their performance was brilliant. I love how they use non-hip hop/R&B music.

NPH in the house!

The performance by Neil and SYTYCD UK winner, Charlie, was gorgeous. Didn't a couple of years ago they brought on an Australian winner? Why no love for your friendly northern neighbours? :(

I thought Billy was eliminated due to an injury?

I have to say that when Twitch opened that door, I busted out laughing. There was no way they could not have shown that routine. They already re-played Alex & Alison's performance so to re-play this would've been boring. And to have someone else dance it would've just invited a whole lot of internet space being wasted on comparing the 2. But Ellen doing a modified version with humour was good and Alex coming out on his crutches to applause was an excellent way to pay tribute. Cause y'all know Alex would've won ;)

But the best part of the night? Seeing the commercial for the new season of SYTYCD CDA featuring S1 & S2 winners, Nico & Tara Jean:



I love our promos! I still love the promo featuring Blake McGrath for S1. Bring on S3!!
Watched the SYTYCD finale tonight. Loved the opening number and when they rolled Alex out? \o/ !!!! Since I pretty much stopped watching the show after Alex was eliminated, a lot of the routines were new to me. My love for Pasha & Anya continues to grow.
Current Mood:

tired


I went on a little impromptu shopping spree on Amazon. I just wanted to check the track listing of a CD which lead to perusing the DVD section... OMG the Doctor Who Specials DVD is finally at a decent price (ie <$40)! *click* OMG Avatar: Book 3 is only $16.99! *click* Avatar: Book 1 is on sale too! *click* *refrains from buying Book 2 cause the sale wasn't good enough* Oooo nice discount on The Girl Who Played With Fire *click* Aaaaaand stop. I finally received my tax refund (only 3 months late of which I earned a whopping $23 in interest, thanks government!) so not feeling too guilty.
Alex Wong has been eliminated from SYTYCD due to an injury =( And there goes my interest in this season. I couldn't name you half of the contestants as most of the time, I'm more interested in the All-Star (especially Pasha, hello!) than the contestant. I never thought I would say this, but I kinda miss Mary Murphy as a judge. Nigel's perviness is getting worse and worse, Mia is downright cruel sometimes and Adam is just there.
Current Mood:

guilty
Current Mood:

tired
Bad Romance is STUCK IN MY BRAIN. I caught her appearance on Ellen the other day. This was the first interview I've seen of hers and she's kinda adorable!

** Janet Jackson's Make Me video:





Who's that hottie dancer? Why it's Nico from SYTYCDCanada!!! He even gets the "hot guy" role, go Nico!! Natalli is also there -- she's the blonde with the hoodie -- and Mark from SYTYCD, I'm pretty sure he's the one in the sunglasses.

** Proof that Colin & Bradley > Merlin & Arthur.



** Lady Gaga's
Current Mood:

nostalgic
so hungry. Strange.

-- Watching the Oprah show with The Biggest Loser cast while eating a big bag of sour cream 'n onion chips is not a good idea. So I flipped the channel to the Ellen Show. Guilt averted HA! Anyway, Ellen had on Reese Witherspoon. I like her even if she is dating my bf Jakey.

-- I don't even remember what prompted me to peruse old SYTYCD videos but found this one of Travis and Ivan doing a contemp dance for a show. I loved both these dancers back when they were on SYTYCD S2 and look at l'il hip-hopper Ivan all grown up and dancing contemporary! This performance is made even more brilliant with the fact that it is supposedly completely improvised!!





-- I will not start watching soaps again. I will not start watching soaps again. Hey, Jacob Young is on All My Children now? I will not start watching soaps again. The Sonny & Jason show. Nice to see General Hospital has not changed AT ALL. I will not start watching soaps again.

-- Have been sick since the weekend. All I do is cough up a lung and blow my nose. I don't think I've ever blown my nose this much! Disgusting. What's the saying? "Feed a cold, starve a fever"? I hope so cause the last couple of days, I have been
Current Mood:

sick


The Decathalon Challenge -- stupid name as each crew was required to perform 5 (not 10) elements of hip-hop: threading, tutting, waving, housing, krumping (order which QC performed them)



Final dance. Each crew was allowed to create their own music and could do whatever they wanted for choreography. Quest Crew dubbed this "Or-Quest-ra"



OK, how much did I love they incorporated the piano? LOVE. And that freeze? I can't even comprehend how anyone could even do that! And that last trick! DUDE PUSHES OTHER DUDE WHILE DOING A BACKFLIP OVER 2 OTHER DUDES. No words to express how cool that was.

I'm going to watch it again.
Anybody watch ABDC? I was pretty into it for the first season, lost interest in the 2nd but came back for the 3rd when I discovered that 2 guys who were on SYTYCD -- Hok & Dominic (aka D-Trix) -- were on as part of Quest Crew. Quest was the early favourite but, IMO, they got boring as a lot of their routines were similar: a bit of dancing + tricks + hamming it up. The season was theirs to lose and they were beginning to lose it. I just watched their last 2 dances before the finale and OMG THEY KICKED SO MUCH ASS!!! The tricks they do are INSANE but this time, they were so much better integrated into the routine. Anyway, I just need to put their YT vids here for future viewings.
Current Mood:

impressed
Jersey Boys
(the era & music is right up my dad's alley). This weekend, will be entering the
scary
world of Tiffany's for SIL's gift (and maybe a little something something for me). And to top it all off, I went on Amazon.ca this afternoon and they had a one day sale of the
Gilmore Girls
complete series boxset for $110 and the next thing I know, I'm buying it! Yeah, so not looking forward to the cc bill.
* Nico wins SYTYCD Canada. No surprise there. He definitely deserved it. He wasn't the best technical dancer (his ballroom was lacking) but he had the charisma, the looks, the abs and was so very humble. All very important ;) I have tickets for the tour in February and I'm really looking forward to it.
* LJ has increased the numbers of icons! I have 195 spaces now, woot!! Now I'm on the hunt for icons.
* For the Avatar fans -- looks like
the movie has been cast
. I can't decide whether to laugh or cry over the casting of Zuko. Seriously, M Night Shyalaman?
*
(
under the cut are the songs i can't stop listening to lately (boyband music ahead, beware)
Collapse
)
* For some reason, I have been bitten by the Christmas shopping fever this year and purchased some nice shit, if I do say so myself, for my brothers. I got the whole family tickets to
Current Mood:

blah
For all the Merlin fans... Have y'all seen the DVD extras on the Vol 1 disc?!?? THE BOYS ARE SO ADORABLE
AND IN LOVE
!!! Colin's Irish accent!! Bradley bossing Colin around!! Bradley and Colin playing a
lame
prank on Angel!! Bradley and Colin speaking French!! Colin's facial hair!! Even Bradley's pimples are cute!! OK, not really, but the video diaries are made of SO MUCH MAGIC AND SQUEEEEEEEE!!
Bradley & Colin's Video Diary
Cast Video Diary
Take. Watch. Squee.
Wishing all my American friends a happy Turkey Day!!
Now I go vote like crazy for everyone except for Natalie & Isaak *flexes dialling fingers*
Current Mood:

determined
OMG HOW CUTE ARE THEY??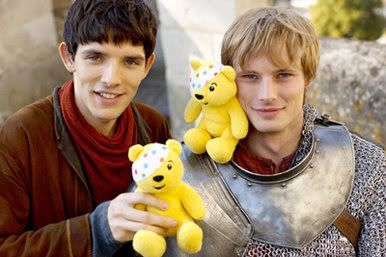 For Children in Need. The sketch was very adorable and Merlin getting pelted by fruits & vegetables is never not funny.
(
merlin 1x09 thoughts
Collapse
)
***
At this very moment, the cast of
Twilight
are at MuchMusic, just a few blocks away. I admit, if it wasn't raining, I would probably be there in the crowd just to see RPatzz.
***
I'm still disappointed that Danny got eliminated on SYTYCDC =( He was one of my favourites and I even voted for him! I knew he was in trouble though. For some reason, Isaak has a pretty big fanbase and all the bashing done by the judges is backfiring as he picks up the pity votes. I hope Isaak goes next, then Miles leaving Vincent & Nico in the Top4. Natalli needs to go next and I'm cool with any combination of Lisa, Allie & Arassay in the Top4. Good news is that there is going to be a Top10 tour so while I couldn't get tickets to any of the tapings, I'll definitely be going to the tour! Can't believe there's only 3 more weeks left til the finale.
Current Mood:

productive
Flipping through the channels and what is this? Is that
Liz Parker
Shiri Appleby on ER? OMG it is!! She will always be Liz Parker to me so I'm just going to believe that she's currently hiding out in Chicago and she sneaks Max in sometimes to help her with the really hard cases. Michael is working in the diner across the street cause he's sick of that redheaded cop in Miami and Maria got a singing gig at a local club. Kyle is a cop, much to his chagrin, chaffeuring FBI agents who are looking for the Connors and Izzy is pretending to be a doctor in Seattle. =)
Is the SYTYCD Canada watching public on crack?!? How are Kaitlyn/Isaak still on the show? They didn't even hit the bottom 3 last night but Allie & Danny did?! It was nice to see Allie dance en pointe for her solo though. I'm not going to miss Lara but Francis? Noooooooooo I think the judges want to keep Miles
and his abs
cause he's the only b-boy left. I feel like ending this post with a mini picspam and speaking of abs....
(
the boys and their abs of sytycd canada
Collapse
)
Was watching Keifer Sutherland on Biography last night as I waited for SPN and how did I not know that Kiefer has a twin sister? Or did I know this but forgot? Fellow Kieferettes -- what's the scoop on the twin? What does she do? *curious* Also, getting excited over the new 24 this month. Jack Bauer finally returns!!
Current Mood:

complacent