Entries by tag:
So this post was planned to go up a whole lot sooner but then I was completely distracted by
Current Mood:

exhausted
Current Mood:

ecstatic
begging
clamouring for a picture of Darren & Chris together. They've attended the same events in the past and yet, strangely, no Criss Colfer goodness. And this made us sad and be all "IT'S A CONSPIRACY!! ARGHHHHHH!"
But the joyous day has arrived!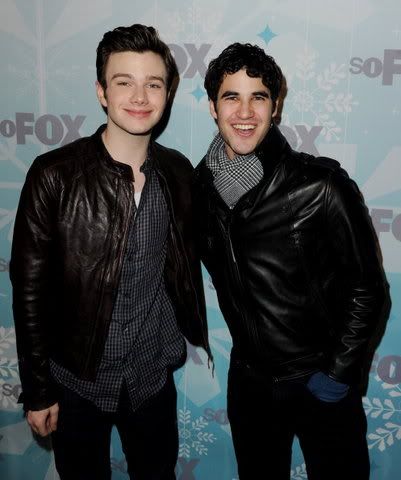 BEST THING EVER TODAY especially as I'm still stuck at work finishing the file from hell (and I had to listen to my boss sing along with Elton John but I get the feeling either (a) he didn't realize he was singing aloud or (b) he didn't realize I could hear him HAHA).
This picture generated 5 pages of comments at a Klaine comm and the overusage of gifs and squee and sparkly text!! LOVE IT. Nothing like reading pure fangirl squee to brighten one's day!
Chris does look a tad awkward but, as it's been pointed out many times, Chris is always awkward on the red carpet.
To me, Chris looks all "*sigh* the internet is gonna explode cause of this, why are my fans such pervs?? haha" and Darren is his usual happy, shiny self LOLOLOL And that's about analytical I get :)
LOOK AT THE MATCHING LEATHER JACKETS. AND THE MATCHING PLAID. ♥♥
We got our picture. Now we're waiting for the inevitable joint interview. I fear the level of deaths by squee overload will be high when this happens. I love fandom sometimes :D
OK back to eating my jap chae (yummy Korean glass noodles) and working.
So it's been a running thing in the Klaine fandom where we've been
Current Mood:

working


*BOUNCE BOUNCE BOUNCE*



My inner teenager has died and gone to heaven (let's ignore the fact that during BSB's height, I was in my twenties).
YOU GUYS. I WAS LITERALLY JUMPING UP & DOWN IN SQUEE WHEN I WATCHED THIS IDEK. I MAY HAVE PERMANENTLY REGRESSED BACK TO A TEENAGER BUT WITH MY THIRTY-SOMETHING INCOME CAUSE I'M GOING TO BOTH TORONTO SHOWS. THAT'S RIGHT -- BOTH! (but I was an adult & just purchased regular tickets, no VIP packages this time).
Current Mood:

bouncy
Promo vid for "Stand Up Stand Up". Taylor just keeps getting hotter and hotter. Zac is looking good, too.
~*~*~
The TIFF guest list has been released.
Lots of stars I've already seen (Clooney, Farrell, McGregor? what
ever
LOL) so who am I most excited about? Colin Firth (who I missed the last time he was here), Ben Barnes, Dominic Cooper and OMG GASPARD ULLIEL!!!!! *squeeeeeeeee*
Gaspard's coming here
The Vintner's Luck
.
The trailer isn't all that impressive but Gaspard as an angel?! I am SO.THERE. And I'm a tad disappointed it's in English. Just seems that it'll be better in French.
Is it wrong that I'm kinda hoping this job falls through so I'll have the time to stalk? I have my priorities straight, right?
I kinda forgot about these boys until I was perusing another forum this afternoon and Hanson was mentioned. Popped over to their site and was very happy to discover that new music is on its way!! \o/ But no tour stops in Toronto :(
Current Mood:

good


Took many pictures of John Barrowman.

Stared at John Barrowman's ass.

Took picture with John Barrowman. (oh my, he holds you tight! I look terrible but who cares!)

Now back at the office and must do work. Co-worker noted I was all smiley, LOL

Pictures will be uploaded tonight!
Saw John Barrowman.
Current Mood:

happy
THEY GOT ME JARED SWEAT STRAIGHT FROM DALLAS!!!!!!!!!!!
I am alternating between being giddy and laughing hysterically right now!!
A quick rundown to explain Fan's post -- Chris is the photographer who does the photo ops. At the Chicago con, while we talked to him as we waited for the jpegs of our photo ops, he mentioned that the bunch of sharpies lying on the table were the ones used by Jensen and Jared to sign autographs and he let us take one -- I took one that Jared used and Fan took one of Jensen's. I can't believe he remembered that!
Next time I meet Jared, perhaps I should get him to sign my Jared Sweat Towel with the Jared Signing Sharpie. Although that would probably freak the boy out, LOL!!
Current Mood:

giddy
In all my squee over GDL coming to TO this morning, I completely forgot about watching NKOTB on The Today Show!!! And after talking about it all week! *headdesk* Why isn't the clip on YouTube yet?

PS This morning, on my way to work, a guy told me I had a pretty smile. That was nice. :)

*goes back to checking YT*
ETA: OMG THEY'VE ADDED A SECOND TORONTO SHOW ON THE 19TH!!!!!!! *high pitched squee-ing*
Current Mood:

good
****
OMG people, Gareth-David Lloyd is coming to Toronto July 11-13 for the
Polaris Convention
!!!! *squeeeeeeeeeeeeeeeeeeeeeeee* It's like the universe felt sorry for me for missing all the conventions that I was planning on attending that they've sent me Ianto!! Awww, thanks universe! And I've checked the calendar, the weekend looks open!!
I'm probably going to buy the weekend pass which I think is worth it just for GDL alone!! See that, Creation bastards, that's what you call reasonable prices!! The only other actors I know are Dax from DS9, the girl from Dead Like Me and Jason from Moonlight. I would love if someone would be interested in coming with me *throws puppy dog eyes* but I'll go alone cause I can't miss this!
Current Mood:

bouncy
bzzinglikeneon
for finding this --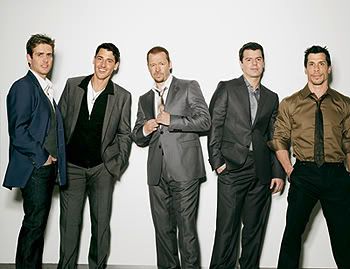 First group picture in like 15 years!! *flails* I was GIDDY when I saw this last night, I couldn't sleep, LOL!! ONE MORE DAY!!!!!!!!
Oh, there's also
VIDEO
!!!!! I totally reverted to my 14 year old self.
And in honour of this momentous occassion, I uploaded something to share with all my fellow blockheads :D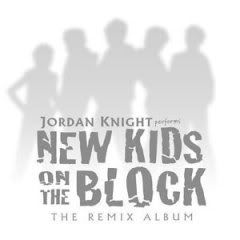 Released in 2004, this is Jordan singing all the NKOTB hits. Yes, this a rip of my own copy (I also have Jordan & Joey's solo albums, I'm such a nerd!) I was quite iffy about this -- how will Jordan fare singing songs where he wasn't the lead? -- but I ended up liking it quite a bit. It makes me smile :D Some songs sound completely different yet the same.
Links are on mediafire --
Disc One (Pop Remix)
and
Disc Two (European Remix)
. If you're not interested in snagging the full albums (and why not?!?!!), I uploaded just
Hangin' Tough (European Remix)
for your listening pleasure on zshare.
*switches fandom*
O HAI SEXIE JENSEN *thuds* New S3 promo picture from SPN Repro and supposedly, more are on the way.

*can't stop staring* I need to take a cold shower. There better be Jared pictures.
Props to
Current Mood:

chipper