Last night, mom & I went to see RyanDan.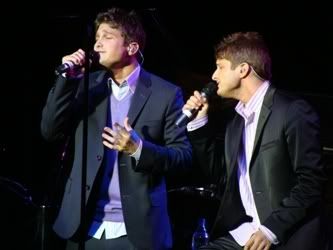 (L - Ryan, R - Dan)
The boys sounded great, their harmony is amazing & I really enjoyed the show. My mom, who's never heard of them, also really liked it. However, I have discovered how much LJ & fandom has ruined me.
When RyanDan sing, especially if they're harmonizing, one of the boys usually watches the other for cues and such (I find it's mainly Dan watching Ryan). They've talked about this interviews. What kind of songs do they sing? Mainly love songs of course. Do you see where my mind is heading? Bad fandom for corrupting me :D
****
Most of you know that my not-so-secret guilty pleasure are boybands. New Kids were my first and I still enjoy Backstreet Boys & Westlife. Take That, a UK boyband in the '90s, I liked but didn't really get into cause by the time I discovered them, they were just months away from disbanding. Imagine my surprise when I discovered that there is currently a musical,
Never Forget
, featuring the music of Take That. And it's pretty good! It also made me nostalgic. I knew they reunited -- I have their new CD -- so off to YouTube I go and ended up spending hours watching the concert footage of both tours and the behind-the-scenes documentaries.
This is "Could It Be Magic" from their reunion tour. I love this cause (a) it has the Robbie Williams -- who did not re-join with the group -- intro; (b) the boys got wet and (c) it just looks like fun.
All the boys grew up nice. I never thought Howard or Jason were good-looking but now? Especially Jason.
You can probably blame these guys for all the reunions that are happening. Take That reunited back in 2005, I think, and since then we've had the reunions of Boyzone, Spice Girls and New Kids.
****
Finally watched
Atonement
. Good movie, not the ending I was expecting but still good, if not heartbreaking. I kept reading about The Green Dress, which was indeed lovely but I think would've looked better on someone with a bit more curves. And there was James McAvoy. YUM. I'm now currently d/l'g
Becoming Jane
and plan to watch
Penelope
tonight. Excited to see
Wanted
but watching him speak with an American accent takes some getting used to.