Entries by tag:
*wipes dust off* *sneeze sneeze*
They keep changing the celebrity autograph area layout and this year, well, it was impossible to get any pics of the celebs unless I went to their panel. I went to 3 panels: Matt Smith, Doctor Who (Matt & Arthur) and Stephen Amell. My photo ops were with them as well.
Matt Smith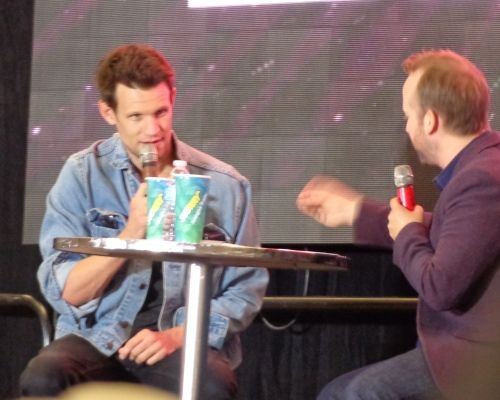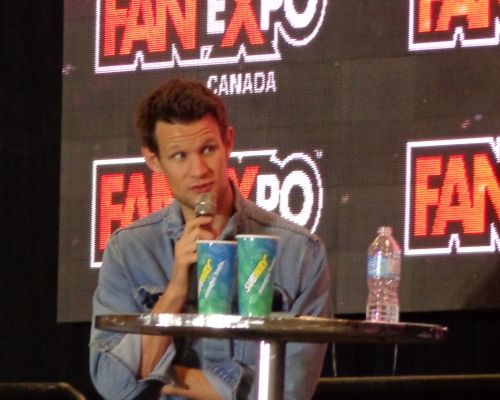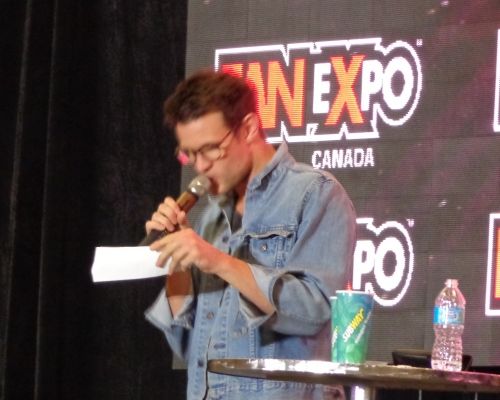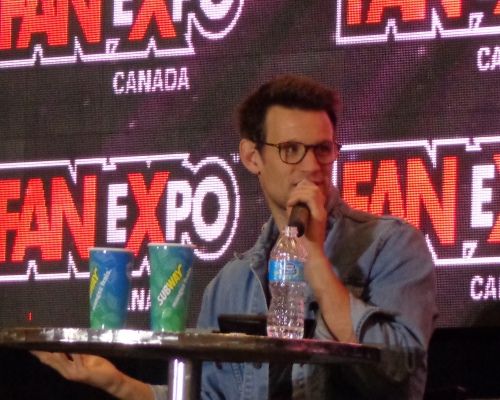 Matt Smith & Arthur Darvill (I find Arthur ridiculously good looking that it annoys me)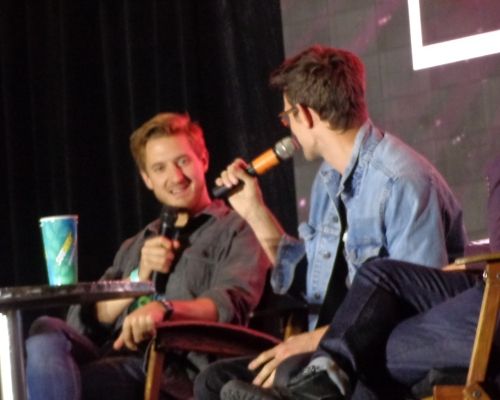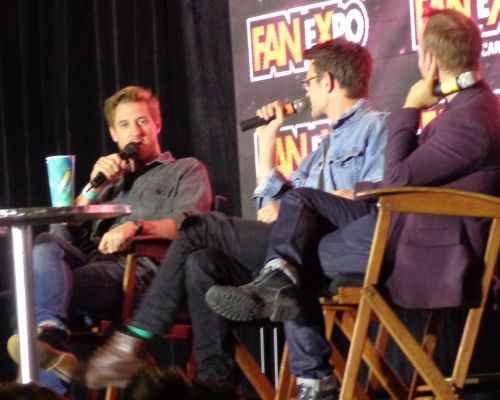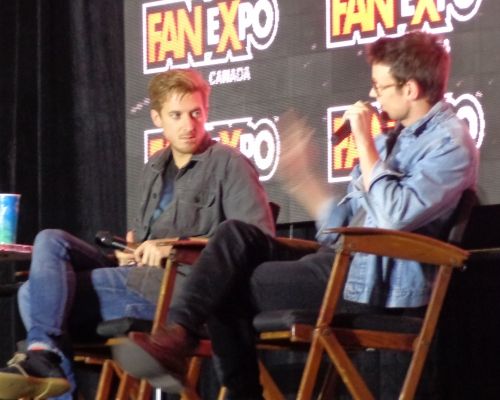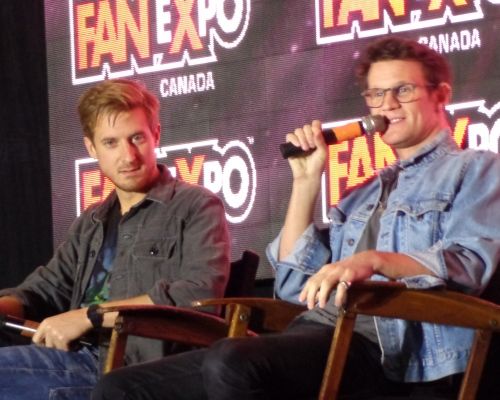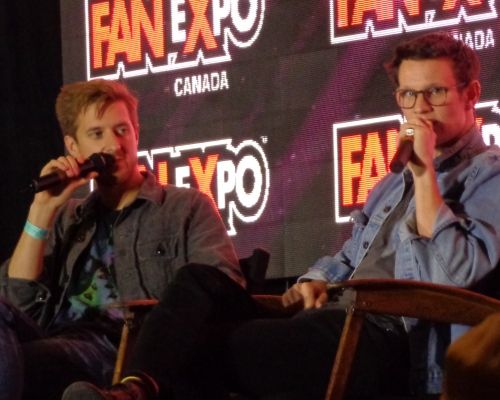 Stephen Amell (total sweetheart)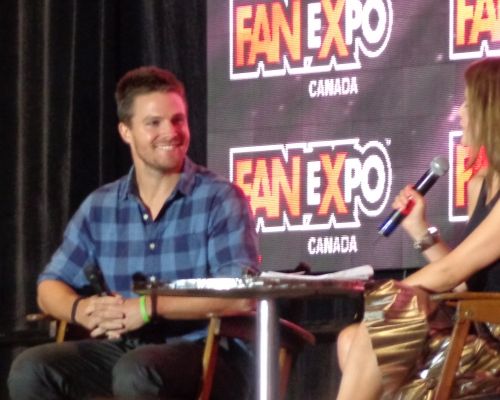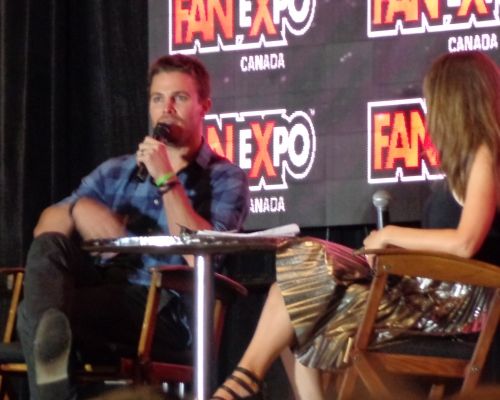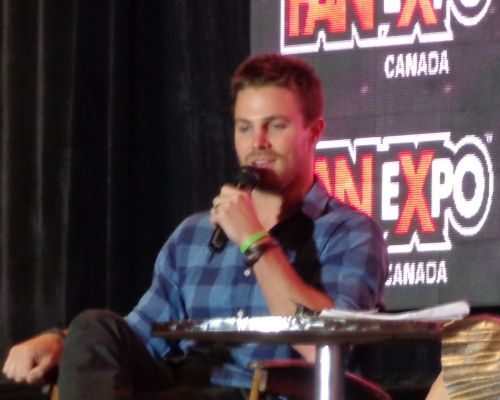 (
photo op pictures under the cut
Collapse
)
Once again, I planned on skipping FanExpo. And once again, they announced guests that I had to see. This year, it was Matt Smith and Arthur Darvill (Karen Gillan too but she cancelled last minute). Spent a lot of time on my feet helping out at my cousin's booth. I was dead tired by Sunday afternoon. Thank heavens Monday was a holiday. I already know I'm going next year - a friend of mine really wants to meet Stephen and chances are very good he will be there.
Current Mood:

tired
Wow, I am one lazy mofo. I came back from this trip 2 weeks ago. I uploaded the pictures days ago. Procrastination queen.
Current Mood:

accomplished
Wednesday
Lady Gaga concert! I went with a co-worker who's never been to a big spectacle concert before and has always wanted to see Gaga. This is my 3rd time seeing her in concert (and most likely my last cause ticket prices are ridic). I have to say she's looking much healthier. There were 2 older - at least 60-something - ladies seated beside us and they were dancing and enjoying themselves, loved it! Stage not as elaborate as the previous tours but still lots of costume changes. Have some pictures: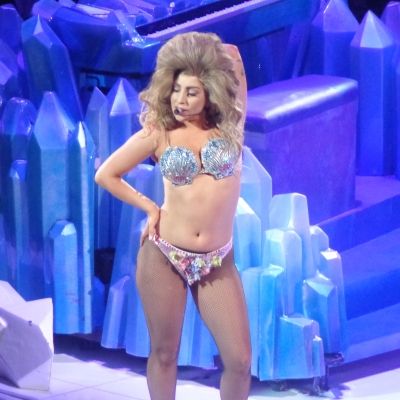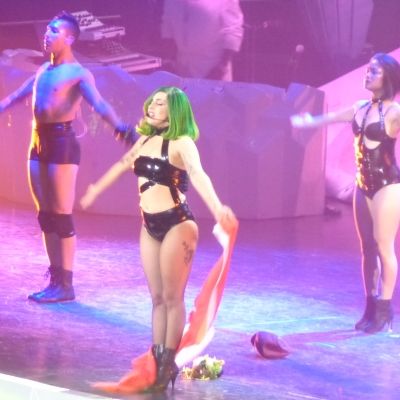 Also took a bunch of video
(
more gaga videos under the cut
Collapse
)
Friday & Saturday
Flew to Chicago for Chris Colfer's book signings of his 3rd book in
The Land of Stories
series. I met up with fellow Gleeks/Klainers for dinner on Friday night and then the signing -- Lori, I totally shook his hand, soft but cold! -- went out for drinks afterwards. I ended up driving to Heather's (the girl with whom I stayed with) and on the way back, I went right over a pothole which blew out the tire! I didn't even see the pothole, it literally happened just as I was changing lanes and checking over my shoulder. Heather had AAA but it took almost a hour. We killed time reading *really* bad fanfic and glaring at police/security as they drove by THREE times without stopping!
I did the 2nd signing on my own as Heather went to Dashcon (which turned out to be a clusterfuck, boooo). Actually talked to him a bit this time, told him I flew in from Toronto (he said he's trying to get up to Canada but I'll believe it when I see) and both him & Alla (his PR) asked if I was at the signing the day before. Most fans freak out when they're recognized; I felt creepy lol. Anyway, here are my extremely crappy pics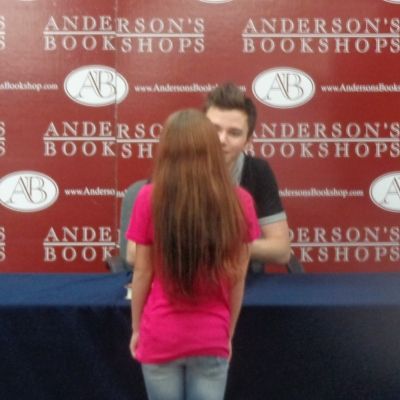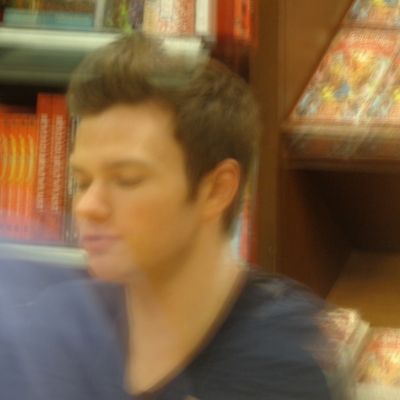 Went directly to the airport from the signing. Knew I was early but was informed upon check-in that my flight was delayed. For 3 hours. I ended up spending almost 6 hours in O'Hare. Lovely.
Sunday
Queen+Adam Lambert concert with a couple fellow Klainers, Ali & Sam. Had a light dinner and then walked down to the ACC. I must confess, it wasn't my favourite concert. I only recognized about half of the Queen songs. Adam sounded AMAZING but I expected a lot more, I dunno, energy(?) from him. And, I'm sorry, but 5 minute long guitar solos are just not my thing. I can appreciate the talent but after a couple of minutes, it just starts to sound like noise to me. I really liked how they incorporated video of Freddie throughout the show. Ali & Sam really enjoyed themselves so I'm glad about that.
Here are a couple of pics and a bunch of videos: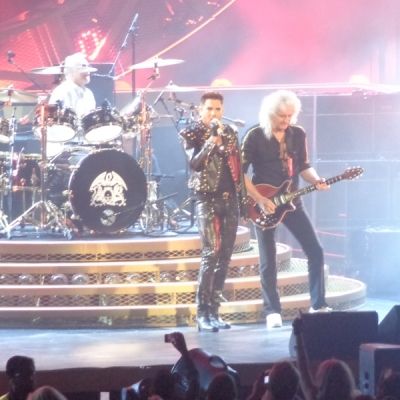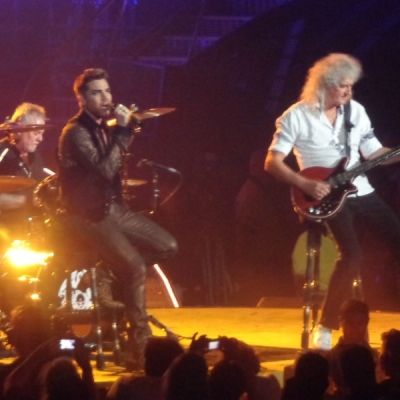 (
more queen videos under the cut
Collapse
)
3 days later and I'm still trying to catch up on sleep :) I have no plans for the next 2 weeks and I look forward to doing absolutely nothing.
Current Mood:

tired
Fandom
. Klaine/
Glee
is still my primary fandom. The next season - which will be a short one - will be its last. I don't have another fandom to go to! I'm on the fringes of a few --
Teen Wolf, Arrow, The Flash
(omg I am so EXCITED about this show), Marvel universe,
Sherlock, Doctor Who,
I miss Eleven already but really looking forward to Twelve -- but nothing is sticking *sigh* I'm still reading tons of
Merlin
fanfic though. Man, I miss that show. Right now, my tumblr dash is full of
Orange is the New Black
because S2 was just released. I just watched the pilot this morning and I will definitely be continuing on.
Real Life
. Working the same job at the same place. Blergh. I did get moved into an office though. We hired someone back in February and there really is a lack of space. I ended up moving into an empty office but it's temporary as that office has been designated for a to-be-hired project manager. However, it looks like the hiring process has hit a snag so yay for me! Looked into the possibility of purchasing a condo for investment purposes. And then I saw the prices and holy crap. Obviously, I want certain locations where rental prospects are high which, of course, means higher prices and basically, I can afford like a bachelor. I was so lucky that I purchased my own place when I did cause the market started to swing up the next year and it hasn't really stopped.
Family is doing fine. My brother & SIL are expecting baby #2 (it's a boy!) real soon. I think she's due end of June. We actually have tickets for
The Lion King
on Father's Day so she better not go into labour at the show! And little Juju is growing up fast and remains fucking adorable.
(
here are pictures of juju
Collapse
)
Travel
. Original plan for this year was to join a tour covering Finland, Norway, Sweden & Russia. A co-worker of mine took the tour last year and really enjoyed it. Unfortunately, the timing wasn't good so that's been pushed to (hopefully) next year. Instead, my 'big' trip is a bus tour to the eastern provinces. I've only been once, way back in my early teens, and I've always wanted to go back. In addition, Rina, Anj & I are planning on LA for a few days in October so yay for that!
Last month, Anj & I went to NYC. We saw
The Cripple of Inishmaan
starring Daniel Radcliffe and
Hedwig and the Angry Itch
with Neil Patrick Harris. Both shows were excellent. Our seats for
Cripple
were so close to the stage! There was no orchestra pit in this theatre so first row was literally right up to the stage. We were in 2nd row. I thought Daniel was great. The character he plays has cerebral palsy and the control he had over his body, I thought, was amazing. The play itself was pretty good, a little difficult to understand with the Irish accents & slang. A couple of twists & turns at the end which I did not see coming. NPH as Hedwig was fantastic. How he performs the majority of the show in those heels, I will never know. But Lena Hall, the co-lead, blew me away. Holy crap, the pipes on her! We never did the stage door for Daniel cause it was just too crowded. Ended up doing the Hedwig stage door the day after so I was able to get NPH & Lena's autograph. In addition to theatre, we also did the hop-on hop-off bus plus river cruise. It's been a long time since I did the whole tourist-y NYC thing so that was fun.
(
nyc pictures
Collapse
)
In April, over the Easter weekend, I visited my tumblr friend, Heather, in Chicago. Visited Cloud Gate (or the Bean). That area of downtown was pretty dead on a Saturday yet so many people around Cloud Gate. It was like a people magnet. Went to see Buckingham Fountain but unfortunately, the water wasn't turned on yet :( We took a river cruise. Walked around Magnificent Mile (I saw a really
pretty Tory Birch bag
but I didn't buy it, go me!
omg it's on sale right now, I want it!!!!
). Drove by Wrigley Field and ate some deep dish pizza. How do people eat this?! The sheer amount of cheese blew my mind. We got a small for the 2 of us and I managed only 1 slice. During the river cruise, the guide would point out certain buildings that were featured in movies. I only cared about one in particular and I recognized it immediately -- can anyone guess?
(
chicago pictures
Collapse
)
What's been happening the past few months...
Current Mood:

lazy
I'm sad about the trees :( They looked so lovely in the summer.
It wasn't that bad downtown - well, transit is all screwed up, let's hope it clears by tomorrow morning - but my dad sent me some pictures he took outside the house. Good news was that they didn't lose power. Never seen in that bad in the 20+ years we've lived there.
Italy. So much history. Saw a lot of ruins, cathedrals, fountains and art; ate a lot of pasta and gelato; did some shopping. I still don't understand how Italian women can walk in stilettos over cobblestone without breaking an ankle.
(
pictures under the cut
Collapse
)
This whole trip started with a dinner with Aubrey, a fellow Klainer that I met during TIFF. Aubrey's a teacher and I knew that she was planning a big European vacation over the summer. So we were talking about her plans and at the end of the dinner, she invited me to join her. Obviously, I couldn't do the whole trip with her but the Italy portion, the first part of her trip, was perfect. The best part, for me, was that she already planned the whole thing so all I had to do was tag along and pay my way. I liked that :) The 'bad' part was, as a teacher, the trip had to happen during high season so holy crap was that plane ticket expensive! And the weather. It was freaking hot. We started in the south (Rome) and traveled north, the idea was that the weather will cool. Nope. Pretty sure it was getting hotter. But we were lucky re rain. It did rain a few times but it all happened at night when we were already back at the hotel. The one time it rained during the day, it was when we were on the train from Florence to Milan.
Current Mood:

tired
faninohio
and her nephew. Would love to go back some day -- visit Muir Woods, the Sonoma/Napa region even though I don't like wine, the sea lions at the Wharf, Golden Gate Park, walk through Haight-Ashbury.
(
pictures under the cut
Collapse
)
... make sure to bring a jacket and a scarf cause while it may look bright & sunny, it is deceiving! The wind, OMG no one warned me about the wind *brrrrrrrr* As a result, we all came back from SF with colds lol Anyhoo, had a great time with
Current Mood:

tired
It has been at least 20 years since I've been that far north and I visited places where I've never been before so all in all, it was a nice 3-day trip.
(
pictures under the cut
Collapse
)
This past long weekend (Thanksgiving, for us), I took another one of those bus tours and headed north to Sault Ste Marie for viewing of the autumn colours. Unfortunately, due to the weather turning colder faster than normal and it being windy, by the time we got there, not only did we miss the peak viewing, most of the leaves had already fallen. And to top it off, we got snow.
Current Mood:

lazy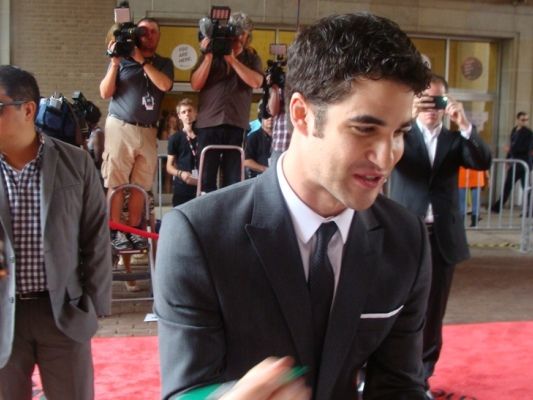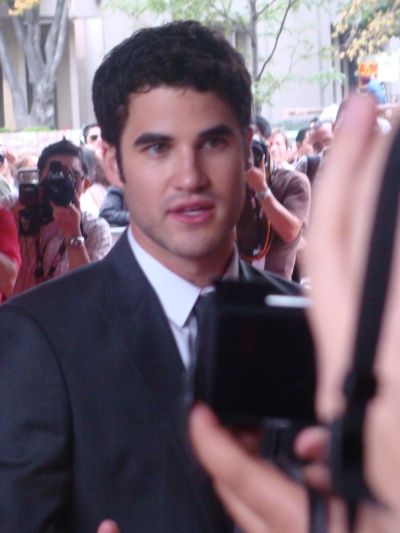 I saw
Imogene
and it was good. Darren had 2 make-out scenes, was shirtless twice, wore guyliner, spoke French, sang twice and dirty danced with Wiig. What? I noticed the important things ;P The movie is funny -- not
Bridemaids/Hangover
funny, more character-driven funny (I think that's how you describe it). Main complaint was the ending -- it felt abrupt and was your standard cliched everybody-got-what-they-wanted ending.
(2) Madonna concert. Damn woman didn't start until 10:30, which meant concert ended at 12:30. On a week night *head desk* She looked great. Did a pretty good mix of her old & new stuff. The first 4-5 songs was some sort of storyline with all this religious imagery (still doing that, Madge?) and Madonna killing some guy, having a fight in a hotel room & going to jail. It was weird and over-the-top. The rest of the concert was more standard fare and much more enjoyable. As I was pretty far away, I just took some video. Here's "Like a Prayer" and "Celebration", the 2 closing numbers.
(3) Who's watching
The New Normal
? How cute is that show!? Of course, it doesn't hurt that Ryan Murphy has described it as future!Klaine deciding to have a baby :) Apparently though, a lot of it is based on Murphy's own life. I have a soft spot for Justin Bartha since
National Treasure
. I know of Andrew Rannells as he's the Book of Mormon guy. I hope they have him sing on the show. Oh! Reading up on Rannells, he was here as part of the
Jersey Boys
cast but I missed him :( His last show was Dec 8, 2008 and I saw the show on Dec 28th.
(1) So I noticed that I never actually posted my TIFF Darren pictures (and Kristen Wiig's) on my LJ LOL Brain fart, wow
Current Mood:

lazy