Entries by tag:
* For those who have traveled to NYC a lot. I'm going this weekend for the Gays of Our Lives convention. The convention will be held in the Chelsea/Greenwich Village area (mainly at the Stonewall Inn). Since I am a master procrastinator, I haven't booked my hotel yet. Anyone with suggestions about decent hotels in the area?
* I've been meaning to post this but I keep forgetting. As American singers re-did
We are the World
for Haiti Relief, the Canadians re-did a song by K'naan,
Wavin' Flag
. Never was a big fan of the song but I kinda like this version.
Young Artists for Haiti
Link
. I say I recognized about 80% of the soloists although, looking at the
artist list
, I recognize more names than faces. Of course it was recorded in Vancouver during the Olympics while I was there but did I see any of them? Noooooooooo
* Watching the Paralympics highlights. Skiing for the visually impaired amazes me. The trust between the skier and the guide must be so strong. Our dream for triple Olympic gold (women's hockey, men's hockey and sledge hockey) was thwarted, not by the Americans or the Russians or the Swedes but by... the Japanese!! Curses *shakes fist in anger*!
Current Mood:

lazy


Watched Olympic Morning today, CTV gathered all the Canadian medalists together which was so great to see. Lots of reminiscing and "what was your favourite moment of the games?". So, to keep my mind off the hockey game, some of my favourite moments:

* Alex Bilodeau's gold medal. Watching him celebrate and the hug with his brother *heartclench*
* Shaun White's (US) half-pipe performance. He won the gold even before his 2nd run and the guy goes out and puts up a higher score! The man can fly.
* Virtue & Moir, ice dance. I've never been the biggest ice dance fan but in the midst of all those wacky costumes, V/M were just pure grace and class. Their skate was beautiful.
* Brian Orser finally getting his gold. Seeing him "skate" along with Kim Yu Na from the sidelines was awesome to watch.
* Joannie Rochette. After her short program, I don't think there was a dry eye left in that building.
* Watching Marianne St-Gelais scream & jump & cheer on her boyfriend, Charles Hamelin, during the 500m short track was awesome. Her jumping from the stands and onto the boards to give him a hug and then how she couldn't get back up so a volunteer had to gave her hand. A hilarious moment is that you can see, in the stands, a woman hit her husband and tell him to take a picture when they were hugging.
* Norway's curling pants. Enough said :)
* Jon Montgomery (skeleton), walking through the crowd at Whistler after winning and chugging from a pitcher of beer someone gave him. Can't get any more Canadian than that!
* The photo finish for the ladies 30km cross country between Kowalczyk (Poland) and Bjoergen (Norway). They were neck-to-neck right at the end, as they sprinted towards to the finish line. So exciting!
* Majdic (Slovenia) who fell into a creekbed! during a training run only to come back later and win a bronze for the individual cross-country sprint. Afterwards, it was discovered she had broken several ribs. Un-freaking-believable.
* Germany's Anni Friesinger sliding across the finish line during the ladies' team pursuit. The whole back-end of the race with Anni falling behind, her teammates slowing down, Anni's legs collapsing and her frantically trying to cross the finish line, lying on the ice thinking she lost the semi for her team to her joy when she saw they still won.
* The Canadian women just killing at the games. If I counted right, out of our 26 medals, 15.5 (the 0.5 to Virtue of the ice dance team) were won by women. Double medal in women's bobsleigh. Maelle Ricker's constant smile. Ashley McIvor's jump for joy. Marianne St-Gelais' little dance.

I can probably go on but the list is long enough. I had to look up some of the names so I know Canada's leading 2-1 in the 3rd period. I can hear sporadic yelling and car horns going on outside. OMG, I'm so nervous LOL!!

ETA: OH THANK FREAKIN' GOD *heart slowly returns to normal* I flipped in to watch with 3 mins left and then the US scored. I couldn't watch the OT at all. I only flipped it back to the game when I heard the yelling from outside. Sid the Kid. You are already a national hero but after this game, you're now a freaking Canadian god LOL. The yelling & car horns are still going. Good job, USA. Thanks for giving an entire nation a heart attack =)
I've been practically glued to the tv this entire weekend... except for the ~90 mins when I forced myself to go outside & run some errands only to discover I missed, not 1, but 2 gold medal performances!! Damn my luck! The MUCH HYPED GOLD MEDAL OMGWEHAVETOWINTHIS hockey game is on right now but I can't watch, the anxiety... I hear car horns honking outside, I'm taking this as a good sign?
Current Mood:

anxious
Last of the pics before I head out for lunch and then the airport.
(
more pics from around Vancity
Collapse
)
This is my 4th time in Vancouver and can you believe I've never made the trek down to Seattle? So yesterday, I finally went!
(
seattle: space needle & starbucks
Collapse
)
See y'all back in TO! I've got some shows to catch up and my f-list as I've been just quickly skimming through. Bye sunny Vancouver, it's been a blast. GO CANADA GO!!!
Did you hear that the Canada vs USA hockey game is tonight? At 4:30 PST/7:30 EST. No, really, did you know? Cause just in case anyone was wondering, CTV has only mentioned this fact about a million times this morning. They even had a NBC sports analyst guy to talk about the game and he basically said that most of the USA probably doesn't even care LOL.
Current Mood:

calm
was not impressed
. I kinda get what he's saying about the quad but I don't think it should be the be all and end all of male skating. Now, moving on to cheering for Virtue & Moir! They're probably our last chance at a figure skating medal.
Spent Thursday at Whistler. Why is it I always see all this action on tv but when I'm actually there? Nada. I must have the worst timing ever.
(
a beautiful day at Whistler, BC
Collapse
)
Thanks to everyone for their birthday wishes and gifts *hugs & kisses*. More pics coming soon!
I missed the men's free skate and I still haven't seen any of the performances but I was SHOCKED that Lysacek won. I figured the only way Plushenko would lose the gold is if he chucked his program out the window and gave the judges the finger lol. Well, congrats to him and yay for Chan for moving up a spot. Elvis Stokjo, on the other hand,
Current Mood:

loved
Being here with no tickets is a tad depressing. Tickets were available for the men's short program but only the top priced ones and I didn't feel like dropping $478. Lots of
fan-to-fan
scalpers but the prices are ridiculous. Tickets for the medal ceremony of Bilodeau -- original price $20, scalpers were asking for $200+. No thank you.
So, I'm playing tourist instead. Today was Stanley Park and back downtown.
(
dolphins, totem poles and swedes!
Collapse
)
Oh yeah, Stephen Colbert is somewhere in town filming but I was too lazy to find out where.
I had plans yesterday but I did nothing. Sat on the couch and watched Olympics all day \o/ Maelle Ricker - ladies' snowboard cross winner - is the cutest thing ever. I don't think she's stopped smiling! *squishes her* I also can not watch Olympic hockey. I give myself heart attacks! Watched almost the entirety of the men's figure skating short program last night. Oh Patrick Chan. I don't think you'll medal -- Plushenko is practically guaranteed gold and the Japanese skaters are on fire -- but go you! And go Vaughn C (our other male skater) who just squeezed into the top 24. At least he'll get a chance to skate his long program at the Olympics.
Current Mood:

sore
Today was short as I am tired (waking up at 4am does that to you) and walking around downtown Vancouver just wiped me out. So am chilling at my cousin's place and wrestled the computer away from Leo (my cousin's 16 y.o. son) with promises of being done quickly (he has v important video games to play, you understand ;)).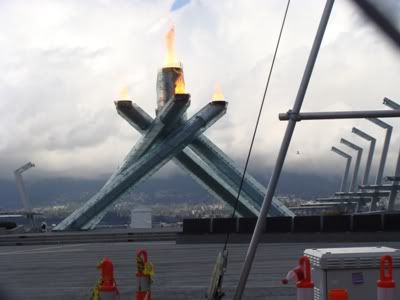 (
a few more pictures
Collapse
)
Am in Vancouver! Damn, the weather is so nice here. No jacket required. I saw a couple of guys in shorts!
Current Mood:

tired
RIP luger Nodar Kumaritashvili of Georgia
. He was only 21 =(
I'm packing at the moment while the Olympics preshow is on the telly. Love the Donald Sutherland commercial. The camera battery is recharging. The mp3 player is syncing. And it's still bloody raining in Vancouver/Whistler! No rain, they need snow!!
The fact that we are the only country to host multiple Olympics but never won a gold is being harped all the time. Which ever athlete does this first will be hailed as a hero LOL And if we don't win hockey gold, we may have a revolt. Seriously. I watched a hour-long special on the choosing of the men's team the other day. You know when it's the Olympics when I start watching stuff like that!
OK, back to packing and cleaning my place (which is still a mini-disaster zone from the reno).
Do us proud, Vancouver opening ceremony! T-minus 22 minutes!!!
ETA: Why is the NBC feed on a delay? And
Chinese Taipei
Taiwan represent!! =)
ETA2: Damn, how tight is Nelly Furtado's dress?! And I just need to say that I'm jealous of Shaun White's hair.
ETA3: That projection floor is amazing. I loved the orcas swimming across. Sarah M!
ETA4: kd lang's voice is
gorgeous
. Uh oh, glitch on the cauldron! Of all the things to go wrong, not the cauldron! So, Gretzky lights the outside one. Look at the rain! And all the crazy people running along with the cars.
What a sad way to start the Olympics --
Current Mood:

excited
Chuck/Honda/Olympics ad?



Olympics are less than a week away!! I'm getting excited! I can't believe it's 7C (45F) in Vancouver right now. That's way too warm, people! And they're having snow issues. Too much rain, not enough snow. Whistler is okay, it's the other site, Cypress Mountain (snowboarding, freestyle), where they've started on Plan B. They're even flying snow in!
How did I miss this brilliant
Current Mood:

good


Had a WTF IS THIS BATSHITTERY moment when I saw the flight prices. Flights to Vancouver usually fall in the $400-$500 range. This time, my ideal flight times would've cost me $943!! In the end, I decided to lose a day and save myself a couple hundred dollars. Stupid airlines.

So, I will be in Vancouver from Feb 14-21 =) I'm so excited I was able to take the whole week off! When I originally started thinking about going to the Olympics while I was at my old job, I figured the most I could swing is a 4-day weekend since it's the busy season. But I don't have to worry about that anymore YAY!!

And now I should do some research for tickets...
I just booked my flight to Vancouver SQUEEEEEEE!!!!
Current Mood:

excited
I don't even know who I saw carrying the torch in LOL. Brian Orser carried it way early this morning. And I know Ivan & Jason Reitman carried it for a stretch. *Googles* Oh, looks like it was Vicky Sunohara -- member of the women's gold medal Olympic hockey team. Cool.
(
the olympic flame comes to nathan phillips square
Collapse
)
Thanks to my f-list, I have been informed that as a permanent member, I can hand out 10 $10 coupons to those who have a basic account and wish to upgrade to a paid account. Let me know if you're interested!
The Olympic torch relay came through the GTA (Greater Toronto Area)/Toronto today. A friend & I went to City Hall to see. The place was packed. We got there around 6:40. The torch was scheduled to arrive at 7pm. It arrived more like 8pm -- supposedly a protest held up the relay. We got a pretty good view from the upper walkway but we couldn't see the stage at all. All that waiting in the cold for a few seconds LOL
Current Mood:

pleased