Entries by tag:
Fandom
. Klaine/
Glee
is still my primary fandom. The next season - which will be a short one - will be its last. I don't have another fandom to go to! I'm on the fringes of a few --
Teen Wolf, Arrow, The Flash
(omg I am so EXCITED about this show), Marvel universe,
Sherlock, Doctor Who,
I miss Eleven already but really looking forward to Twelve -- but nothing is sticking *sigh* I'm still reading tons of
Merlin
fanfic though. Man, I miss that show. Right now, my tumblr dash is full of
Orange is the New Black
because S2 was just released. I just watched the pilot this morning and I will definitely be continuing on.
Real Life
. Working the same job at the same place. Blergh. I did get moved into an office though. We hired someone back in February and there really is a lack of space. I ended up moving into an empty office but it's temporary as that office has been designated for a to-be-hired project manager. However, it looks like the hiring process has hit a snag so yay for me! Looked into the possibility of purchasing a condo for investment purposes. And then I saw the prices and holy crap. Obviously, I want certain locations where rental prospects are high which, of course, means higher prices and basically, I can afford like a bachelor. I was so lucky that I purchased my own place when I did cause the market started to swing up the next year and it hasn't really stopped.
Family is doing fine. My brother & SIL are expecting baby #2 (it's a boy!) real soon. I think she's due end of June. We actually have tickets for
The Lion King
on Father's Day so she better not go into labour at the show! And little Juju is growing up fast and remains fucking adorable.
(
here are pictures of juju
Collapse
)
Travel
. Original plan for this year was to join a tour covering Finland, Norway, Sweden & Russia. A co-worker of mine took the tour last year and really enjoyed it. Unfortunately, the timing wasn't good so that's been pushed to (hopefully) next year. Instead, my 'big' trip is a bus tour to the eastern provinces. I've only been once, way back in my early teens, and I've always wanted to go back. In addition, Rina, Anj & I are planning on LA for a few days in October so yay for that!
Last month, Anj & I went to NYC. We saw
The Cripple of Inishmaan
starring Daniel Radcliffe and
Hedwig and the Angry Itch
with Neil Patrick Harris. Both shows were excellent. Our seats for
Cripple
were so close to the stage! There was no orchestra pit in this theatre so first row was literally right up to the stage. We were in 2nd row. I thought Daniel was great. The character he plays has cerebral palsy and the control he had over his body, I thought, was amazing. The play itself was pretty good, a little difficult to understand with the Irish accents & slang. A couple of twists & turns at the end which I did not see coming. NPH as Hedwig was fantastic. How he performs the majority of the show in those heels, I will never know. But Lena Hall, the co-lead, blew me away. Holy crap, the pipes on her! We never did the stage door for Daniel cause it was just too crowded. Ended up doing the Hedwig stage door the day after so I was able to get NPH & Lena's autograph. In addition to theatre, we also did the hop-on hop-off bus plus river cruise. It's been a long time since I did the whole tourist-y NYC thing so that was fun.
(
nyc pictures
Collapse
)
In April, over the Easter weekend, I visited my tumblr friend, Heather, in Chicago. Visited Cloud Gate (or the Bean). That area of downtown was pretty dead on a Saturday yet so many people around Cloud Gate. It was like a people magnet. Went to see Buckingham Fountain but unfortunately, the water wasn't turned on yet :( We took a river cruise. Walked around Magnificent Mile (I saw a really
pretty Tory Birch bag
but I didn't buy it, go me!
omg it's on sale right now, I want it!!!!
). Drove by Wrigley Field and ate some deep dish pizza. How do people eat this?! The sheer amount of cheese blew my mind. We got a small for the 2 of us and I managed only 1 slice. During the river cruise, the guide would point out certain buildings that were featured in movies. I only cared about one in particular and I recognized it immediately -- can anyone guess?
(
chicago pictures
Collapse
)
What's been happening the past few months...
Current Mood:

lazy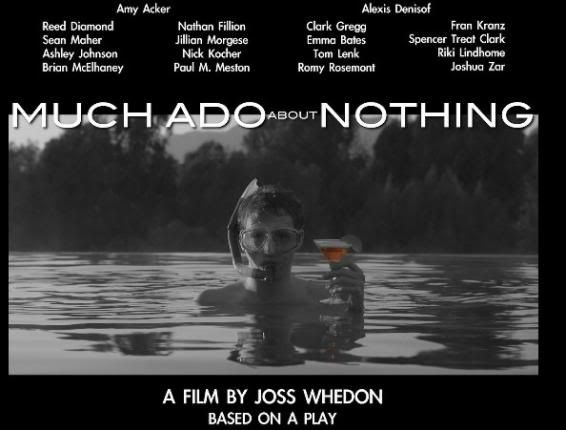 Check out that cast!! I'm most excited about seeing Sean Maher again (yeah, I know he was on "Playboy Club" but, like most people, I had no interest in the show). There is
a website
but not a lot of information. I wonder if this will be released via internet like Dr Horrible.
ETA:
EW interview
with Joss Whedon, Sean Maher and Amy Acker. Whedon mentions spring film fests, do you think it'll come to TIFF? OMG COME TO TIFF PLEASE PLEASE PLEASE
I watched the pilot for "Once Upon a Time" last night. Not bad, not bad. The lead actress looked so familiar to me, I can't believe I didn't recognize her as Zoe from HIMYM!! I guess that whole SL was so bad I blocked it from my memory LOL I want to check out "Grimm" too but it's on Friday nights against "Chuck"? Stupid networks.
So, SPN. Can I jump into the current episodes without being too lost? I want to see the latest ep with
Spike and Cordelia
James Marsters and Charisma Carpenter.
From the recent hitRECord fall formal, this awesome video of NPH & JGL talking about love (NSFW for language)
There's a better version (ie edited version with no Stephanie interruption) on AfterElton but I can't embed it.
Have you guys seen/heard about this?
Current Mood:

okay
Gilmore Girls
marathon and watched the first 8 episodes. See, I got into GG late and I think I've seen all the eps but I'm not sure and it was in a very jumbled order. So while I knew about & saw the awesomeness that is Dean Forrester, I did not fully comprehend the SHEER AMOUNT OF AWESOMENESS until now. Sweet heavens, Dean really is the most adorable boy ever *sigh* And in ep 7 -- Rory & Dean's first kiss (awwwww) -- the writers threw in a
General Hospital
reference! And not just any GH reference, a Lucky-and-Liz one!! You know what this calls for? That's right, a Rory & Dean picspam.
(
click for the pictures
Collapse
)
In other news, had a productive weekend
* went grocery shopping and proceeded to spend $126 (!!!!) but I figure I won't have go again for at least a month
* went to the office to drop off one set of files and picked another set up
* re-arranged my closet and drawers so now everything fits and is much neater
* did 3 loads of laundry
* vaccumed -- even moved the furniture, go me! -- and cleaned out the filter cause ew
Who watched SNL last night for NPH? That was the first time in a long while that I've watched the entire show. NPH was his usual awesome self. But I'm confused about something -- how is Taylor Swift the #1 selling country artist or whatever cause dude, she sucked last night. Anyway, one of my faves from the show --
This past weekend, I had a mini
Current Mood:

accomplished
dr_is_in
, I was able to get to one more show. Instead of a long rant about how the CBC is made of epic fail for their audience co-ordination skills, let's just say that after spending
hours
in line, we were among the last group to get into the studio. We also had a guest of honour -- Lord Andrew Lloyd Weber -- who proceeded to cause John to have a laughing fit by mentioning a gerbil (don't ask). Ended up sitting behind the judges so very few pictures. After the show, we waited around and was able to catch John while he was leaving. So glad the gals were able to meet him after driving all those hours. I was able to get my magazine signed (yay) and while he did take some pictures, I didn't get the chance and I could tell he wanted to go.
***
I watched the last episodes of
Avatar: The Last Airbender
. While the ending was no surprise, I must say that some of the animation, especially the 2 major fight scenes in the finale, was quite beautiful. This was a great series and I'm so glad I followed the advice and gave it a chance.
***
No more Dr Horrible =( I keep reading mentions/possibility of a sequel so let's keep our fingers for that. Act III was kinda a shocker but it's Whedon. I shouldn't have been surprised. I love how this series has turned so many people into NPH fans. NPH is awesome. I can't get "Can't Believe My Eyes" (song at the beginning of Act II) out of my head, I love it so. When's the DVD coming out?
The summer of stalking of John Barrowman has ended for me. Thanks to the generous
Current Mood:

sleepy
Dr. Horrible's Sing-Along Blog
. It's just so deliciously perfect!! NPH rocks as per usual. Nathan Fillion as the arrogant hero is perfect. And he sings too! I'm definitely buying this when it comes out on DVD.
***
Some randomness -- I finally purchased a new mattress set and it was delivered today. You guys, my bed is so high now! I have to literally climb onto my bed LOL!! Before, I was just using a mattress, this time I have a box (which is the same height as my old mattress) plus the new mattress which is DOUBLE THE THICKNESS!! It's like I traded 1 mattress for 3. My bed is now higher than my nightstand and I can't see my clock anymore. This is just cracking me up!
***
As I mentioned in my Polaris report, there was a masquerade/costume competition. One of my favourites was the group of The Doctors of which I wasn't able to get a picture of all of them. But have no fear, LJ to the rescue! Go
here
to see pictures of 8 of the 10 Doctors and, best of all, their skit was filmed and put on YouTube (link at the bottom of the post). Pretty crappy video quality but you get the idea and the best entrance goes to 10. Fantastic!
***
Created by
bodlon
over at
torch_wood
using one of my pictures: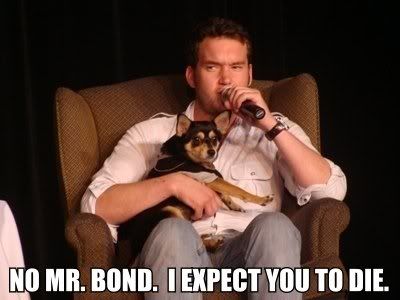 Hee! I love it!!
***
I'm gonna watch Dr Horrible again =)
Finally got a chance to watch Act 1 of
Current Mood:

giggly
How I Met Your Mother
. Season 3. Episode 14. BEST.TAG.EVER!!!!!!!!!!!!!!!!!!!
Awesome episode. The use of the brackets/March Madness (aside: I won my office's March Madness pool & I had no idea what I was doing *self high-five*). The Barney/Robin scenes. Marshall not knowing what to do with his hands. Lily dancing. The continuity of bringing some of Barney's conquests back. Barney getting slapped. Repeatedly.
www.tedmosbyisajerk.com
with a 20 minute song that is beyond brilliant. And then... wait for it...
*plucky synthesizer music from years gone by*
DOOGIE HOWSER HOMAGE!!!!!!!!!!!!!!! The ending with Barney typing in his blog. The blue screen! The sound of the keyboard as he types! The smile and head tilt! I laughed so hard my neighbours probably think I've gone crazy.
This show has completely won me over. It deserves its own tag. One more episode to watch and then I'm all caught up. It's going to be hard waiting for the weekly episodes after watching 2-3 episodes a night. And yes, S1 & S2 DVDs have already been purchased. Surprised? I didn't think so. =)
Current Mood:

giddy


I've been watching How I Met Your Mother and omg what a great show! So far I'm halfway through season 2 and Neil Patrick Harris completely steals the show as the womanizing Barney. He gets the greatest lines and catchphrases. Also, this show is awesome with the continuity, like Arrested Development-level awesome.



So, in the last few months I've re-discovered Chad Allen, Neil Patrick Harris and Brian Austin Green. I wonder which teen idol from my youth will be the next to wow me.



Also started to watch download/watch Psych. I've only watched the first 2 eps but so far, so good. In other tv news, I've tried Life, New Amsterdam & The Tudors but none of them captured my interest



I don't even watch American Idol but I've promised my co-worker that I'll go with her to the concert when they tour. Maybe I'll start watching next week



Sad news -- my Dallas trip is no more =( Man, I was so looking forward to hanging out with my girls. However, it has come to my attention that they've ganged up on someone else is possibly contemplating considering attending... *cough*phetch*cough* I have a J2 photoshoot ticket... *waves bait* Also, any hopes of attending Dragon*Con and Comic Con are kaput. Guess my stalking fangirly activities for 2008 will be limited to the TIFF. It's all my brother's fault. Him and his stupid wedding!



Japan may also be out. It's looking to be way too expensive. So we're debating on alternatives -- China (although not Beijing cause Olympics = chaos), Korea (although one brother has already been) or one of the SE Asian countries (Thailand, Indonesia, Malayisa, Vietnam, Singapore, etc).



My unpopular opinion of the day. After watching some of the concert footage of John Barrowman's tour on YouTube, I found parts of his show kinda cheesy. His stage movements/"dancing" made me giggle and not in a good way. However, his voice is as gorgeous as ever and I would've gladly sat through awkward dancing to see him live. Dammit for not being in the UK!



Donna continues to be awesome on Doctor Who.



Last weekend, I purchased my first ever designer clothing -- Calvin Klein. And only because the store had plus sizes! Granted, it was one little table in the huge store but still, it took me by surprise. I never go in these type of stores as I can't wear any of the clothes but I was with my SIL. Proceeded to drop $220 on 3 tops and a pair of capris. This should be a lesson to all the other stores, we may be fat but we've also got money.



It's April 16th and you know what that means? Only 14 more days til tax season is OVER!!
Current Mood:

thirsty