Entries by tag:
shhhhh pretend it's still Hallowe'en and I actually posted these in a timely manner
. Update on the ongoing saga of How Cute is My Niece. She greeted trick-or-treaters at the door and actually got some candy for herself!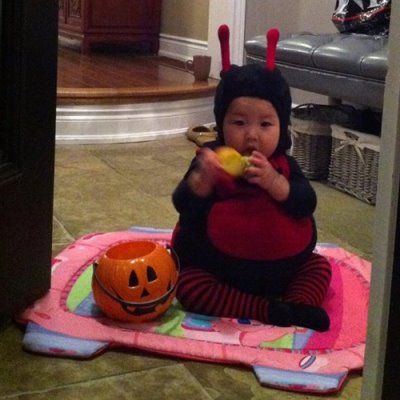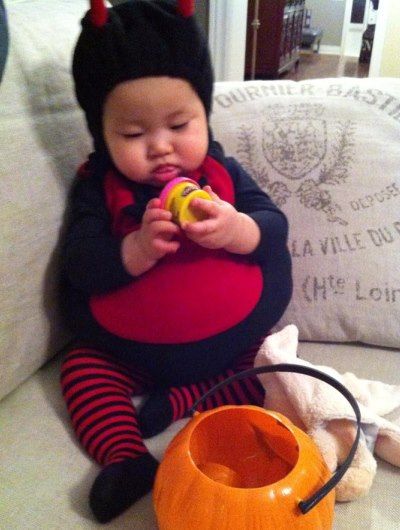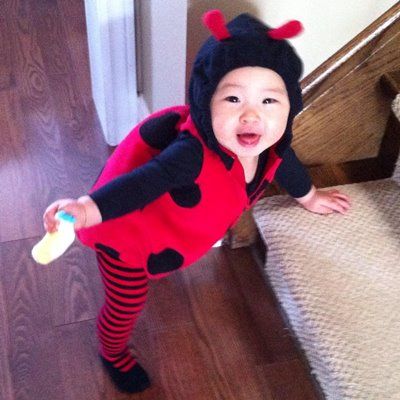 And here's a bonus pre-Hallowe'en costume pic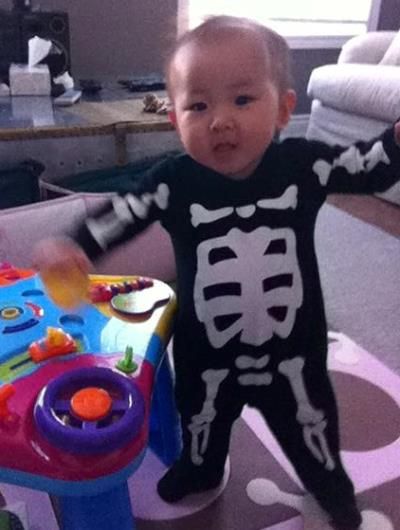 Yep, she's at the Pulling-Herself-Up-to-Stand stage and in the process of learning how to climb stairs which is freaking out my SIL a bit. She hasn't learned depth perception yet and has literally attempted to crawl over the edge of something (ie a bed) headfirst without a care in the world. Breaking news: looks like Juju will have a baby sister/brother in about 8 months :)
Recently spent 4 days in NYC where I saw 5 shows.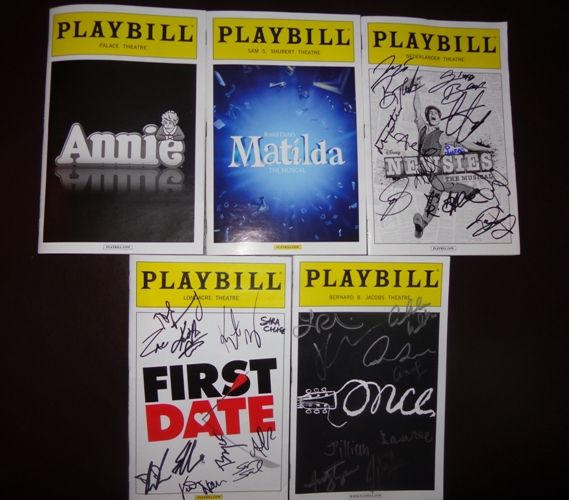 Annie
The show is closing soon so I'm glad I got a chance to see it. I lovelovelove the movie, that's the Annie that I know, and of course the stage production will be different but it still felt like it was missing something. I feel bad criticizing child actors but the Annie we saw was not that great. Her singing was fine but her diction! She would chop up her sentences with pauses in weird places. It was super distracting.
Matilda
Opposite situation of
Annie
. The kids in the show were so good! They were doing full-on choreographed numbers. Matilda herself was awesome. But the show is, obviously, geared towards a younger audience so the overall story wasn't as appealing to me.
Newsies
I've already seen this show but my friend wanted to go and who I am to say 'no'? :) We got better seats this time so I was able to enjoy the dancing up close. The dancing is really the big draw of this show. Did the stage door after and the whole cast came out to sign.
First Date
This was one of my Must See shows (1) because it stars one Zachary Levi and (2) it's closing in January. I absolutely loved it! The show is 100 minutes with no intermission and takes place over the course of a blind date. So so funny. It's that time of year for Broadway Cares where audiences are asked to donate and most shows offer special items for sale. I purchased the signed Playbill. They also offered a photo op with Zac and Krysta Rodriguez for $100. I was not prepared for a surprise photo op so I passed on it. And, of course, I now regret it :(
Once
I'm actually going to see this show next month in Toronto but when I found out that Arthur Darvill (Rory,
Doctor Who
) was doing the play in NYC I had to see it of course! I already adored the movie and the music so I knew I was going to love it and I did. It's not your traditional musical; it's a love story between 2 people who bond over their love of music. If you do get a chance to see the show, get there early for the pre-show. You may even get to go on stage with the cast. Again, my signed Playbill was part of Broadway Cares. Apparently Arthur doesn't do stage door :( and, it needs to be said, holy crap is Arthur is handsome in real life and a great singer damn.
Hello, hello. Finally getting off my lazy ass and posting stuff!
Current Mood:

accomplished


~~ I'm seeing Backbeat on Saturday. It's a musical about the beginning of The Beatles which means I already like it just for the music :)

~~ Sunday is CNE (Canadian National Exhibition) Day!! Figure skaters Virtue & Moir are part of a show so I'm looking foward to seeing them. Then Rina had to tell me that Nick Carter is performing on the Sunday which means I HAVE TO GO.

~~ Just found out that an One Direction Pop Up store is opening a few blocks from me this weekend. It's the first in North America (they started in Australia) and the store is only here for 2 weeks. I am totally going :) What a brilliant idea. If they did this back in the NKOTB days, holy crap I would've spent so much money.

HAVE AN AWESOME WEEKEND EVERYONE :)
The boss is on vacation \o/ I don't wanna work!!
Current Mood:

relaxed
jenab
and it was great! The theatre was small, with no more than 150 seats and dang, those seats were not comfortable! The songs were great and the lead actor was adorable :) I prefer staying as spoiler-free as I can re: musicals before I see them so while I knew Avenue Q had puppets, I thought it was more along the lines of The Muppets ie you never saw the people which wasn't the case. Both the leads play at least 2 roles using different voices so how they don't accidentally screw up is pretty cool. If you get a chance to see it, I definitely recommend it. It's not every day you get to watch a puppet sex scene!
~~ Finished watching
Avatar: The Legend of Korra
. I really enjoyed it but I think I was more excited about the nods to The Last Airbender -- OMG that's Zuko grandson! OMG that's Toph daughter! OMG AANG GREW UP TO BE A FREAKING HOTTIE!!
felt weird to find an animation hot lol
. The show has already been picked up for a 2nd season and on tumblr, someone made the comment that this will be the first time, in both series, that we will have a fully realized Avatar. Should be interesting to see what this will bring in the upcoming season. Although, I do miss how Aang's arrows glow when he enters the Avatar state. It just makes everything cooler.
~~ Does anyone watch
Common Law
? Good show? I've started to d/l the eps as it looks like something both my mom and I would enjoy. My mom likes White Collar, Suits & Burn Notice but not Leverage so if it falls into a similar category, that'll be awesome.
~~ Ryan Murphy has joined Twitter and finally clued in that a surefire way to make fans happy is to start releasing deleted scenes. Now why these scenes aren't just included in the DVD set is beyond all of us. Considering they have a huge cast and the amount of footage they have/could have between studio recording, dance rehearsals & on-set time, the DVD extras are PITIFUL compared to other shows. We don't even get a blooper reel. Seriously. So, any little morsel given out is glomped on and praise & love is heaped onto Murphy.
(
Deleted scenes featuring Klaine, Rachel & her bridesmaids, The Warblers & Rachel/Jesse
Collapse
)
~~ ETA: Went for a walk
in the crazy heat, good planning there, Amy
and ended up buying... a handbag! I was on my way home, walking through the Eaton Centre for the air con, walk by Micheal Kors and a purple bag caught my eye. I've been wanting a purple bag forever, loved this colour so went inside to see what other styles they had. In less than 10 minutes, walked back out with this: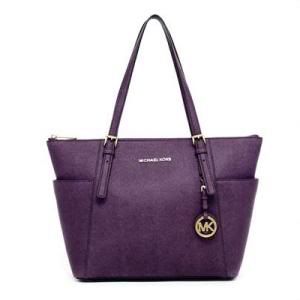 I love it ♥ Probably the easiest sale that salesgirl ever had!
~~ Before I left for Cincy, I saw Avenue Q with
Current Mood:

okay
Lower Ossington Theatre
. I've always wanted to see Avenue Q, who wants to go with? Alter Boyz is also playing and I would totally see it too!! I've heard of Alter Boyz and it sounds right up my boyband-loving alley :D
TORONTO PEEPS!!! I just found out that Avenue Q is playing at the
Current Mood:

bored
West Side Story
. The dancing was phenomenal -- loved the
America
number! I did miss the guys in the number. After some reading, the all-girl version painting America in a positive light was the original version. The movie added the guys and changed the lyrics to reflect the hardships & racism. I also wished they ended it the same way as the movie, with the Puerto Ricans rushing in to help carry Tony. The musical ends with Baby John placing the scarf on Maria's head and everyone just standing there. But whatever. Minor nitpick. Great production so I definitely recommend it!
Although I was kinda disappointed the cast didn't look like this ;)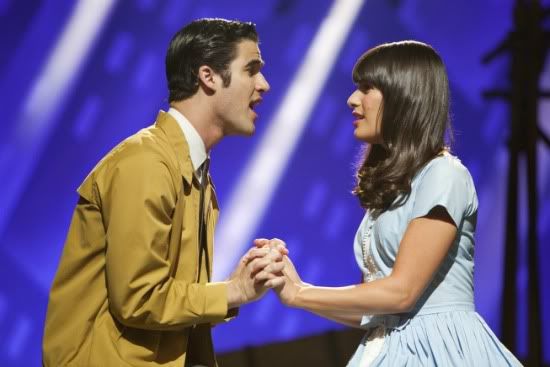 **
OMG I just saw this video on tumblr and HO.LY.SHIT. I was not expecting THAT at all. And he's only 18!!
Saw
Current Mood:

impressed
In the Heights
this weekend. Had no idea what it was about so went into it with no expectations. Quite enjoyed it. The story was pretty predictable but I enjoyed the music, the rapping was done really well and yay for latin dancing!
I also renewed my theatre subscription for the 2012-2013 season --
Book of Mormom
is coming!! \o/ When I was in NYC a few weeks back (wow, can't believe it's only been a few weeks, feels so much longer than that), I looked into seeing BoM while there but it's still like the hottest ticket on Broadway. I'm pretty excited we're getting it so soon.
Anyway, this got me thinking of all the musicals I've seen over the years
(
which turned out to be quite a lot
Collapse
)
First musical ever: The Phantom of the Opera
Musicals I've seen multiple times: Mamma Mia! (5), Billy Elliot (5), How to Succeed in Business Without Really Trying (3), Rent (2), Next to Normal (2), Jersey Boys (2), Spamalot (2), Wicked (2), Phantom (2), Les Miserables (2), Lion King (2)
Musicals I didn't like: Sweeney Todd, Chess
Musical that didn't live up to the hype: Spring Awakening
Funniest musical: Spamalot
Musicals that've made me cry: Next to Normal, Les Miserables, In the Heights
Musical that I've seen in 2 different countries: Next to Normal (NYC & Toronto)
Musicals that starred a celebrity: How to Succeed (Daniel Radcliffe), How to Succeed (Darren Criss), Joseph (Donny Osmond), Chicago (Kevin Richardson [Backstreet Boy])
I watched
Current Mood:

okay
Tickets to HT$: $284.50
NYC hotel: $180.56 (WTH are all these extra taxes?!) Stayed at
The Sanctuary Hotel
, complimentary breakfast + internet and excellent location (half a block away from Times Square!)
Program: $20
Purses purchased (cause I know y'all are wondering): $0! BUT an adorable MiuMiu bag in blue totally caught my eye omgiwantitsobad had a pricetag of $1,395 which is a very good deterrent.
Being there for Darren's last 2 shows:
(
priceless
Collapse
)
Flight to NYC: $331.58
Current Mood:

content




I love the continuity from The Last Airbender. SO.EXCITED.

**

Went to see the musical, Mary Poppins, yesterday. Not bad. I found that it dragged it certain places and, I hate slagging on kids but dear lord, the girl playing Jane had the worst accent ever. I could barely make out half of her lines! Didn't really notice it til about halfway through the first act but I loved how Mary Poppins will always do a little flourish before heading up the stairs.

After that, I needed to watch the movie. Oh Julie Andrews is divine.
Opening credits of the new Avatar, The Legend of Korra, has been released!
Current Mood:

relaxed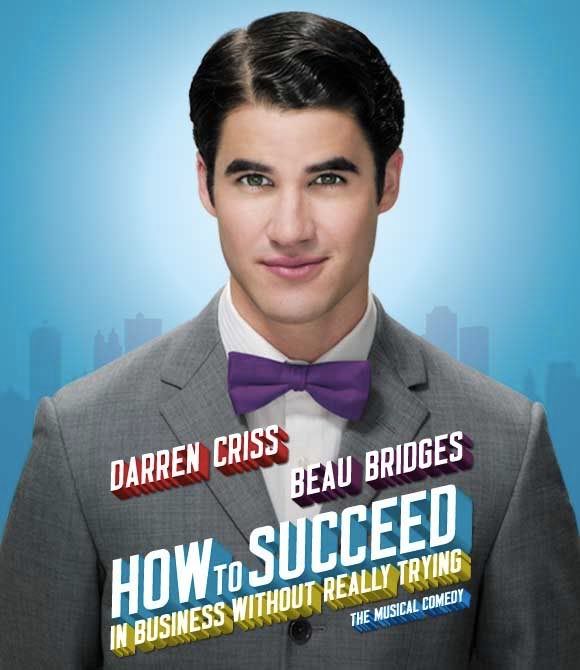 Not gonna lie, I totally had a "hey, it's Blaine on Broadway!" moment LOL
GUYYYYSSSSSS I AM SO EXCITED FOR THIS!!!!!
Who knew that a simple thing like a haircut would lead to all this?!?! And bowties. The Doctor would approve.
Current Mood:

excited
So this post was planned to go up a whole lot sooner but then I was completely distracted by
Current Mood:

exhausted