Yesterday, I decided to head to High Park to see the cherry blossoms before they were gone. One, how lame am I that I had no idea High Park even had cherry blossoms? Two, looking at pictures of cherry blossoms, I don't think I saw any! I went to the right area. Did I somehow miss them cause wouldn't that be just my luck.
But the trip was not in vain as I did see other beautiful flowering trees and flowers and my first sighting of a cardinal and surprise llamas!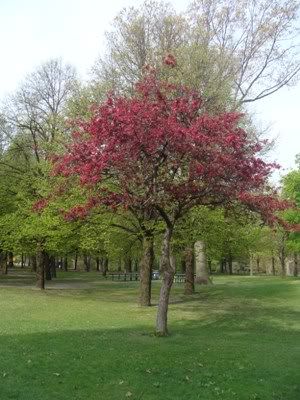 (
Collapse
)
I decided to walk home via the Waterfront Trail (I didn't make it all the way home -- caught the streetcar at Bathurst & Lakeshore cause my feet were hurting). Anyway, as I'm walking along, I hear this group coming up from behind me so I look back to see if I should move out of the way or something. Imagine my surprise when I see, not a group of joggers or similar, but about 20-odd soldiers decked out in full gear carrying rifles! I don't know why they were there -- perhaps a training exercise?
please don't tell me it was for the G20
. A 2nd group of soldiers passed me and I was able to get a picture on my cellphone.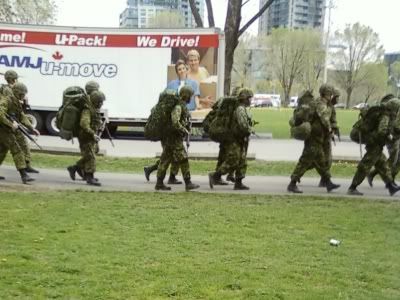 **
Big swing in topic! I uploaded the songs from
The Power of Madonna
episode for
bauersgirl
and here they are if anyone is interested:
Express Yourself
Vogue
Like a Virgin
Borderline/Open Your Heart
4 Minutes
Like a Prayer
What it Feels Like for a Girl
Bonus (not in the episode)
Burning Up (Groff)