Entries by tag:
Love this cover! Can't really remember what happened during the tv show though. Guess that means a marathon is in my future!
Current Mood:

excited


Anyway, the past month or so in point form:

Life stuff first ~~ had a quiet Christmas & NYEs. Work is starting to get crazy plus I am so behind in doing my cousin's books (which is entirely my own fault). Will be working most of this weekend *boohiss* Second thyroid surgery went fine. The pathology report came back and a tiny batch of cancer was found on the inside side so there was no way the needle biopsy would've picked it up anyway. Some time in March/April, will do a dosage of radioiodine and hopefully, that will be that.

Fandom stuff

~~ Survived the ending of Merlin *sniff* A lot of things happened in the finale that I loved. And the last shot just about killed me with feels.

~~ The Doctor Who Christmas episode was awesome. So totally in love with Clara Oswain Oswald. I was actually really excited about the prospect about have a 18th (?) century companion but that was not to be. The TARDIS desktop change will take some getting used to. Looking forward to the discovering the mystery that is Clara and all the 50th anniversary stuff!

~~ Watched the People's Choice Awards last night. All the fake surprise reaction shots of the winners amused me to no end. Haven't seen the SPN boys in a while -- Jensen was looking good. Something needs to be done about Jared's hair. Not surprised SPN won for Fave Sci-Fi Show (confession: I voted for DW). Not surprised about Chris Colfer winning either (behold the power of Gleeks, Klainers, Kurtsies & the CC Army). Can't believe he mentioned fanfiction LOL I was surprised about Lea Michele winning tho. And how the hell did The Wanted beat out One Direction as Best New Artist? Were the Directioners too distraught/distracted over the Harry/Taylor hookup and forgot about voting? I will never ever ever get the appeal of TSwift, sorry. Another WTF moment was Adam Sandler winning. Worst acceptance speech ever -- just bloody thank the fans & be done with it! -- and how is he still relevant.

~~ Matt Dallas (of KyleXY) has come out via twitter by announcing his engagement to long time boyfriend. Apparently Matt was one of those "not a secret but no one talks about it" like Jim Parsons & Matt Bomer? I had no idea. Anyway, congrats to the v cute couple!

~~ Les Miz, the movie musical. Watched this R. We both agreed that Russell Crowe's voice is not suited for this material. And Hugh. Oh Hugh. He's got a great voice and did a good job but his "Bring Him Home"? HORRIBLE. I was totally prepared to be shedding tears during "Own My Own", "I Dreamed a Dream" and "A Little Fall of Rain". They were all done well but what really got me was "Empty Chairs and Empty Tables". And the girl playing Young Cossette was perfection.

~~ I still haven't seen The Hobbit!! Found a DVD screener copy so hopefully can carve out some time and watch it. It's been many years since I've read The Hobbit & I don't remember much so it'll be like watching with new eyes. I have to say though that making 3 movies is too much. I've read that's there a lot of filler re: the backstory. They should've just done 2 movies.

OMG sorry for the word vomit o_O
Hello LJ people. I know I have become very lazy about posting. Most of fandom has migrated over to tumblr which is sucking up most of my time due to the instant gratification of gifs and fanart. NY resolution: spend more time here :)
Current Mood:

tired
Footloose. I enjoyed all the little callbacks to the original like the dancing feet in the opening shot. And Willard! Willard was my favourite back then and he remained my favourite in this version. I understand including hip-hop/break dancing in the current version but scoring Ren's "angry dance" to a hip-hop song was just not cool and I felt didn't work. But the thing that annoyed me the most? Julianne Hough's voice. She should stick to dancing cause her voice grates on my nerves.

Today is Word on the Street so I'm going to check it out, do some grocery shopping and that's my super busy plan for today. Have a great Sunday, f-list!
I finally watched the new version of
Current Mood:

good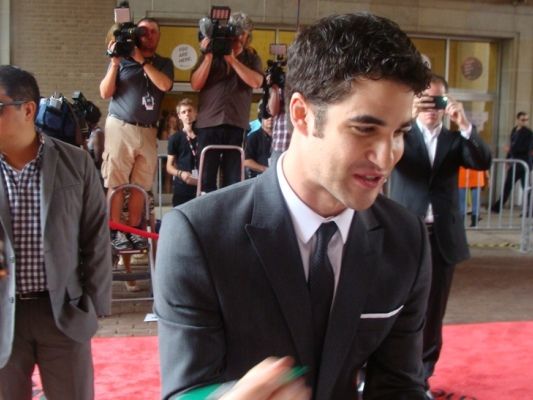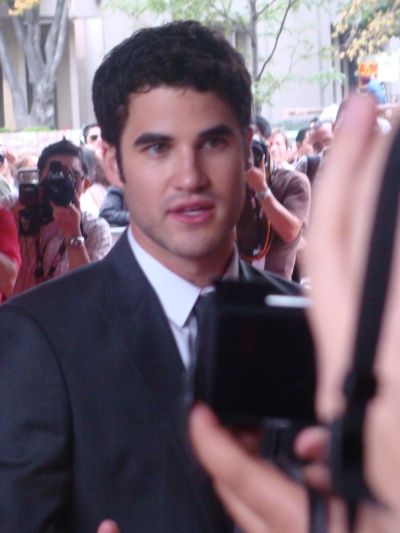 I saw
Imogene
and it was good. Darren had 2 make-out scenes, was shirtless twice, wore guyliner, spoke French, sang twice and dirty danced with Wiig. What? I noticed the important things ;P The movie is funny -- not
Bridemaids/Hangover
funny, more character-driven funny (I think that's how you describe it). Main complaint was the ending -- it felt abrupt and was your standard cliched everybody-got-what-they-wanted ending.
(2) Madonna concert. Damn woman didn't start until 10:30, which meant concert ended at 12:30. On a week night *head desk* She looked great. Did a pretty good mix of her old & new stuff. The first 4-5 songs was some sort of storyline with all this religious imagery (still doing that, Madge?) and Madonna killing some guy, having a fight in a hotel room & going to jail. It was weird and over-the-top. The rest of the concert was more standard fare and much more enjoyable. As I was pretty far away, I just took some video. Here's "Like a Prayer" and "Celebration", the 2 closing numbers.
(3) Who's watching
The New Normal
? How cute is that show!? Of course, it doesn't hurt that Ryan Murphy has described it as future!Klaine deciding to have a baby :) Apparently though, a lot of it is based on Murphy's own life. I have a soft spot for Justin Bartha since
National Treasure
. I know of Andrew Rannells as he's the Book of Mormon guy. I hope they have him sing on the show. Oh! Reading up on Rannells, he was here as part of the
Jersey Boys
cast but I missed him :( His last show was Dec 8, 2008 and I saw the show on Dec 28th.
(1) So I noticed that I never actually posted my TIFF Darren pictures (and Kristen Wiig's) on my LJ LOL Brain fart, wow
Current Mood:

lazy
The Avengers but I'm not going til Wednesday (!!!!) (and again on Friday). MUST.RESIST.SPOILERS. And I would like to thank all those on my f-list using the lj-cut :)

In other news, Zac Efron & Matt LeBlanc were on the Graham Norton Show and were hilarious! Their stories about fan encounters while driving were too funny. And holy smokes, Matt has one sexy voice! Part 3 of the interview also has an adorable story about Matt's daughter and his famous line, "how you doin'?"



Last Thursday, I went to a Bryan Adams concert! It was kinda last minute as my co-worker needed someone to go with her. Simple stage, nothing fancy, just a great rock show. He sounded amazing live. No opening act, just 2.5 hours of Bryan. I forgot how many hits Bryan has had! Summer of 69 still is the big favourite though.

Oh! And I finally watched the L&O-inspired Community. Holy crap, that was BRILLIANT. And I've never watched a single ep of L&O so who knows how many in-jokes/homages I missed, still awesome though.
Everyone is seeing
Current Mood:

okay
(

blatherings about the movieCollapse

)



**

Saw the stage adaptation of War Horse this afternoon. Excellent play. The horse puppets were AMAZING. I haven't watched the movie yet cause I wanted to see the play first but now, I'm a bit hesitant about the movie just because I know it will make me cry.
Current Mood:

impressed
Toronto Irish Film Festival
is this weekend and their closing film is
Parked
starring
Miles O'Brien
Colm Meaney and
Merlin
Colin Morgan. The film is playing at the TIFF Lightbox this Saturday @ 8pm. I'm planning on going so if anyone wants to join me...?
Speaking of film fests, Chris Colfer's
Struck By Lightning
has been added to the Tribeca Film Fest which is just so awesome!! I'm hoping this a good sign that SBL will come to TIFF. Did anyone watch the LA reading of "8"? I thought it was really well done. Everyone was really good but I couldn't help but be moved by Chris' performance. And seeing Chris doing a scene with Clooney & Bacon just gave me all kinds of proud mama feelings.
In other news, I have 2 long weekends coming up. One is the Good Friday long weekend, the other is due to Passover. I would like to go somewhere but I'm not sure where.
The
Current Mood:

working
Zach Quinto is out and proud
. Sad though that it took a passing of someone for him to take that step but he did and he did eloquently. It's rumoured that he's dating Jonathan Groff so for purely selfish reasons, I look forward to cute red carpet/candid pictures of them together :D
(
Merlin 4x03
Collapse
)
So dear f-list, has anyone been watching any of the new shows this season? Any recs? I've only seen the pilot for "The Secret Circle" and an episode of "Suburgatory". That's it.
I really enjoyed H5-0 last year but just have not had the chance to see it this season. I have to correct that. I also need to catch up on Castle. Damn the networks for putting those 2 shows against each other.
Now, I'm just waiting for Chuck to return.
ETA: A couple of videos I want to include
The Princess Bride reunion. I love them all.


The Avengers panel at New York Comic Con. This video is quite Tom Hiddleston heavy. I'm getting really excited for this movie!

BUT FIRST.
Current Mood:

good


I don't even know what to say. Other than the more modern dance moves and updated music (so wrong on so many levels), it almost looks like an exact replica.

And now there's a possible "Dirty Dancing" remake? Did we run out of comic book superheroes/sequels/remakes of Japanese/European films? Stop pillaging my childhood, Hollywood!
Current Mood:

annoyed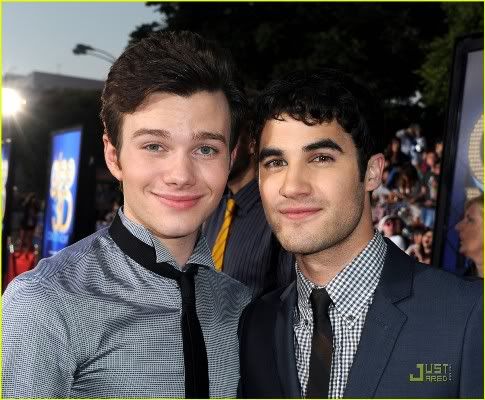 One of my favourite pics. Dianna was looking gorgeous.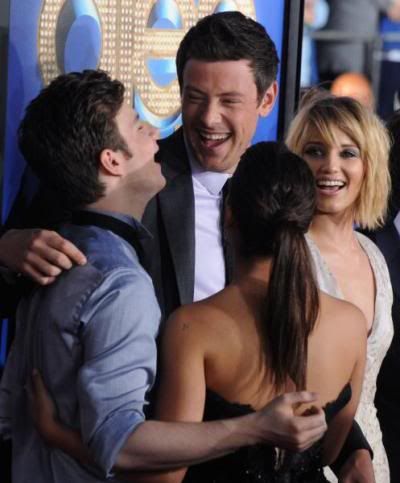 Love this one too. I can support Raine (Rachel/Blaine) -- as a musical OTP only! ;) cause I think they sound amazing together.

(
The rest of the cast
Collapse
)
(
But who was the most stylin' on the red carpet? Mini Warbler of course! BEWARE EXTREME CUTENESS UNDER THE CUT.
Collapse
)
The Glee Live 3D premiere was last night. Get ready for a picspam :D
Current Mood:

giddy