Entries by tag:
faninohio
♥ Chris Colfer book signing(s) ♥ Sightseeing - have never been to Columbus and only driven through Cincy ♥ Hanging out with
faninohio
♥
~~ I have a new travel points Visa as my main cc which means cancelling my old main cc, my Sony MC. In order to use up my Sony points, I decided to get a new camera cause I can get one with a higher zoom in a slimmer model. Found one I liked on-line but couldn't remember my exact balance of points but I figured, if anything, I would be under and have to pay the difference. Going through the check-out process, I discover my point balance was almost dead-on, under by only $0.69!!!! *self high-five*
Meet my cute new camera.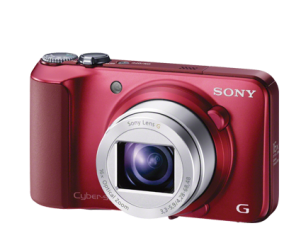 It's got a 16x zoom (my camera now has 10x) and it's red!
~~ Found this cute twitpic of Chord, Darren & Rico backstage at the MMVAs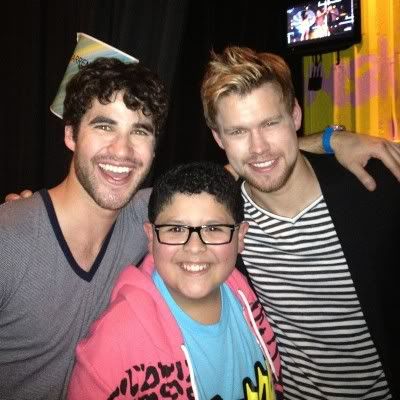 ~~ Did you know
Star Trek: The Next Generation
had their first cast reunion recently at the Calgary Comic Con? I didn't! And a brilliant fan recorded & uploaded the whole panel to YouTube. This is the beauty of the internet. I'm off to watch it, hope everyone's Monday was good (well, as good as Mondays can be) :D
~~ I booked my flight to Cincinatti!!! Hanging out with
Current Mood:

calm
Wow, this was a crazy year. Got to the red carpet around 5pm and it was already PACKED. There was also the threat of rain -- which never happened other than a few sprinkles, thank you, Mother Nature! -- so all these tents were set up which made everything harder to see. There's a designated fan area and I thought it was full/need wristbands but then, after a few minutes, I noticed a group go in. Did some searching and found the line up pen. Guess they were slowly filling up the space so I tried to get in line. The security let the last group of people in and, seriously, me & this other girl were literally 10 seconds away but security wouldn't budge :( I did score, what I thought, was a pretty good spot -- at the beginning of the red carpet. So I figured this was good, I could see them as they get out of the cars at least. The red carpet show starts and the first car drives onto the red carpet and stops in the middle to let the celebrity out. The 2nd car does the same! W.T.F?! So I asked one of the *many* people on the carpet if that was the procedure and she said yes so my good spot became worst spot ever. Booted my way up the line and am, like, 10 rows back. I've got the boom camera and cameramen constantly in my way. Completely missed certain celebrities like Selena Gomez (I saw the commotion but not the girl cause she's tiny), Kelly Clarkson (cause she went blonde) and Nelly Furtado (when did she show up?!)
Current Mood:

tired
openmydoors
. Joel was very funny and very handsome. We were pretty far back so no decent pictures. The first half, he talked a lot about celebrities and meeting the Kardashians. The second half was about his family, his son, who sounds like an awesome little dude.
... it is now my mission to get
openmydoors
to a concert! Name a band/singer and we will go!! :)
... went to the free outdoor concert of Loreena McKennitt with
jenab
which was fabulous. Beautiful night and beautiful music.
The Mummer's Dance
is probably her most popular song, and the only song I knew, but she didn't perform it :(
I watched this video after the concert and it's the same violinist!
... can't stop watching the adorable
Shibu Inu puppy cam
... so Chris Colfer is heading to Ohio as part of his book tour which meant I immediately e-mailed
faninohio
and invited myself over :)
... Darren Criss & Chord Overstreet are in town for the MMVAs tomorrow. I flailed when I found out so now I am relatively calm but OMG I'M GOING TO SEE DARREN CRISS TOMORROW IN THE FLESH OHMYGOD OHMYGOD OHMYGOD. Will be bringing my "How to Succeed" playbill and hopefully it'll prove a good luck charm like with DanRad. So you know where I will be tomorrow afternoon -- melting in the sun on John Street surrounded by Beliebers, all by my lonesome cause
someone
has to work. Text/email/tumblr me to keep me company as I will most likely be racking up my phone bill using data to pass the time.
... Pitch Perfect. I am so watching this movie.
... Magic Mike. Another movie I want to see but for completely different reasons :)
eta... watching
The Glee Project
and after the first ep where they introduce the 14 finalists, my faves were Maxfield, Dani & Abraham. Guess who were the first 2 cut? Maxfield and Dani!! C'mon Ryan Murphy! OK, I kinda understand Max cause he was a total newbie but he didn't deserve to be cut first. But Dani? I thought she would've made it to the finals! So go Abraham!! We need more Asian flavour :)
... saw Joel McHale at Casino Rama with the awesome
Current Mood:

lethargic
Current Mood:

tired


During the afternoon, it rained twice. I get there around 6pm, all is well. Went to the usual spot -- behind the press -- and found a good spot as the rain kept a good chunk of the crowd away. At about 6:30pm, ominous black clouds started to roll in and everyone got ready for the rain. It wasn't too bad and just as the first guests were arriving, the sun broke through and the rain stopped. But not for long...


Yesterday was the 2008 MMVAs and, like the crazy gal that I am, I went to the red carpet cause I wanted to see NKOTB. Yeah, yeah, my inner 14 year old got the better of me, 'k? :P
Current Mood:

working
But my day has been brighten by a little tidbit forwarded to me by
faninohio
.
Jared's coming to TO for the MMVAs!!
I don't understand why MM insists on putting on the MMVAs on Father's Day. I'm gonna try and see if I can make it down. I will go by myself if I have to. Darn it, I was planning on skipping the awards this year now Jared is just screwing up everything! =)
Back to the grind today and as if that isn't bad enough, I'm greeted by a nasty e-mail sent to me by a manager basically telling me what a horrible job I did on a file. The subsequent e-mail from the partner telling me to ignore the e-mail made me feel a bit better. After a meeting with the partner, it sounds like the client meeting went poorly and the firm may lose this client. I do feel bad cause I'm the senior and I take some of the responsibility. But only some. Managers do exist for a reason. Glad to know that the partner is on my side though.
Current Mood:

irritated
bauersgirl
and I, once again, braved the craziness that is the MMVA red carpet.
Being a little smarter this time around -- we only waited 4 hours instead of 6! -- we once again ended up behind the media people. It was hot and sticky. I got sandwiched between a set of parents on one side and 2 self-proclaimed "the biggest fans of Fall Out Boy" on the other side. This is what I heard in my right ear for a good 5 minutes: "PAAAAAAATRIIIIIIICK!!!! PEEEEEETERRRRRR!!! OMG OMG OMG!!! JOOOOOOOOOEEEEE!!!!! OMG OMG!! I LOVE YOU!!!!!"
While we waited, we did get a chance to catch some rehearsals. Could barely see Rihanna but I like her song, "SOS". City & Colour performed "Save Your Scissors". And Hedley with "3-2-1". I could only see Jacob (who was shirtless) and he was pretty normal. No over-the-top spazzing. Sang the song well. This is the Hedley I like.
Some screaming for the VJs -- "TIIIIIIIIMMMM!!! OMG he's sooooo gorgeous!!!" "Sean, I love you!!!!" (OK, he's not a VJ but he was the runner-up in the VJ search) "Sarah!!!" "Deeeevoooonnn!!!" who was wearing some hella skinny jeans.
Oh yes. How could I forget, who I dubbed, Hot Guy. One of the crew members, I had the pleasure of watching Hot Guy pushing & setting up barricades (nice calf muscles & biceps) and sweating and generally looking hot. Unfortunately, no picture of Hot Guy. Maybe next year?
OK, picture time!! All pictures are courtesy of
bauersgirl
cause stupid me didn't check the memory card (it was only a 64 MB card which meant 3 pictures and the card was full).
ETA: The Edmonton Oilers lost =(
After swearing we would never ever subject ourselves to the madness,