Entries by tag:
I'm sad about the trees :( They looked so lovely in the summer.
It wasn't that bad downtown - well, transit is all screwed up, let's hope it clears by tomorrow morning - but my dad sent me some pictures he took outside the house. Good news was that they didn't lose power. Never seen in that bad in the 20+ years we've lived there.


~~ I'm seeing Backbeat on Saturday. It's a musical about the beginning of The Beatles which means I already like it just for the music :)

~~ Sunday is CNE (Canadian National Exhibition) Day!! Figure skaters Virtue & Moir are part of a show so I'm looking foward to seeing them. Then Rina had to tell me that Nick Carter is performing on the Sunday which means I HAVE TO GO.

~~ Just found out that an One Direction Pop Up store is opening a few blocks from me this weekend. It's the first in North America (they started in Australia) and the store is only here for 2 weeks. I am totally going :) What a brilliant idea. If they did this back in the NKOTB days, holy crap I would've spent so much money.

HAVE AN AWESOME WEEKEND EVERYONE :)
The boss is on vacation \o/ I don't wanna work!!
Current Mood:

relaxed
Lower Ossington Theatre
. I've always wanted to see Avenue Q, who wants to go with? Alter Boyz is also playing and I would totally see it too!! I've heard of Alter Boyz and it sounds right up my boyband-loving alley :D
TORONTO PEEPS!!! I just found out that Avenue Q is playing at the
Current Mood:

bored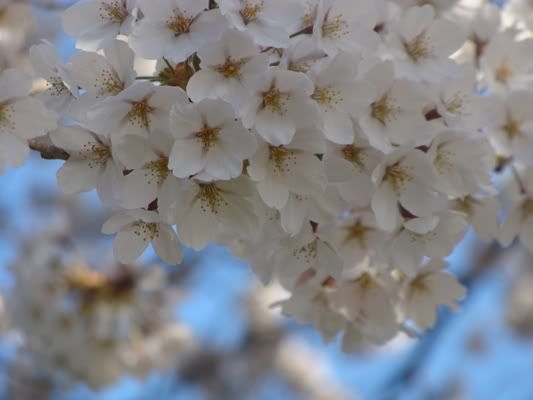 (
more pretty flowers under the cut
Collapse
)
+++
Saw
Thor
and I liked it. Had no idea Natalie Portman was in this movie but she was okay. The whole romance between Thor & Jane was ridiculous though. They knew each other for what? A day or so? The CGI was really well done which actually makes me feel better about
The Green Lantern
. My one complaint -- more shirtless scenes with Chris Hemsworth was required. C'mon, dude must've worked hard for that physique, let the man show it off!
+++
bauersgirl
e-mailed me this link about the CN Tower's new attraction --
taking a walk on the outside
. I don't know if I have the nerve to do this!
+++
Courtesy of Chord Overstreet's twitter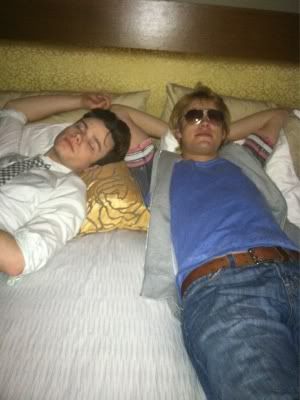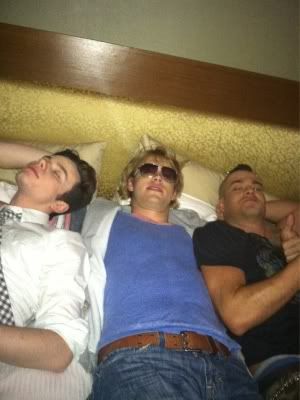 AHAHAHAHA how adorable are these boys?! Pretty sure Chris is actually asleep here and had no idea what Chord & Mark were doing. Oh, I could just feel the Kurt/Sam shippers exploding through the interwebs LOL Ashley Fink has confessed she was one who snapped the pics. I ♥ this cast.
With spring taking its time to arrive, the cherry blossoms in High Park finally bloomed about a month later than usual this past weekend. As I missed them last year, no way was I missing it again. I had hoped to go on Sunday but I heard the crowds were quite large so I'm glad I waited. I went for a nice walk after work today and took some pictures.
Current Mood:

productive
(*) Finally watched a couple of the Superbowl commercials, specifically wanted to see VW's The Force. OMG THE CUTENESS. Amazing how the kid was able to emote while in full Vadar gear!
But what may be better than the commercial, is the bloopers/deleted scenes video!
(*) A friend linked to this site over on FB. A sampling of some gorgeous photos taken along our waterfront this winter: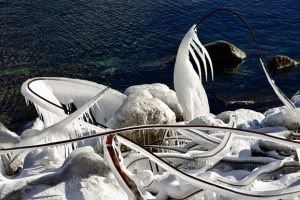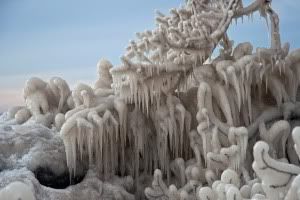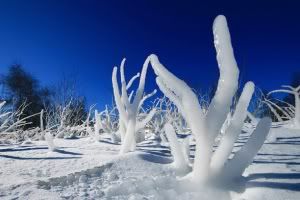 Source and credit
(*) My SIL called me this evening with good news -- they finally bought a house!
It's very pretty. It's in Oakville (suburb on Toronto's west side) and quite close to the lake -- about a 10-15 minute walk. Cost a pretty penny though but unfortunately, for a house that size, in that neighbourhood & close to the water, it is what it is.
(*) Reading Challenge -- 3) Percy Jackson & The Battle of the Labyrinth
(
100Crushes #002
Collapse
)
(*) I have watched "Silly Love Songs" a RIDICULOUS amount of times. I may need an intervention.
Current Mood:

tired


Obviously on the Canadian channels, this story has been running non-stop (except for CBC, they're showing the World Cup... oh, the game is finally over, now they've switched to G20 news). I've switched over to CNN and nary a mention. Not even a scroll. Why am I not surprised? LOL

R and I had plans to head up to North York for a concert. We're going to wait it out and see what happens in the next couple of hours. It appears the black bloc are heading south towards the security zone -- good for me; bad for her.

Well, I haven't stepped foot outside all day. Been hearing helicoptors and sirens on and off. Spending the time watching Burn Notice and finally found a copy of the Doctor Who finale so that's what I'm going to do now.
Huge protest going on downtown right now. All public transit south of Bloor has stopped. The Eaton Centre is locked down (yes, with shoppers still inside!). Bank & store windows have been smashed. 2 police cars have been torched. For the first time in this city's history, tear gas has been used. Of course, all this is due to a group of anarchists called the black bloc.
Current Mood:

annoyed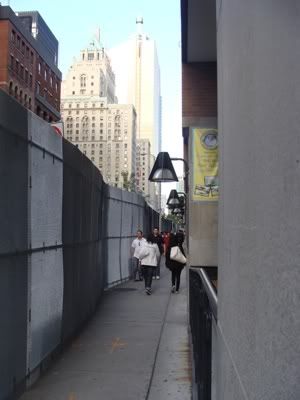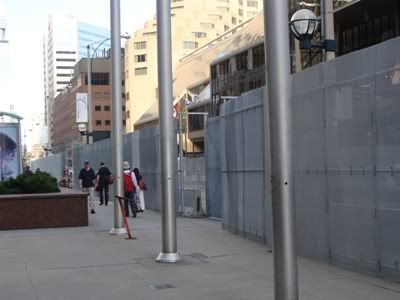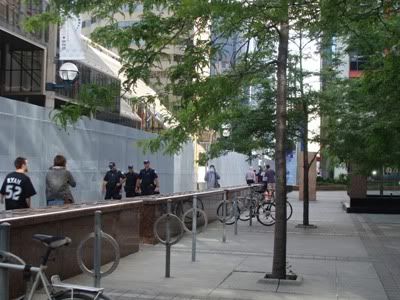 Oh G20, why must you suck so much? Ballgames have been moved, shows are going dark, universities & companies are thinking about closing and traffic will be a nightmare. With today's technology, the leaders can stay in their comfy homes and internet conference instead of making us spend a bazillion dollars on security. In my short walk of a few blocks, I saw more police officers patrolling the area than I usually do in a few months!
I am pretty lucky as I'm 2 blocks north of the security area. Right now, the main thing I'm dealing with is the lack of garbage bins as they've all been taken away. Although I did notice one down the street from me but I guess since I'm a smaller street, they're going to leave it.
bauersgirl
is a lot closer to the security zone but she does have the Dome between her and the convention centre so hopefully protestors will stay away from her area.
I took a little detour on the way home to check out the security fences for the upcoming G20 summit which some idiot (aka Harper) decided to hold smack downtown. This is the lovely view along Front Street right now.
Current Mood:

annoyed
But the trip was not in vain as I did see other beautiful flowering trees and flowers and my first sighting of a cardinal and surprise llamas!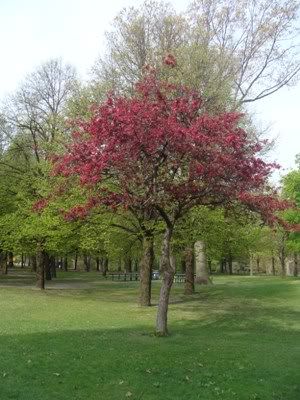 (
more pictures
Collapse
)
I decided to walk home via the Waterfront Trail (I didn't make it all the way home -- caught the streetcar at Bathurst & Lakeshore cause my feet were hurting). Anyway, as I'm walking along, I hear this group coming up from behind me so I look back to see if I should move out of the way or something. Imagine my surprise when I see, not a group of joggers or similar, but about 20-odd soldiers decked out in full gear carrying rifles! I don't know why they were there -- perhaps a training exercise?
please don't tell me it was for the G20
. A 2nd group of soldiers passed me and I was able to get a picture on my cellphone.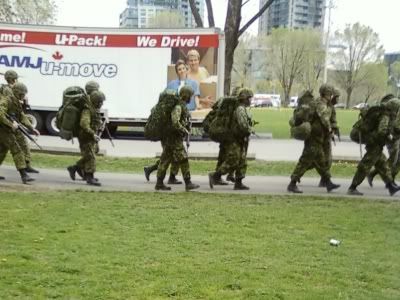 **
Big swing in topic! I uploaded the songs from
The Power of Madonna
episode for
bauersgirl
and here they are if anyone is interested:
Express Yourself
Vogue
Like a Virgin
Borderline/Open Your Heart
4 Minutes
Like a Prayer
What it Feels Like for a Girl
Bonus (not in the episode)
Burning Up (Groff)
Yesterday, I decided to head to High Park to see the cherry blossoms before they were gone. One, how lame am I that I had no idea High Park even had cherry blossoms? Two, looking at pictures of cherry blossoms, I don't think I saw any! I went to the right area. Did I somehow miss them cause wouldn't that be just my luck.
Current Mood:

busy
(
lots of sparkly lights
Collapse
)
2 more day before I'm off for work. The office has been getting quieter and quieter as more people start taking their holiday vacation. It kinda sucks we have to work a full day on the 24th but the office is closed for the entire following week so I can't complain.
I braved the Eaton Centre -- the big downtown mall -- after work as I had to return some stuff. On the way, I snapped some pictures of the holiday decorations in the area.
Current Mood:

sick
I don't even know who I saw carrying the torch in LOL. Brian Orser carried it way early this morning. And I know Ivan & Jason Reitman carried it for a stretch. *Googles* Oh, looks like it was Vicky Sunohara -- member of the women's gold medal Olympic hockey team. Cool.
(
the olympic flame comes to nathan phillips square
Collapse
)
Thanks to my f-list, I have been informed that as a permanent member, I can hand out 10 $10 coupons to those who have a basic account and wish to upgrade to a paid account. Let me know if you're interested!
The Olympic torch relay came through the GTA (Greater Toronto Area)/Toronto today. A friend & I went to City Hall to see. The place was packed. We got there around 6:40. The torch was scheduled to arrive at 7pm. It arrived more like 8pm -- supposedly a protest held up the relay. We got a pretty good view from the upper walkway but we couldn't see the stage at all. All that waiting in the cold for a few seconds LOL
Current Mood:

pleased