Entries by tag:
Trying to save some money, I decided to take the bus to NYC. Never again, my friends. Never again. 10-11 hours, trying to sleep in a full bus, didn't work out so well for me. I got a bit of motion sickness on the way down. Left Friday night and arrived in NYC @ 6:30am with nothing to do but walk around as the day's activities didn't start until 11am. As a result, I was in no mood to mingle -- I was tired, I was hungry but too damn tired/lazy to get up and get food, my contacts were killing me so I had to switch to glasses. I was just cranky lol. Ate dinner at the hotel and I crashed so never made it to the party that night.
I was in a much better mood on Sunday (amazing what a solid 9 hours of sleep can do) so my goal was try and get pictures with all the actors. Why not, right? This will most likely never happen again. Mission accomplished \o/ except for Scott Evans who didn't come to the Sunday brunch :(.
As I had the afternoon to kill, I decided to check off an item on my
lifelist
and see a Broadway show. Stood in line Sunday morning for a hour at the discount ticket booth in Times Square and got a great seat for
Next to Normal
. Some of the original actors already left but Alice Ripley, who plays the mother & won the 2009 Tony, was still there and she was fantastic. The show is brilliant and I had tears streaming down my face through almost the whole thing lol.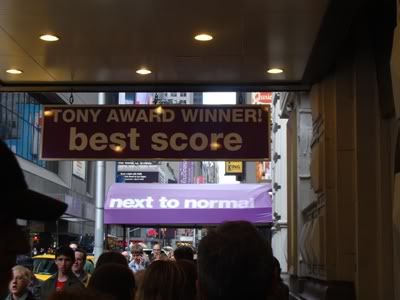 After the show, still had about 90 mins to spare so headed on over to 5th Avenue and started walking. It must've been fate cause just as I was about to turn around and start heading towards Penn Station, I found the Prada store. They didn't have the handbag I had my eye on but evil saleslady was evil and pulled out this bag from the back.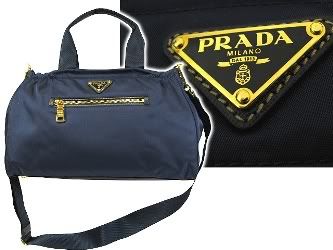 This was the best I could find but it doesn't do the bag justice. It's much cuter in RL. And picture it without the strap cause I won't be using it. I love the blue. It's not leather (yes, I just paid a lot of money for designer nylon... again) but Prada leather bags are just a tad out of my price range. I'll have to slowly work my way up lol.
Shizer, this post is getting ridiculously long!
(
It's picture time!
Collapse
)
This past weekend was the Gays of Our Lives convention in NYC bringing together actors who are currently or have worked on a gay storyline in soap operas and the like. The big draw were the actors from the German soaps. Attendance was maxed out at 80 which was great cause you were able to get lots of facetime with the actors if you wanted.
Current Mood:

tired
* I usually don't read romance novels but my uni roommate introduced me to Julie Garwood when I was itching to read something that wasn't a textbook and all she reads are historical romances. I really enjoyed it, purchased a few more of Garwood's books but never got around to reading them. I grabbed one for the flight to Vancouver. Now I'm hooked and am on my 5th book! They're complete brain candy. She uses the same basic formula for her main female (independent, strong, petite, etc) and male (stubborn, gruff, protector, tall, etc) but so far, I'm not tired of it. Great for reading on the subway, too.
* Speaking of brain candy, I downloaded Justin Bieber's CD. But that's not the worst of it. Oh no. I can't believe I'm saying but I *whispers* kinda like it. Damn that
One Time
for being so catchy! Although, I can't stop laughing when I hear these lyrics from his song, "Bigger" --
I was a player when I was little // But now I'm bigger, I'm bigger // A heartbreaker when I was little // But now I'm bigger, I'm bigger
. Who wrote these lyrics for a 15 year-old boy?! LOLOLOLOL
* Corey Haim's (RIP) funeral was today and I found out where he will be buried. The cemetery is actually only 1.5 blocks north of where I work. I kinda want to visit. Am I being creepy? I feel like it a bit.
bauersgirl
said she might be creepy with me though.
*
Doctor Who
starts April 3rd!!! I've seen some of the spoiler pics and man, I am excited for this season! As much as I will miss Tennant, I'm really looking forward to meeting Eleven.
* OLTL has canceled the Kish storyline and let the actors go. BASTARDS!! And now I'm reading that due to low ratings,
Forbidden Love
may be in trouble which means no more Ollian. Lenny & Carsten's storyline will be coming to end in a few months on GSZS. All my fave soap opera storylines are disappearing or in trouble! =( DeRo of AWZ may be the only one left standing.
* Cadbury Mini Eggs are so yummy.
* Dear Adam Lambert, I love you but can we cool it on the promo tour? If only to save my f-list from Adam overload. It's gotten to the point where I've thought about removing the Adam comm from my f-list because it's too much. I'm not even reading the posts anymore, just skimming on by.
* LOVING this weather! It's so glorious outside. Even though I'm still adjusting to DST and waking up in the dark sucks, coming home while the sun's still shining is very nice indeed.
Current Mood:

moody


Am back from the trip! The weather was better than expected *thumbs up* I had sucky throat issues *thumbs down* Our hotel in Quebec City was right beside where the NYE celebrations were taking place *thumbs up* Overall, it was good. A bit quick - a lot of the sightseeing through the bus window. I definitely want to go back to Ottawa in the spring. I'm thinking Easter long weekend. After working in public accounting for so long, I forget that hey, I actually don't have to work on the 2 stat holidays between January and April yay! I'm still at parents' so pictures over the weekend.

I haven't watched the Doctor Who 2-parter yet. I've been sorta staying clear of spoilers but it's HARD. Am I going to cry? I'm flipping between anticipation and dread.

But first things first -- OLTL's NYE episode where Kyle & Fish consummate their relationship make love have sex. God bless YouTube and the uploaders. OH MY GOD that may have been the SWEETEST love scene I've seen on a soap. I gather from other sources that there was also a Gigi/Sky love scene and Kish wasn't shortchanged in any way. There was even humping \o/!! Oh, it was a long shot and with a soft focus but there was definite humping!! Kudos to ABC and OLTL. Two men in bed on daytime television. And the world did not end =)
Watching the NYE coverage, I had no idea the BIG ISSUE was "how will YOU say '2010'?" LOL It's the Twenty-Ten vs Two Thousand & Ten showdown!! Just for the record, I say Twenty-Ten :)
Current Mood:

sleepy


Just found today that John Mayer is playing here -- at a club! -- and the tickets went on sale last week. Of course, they're sold out now. However, $80 for a club show? Damn.

OLTL and the Nick/Kyle/Oliver SL is awesome! The Big Gay Mass Wedding drama! Loved Cole & Markko and Starr & Langston, the boys' respective girlfriends, pretending to be gay for the protestors. And Oliver. Sweet Oliver finally had enough and outed himself on tv \o/ If Nick wasn't around, Kyle would've jumped that so fast!

Has anyone seen "This Is It" or "Where the Wild Things Are"? I'm thinking of catching a movie Sunday.

I don't remember if I mentioned this before but the company I work for, the staff is like 90% Italian. Which means food. Lots of food. Someone brought in mini Oreo cheesecakes the other day. Today, there was Hallowe'en cupcakes! There's been chocolate, apple pie, leftover lasagne & pasta & veggies & sandwiches from meetings. And I hear it's going to get worse around the holidays! We also received the best ever e-mail from the office manager today informing us that the bosses have decided to close head office for the last week of December. Hell yeah.

This hiatus thing sucks. I haven't watched any television this week except for SPN.

I keep reading comments about Matthew Bomer aka Hot Dude from White Collar is gay and is dating some publicist. Obviously, he hasn't "officially come out" but this is the first time I'm hearing this. Damn, there goes another one ;)

NEW ADAM LAMBERT SINGLE!!!!!!!!!





I like the single cover so much more! And the single is exactly what I was expecting from Adam. LOVE IT. I can totally tell that Adam is going to be my "up" CD while Kris' will be my "mellow" CD. <3

I hate that LiveJournal is blocked at work :( I read everything when I get home but I feel like I'm missing out on conversations, etc. I'm back to lurking again.
Current Mood:

lazy
This Tuesday, peeps! Tuesday is the day I will start watching
Current Mood:

relaxed
General Hospital fan, right? While GH was not my first soap -- that title goes to Santa Barbara, anyone remember that show? -- it was the one I stuck with the longest (about 10 years) and man, I was really into it. I stopped watching about 10 years ago cause frankly, it was starting to suck. I tuned back in when I lost my job and wow, it is so unbelievably bad. I don't recognize/know half the characters and the fact that Sonny and Jason are still treated like the second coming makes me so annoyed. So, I moved on.

Perusing the internet today, I discovered 2 things that are going to make me watch this damn show again.

One. James Franco is doing a guest spot. JAMES. FRANCO. Can you believe this? I've read different theories on why he wanted to do this -- he's currently taking film classes so this is research; he expressed a desire to try 'everything'; his friends told him that soap actors work harder than movie actors and he wanted to see if this was true, etc etc. Supposedly, he'll film for 3 days and his scenes will play out over a couple of months. C'mon, I gotta see this! He'll be part of the Jason storyline (of course, cause Jason is like The Chosen One over there *gag* ) so it's going to be so amusing to see if the cast, ya know, actually bring their A game instead of just cruising. I also read that Vanessa Marcil has expressed an interest in returning cause she wants to work with Franco.

Two. And this is the big one. Jonathan Jackson is reprising the role of Lucky Spencer. People, do you understand how big this is for me?!!! I ADORED Jackson. He's the original Lucky and while 2 fine actors succeeded him, it was never the same. The Lucky & Liz storyline was my first online fandom. I shipped them so hard before I even knew what shipping was! They were my ultimate OTP! I painstakingly edited my own Lucky & Liz videotapes using 2 VCRs! Which I still have! Liz is still being played by the original actress so I'm DYING to see these 2 actors on my screen again.

I hate you, ABC Daytime. First for introducing the Kish storyline on OLTL thereby sucking me back into the world of soaps once again. BTW, how cute were Kyle & Oliver today? VERY. And sweet Nick! I hope TPTB do right by Nick when this triangle comes to an end. Brett Claywell just has chemistry with everyone. I'm blatantly ignoring the cancellation rumours *lalalala I can't hear you* And now this. Damn you, ABC, damn you.
I've mentioned before that I used to be a HUGE
Current Mood:

hopeful
DAMN, he was looking FINE.
Pics by
freakykat
, lucky girl.
Brett Claywell @ the Daytime Emmys
Current Mood:

mellow
Alles was zahlt (All That Matters)





Hands down, the hottest love scene I've seen on a soap opera, gay or straight. UNF. THE TONGUE-FLICK. THE RETURN OF THE ESKIMO KISS.

I knew of DeRo way back when I first started watching Ollian on VL but I also knew that their story didn't have a happy ending. I didn't want to invest all that time watching youtube clips when I knew the couple would breakup. Now they're going for round 2 and I'm tagging along for the ride. This is a soap after all so I know that happy endings = boring (case in point: the VL writers still don't know what to do with Ollian). I've also found that AWZ is a lot more campy fun than VL, there's lots of semi-naked guys and shots of Roman's naked ass. What's not to love?

On this side of the pond, today is the day Oliver comes out to his roommates on OLTL \o/ I think we're going to be seeing Kyle torn between Oliver and Nick and oh, it's going to be good.

The moral of the story? The way to get me to watch your soap is to introduce a hot gay couple LOL

Preview for today's episode -- Deniz & Roman (DeRo) from
Current Mood:

content
here
(no embedded video as he's requesting no reposting).
I feel I need to re-watch S4 cause there were a lot of scenes/people I have no recollection of! I'm such a bad fan.
~~
With all this free time I have, I was thinking about doing an intro to Kish post just cause I've been gushing about them lately. But look!
strippedpink
already beat me to it!
and did a much better job than I ever could (warning: it's a big post so no dial-up friendly).
Her recap ends as of the past Monday but they were also on Tuesday and what an episode that was! We got some great one-liners, some humour after all the angst, jealous!Oliver and the best introduction of a character ever for Nick.
Misha Collins, well, I'm assuming it's him, has posted the Supernatural S4 gag reel on his YouTube channel
Current Mood:

amused


~~ Still unemployed. Should find out about one possibility tomorrow (the decision keeps getting pushed back, so annoying). Also, have come to the depressing realization after spending almost 3 months reading job ads and interviewing... I think I'm best suited for work in public practice *headdesk* If the aforementioned job doesn't pan out, I'll be expanding the job search into public accounting but, like before, no big firms.

~~ Spent the weekend with my visiting cousin & her 10 y.o. daughter, Ling. Saturday was Centre Island. Well, it was just Centreville (the kids amusement park). We never made it to anywhere else. I rode the ferris wheel with Ling and I felt queasy afterwards. Wow, I am getting old. Sunday was the Toronto Zoo. Bad day to go cause it was so bloody hot. 30C + humidex, it was pushing 40C. After Ling spent 20 mins touching the stingrays and another 20 mins ooohing & ahhhing over the polar bears, she was ready to go. You know it's hot when my born-and-bred Taiwanese cousins are remarking about the heat.

~~ I discovered that the AC in the car wasn't working back in June but it wasn't really needed so I let it slide. Yeah, that sucker is getting fixed this Wednesday. Thank goodness my friend's boyfriend is a mechanic so he's getting me a deal. Still going to cost a pretty penny though.

~~ Chopped off about 4 inches of hair today. My annual haircut, done.

~~ Matt Nathanson concert was fantastic. Good news, he's working on his next album. Bad news, he has no idea when it'll be done.

~~ OLTL and the Kish SL just keeps getting better. Today, we got a small glimpse of Jealous!Oliver when he sees Kyle is ready to move on without him i.e. chatting up a hot guy. Can't wait til tomorrow's ep!! and that's how sad my life has become lol

And yeah, that's basically it.
Hello, hello. Feels like I've been neglecting LJ even though I still read my f-list. So, here's an update.
Current Mood:

listless