This past weekend was the Gays of Our Lives convention in NYC bringing together actors who are currently or have worked on a gay storyline in soap operas and the like. The big draw were the actors from the German soaps. Attendance was maxed out at 80 which was great cause you were able to get lots of facetime with the actors if you wanted.
Trying to save some money, I decided to take the bus to NYC. Never again, my friends. Never again. 10-11 hours, trying to sleep in a full bus, didn't work out so well for me. I got a bit of motion sickness on the way down. Left Friday night and arrived in NYC @ 6:30am with nothing to do but walk around as the day's activities didn't start until 11am. As a result, I was in no mood to mingle -- I was tired, I was hungry but too damn tired/lazy to get up and get food, my contacts were killing me so I had to switch to glasses. I was just cranky lol. Ate dinner at the hotel and I crashed so never made it to the party that night.
I was in a much better mood on Sunday (amazing what a solid 9 hours of sleep can do) so my goal was try and get pictures with all the actors. Why not, right? This will most likely never happen again. Mission accomplished \o/ except for Scott Evans who didn't come to the Sunday brunch :(.
As I had the afternoon to kill, I decided to check off an item on my
lifelist
and see a Broadway show. Stood in line Sunday morning for a hour at the discount ticket booth in Times Square and got a great seat for
Next to Normal
. Some of the original actors already left but Alice Ripley, who plays the mother & won the 2009 Tony, was still there and she was fantastic. The show is brilliant and I had tears streaming down my face through almost the whole thing lol.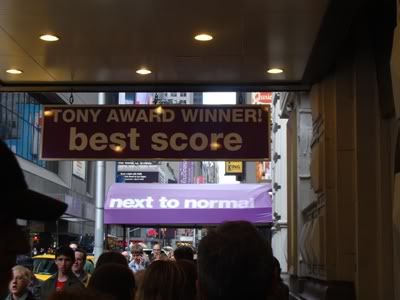 After the show, still had about 90 mins to spare so headed on over to 5th Avenue and started walking. It must've been fate cause just as I was about to turn around and start heading towards Penn Station, I found the Prada store. They didn't have the handbag I had my eye on but evil saleslady was evil and pulled out this bag from the back.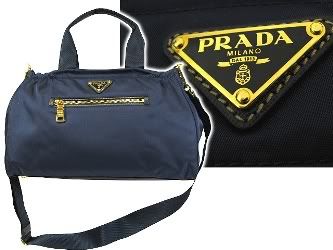 This was the best I could find but it doesn't do the bag justice. It's much cuter in RL. And picture it without the strap cause I won't be using it. I love the blue. It's not leather (yes, I just paid a lot of money for designer nylon... again) but Prada leather bags are just a tad out of my price range. I'll have to slowly work my way up lol.
Shizer, this post is getting ridiculously long!
(
Collapse
)