Entries by tag:
(
nick carter
Collapse
)
THIS WEEKEND: FanExpo. I'm so tired. I think I'm going to miss today cause I need a day of rest LOL If I can barely handle FanExpo, how would I survive ComicCon?
(
pictures
Collapse
)
IN-BETWEEN: I discovered this web series called
Husbands
. It's written by Brad "Cheeks" Bell (an ex of Adam Lambert, I believe?) and Jane Espenson of Buffy & Caprica fame. The second season just started & I clicked the link on a whim. The first season was 11 short episodes, a few minutes each. The second season will be 3 episodes of about 8 minutes.
The series is about a recently out baseball player, Brady, who gets drunk married in Vegas to flamboyant actor, Cheeks and what happens. It's actually amazing how much they could fit in such a short time frame. And lots of cameos!!
Here's the first episode



And the link for the rest: GoCheeksGo youtube channel
LAST WEEKEND: CNE (Canadian National Exhibition) with Rina & Shirley. We ate Korean tacos & Rina had her first beaver tail (next time, deep fried mars bars!). Watched the ice skating show with Virtue & Moir. I was finally introduced to the cuteness that is the SuperDogs. Can't believe I've been going to the CNE since I was child and never saw the SuperDogs. Ended the day with a Nick Carter concert.
Current Mood:

tired
La Cage aux Folles
and he shot some promo pics (thanks to
dr_is_in
)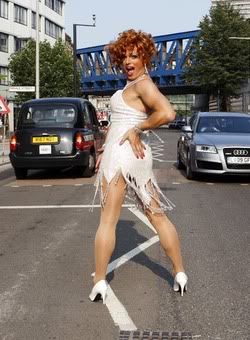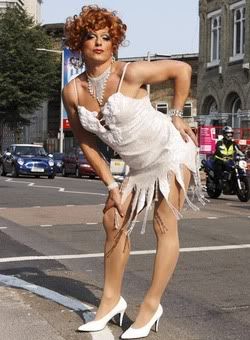 He looks like he is having a blast! Check out them legs!! Definitely looks better than I would.
John Barrowman is joining the cast of
Current Mood:

amused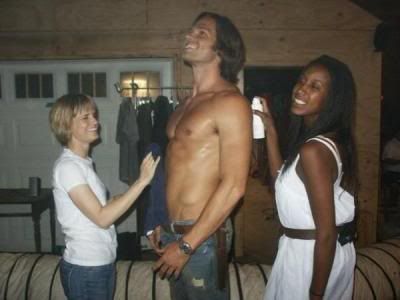 Why is this is not my job? Why did I not go into hair/makeup for movies/tv? WHHHHHYYYYYYY????
Exhibit B: I am not at the Torchsong convention in Chicago (for
Torchwood
). I didn't even know there was a con until a bunch of bad news sprung up just before. First Kai Owen had to cancel due to a family tragedy. Then John Barrowman injures himself (he fell off his balcony and badly injured his ankle) and is not allowed to fly. Then Tom Price gets hit by a bloody car! (but he still shows up for a bit with a broken arm).
Anyway, Barrowman still made an appearance via video link which was great of him. Now, all these reports are coming in about how Scott, John's gorgeous hubby, made an appearance in A WHITE SPEEDO WITH 'FUEL INJECTION' WRITTEN ACROSS HIS ARSE. Scott, whom fandom has pretty much left alone as it was known that he preferred to stay in the background. Now he's making con appearances 90% naked, getting his arse slapped by John and demostrating sexual positions! All I'm saying is that there better be pictures!
Exhibit C: The refrigerator and cupboards are bare. I have nothing to eat except for Campbell soup which I am really sick of. Must grocery shop tomorrow.
Exhibit A: (picture snagged from all over my f-list)
Current Mood:

jealous
24 finally comes back!! \o/ Unfortunately, it's coming back this Sunday night when I'll be at the Matt Nathanson show so it's gonna be the good ol' download for me. I'm excited though!

For the Barrowman fans -- Music Music Music. I'm listening to it and so far, so good. A couple of clunkers but he sounds fabulous! ETA: OK, his version of Sarah M's Angel is not so good. And I love this song. Hopefully it'll grow on me.

Does anybody watch Numb3rs? I watch when I can/remember and I just need to say that Colby (Dylan Bruno) is smokin'. As is Rob Morrow.

People has a special High School Musical edition and I totally bought it! LOL Oh shush. I probably won't see Twilight in the theatres but HSM3 twice? Hell yeah!

Speaking of People, the Sexiest Men Alive issue is coming! I understand that my Jared made the list, yay!! No picture of him on the site though, bummer. But here are some of the ones that were posted:

(

people's sexiest men of 2008Collapse

)



Current Mood:

tired
Current Mood:

confused
dr_is_in
, I was able to get to one more show. Instead of a long rant about how the CBC is made of epic fail for their audience co-ordination skills, let's just say that after spending
hours
in line, we were among the last group to get into the studio. We also had a guest of honour -- Lord Andrew Lloyd Weber -- who proceeded to cause John to have a laughing fit by mentioning a gerbil (don't ask). Ended up sitting behind the judges so very few pictures. After the show, we waited around and was able to catch John while he was leaving. So glad the gals were able to meet him after driving all those hours. I was able to get my magazine signed (yay) and while he did take some pictures, I didn't get the chance and I could tell he wanted to go.
***
I watched the last episodes of
Avatar: The Last Airbender
. While the ending was no surprise, I must say that some of the animation, especially the 2 major fight scenes in the finale, was quite beautiful. This was a great series and I'm so glad I followed the advice and gave it a chance.
***
No more Dr Horrible =( I keep reading mentions/possibility of a sequel so let's keep our fingers for that. Act III was kinda a shocker but it's Whedon. I shouldn't have been surprised. I love how this series has turned so many people into NPH fans. NPH is awesome. I can't get "Can't Believe My Eyes" (song at the beginning of Act II) out of my head, I love it so. When's the DVD coming out?
The summer of stalking of John Barrowman has ended for me. Thanks to the generous
Current Mood:

sleepy
onci_dium
, I looked for you but couldn't find you :( John Barrowman was in the parade, on the Maria float with the host, Gavin, and 4-5 guys in lederhosen. He looked like he was having lots of fun. I was amused when both John & Gavin got soaked by water pistols. When the parade started, I was at the beginning of the route (looking for Onci) and that's where I stayed until John's float went by. I then proceeded to follow the float all along the route, LOL!! Stalker-ish much? My excuse is that I had to walk that way to get home anyway... Going to the show for the 3rd time tomorrow night... oh my, I've become a full-fledged stalker, haven't I?
Best part -- I caught a glimpse of John's tummy when he was trying to cool down by doing that fanning yourself with your shirt thing. Nice.
The camera gods smiled down on me cause even though my battery died after snapping 3 pictures of John, all 3 pictures turned out pretty decent \o/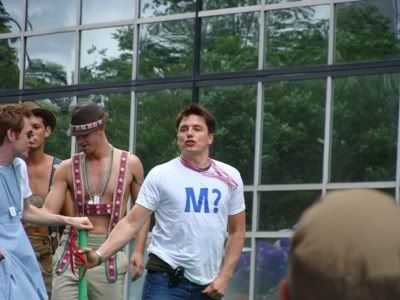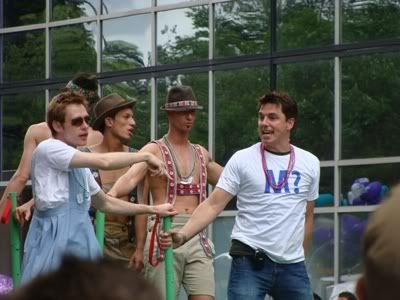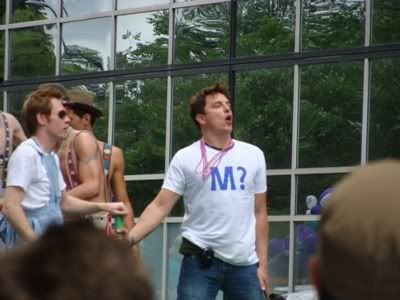 Made it to the Pride parade this year, yay.
Current Mood:

exhausted
J #1 -- John Barrowman.
bauersgirl
& I, for the last 2 nights, have endured what felt like hours of queue waiting for the Top 10 performance and results show. I admit that I probably spent more time looking at JB then I did at the contestants. He's so amusing to watch during the performances cause he sometimes gets really into it.
For both shows, we were seated at the opposite side of the studio from the judges. While it did give us a good view of JB, it was freakin' hard to get a decent picture! I must have taken about 100 pictures during the commercial breaks and only a handful were passable, none of them were really good.
(
cut for some not-so-good john barrowman pictures
Collapse
)
J #2 -- Jared Padalecki.
Thanks to my f-list for all the videos, pictures & recaps of the Supanova con in Sydney. He is just as adorable as ever.
New TV Guide picture. GUH. I would apologize to those who've had this picture pop up on the f-list like a gazillion times today but I won't cause it's Jared and who could ever tire looking at a picture like that?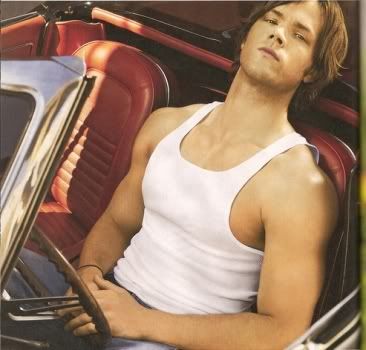 J #3 -- James McAvoy.
I love him best when he uses his natural Scottish accent. And I never knew he was such a funny guy! I've been watching quite a few of his interviews and the one he did on Parkinson's (UK talk show) is probably my favourite because in part 3 he and Billie Piper, talk about doing sex scenes and, well, I'm just shallow like that.
(
a mini james mcavoy picspam
Collapse
)
Looking at my tags list, it looks like I have a preference for actors with names starting with the letter J. :) Warning: this post is picture-heavy!
Current Mood:

grumpy
How Do You Solve a Problem Like a Maria? -- the search for the one who will portray Maria in the upcoming stage production of The Sound of Music. The top10 finalists were there, they performed 2 songs and each did quick interview with the host.

Blah blah blah, let's get to the pictures shall we?


Oh yea, I also saw George Stroumboulopolous (I think that's right, lol) in the crowd. I like him and his show, The Hour.


The event was the public launch of CBC's
Current Mood:

chipper


Took many pictures of John Barrowman.

Stared at John Barrowman's ass.

Took picture with John Barrowman. (oh my, he holds you tight! I look terrible but who cares!)

Now back at the office and must do work. Co-worker noted I was all smiley, LOL

Pictures will be uploaded tonight!
Saw John Barrowman.
Current Mood:

happy