Entries by tag:
and I totally did not pause the screen to marvel at Zac's back. Other numbers on repeat include "The Boys are Back" (of course!), "I Want it All" and "A Night to Remember". I even re-watched "Can I Have this Dance" because I can not resist Zac waltzing and if I have to endure Vanessa, then so be it.

And then, I watched the "Making Of HSM3" cause I clearly AM INSANE. Laughing at Vanessa's HORRIBLE dancing and just generally ADORING LUCAS.

I may also be suffering a slight mental breakdown due to working way too much this week but whatever. ZAC PRETTY.


What's the best cure for a very very very long work week? Watching HSM3 of course!! I downloaded the movie last night and OMG IT MAKES ME SO HAPPY!!!! I don't even know why but IT DOES!! I won't say how many times I've watched "Scream" because it's KINDA EMBARASSING
Current Mood:

bouncy
24 finally comes back!! \o/ Unfortunately, it's coming back this Sunday night when I'll be at the Matt Nathanson show so it's gonna be the good ol' download for me. I'm excited though!

For the Barrowman fans -- Music Music Music. I'm listening to it and so far, so good. A couple of clunkers but he sounds fabulous! ETA: OK, his version of Sarah M's Angel is not so good. And I love this song. Hopefully it'll grow on me.

Does anybody watch Numb3rs? I watch when I can/remember and I just need to say that Colby (Dylan Bruno) is smokin'. As is Rob Morrow.

People has a special High School Musical edition and I totally bought it! LOL Oh shush. I probably won't see Twilight in the theatres but HSM3 twice? Hell yeah!

Speaking of People, the Sexiest Men Alive issue is coming! I understand that my Jared made the list, yay!! No picture of him on the site though, bummer. But here are some of the ones that were posted:

(

people's sexiest men of 2008Collapse

)



Current Mood:

tired
Last night,
bauersgirl
& I braved the tweens to watch HSM3. Quite a few kids in the audience, mostly teenage girls with a few guys throw in.
(
cut for movie talk
Collapse
)
Current Mood:

awake


Saw this on my f-list and it must be shared with all who lust after The Efron. Zac gets pranked on the set of HSM3 involving water. Lots of water. Oh, you know where this is heading ;)


Look, a non-Olympic post, yay!
Current Mood:

mellow
The firm was closed today, giving us this Friday off although considering each of us put in approx a month's worth of overtime, a day off is nothing but I shall remain grateful YAY!! Went to the family doctor to check up on my thyroid, next was the eye doctor (after 3 years, ack!) and yay for my eyes finally stabilizing and not getting any worse and then off to a 70 minute hot stone massage where I was told that I have a lot of knots in my back *ouchie* Now, I'm at my parents' house relaxing. I am so gonna sleep in tomorrow.
Current Mood:

complacent
High School Musical: The Musical
. The touring company is currently performing here so last Sunday,
bauersgirl
and I went to the show.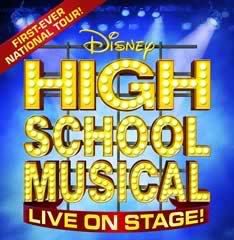 First, I am happy to say that we were not the only child-less people there! Man, I have never seen so many kids at the theatre before. When the lights went down, there was actual screaming, like a concert. That was different, LOL.
Anyway, the show. The show wasn't bad. The hardest thing for me to get over was the fact all the performers were all in their late-20s playing teenagers. Logically, I knew this was what was gonna happen but the brain just wouldn't compute and it was distracting. The plus side? The guys playing the Wildcats weren't teen boys but buff guys wearing basketball uniforms that displayed their lovely muscular arms. =)
All the songs from the movie were performed plus a couple of new ones. Many of the songs that were originally solos were re-arranged into duets or group sings. I liked Musical!Gabrielle better than Vanessa Hudgens but I missed Ashley Tisdale as Sharpay. Ryan's part was also expanded which was nice.
The finale was a rousing rendition of "We're All in This Together" that had everyone clapping along and ended with a big bang! as streamers were shot in the audience. The kids loved that.
HSM: The Ice Tour is next but that's where I draw the line. When will the HSM madness end?
****
Hey
claireyfairy1
-- I was in HMV today and I looked to see if they had any Tokio Hotel stuff out of curiousity. I was surprised to see a copy of
Schrei.
There was also 2 CD singles, one was in German and the other was for
Monsoon
which also included a song called
Black
. Is
Black
a "new" song ie not included on the CD?
****
They're filming
The Incredible Hulk
on a stretch of Yonge St right by my place. They've shut down a portion of the street and it's lined with NYC taxi cabs and some beat up cars. Street signs have been changed -- Yonge Street is now Dr Martin Luther King Drive -- and a couple of new store signs have been erected. I was wondering why The Apollo all of sudden appeared, LOL! As far as I can tell, they're filming FX stuff with stuntmen, there's a burned out bus and we were told by the police that a few cars will be set on fire.
What I found interesting was the amount of trailers, people and equipment required for, what will probably be, a few minutes of footage. And that's not even taking into account all the CGI that will be inserted at a later date.
It all started with a tv movie. Then came the concert tour. Now, it's
Current Mood:

bored
I just finished watching High School Musical 2 and the cheese was GLORIOUS! LOL. Not as good as the first but still good.

Some quick thoughts as I've got a ton of crap to do today (which got put on hold for HSM2):

Current Mood:

giggly
Is it wrong that I am INSANELY JEALOUS right now of all those who are watching High School Musical 2 right now??

I blame Zac that I am actively hating the fact that I don't have the Disney Channel at the moment. And that? Is so very very wrong.

There better be a torrent by tomorrow night!
Current Mood:

jealous
article written about his subway sketch group
in the Globe & Mail. So cool.
I'm also putting the article behind the cut just in case the link doesn't work / expires.
Just received an e-mail that a friend is pregnant and is expected to deliver in late Nov / early Dec. This is friend #4 that's pregnant. It's like a baby boom!
OMG I purchased 7 books today. Damn those Chapters sales!! I really should start, ya know, reading. I have books 10+ years old that I
still
haven't read.
Had a great time Saturday night with 11 fellow crazy Kalan fans. The gathering was in honour of a Winnipegger visiting TO. The food was yummy, the weather was beautiful, the company was most excellent and, to top it all off, there was a violinist who knew how to play
Nature Boy
!
For the past month or so, I've been hearing / reading a lot about this huge phenomenon in the US called
High School Musical
. It's an original Disney movie, it's a musical, it's spawned a whole bunch of singles that hit the Billboard charts and it's the biggest thing at the moment in the tween market (9-14 year old). I heard "musical" and my curiousity got the best of me cause I love musicals. It's out on DVD so I picked up a
bootleg
copy. The storyline is filled with every cliche imaginable. It's squeaky clean (not surprising cause it's a Disney production). The songs are pure bubblegum. And I really liked it. Which kinda scares me considering the target audience is the same one that catapulted Hilary Duff & Lindsay Lohan to celebrity status.
Lately, I've been in the mood to find some "new" artists to listen to so I've been visiting libraries like crazy and borrowing CDs. Artists I'm starting to listen to include Morrissey, Kathleen Edwards, Sarah Harmer, Ron Sexsmith & Rufus Wainwright. Anyone have further suggestions?
My cousin, Bob Chiu, just had an