Entries by tag:
Current Mood:

working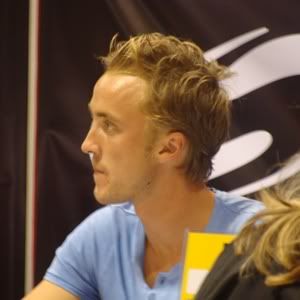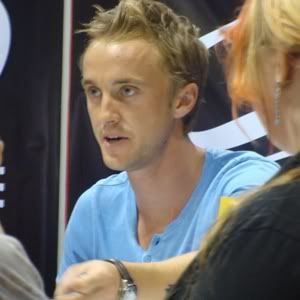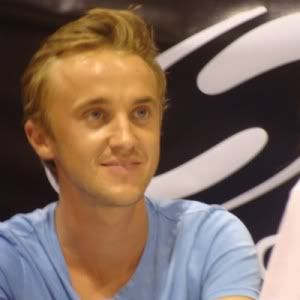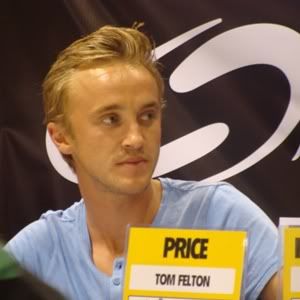 Hopefully more pics tomorrow!
I think I got my AVPM/AVPS quotes mixed up. Oh well! LOL Dropped into the Fan Expo after work today mainly to walk around while it wasn't too crowded, get a feel of the layout & drop by my cousin's booth. Checked out the autograph signing area and guess who was still signing away?! Tom Felton \o/
Current Mood:

impressed
Darren Criss on WhoSay
AHHHHHHHHHH it's Joey Richter and Rupert Grint!!!!!! (Joey played "Ron" in
A Very Potter Musical
) Loving Joey's goober face LOL Was this at the "Rise of the Planet of the Apes" premiere? I remember seeing pictures of Rupert attending a premiere in that "I ♥ LA" tee.
From the sound of Darren's tweet, he has not met DanRad yet. They must cross paths soon though with Darren succeeding him on Broadway.
Another Darren tweet with this cute vid:
Darren Criss on WhoSay
Only Darren would take a video of a video of himself HAHAHAHA
As tweeted by Darren:
Current Mood:

geeky
Two brilliant YT videos I've come across in the last few days. Can't believe this series is coming to an end.
Current Mood:

impressed
**
A behind-the-scenes photo of Colin Morgan from S3. Doesn't he just look delectable? MMMMMMM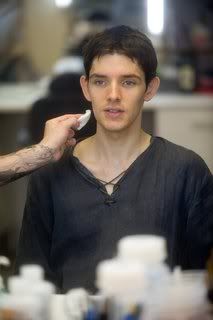 Season 4 has started filming which means, hopefully, many lovely set photos will find their way onto the internets including adorable Bradley/Colin interactions
confirming their epic love for each other
.
**
In RL news, I cut about 4 inches off my hair yesterday. The long hair was driving me nuts. The hairdresser also thinned out my hair which will be a godsend come the summer. Many people didn't want me cut it short (ie just about the shoulder) but whatever. It'll grow back.
**
(
100Crushes #004
Collapse
)
I don't want this to be over but I also can't wait for part 2! I AM CONFLICTED.
Current Mood:

content
I came to a sad realization though on this trip -- I can no longer handle rides because of nausea/motion sickness. The Forbidden Journey? I had to close my eyes like 15 seconds into it and I just prayed that I wouldn't throw up. But what I did see looked awesome lol! My 2 travel mates, Anj & Rina, seemed to really like it (although Rina seemed to like the obligatory picture taken while on the ride more than the actual ride itself as the shot of me with my eyes closed trying to keep all stomach contents inside my body would set her off in peals of laughter). Even the Men in Black & Spiderman rides, which I handled with ease the last time I was at Universal, made me nauseated. I was not impressed with myself.
BUT ANYWAY. Lots of things to see. Lots of things to buy (scarfs! wands! butterbeer & pumpkin juice! candy from honeydukes!) And before anyone mentions it, yes, in actuality, the place was a mixture of Hogsmeade & Diagon Alley. There is so much more they could've done. Perhaps in a few years time as they need to keep updating. I say get rid of The Lost Continent section and expand Harry Potter World.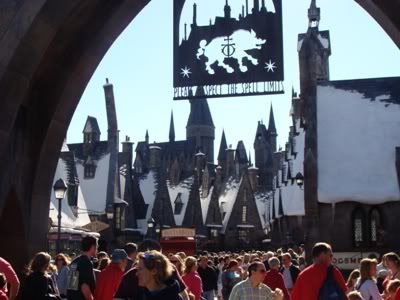 (
Welcome to Hogsmeade/Diagon Alley/Hogwarts
Collapse
)
Ahhhh Orlando where movies come to life :) I must admit, HP World was smaller than I expected it to be but what was there was fabulous. Loved all the little touches that only a hardcore fan would notice (or look up on the internet to make sure we caught everything).
Current Mood:

accomplished


Even though I get Glee's music a few days before the episode, I've always avoided listening to them as I prefer to hear the song first in the context of the show. However, due to the overwhelming love I've seen around the internet for "Baby It's Cold Outside", my resolve broke and I had to listen. WOW WOW WOW. I had no idea how suggestive the lyrics were so now I can't wait to see how this song is staged.

Still working on post about trip to HP World. So many pictures! At first, I just picked the ones I thought were interesting but then I realized there were over 60 of them! Need to do some trimming and then start with the re-sizing & stuff.

Saw Megamind. Quite good and funny. Brad Pitt sounded like George Clooney though!

I've decided that I wanted to re-read Deathly Hollows before the movie is released to refresh the ol' memory. I'll start tomorrow, that should give me plenty of time.

OK back to work :(
Boss not here today and we get to leave by 4pm \o/
~~
Chuck
finale. How awesome was that?! The kick ass gene really does run in the Bartowski family -- go Ellie! Routh as evil!Shaw was so good. He needs to play bad more. Jeffster's "Blaze of Glory" was epic and the video was so awesomely bad LOL And unlike another tv show *cough*Supernatural*cough* when
Chuck
sets up a showdown fight, it actually delivers. Chuck's "I just needed to reboot" was brilliant!
~~ Watched the
24
finale while in Winnipeg. Didn't catch all of it as I was moving stuff out of my brother's apartment but I did see the final minutes between Jack and Chloe. Very well done.
~~
Glee
. How brilliant was Bad Romance? LOVED IT. Santana KILLED it and Quinn was gorgeous in her outfit, although those eyelashes look super annoying to wear. Burt continues to be The Best Father Ever. The TWOP gang continues to beat the dead horse that is (a) whether or not Burt was justified in how he treated Finn; (b) Finn's motivation behind his rant; (c) whether or not Kurt received any fallout blah blah blabbity blah for 50+ pages. My
Glee
music post has been updated
here
. Only 2 more eps left :(
~~ Somebody somehow found Jared & Genevieve's
wedding pictures online
. I admit to feeling a bit uncomfortable/stalkerish watching the slideshow
but not enough to stop me from screencapping a good portion of the pictures
.
~~ I finally relented and turned on the AC this afternoon.
~~
bauersgirl
, Anj & I will be visiting the
Wizarding World of Harry Potter
in November. I'm super excited about this! I believe Anj timed it so we'll be there when the next movie is released. I can't wait to try butterbeer!! Speaking of HP, I never posted my HP exhibit pictures here! Pictures were strictly forbidden but I had to sneak some shots! I only got about 10 pictures but if you're interested, you can check them out
over at my facebook
.
~~ I really would love to go see
Broadway Bares
once. Looks like it happens every year in June. I'm thinking next year. Who wants to come with? Even if one doesn't want to see BB, a weekend in NYC is always fun.
~~
(
pictures of Winnipeg trip complete with some history & youtube clips
Collapse
)
I have this thing where I think of something to post but then I don't and I was too lazy to post my Winnipeg pictures last week so the result is one big giant post. Sorry! *sheepish grin*
Current Mood:

productive
Vogue
, like us poor Canucks. This was aired after the ep last night. Jane Lynch is 100% pure AWESOME.
**
Anyone want to check out the
Harry Potter exhibit at the Science Centre
with me? I'm definitely going. I want to get sorted! The exhibit runs til August 22.
**
I tuned into American Idol last night only because Adam Lambert was the mentor. I made it almost halfway through the program before switching the channel. They're only at the Top 9? Yes, double elimination tonight but still. It feels like this season has been on for forever! The show was 90 minutes long and it felt like the judges barely had time to make a comment! The music actually cut off Simon at one point LOL
**
Can't believe I was so busy at work that I forgot to listen to Matt Smith on CBC Radio 1. Thank goodness it re-airs tonight at 10pm.
**
Reading about derivatives and hedging and futures etc is boring and confusing. Why oh why did I sign up for the Canadian Securities Course?
For those who haven't seen Sue Sylvester's
Current Mood:

cranky
bauersgirl
. 3 midnight showings, we were at the 3rd one and it was about 85-90% full. It was fun listening to other people analyze the film while I was walking home.
(
I'm no good at movie reviews
Collapse
)
Found a new photoshoot of DanRad and they're quite good.
(
My, what large eyes you have, Harry
Collapse
)
Back from watch HP&HBP with
Current Mood:

sleepy