Entries by tag:
jenab
and it was great! The theatre was small, with no more than 150 seats and dang, those seats were not comfortable! The songs were great and the lead actor was adorable :) I prefer staying as spoiler-free as I can re: musicals before I see them so while I knew Avenue Q had puppets, I thought it was more along the lines of The Muppets ie you never saw the people which wasn't the case. Both the leads play at least 2 roles using different voices so how they don't accidentally screw up is pretty cool. If you get a chance to see it, I definitely recommend it. It's not every day you get to watch a puppet sex scene!
~~ Finished watching
Avatar: The Legend of Korra
. I really enjoyed it but I think I was more excited about the nods to The Last Airbender -- OMG that's Zuko grandson! OMG that's Toph daughter! OMG AANG GREW UP TO BE A FREAKING HOTTIE!!
felt weird to find an animation hot lol
. The show has already been picked up for a 2nd season and on tumblr, someone made the comment that this will be the first time, in both series, that we will have a fully realized Avatar. Should be interesting to see what this will bring in the upcoming season. Although, I do miss how Aang's arrows glow when he enters the Avatar state. It just makes everything cooler.
~~ Does anyone watch
Common Law
? Good show? I've started to d/l the eps as it looks like something both my mom and I would enjoy. My mom likes White Collar, Suits & Burn Notice but not Leverage so if it falls into a similar category, that'll be awesome.
~~ Ryan Murphy has joined Twitter and finally clued in that a surefire way to make fans happy is to start releasing deleted scenes. Now why these scenes aren't just included in the DVD set is beyond all of us. Considering they have a huge cast and the amount of footage they have/could have between studio recording, dance rehearsals & on-set time, the DVD extras are PITIFUL compared to other shows. We don't even get a blooper reel. Seriously. So, any little morsel given out is glomped on and praise & love is heaped onto Murphy.
(
Deleted scenes featuring Klaine, Rachel & her bridesmaids, The Warblers & Rachel/Jesse
Collapse
)
~~ ETA: Went for a walk
in the crazy heat, good planning there, Amy
and ended up buying... a handbag! I was on my way home, walking through the Eaton Centre for the air con, walk by Micheal Kors and a purple bag caught my eye. I've been wanting a purple bag forever, loved this colour so went inside to see what other styles they had. In less than 10 minutes, walked back out with this: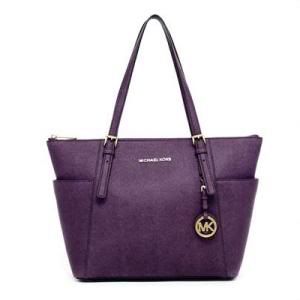 I love it ♥ Probably the easiest sale that salesgirl ever had!
~~ Before I left for Cincy, I saw Avenue Q with
Current Mood:

okay
* visited St Lawrence Market where we bought yummy freshly baked croissants and shared a chicken & eggplant parmigiana sandwich
* walked through Eaton Centre to visit the Sony Store. I have a Sony Mastercard and I'm thinking of redeeming the points but what to get?? I don't need a tv (don't have enough points anyway). Playstation? But that'll be for my brothers, not me. And of course laptops but I have no use for a laptop -- I use a desktop at home & a netbook when I travel. Oh what to do...
* visited Tiffany's as Bro's 3rd anniversary is coming up. They have a mutual agreement where they don't exchange gifts for birthdays/anniversaries/etc unless someone
really
wants something and SIL has been scoping out the Tiffany's key necklaces for a while now. Thanks to my super duper detective skillz (haha), I found out that
this one is her favourite
.
* I may have purchased
this ring
for myself.
* I also may have ordered
this Roots bag
but in chocolate brown.
* With
Glee's
tribute to Rocky Horror coming up, it reminded me that I have not actually seen said movie. Definitely will watch before the episode so I can get all the references!
* Finally uploaded my pictures from the weekend trip to upstate NY
(
so behind the cut are pictures
Collapse
)
As SIL had a course this weekend, I had to entertain Bro this weekend.
Current Mood:

lazy
Trying to save some money, I decided to take the bus to NYC. Never again, my friends. Never again. 10-11 hours, trying to sleep in a full bus, didn't work out so well for me. I got a bit of motion sickness on the way down. Left Friday night and arrived in NYC @ 6:30am with nothing to do but walk around as the day's activities didn't start until 11am. As a result, I was in no mood to mingle -- I was tired, I was hungry but too damn tired/lazy to get up and get food, my contacts were killing me so I had to switch to glasses. I was just cranky lol. Ate dinner at the hotel and I crashed so never made it to the party that night.
I was in a much better mood on Sunday (amazing what a solid 9 hours of sleep can do) so my goal was try and get pictures with all the actors. Why not, right? This will most likely never happen again. Mission accomplished \o/ except for Scott Evans who didn't come to the Sunday brunch :(.
As I had the afternoon to kill, I decided to check off an item on my
lifelist
and see a Broadway show. Stood in line Sunday morning for a hour at the discount ticket booth in Times Square and got a great seat for
Next to Normal
. Some of the original actors already left but Alice Ripley, who plays the mother & won the 2009 Tony, was still there and she was fantastic. The show is brilliant and I had tears streaming down my face through almost the whole thing lol.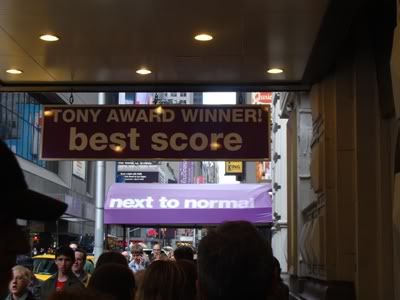 After the show, still had about 90 mins to spare so headed on over to 5th Avenue and started walking. It must've been fate cause just as I was about to turn around and start heading towards Penn Station, I found the Prada store. They didn't have the handbag I had my eye on but evil saleslady was evil and pulled out this bag from the back.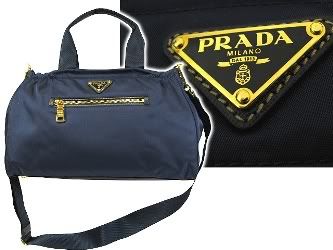 This was the best I could find but it doesn't do the bag justice. It's much cuter in RL. And picture it without the strap cause I won't be using it. I love the blue. It's not leather (yes, I just paid a lot of money for designer nylon... again) but Prada leather bags are just a tad out of my price range. I'll have to slowly work my way up lol.
Shizer, this post is getting ridiculously long!
(
It's picture time!
Collapse
)
This past weekend was the Gays of Our Lives convention in NYC bringing together actors who are currently or have worked on a gay storyline in soap operas and the like. The big draw were the actors from the German soaps. Attendance was maxed out at 80 which was great cause you were able to get lots of facetime with the actors if you wanted.
Current Mood:

tired