Entries by tag:
Surprise! It's a package from the awesome Fan! And it's an Adipose!!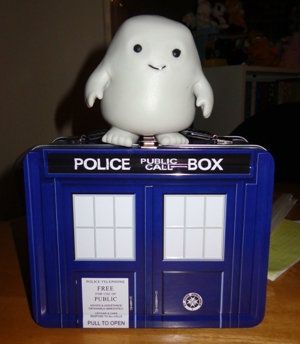 I now have my very own squishy Adipose *squishsquish* THANK YOU SO MUCH, FAN!!!!!! ♥♥
I still maintain that Ms Foster had a brilliant idea of re-populating the Adipose using human fat. As long as that total disintegration thing was guaranteed never to happen.
So I'm checking my mail and what is this? I have a package? While the concierge is getting it, I'm racking my brain, did I order something from Amazon/Indigo that I forgot about??
Current Mood:

giggly
faninohio
for indulging me and driving me and coming with me to the Colfer signings *BIG HUG*
The Book Loft @ Columbus, OH. They started the line at the front of the store but we went to the back entrance to see if we could see Chris arrive. Which we did but (a) my camera decided to go on a weird fritz & wouldn't focus (b) I was probably shaking too badly to take a decent picture anyway and (c) Fan was looking at a cat so missed the whole thing haha. After Chris arrives, they actually moved the line from the front to the back of the store and as we're trying to find our place in line (everyone got numbers), a girl dressed like Snow White stopped me and said she recognized me. A couple of questions later and we figure out we were TIFF red carpet buddies for Cory's film last year! Such a small world, eh?
For both signings, difficult to get pictures approaching Chris (which was discouraged anyway) so all my pictures were taken afterwards.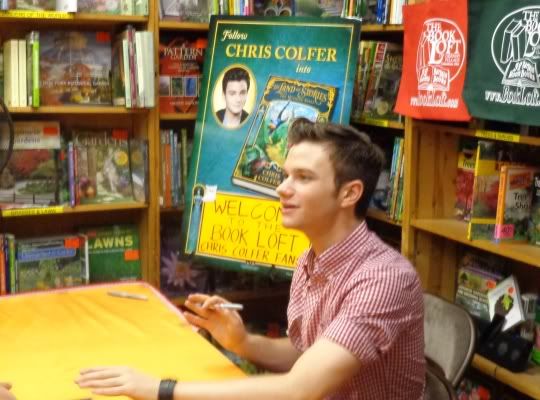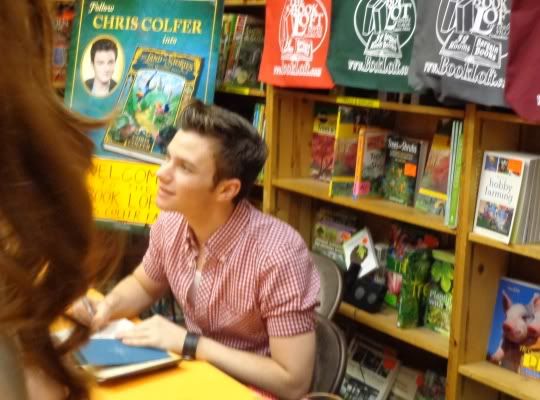 I did pull myself together enough to ask whether or not his movie,
Struck By Lightning
will come to TIFF and he said no. His publicist basically said there was no reason to as the movie already had its premiere at TriBeCa plus a few other festivals and it has already been purchased by a distributor. So there goes my hopes of a Darren/Chris TIFF :(
Cincinnati signing. I really liked this bookstore and we totally scored an awesome parking spot! I didn't ask him anything this time but I did notice how he basically signs the books without even looking and instead will establish eye contact and say, at minimum, something like "thank you for coming".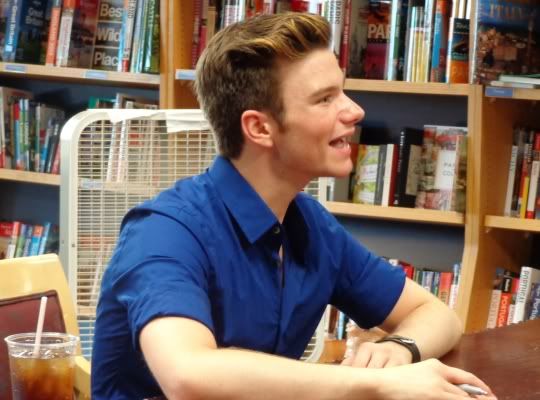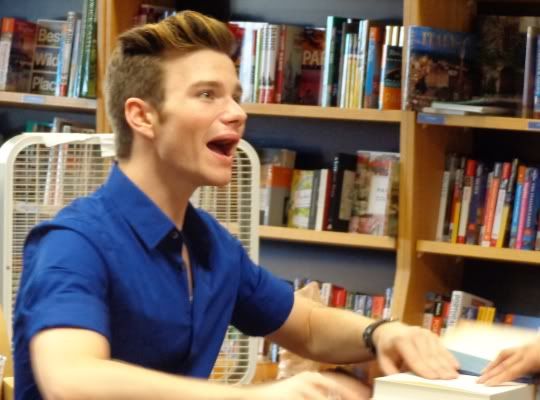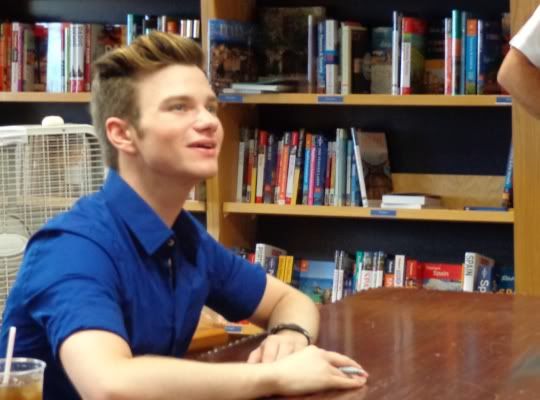 As I was checking in at the airport, the woman in front of me, Connie, totally remembered me as we both flew in on the same flight (there was only 11 people on that flight which was pretty awesome!). So we ended up chatting (she's a sales rep so she could talk lol) for the entire time and throughout the actual flight cause our assigned seats were right beside each other. Anyway, turns out she's a fellow Gleek and had no idea Chris was in the area that weekend. She didn't even know he released a book. Her 5 year old daughter loves Chris too so I offered her one of my signed copies.
For my f-list first, Fan has an extra signed copy so if anyone is interested, let me (or Fan) know!
So wrap up. Had an awesome time. Met Chris and did not burst into tears like I saw so many girls do. So great to see Fan again as it's been too long. Can't believe I actually met someone I knew at one of the signings and I made an adorable 5 year old girl happy. A good weekend was had. And now I can't believe I have to go work, ugh.
First off, I would just like to express my sincerest thanks to
Current Mood:

cheerful
The plan is to fly into London and then do the BritRail pass. I have 3 weeks. I can do the UK in 3 weeks, right? At first, I originally thought of missing Ireland but it feels like such a shame since we'll be, ya know, practically there.
Any tips, suggestions would be great appreciated :D
**
For those who want something special other than store-bought cards, check out my good friend,
faninohio
's handmade cards site:
fanmade_cards
. She does cards, notepads, invitations, bookmarks, journals, etc. Everything is so pretty!
**
Reading challenge:
(4)
Mansfield Park
, Jane Austen. I found this book quite boring to be honest. Fanny Price doesn't really
do
anything, does she?
(5)
The Last Olympian
, Rick Riordan. Part of me wishes the movie did better so we can get the rest of the series but then I think, how in the world would they film it? The films would be like 99% CGI. I'm looking forward to reading his 2 new series (what's the plural of 'series'? *google* huh that is the plural, sounds weird though) using Roman & Egyptian gods but I'll wait a bit. Write faster, Mr Riordan!
**
(
cut for Glee song spoiler
Collapse
)
And that's my
Glee
/Klaine squee for this post :D
**
(
100Crushes #003
Collapse
)
If all things according to plan ie getting my vacation approved and no emergencies, my often talked about UK trip will finally happen this September/October \o/ But you see, I have this little problem -- I don't like planning. So I need some help, f-list. Where in the UK (England, Wales, Scotland, Ireland) are Must See places? Minus London cause we've already been. Or even conversely, tell me what I can miss.
Current Mood:

relaxed
faninohio
!!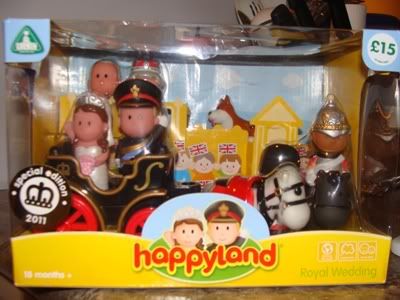 THANK YOU SO MUCH *tackle hug* When I saw that the package came from England, I was all "OH NO SHE DIDN'T! *rips open box* OHMYGOD SHE DID! AHAHAHAHA!!! *loves*" ♥♥♥
Now here's the dilemma -- do I keep it in the box or take it out? And would it be weird if I tried to get Prince William & Princess Kate to sign it when they come for their royal tour? Like I would get close enough!
***
In other awesome news, how did I NOT know that James McAvoy was in this movie?!
***
ETA: OK OK even if you don't like Justin Bieber (say wha?!), watch this promo just for impressions!
His Eddie Murphy & Will Smith are so on! Can you believe the movie actually
has a 65% fresh rating?!
I want to see it, ain't gonna lie.
GUESS GUESS WHAT I GOT IN THE MAIL TODAY?!?!?! My lovely gift from
Current Mood:

happy
shadow_of_doubt
and
roguegambit26
for the snowflakes. I certainly like the virtual ones over the real ones! Although, it's been a snow-free winter so far which is strange (first time in 100+ years that Toronto had a snow-free November). ETA: Thanks to
ellel
too! Awww, you guys are too nice :) Thank you,
wordplay__
!!
I watched that Disney special the other day. It was a retrospective of the Disney classics and promoting the new film,
The Princess and the Frog
. Anyway, I just felt the need to say that my favourite Disney 2D animated film has to be
The Little Mermaid
. I ADORE this movie. I think it's because I wanted to be Ariel -- she left her home and defied her father to do something she always wanted to do. I don't think I have the guts to do that.
Favourite Disney/Pixar. I have many.
Toy Story
and
Finding Nemo
.
The Incredibles
, especially once the entire family is together fighting Syndrome (and Jack Jack!). And
Up!
because that one made me cry within the first 15 minutes and "SQUIRREL!" will never not be funny.
This is one my favourite song sequences. My cousin, Leo, and I used to watch this on repeat.
Thanks so much to
Current Mood:

touched
Castle
and still loving Nathan Fillion. A photo has leaked from next week's Hallowe'en episode and
makes me love Fillion even more
. I love that he's just as big of a fan as we are.
~~
I've discovered there's plans for a 'gays in soaps' convention in NYC next year -- possibly March 2010? -- with the main draws being the 2 supercouples from the German soaps, Olli/Christian and Deniz/Roman. OMG I SO WANT TO GO!!! If anyone wants to hang in NYC for a weekend...
~~
Quickie updates:
* Went to Michael Buble autograph signing. The line was long and there was a mini panic attack as security stopped giving out wristbands 4 people in front of me but everything turned out fine. Buble was looking good, skinnier.
* Had a uni friends get together -- there's 6 of us that's kept in touch -- and bonded with friend's 8 year old daughter over the JoBros, Zac Efron (I won her over when I told her that I had seen Zac up close and personal) and our hatred of Vanessa Hudgens.
* Where are the HIMYM d/l links?! I missed the show tonight and I'm reading about all the awesome Canadiana that was included.
* I'm getting so tired of TWoP. I completely stay away from the SPN forum, it's the Glee forums that are annoying me now. Yes, we can all agree that auto-tuning sucks but dear heavens, they've beaten that dead horse -- it's in the spoiler threads, the music thread, the episode threads, the characters' threads, etc etc, week after week.
* All Merlin fanfic should be rated R. What's this PG crap? Seriously. And question to fanfic readers/writers -- the rating T, what does that stand for? It's driving me nuts.
Still watching and loving
Current Mood:

sleepy
shoebox2
for
rj_anderson
's book launch. I was going to write up a recap but it's been done so much better by actual writers like
shoebox2
here
and by the author herself
here
.
On Friday, R & I saw
Wolverine
. It was alright but it would've been better with more Ryan Reynolds aka Deadpool. Taylor Kitsch aka Gambit was pretty cool too. So, I decided to take matters into my own hands and the result, a Ryan Reynolds picspam.
(
I watched Blade: Trinity just for him
Collapse
)
Yesterday, spent a lovely day in Stratford with
Current Mood:

full
Tomorrow, off to Stratford with
shoebox2
to attend a book launch for
rj_anderson
. I'm really looking forward to this!
I am now going to get off my lazy ass and go outside to enjoy the weather. Then meet up with R to see
Wolverine
.
PS. I heart scruffy!Colin so. That is all.
Our firm is closed today, yippee!! So far, I ate breakfast, watched the latest SPN episode, talked to my mother on the phone twice, made a massage appointment for Sunday, read 2 Merlin/Arthur fanfics and basically been a lazy ass. So far, so good :)
Current Mood:

cheerful
Cherrybomb
, he is going shirtless. *cut to squeeing and lol'ing* Movie plot sounds like
Y Tu Mama Tambien,
but without the sex scenes and threesome
dammit!
.
(
a couple of pics
Collapse
)
~~
Looks like I'll probably be at the Vancouver Con cause I need to
keep an eye on
openmydoors
. =) Besides, I think I need to witness her first Jared/Jensen sighting. This is going to be epic!
While Rupert is not going for full nudity like DanRad, in his new movie,
Current Mood:

chipper
** Finally watched
The Christmas Cottage
and yes, it is cheesy (and not in that good HSM way) and schmaltzy and I don't care cause I kinda loved it. Jared looked STUNNING in this movie. Since I won't be watching F13 or any other horror movies he has done/may do in the future, I just glomp up any non-horror work he does. Have not watched
Ten Inch Hero
yet *shameful* and my excuse is
** Merlin. My new fandom. I watched all 7 eps over the weekend using up the time I had alloted for TIH. Oops. Read a review by a LJ-er declaring that Merlin was awful but at least it's better than Robin Hood. I
love
Robin Hood. Guess I'm just a sucker for historically inaccurate British shows with pretty boys, what can I say?
** Went to the Leafs game last night with a co-worker, a partner and a client. Had dinner at the Platinum Club (fancy!) where I will probably never set foot inside again. Had a taste of foie gras and elk for the first (and probably last) time. They allow guests to order dessert before the game starts, we come back during 1st intermission and it's there waiting for us. How cool is that? Of course, we ended up missing the entire 2nd period (although I was still watching on the tv screen) cause the guys kept talking. Leafs lost in the overtime but it was an exciting game as we were down 4-1 at in the 1st period but came back to tie it in the 3rd.
** Although I haven't been attending Stitch-n-Bitch, I am still cross-stitching so I'm there in spirit! Started a new pattern, a smaller one, cause I just had no desire to continue my 2 work-in-progresses. The new one is about 1/2 done already and I'll post a picture of it when it's done.
**
phetch
is coming!!
phetch
is coming!! And we're going to see Matt Nathanson! I have 16 days left to clean my place up.
** Yay for Obama winning!!! But boo for all the anti-gay propositions for passing. Although I read that California's Prop 8 is still too close to call?
** I'm loving SYTYCD Canada
and all the shirtlessness we've been getting lately
. Blake from S1 is always either a judge or a choreographer. We've had Benji choreograph for 2 weeks now, Dmitry *squee* was there last week and Mary was a guest judge. Thank goodness Mary toned her shrieking down but her craziness was balanced out by awesome Rex Harrington who, god bless him, had no problems voicing his, and our, admiration of Nico's abs. My co-workers and I have given up on trying to get tickets to the tapings. The demand is too high and we are just not rush-line type of people. Oh well. Go Arassay/Nico & Allie/Danny!!
I seem to do a lot of these catch-all posts. I have this bad habit of starting a post but then changing my mind and when I do get in the mood to post, I go kinda crazy.
Current Mood:

annoyed