Entries by tag:
Dr Horrible DVD (yay it finally came!) and I just noticed that Moist = Wolowitz of Big Bang Theory. How did I not notice this before? LOL

BTW, the musical commentary is HILARIOUS and AWESOME. The Whedon Brothers are genuises.

I'm watching my
Current Mood:

amused


It was Big News days at the office this morning -- one co-worker announced she's pregnant (yay!) and another announced he got engaged (double yay!) All that good news was an excellent way to start a Monday.

So, Matt Smith as the Eleventh Doctor. I'm liking it. At first, I was a tad disappointed they went the male caucasian route again but the more I watch Matt's interview, the more I like him. Love the talking with his hands, especially the finger waggle when he's trying to think of what to say. The hair can be cut/tamed. He rocks a pair of glasses. The eyebrows do exist but they're really light. I'm looking forward to meeting Eleven although I may shed a tear saying goodbye to Ten. Now that Eleven has been revealed, the speculation is on for his companion. And I really can't wait to see Capt Jack's reaction =) In the meantime, downloading Party Animals to acquaint myself with some of Smith's work.

The Dr Horrible DVD was released to Amazon and I was thisclose to ordering it off the US site and just paying the damn shipping but yay for Amazon.ca for coming through! We're getting it a few weeks later but I can deal with that. I can't wait to hear Commentary, The Musical.

Jersey Boys. Excellent and highly recommend it. I was "singing" Sherry, Big Girls Don't Cry and Oh What a Night for days after.

I'm LOVING the auto-complete tag feature. Thank goodness they finally got that working.


Even though I worked through the holidays, it was still hard to get up and go to work this morning. It was actually kinda nice in the office the last 2 weeks -- no crowd waiting for the elevators, no partners or managers bothering you, no clients calling you for stuff, we turned on the music and actually got some work done.
Current Mood:

hungry
dr_is_in
, I was able to get to one more show. Instead of a long rant about how the CBC is made of epic fail for their audience co-ordination skills, let's just say that after spending
hours
in line, we were among the last group to get into the studio. We also had a guest of honour -- Lord Andrew Lloyd Weber -- who proceeded to cause John to have a laughing fit by mentioning a gerbil (don't ask). Ended up sitting behind the judges so very few pictures. After the show, we waited around and was able to catch John while he was leaving. So glad the gals were able to meet him after driving all those hours. I was able to get my magazine signed (yay) and while he did take some pictures, I didn't get the chance and I could tell he wanted to go.
***
I watched the last episodes of
Avatar: The Last Airbender
. While the ending was no surprise, I must say that some of the animation, especially the 2 major fight scenes in the finale, was quite beautiful. This was a great series and I'm so glad I followed the advice and gave it a chance.
***
No more Dr Horrible =( I keep reading mentions/possibility of a sequel so let's keep our fingers for that. Act III was kinda a shocker but it's Whedon. I shouldn't have been surprised. I love how this series has turned so many people into NPH fans. NPH is awesome. I can't get "Can't Believe My Eyes" (song at the beginning of Act II) out of my head, I love it so. When's the DVD coming out?
The summer of stalking of John Barrowman has ended for me. Thanks to the generous
Current Mood:

sleepy
Dr. Horrible's Sing-Along Blog
. It's just so deliciously perfect!! NPH rocks as per usual. Nathan Fillion as the arrogant hero is perfect. And he sings too! I'm definitely buying this when it comes out on DVD.
***
Some randomness -- I finally purchased a new mattress set and it was delivered today. You guys, my bed is so high now! I have to literally climb onto my bed LOL!! Before, I was just using a mattress, this time I have a box (which is the same height as my old mattress) plus the new mattress which is DOUBLE THE THICKNESS!! It's like I traded 1 mattress for 3. My bed is now higher than my nightstand and I can't see my clock anymore. This is just cracking me up!
***
As I mentioned in my Polaris report, there was a masquerade/costume competition. One of my favourites was the group of The Doctors of which I wasn't able to get a picture of all of them. But have no fear, LJ to the rescue! Go
here
to see pictures of 8 of the 10 Doctors and, best of all, their skit was filmed and put on YouTube (link at the bottom of the post). Pretty crappy video quality but you get the idea and the best entrance goes to 10. Fantastic!
***
Created by
bodlon
over at
torch_wood
using one of my pictures: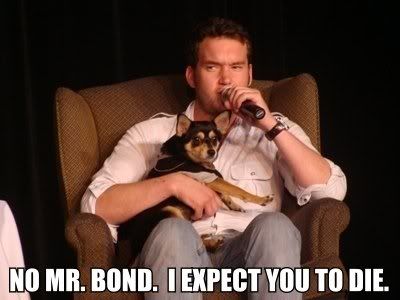 Hee! I love it!!
***
I'm gonna watch Dr Horrible again =)
Finally got a chance to watch Act 1 of
Current Mood:

giggly