Entries by tag:
** Reading Klaine & Merlin big bang fics.
** Playing with my shiny
Sony Touch E-Reader
(mine's red) which, holy crap, is already discontinued cause they've introduced a wifi version. Bonus: the reader and the case were all purchased using my Sony points :D
** This adorable Jonathan Groff interview on his father's farm.
He has the best laugh. And awesome legs :) He named his dog, Jesse St James! And a goat, Lea Michelle! The fainting goat, awwwwwwww. His boyfriend
Zachary Quinto
is one lucky dude.
** Watched
The Secret Circle
pilot because of Thomas Dekker and Gale Harold. Not bad, I'll give episode 2 a go. But Faye? Already annoys the hell out of me.
** Remember my German soap opera addiction months back? Well, I fell out of it because the 2 couples that I followed both had their Big Happy Moment. And we all know what happens to couples on soaps after that. They're either regulated to the background or someone cheats and the couple breaks up. Both of these things happened to Ollian and DeRo and since I like happy endings, I just pretended that their storyline was over. Then I read that Dennis Grabosch, who plays Roman (the 'Ro' of DeRo) has decided to leave the show and the writers were going to kill off Roman. So I started watching again. THE TEARS, PEOPLE. Basically, the last 3 episodes have made me into a crying mess. RIP Roman Wild and so ends the awesome couple that was DeRo =( And kudos to the writers and especially the actors who completely nailed it.
The only other time a soap has ever made me cry was the transplant story on
General Hospital
-- when Felicia realizes the heart that her daughter received was BJ's? *sob sob sob* Anyone remember that?
** Between crying my eyes out over a fictional couple, I've been amused (and, at times, exasperated) at the Glee fandom reaction as spoilers surface with the premiere date just around the corner. The endless discussion of whether or not Blaine is transferring to McKinely and the when, why & how. Let's declare Blaine a complete fashion disaster based solely on the promo commercial! Will there be a Puck/Quinn part 2 (YAY! vs BOO!). A lot of "I didn't even watch
The Glee Project
but I hate them already so get them off the show!" Looking for conspiracy theories based on actor's tweets, seriously (again, this mainly has to do with the winners of TGP). So much teeth gnashing and whining over nothing *shakes head*
Is it weird that I was bummed when I found out I won't be in town when
Glee
returns? I'm sure hotels won't mind me d/l'g shows, would they?
** Is it also weird that I'm strangely excited about the possibility of watching
Doctor Who
and possibly
Merlin
in England, on BBC One, and not on my computer or on
Space
?
** Speaking of
Merlin
. Lots of promotional pictures from the new season but a couple of them have caught fandom's eye
(
under the cut for spoilers
Collapse
)
** Off to bed now as tomorrow will be a busy busy day. I fly out on the 19th and will return on the 7th. See y'all on the flip side!
I AM A PROCRASTINATING QUEEN. So many things to do, had weeks to do it and I did, like, 3 things. Now I have 2.5 days left to pack and clean and everything else. What have I been doing instead?
Current Mood:

sleepy
source
). Posting pictures for own viewing pleasure. And yes, these are 2 of the actors I endured a 10 hour bus ride to NYC for last March :)
(
click for the pretty
Collapse
)
The DeRo boys did a recent photoshoot (
Current Mood:

anxious
Me talking about my German soaps, you may skip by if you wish :)
Current Mood:

complacent
Trying to save some money, I decided to take the bus to NYC. Never again, my friends. Never again. 10-11 hours, trying to sleep in a full bus, didn't work out so well for me. I got a bit of motion sickness on the way down. Left Friday night and arrived in NYC @ 6:30am with nothing to do but walk around as the day's activities didn't start until 11am. As a result, I was in no mood to mingle -- I was tired, I was hungry but too damn tired/lazy to get up and get food, my contacts were killing me so I had to switch to glasses. I was just cranky lol. Ate dinner at the hotel and I crashed so never made it to the party that night.
I was in a much better mood on Sunday (amazing what a solid 9 hours of sleep can do) so my goal was try and get pictures with all the actors. Why not, right? This will most likely never happen again. Mission accomplished \o/ except for Scott Evans who didn't come to the Sunday brunch :(.
As I had the afternoon to kill, I decided to check off an item on my
lifelist
and see a Broadway show. Stood in line Sunday morning for a hour at the discount ticket booth in Times Square and got a great seat for
Next to Normal
. Some of the original actors already left but Alice Ripley, who plays the mother & won the 2009 Tony, was still there and she was fantastic. The show is brilliant and I had tears streaming down my face through almost the whole thing lol.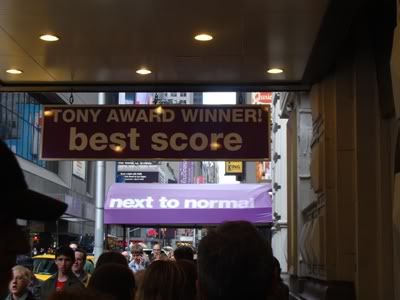 After the show, still had about 90 mins to spare so headed on over to 5th Avenue and started walking. It must've been fate cause just as I was about to turn around and start heading towards Penn Station, I found the Prada store. They didn't have the handbag I had my eye on but evil saleslady was evil and pulled out this bag from the back.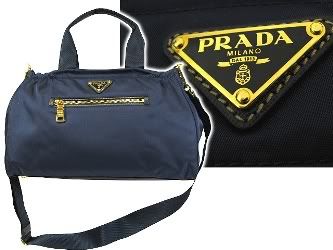 This was the best I could find but it doesn't do the bag justice. It's much cuter in RL. And picture it without the strap cause I won't be using it. I love the blue. It's not leather (yes, I just paid a lot of money for designer nylon... again) but Prada leather bags are just a tad out of my price range. I'll have to slowly work my way up lol.
Shizer, this post is getting ridiculously long!
(
It's picture time!
Collapse
)
This past weekend was the Gays of Our Lives convention in NYC bringing together actors who are currently or have worked on a gay storyline in soap operas and the like. The big draw were the actors from the German soaps. Attendance was maxed out at 80 which was great cause you were able to get lots of facetime with the actors if you wanted.
Current Mood:

tired


* Blew my first paycheque on a shopping spree and am now proud owner of another Burberry bag and a scarf. When did I become such a Burberry girl? Thank god I'm too big to wear the clothes. I have banned myself from Yorkdale Mall. I knew that store will get me in trouble!

* A contractor is coming by this Sunday to do an estimate for my kitchen & bathroom. The renovation ball has finally started rolling! Gotta take advantage of the renovation tax credit.

* DeRo are finally back together YAAAAAAY!!! Today's ep was just full of happiness and sweetness especially after a month of angst. I love how when one soap kinda drops -- hello, VL? Give Ollian something, anything! And the Knish triangle feels like it's on super slow burn -- another fills the void.

* Today is GLEE day!!!!!!

* Have been drinking way too much pop/soda lately. Must put a stop to that.

* Nuit Blanche this weekend. Anyone doing this? I want to check out the Vanity Fair exhibit at the ROM.

* Kris Allen single, "Live Like You're Dying", me like. A little disappointed it's a cover but whatevs. And finally listened to Adam's cover of "Starlight". Prefer the original but he gets props for bringing Muse to my attention.

* TV round up: HIMYM and Big Bang Theory still rock. Missed the FlashForward pilot -- didn't know it was on til too late -- but yay for finally having something to watch before SPN. Merlin is AWESOME. I love that show so much. The Amazing Race is back with surprise elimination at the starting line (ooo, that's gotta hurt to be eliminated right off the bat) and duck herding in Vietnam! Animal challenges are always the best.
* Work is going okay. Slowly getting in the swing of things but I have an office and I can listen to music so yay! They feed us a breakfast here 3x a week which is nice. LJ/FB/Twitter are blocked though :( I was amused to discover that while afterelton.com is fine, afterellen.com is not. No love for the ladies, IT peeps?
Current Mood:

hungry
Alles was zahlt (All That Matters)





Hands down, the hottest love scene I've seen on a soap opera, gay or straight. UNF. THE TONGUE-FLICK. THE RETURN OF THE ESKIMO KISS.

I knew of DeRo way back when I first started watching Ollian on VL but I also knew that their story didn't have a happy ending. I didn't want to invest all that time watching youtube clips when I knew the couple would breakup. Now they're going for round 2 and I'm tagging along for the ride. This is a soap after all so I know that happy endings = boring (case in point: the VL writers still don't know what to do with Ollian). I've also found that AWZ is a lot more campy fun than VL, there's lots of semi-naked guys and shots of Roman's naked ass. What's not to love?

On this side of the pond, today is the day Oliver comes out to his roommates on OLTL \o/ I think we're going to be seeing Kyle torn between Oliver and Nick and oh, it's going to be good.

The moral of the story? The way to get me to watch your soap is to introduce a hot gay couple LOL

Preview for today's episode -- Deniz & Roman (DeRo) from
Current Mood:

content