Entries by tag:
Hedwig and the Angry Itch in a few weeks. I've got my ticket of course! A commercial has been released




The main thing I noticed is that the photoshoot/commercial is giving Hedwig!Darren a much more pretty-fied look with the soft lighting and white background. If you look at the previous Hedwigs, especially NPH and Andrew Rannells, they're more sweaty and gritty.

Here's my confession: as a musical, my interest in Hedwig is like non-existent LOL Never watched the movie. Even after seeing the show last year, I had (and still have) no interest in listening to the soundtrack. The only reason I went to see it was because of NPH and Darren is the only reason I'm going again. The things we do as fans, right?
Darren will be taking on the role in
Current Mood:

awake
While I haven't been stalking Hanson for 15 years (only became a fan in 2004/2005), does that mean in about 7 years, I can crash a Hanson rehearsal too? Love seeing Darren in full fanboy mode.
Current Mood:

amused
Essential Homme
and Chris did a photoshoot for
ICON Magazine
. Both look absolutely fabulous. Now, if they just do a photoshoot together... a Klainer can dream *sigh*
(
pretty pictures of pretty boys
Collapse
)
Darren did a photoshoot for
Current Mood:

complacent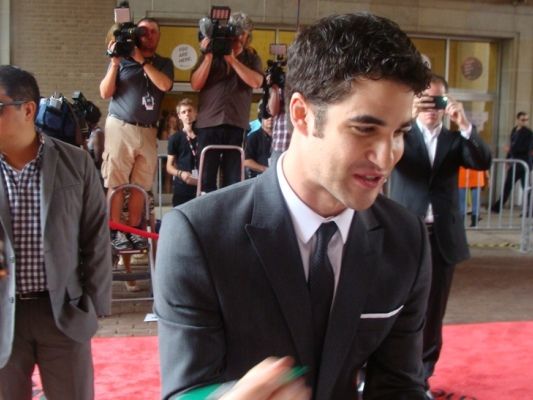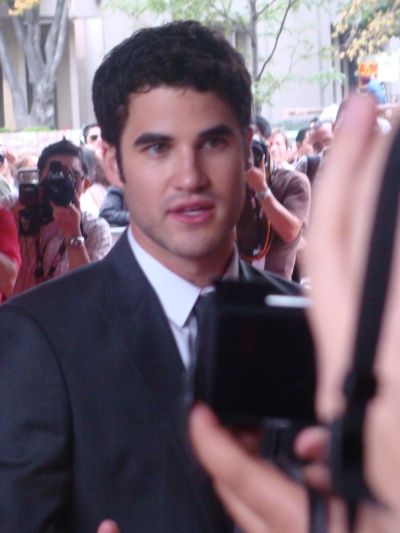 I saw
Imogene
and it was good. Darren had 2 make-out scenes, was shirtless twice, wore guyliner, spoke French, sang twice and dirty danced with Wiig. What? I noticed the important things ;P The movie is funny -- not
Bridemaids/Hangover
funny, more character-driven funny (I think that's how you describe it). Main complaint was the ending -- it felt abrupt and was your standard cliched everybody-got-what-they-wanted ending.
(2) Madonna concert. Damn woman didn't start until 10:30, which meant concert ended at 12:30. On a week night *head desk* She looked great. Did a pretty good mix of her old & new stuff. The first 4-5 songs was some sort of storyline with all this religious imagery (still doing that, Madge?) and Madonna killing some guy, having a fight in a hotel room & going to jail. It was weird and over-the-top. The rest of the concert was more standard fare and much more enjoyable. As I was pretty far away, I just took some video. Here's "Like a Prayer" and "Celebration", the 2 closing numbers.
(3) Who's watching
The New Normal
? How cute is that show!? Of course, it doesn't hurt that Ryan Murphy has described it as future!Klaine deciding to have a baby :) Apparently though, a lot of it is based on Murphy's own life. I have a soft spot for Justin Bartha since
National Treasure
. I know of Andrew Rannells as he's the Book of Mormon guy. I hope they have him sing on the show. Oh! Reading up on Rannells, he was here as part of the
Jersey Boys
cast but I missed him :( His last show was Dec 8, 2008 and I saw the show on Dec 28th.
(1) So I noticed that I never actually posted my TIFF Darren pictures (and Kristen Wiig's) on my LJ LOL Brain fart, wow
Current Mood:

lazy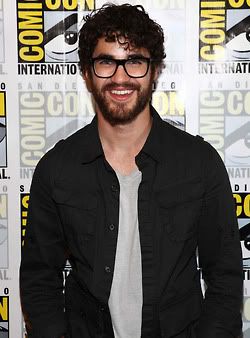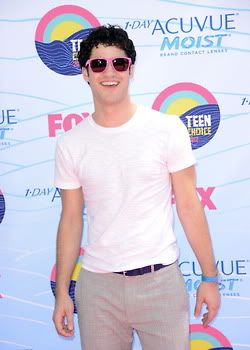 Get a haircut, shave off the beard and it's like he's aging in reverse.
Darren at Comic Con and Teen Choice Awards. One week apart.
Current Mood:

amused
faninohio
♥ Chris Colfer book signing(s) ♥ Sightseeing - have never been to Columbus and only driven through Cincy ♥ Hanging out with
faninohio
♥
~~ I have a new travel points Visa as my main cc which means cancelling my old main cc, my Sony MC. In order to use up my Sony points, I decided to get a new camera cause I can get one with a higher zoom in a slimmer model. Found one I liked on-line but couldn't remember my exact balance of points but I figured, if anything, I would be under and have to pay the difference. Going through the check-out process, I discover my point balance was almost dead-on, under by only $0.69!!!! *self high-five*
Meet my cute new camera.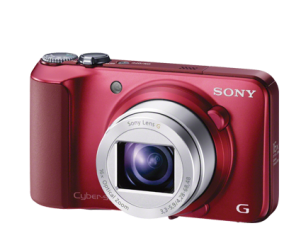 It's got a 16x zoom (my camera now has 10x) and it's red!
~~ Found this cute twitpic of Chord, Darren & Rico backstage at the MMVAs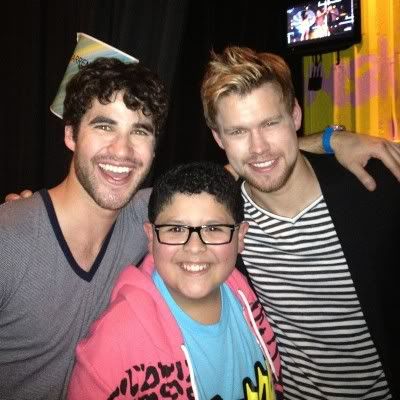 ~~ Did you know
Star Trek: The Next Generation
had their first cast reunion recently at the Calgary Comic Con? I didn't! And a brilliant fan recorded & uploaded the whole panel to YouTube. This is the beauty of the internet. I'm off to watch it, hope everyone's Monday was good (well, as good as Mondays can be) :D
~~ I booked my flight to Cincinatti!!! Hanging out with
Current Mood:

calm
Wow, this was a crazy year. Got to the red carpet around 5pm and it was already PACKED. There was also the threat of rain -- which never happened other than a few sprinkles, thank you, Mother Nature! -- so all these tents were set up which made everything harder to see. There's a designated fan area and I thought it was full/need wristbands but then, after a few minutes, I noticed a group go in. Did some searching and found the line up pen. Guess they were slowly filling up the space so I tried to get in line. The security let the last group of people in and, seriously, me & this other girl were literally 10 seconds away but security wouldn't budge :( I did score, what I thought, was a pretty good spot -- at the beginning of the red carpet. So I figured this was good, I could see them as they get out of the cars at least. The red carpet show starts and the first car drives onto the red carpet and stops in the middle to let the celebrity out. The 2nd car does the same! W.T.F?! So I asked one of the *many* people on the carpet if that was the procedure and she said yes so my good spot became worst spot ever. Booted my way up the line and am, like, 10 rows back. I've got the boom camera and cameramen constantly in my way. Completely missed certain celebrities like Selena Gomez (I saw the commotion but not the girl cause she's tiny), Kelly Clarkson (cause she went blonde) and Nelly Furtado (when did she show up?!)
Current Mood:

tired
openmydoors
. Joel was very funny and very handsome. We were pretty far back so no decent pictures. The first half, he talked a lot about celebrities and meeting the Kardashians. The second half was about his family, his son, who sounds like an awesome little dude.
... it is now my mission to get
openmydoors
to a concert! Name a band/singer and we will go!! :)
... went to the free outdoor concert of Loreena McKennitt with
jenab
which was fabulous. Beautiful night and beautiful music.
The Mummer's Dance
is probably her most popular song, and the only song I knew, but she didn't perform it :(
I watched this video after the concert and it's the same violinist!
... can't stop watching the adorable
Shibu Inu puppy cam
... so Chris Colfer is heading to Ohio as part of his book tour which meant I immediately e-mailed
faninohio
and invited myself over :)
... Darren Criss & Chord Overstreet are in town for the MMVAs tomorrow. I flailed when I found out so now I am relatively calm but OMG I'M GOING TO SEE DARREN CRISS TOMORROW IN THE FLESH OHMYGOD OHMYGOD OHMYGOD. Will be bringing my "How to Succeed" playbill and hopefully it'll prove a good luck charm like with DanRad. So you know where I will be tomorrow afternoon -- melting in the sun on John Street surrounded by Beliebers, all by my lonesome cause
someone
has to work. Text/email/tumblr me to keep me company as I will most likely be racking up my phone bill using data to pass the time.
... Pitch Perfect. I am so watching this movie.
... Magic Mike. Another movie I want to see but for completely different reasons :)
eta... watching
The Glee Project
and after the first ep where they introduce the 14 finalists, my faves were Maxfield, Dani & Abraham. Guess who were the first 2 cut? Maxfield and Dani!! C'mon Ryan Murphy! OK, I kinda understand Max cause he was a total newbie but he didn't deserve to be cut first. But Dani? I thought she would've made it to the finals! So go Abraham!! We need more Asian flavour :)
... saw Joel McHale at Casino Rama with the awesome
Current Mood:

lethargic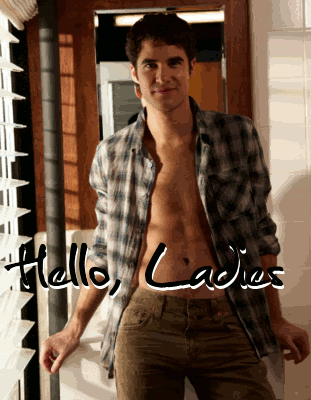 LOLOLOLOL
This morning has been the 2nd time in a row I've woken up with a headache, what's up with that? And I usually don't get headaches so this is quite unusual.
Gotta go get ready for work. Hope everyone has a good day :D
OK so I wasn't going to post anymore about those Darren outtakes (BTW if anyone wants, there are links for 3 zip files with all 300 pics in HQ out there) but I saw this on tumblr and had share it :D
Current Mood:

tired
Now, I won't be posting all 300 pictures haha but bless the tumblr people for making photosets. But the best part of this whole thing has got to be this video from Tyler Oakley. Tyler is "internet famous" - a successful blogger/tweeter/Youtuber. He came to the Klaine fandom's attention when he was at the Trevor Project gala and tweeted about touching Chris Colfer's ass (and Chris responded!) Anyway, this video is Tyler's reaction to the Darren pics and he basically sums up the entire fandom. He's totally one of us and we love him for it :D
(
a taste of the darren outtakes
Collapse
)
Remember Darren being in People's Sexiest Man Alive issue and there was a behind-the-scenes video released of the photoshoot with Darren frolicking on a Malibu beach? Well, 300 pictures from that photoshoot has been released onto the internet and cue DARREN CRISS SEX RIOT MELTDOWN on tumblr.
Current Mood:

giggly