Entries by tag:
Fandom
. Klaine/
Glee
is still my primary fandom. The next season - which will be a short one - will be its last. I don't have another fandom to go to! I'm on the fringes of a few --
Teen Wolf, Arrow, The Flash
(omg I am so EXCITED about this show), Marvel universe,
Sherlock, Doctor Who,
I miss Eleven already but really looking forward to Twelve -- but nothing is sticking *sigh* I'm still reading tons of
Merlin
fanfic though. Man, I miss that show. Right now, my tumblr dash is full of
Orange is the New Black
because S2 was just released. I just watched the pilot this morning and I will definitely be continuing on.
Real Life
. Working the same job at the same place. Blergh. I did get moved into an office though. We hired someone back in February and there really is a lack of space. I ended up moving into an empty office but it's temporary as that office has been designated for a to-be-hired project manager. However, it looks like the hiring process has hit a snag so yay for me! Looked into the possibility of purchasing a condo for investment purposes. And then I saw the prices and holy crap. Obviously, I want certain locations where rental prospects are high which, of course, means higher prices and basically, I can afford like a bachelor. I was so lucky that I purchased my own place when I did cause the market started to swing up the next year and it hasn't really stopped.
Family is doing fine. My brother & SIL are expecting baby #2 (it's a boy!) real soon. I think she's due end of June. We actually have tickets for
The Lion King
on Father's Day so she better not go into labour at the show! And little Juju is growing up fast and remains fucking adorable.
(
here are pictures of juju
Collapse
)
Travel
. Original plan for this year was to join a tour covering Finland, Norway, Sweden & Russia. A co-worker of mine took the tour last year and really enjoyed it. Unfortunately, the timing wasn't good so that's been pushed to (hopefully) next year. Instead, my 'big' trip is a bus tour to the eastern provinces. I've only been once, way back in my early teens, and I've always wanted to go back. In addition, Rina, Anj & I are planning on LA for a few days in October so yay for that!
Last month, Anj & I went to NYC. We saw
The Cripple of Inishmaan
starring Daniel Radcliffe and
Hedwig and the Angry Itch
with Neil Patrick Harris. Both shows were excellent. Our seats for
Cripple
were so close to the stage! There was no orchestra pit in this theatre so first row was literally right up to the stage. We were in 2nd row. I thought Daniel was great. The character he plays has cerebral palsy and the control he had over his body, I thought, was amazing. The play itself was pretty good, a little difficult to understand with the Irish accents & slang. A couple of twists & turns at the end which I did not see coming. NPH as Hedwig was fantastic. How he performs the majority of the show in those heels, I will never know. But Lena Hall, the co-lead, blew me away. Holy crap, the pipes on her! We never did the stage door for Daniel cause it was just too crowded. Ended up doing the Hedwig stage door the day after so I was able to get NPH & Lena's autograph. In addition to theatre, we also did the hop-on hop-off bus plus river cruise. It's been a long time since I did the whole tourist-y NYC thing so that was fun.
(
nyc pictures
Collapse
)
In April, over the Easter weekend, I visited my tumblr friend, Heather, in Chicago. Visited Cloud Gate (or the Bean). That area of downtown was pretty dead on a Saturday yet so many people around Cloud Gate. It was like a people magnet. Went to see Buckingham Fountain but unfortunately, the water wasn't turned on yet :( We took a river cruise. Walked around Magnificent Mile (I saw a really
pretty Tory Birch bag
but I didn't buy it, go me!
omg it's on sale right now, I want it!!!!
). Drove by Wrigley Field and ate some deep dish pizza. How do people eat this?! The sheer amount of cheese blew my mind. We got a small for the 2 of us and I managed only 1 slice. During the river cruise, the guide would point out certain buildings that were featured in movies. I only cared about one in particular and I recognized it immediately -- can anyone guess?
(
chicago pictures
Collapse
)
What's been happening the past few months...
Current Mood:

lazy
Colin's shaggy hair! Bradley's bedhead hair! Bow ties cause bow ties are cool.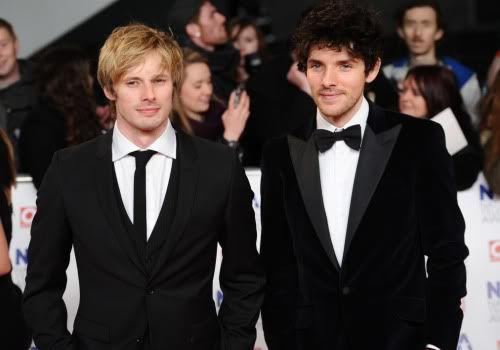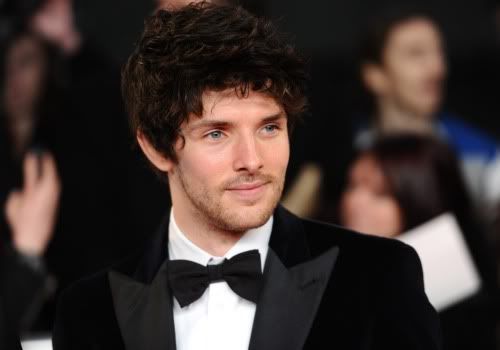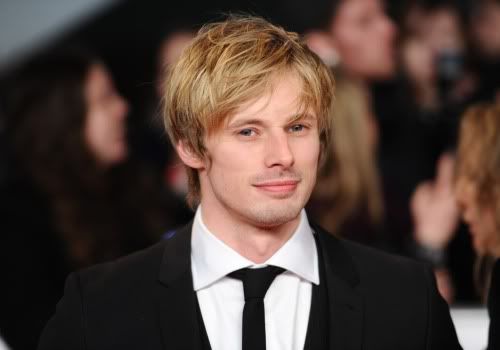 Matt Smith and Karen Gillian, looking lovely with their awards.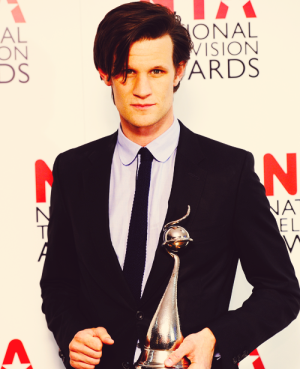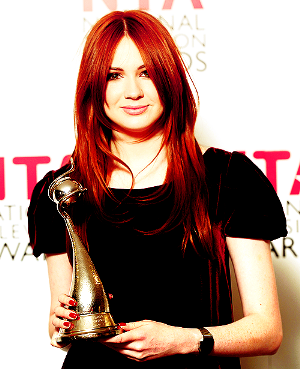 ~~ Today was the Toronto premiere of
The Woman in Black
starring Daniel Radcliffe.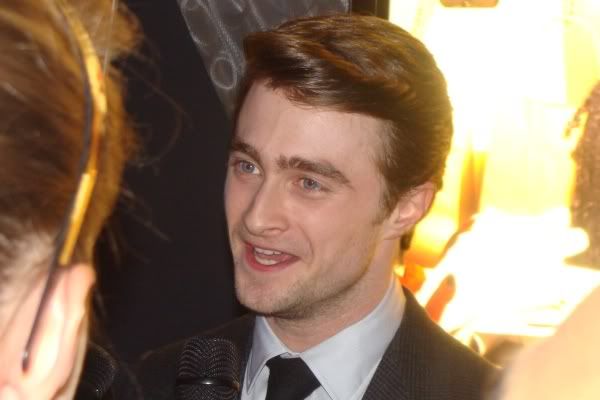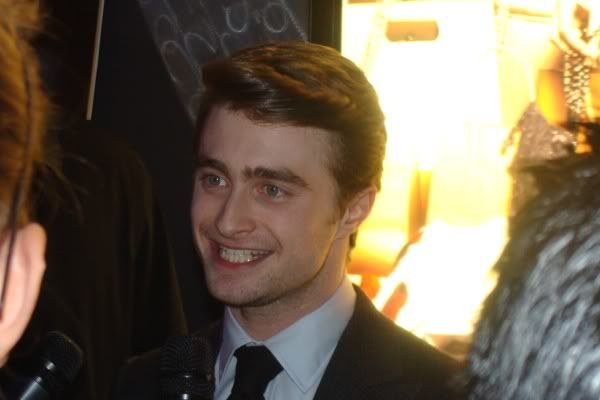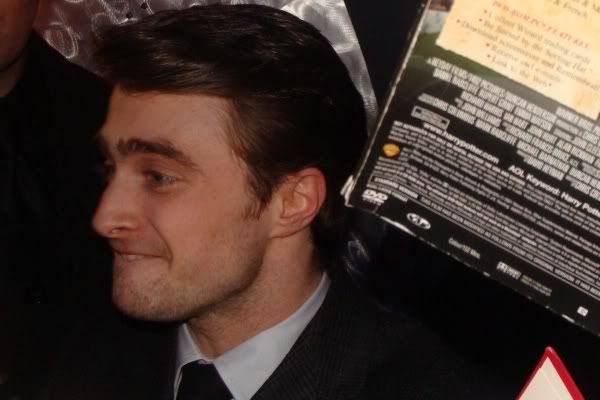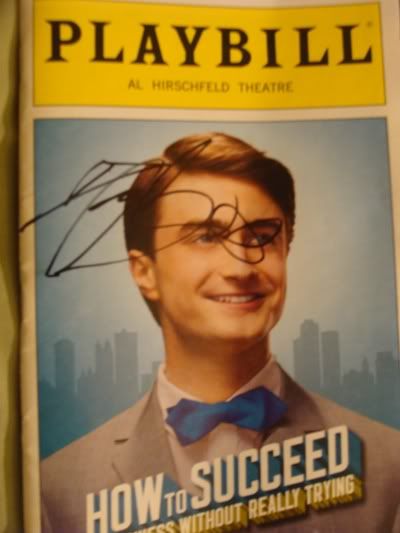 Trying to get an autograph was hard as so many people were pushing & shoving but I had my secret weapon -- my
How to Succeed
playbill. I'm pretty sure I was the only one there who had one, everyone else had Harry Potter stuff. Anyway, as I was holding my playbill out, without too much hope cause I was a few 'rows' back, I noticed I was holding it upside down. So as I'm pulling my hand back to adjust, I heard Daniel say, "hey, I'll sign my playbill!" I handed it to him, he took it out of my hands, signed it, and gave it back *squeeeeeeeeeeee*
~~ OK so no one in this clip is English (although Chris does have a slight obsession with the royal family), c'mon, I had to post it!
I've seen some other clips and this episode look EPIC. I love Sebastian and boy, does he bring the douchiness out in this ep!
~~ The National Television Awards (UK) were last night and it brought so much pretty
Current Mood:

sick
So this post was planned to go up a whole lot sooner but then I was completely distracted by
Current Mood:

exhausted
bauersgirl
. 3 midnight showings, we were at the 3rd one and it was about 85-90% full. It was fun listening to other people analyze the film while I was walking home.
(
I'm no good at movie reviews
Collapse
)
Found a new photoshoot of DanRad and they're quite good.
(
My, what large eyes you have, Harry
Collapse
)
Back from watch HP&HBP with
Current Mood:

sleepy
And I'm ashamed that I had no idea that our current MP is the wife of Jack Layton (leader of the NDP).
** Had a lovely massage today at this fancy spa right behind my building. I've avoided going there cause it's so pricey but then I realized they have registered massage therapists which are covered by my health plan so why not? This was the first time I was offered a choice between a male or a female therapist. I picked a female, not because the thought of having a male was strange but I'm in enough pain with a female, I can't imagine how much it would hurt with a male. Ow.
** A poster in a celebrity forum I read recently saw DanRad in
Equus
in NYC. She gave a very positive review of the play but of course everyone was curious about the nudity.
(
this is what she wrote
Collapse
)
** Voted in our federal election today. We had a polling station right in our lobby so no excuses. I looked up all the candidates running in my district (I only knew a couple of them) and discovered that our Green Party candidate founded a mime school LOL
Current Mood:

relaxed
Currently posting from the bustling metropolis of Guelph, ON. Oh yea, I know y'all are jealous. ;P For those who are going, "OMG where's Guelph and how do I get there?!?!", well, Guelph is located about 100 km west of Toronto, population of over 100,000 and is best known for... *comes up blank* I'm living it up at the Holiday Inn!! LOL Anyway, I'm here for work for this week and part of next. The one good thing is that my co-worker & I are FINALLY going to see
Transformers
tonight, w00t!!
I can not believe Greg was booted from
Canadian Idol
. I had him pegged to win the whole thing. Who's voting for Matt???!!!! Argh.
Everyone has seen the new Rolling Stone cover with Zac Efron on it? *points at icon* Yes?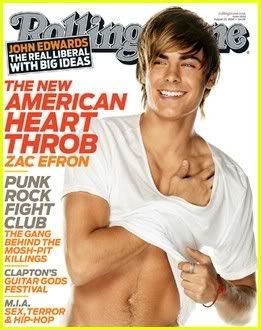 Tummy *swoon*
Aaaaand I've just posted skin-baring pics of an 18-yo & a 19-yo. Heh.
Dear f-list, I have created an InsaneJournal account so I won't lose contact with those that are moving. Same name but without that pesky underscore. I'm not planning on moving (especially now with a permanent account) as I'm just a lurker skirting along the edges of fandom so, for now, I'm thinking my IJ account would be used solely to participate in others' IJs. My LJ isn't terribly interesting so it's not like those leaving will be missing anything important. I'll see what happens when all the dust settles.
Current Mood:

restless
First, the PTB decided that Jake G should sport a mustache in
Current Mood:

sore
Order of the Phoenix
tonight with
bauersgirl
!!!!!! YAY!!!! *runs around in circles* Don't know how I'll make it to work the next morning but who cares! If I stumble in a hour later, it's not a big deal here.
Have y'all seen the
Details
photoshoot with DanRad?
I STILL haven't seen
Transformers
. Hopefully this weekend.
I'm going to the midnight showing of
Current Mood:

amused
here
. (thanks
tinderblast
for the link)
Pictures from SN 2.14 "Born Under a Bad Sign"
. This scene looks amazing. Squee!
I'm getting quite bored with
Prison Break
. I turn it on but I'm not really paying attention. Is it just me?
Last night's
Heroes
was kinda boring, too. Like no one didn't guess who "The Boss" was. They've been pimping Taki's appearance for so long. I also don't understand the hoopla over the "de-gaying" of Zach. That is, I don't see the "de-gaying" part. IIRC, the only time Zach's sexuality was mentioned was when other students would make fun of him, especially when he & Claire became friends. Now, after the mindwipe, he & Claire are just starting their friendship again. Zach's become the loner/outsider/nerd again. His sexuality hasn't been mentioned since but then, why would it? The fact that he is (or not) gay is so not the point of the friendship or his character anyway. Have I completely missed something here?
Anyone watched the SAG awards? Seems like the Lead Actor/Actress is pretty much a given at this point. Dr. House won out over Jack Bauer. Oh well. At least it was't McDreamy this time. Megan Mullaly was nominated? Huh? Who allowed Ellen Pompeo - who looked godawful - to speak on behalf of the show upon winning Best Cast in a Drama? That was one of the most horrible acceptance speeches ever. Especially compared to Chandra Wilson's speech, which was one of the best. "I would like to thank those 10 people over there and the other one in rehab." LOL
My Amazon order should be arriving today. I'm looking forward to spending the night watching
Dante's Cove
(hey! It's Lindsay from QAF US! But that's S2). I also ordered the Collector's Edition of
Brokeback Mountain
. Looking at the specs, it appears there's not that much difference from the original DVD release -- just a couple more featurettes and ooooo postcards. No commentary track either. :(
More hi-res Equus pictures, in colour & b/w, are located
Current Mood:

hungry
Words have failed me. I have no words. NO WORDS.


Current Mood:

shocked