Entries by tag:
They keep changing the celebrity autograph area layout and this year, well, it was impossible to get any pics of the celebs unless I went to their panel. I went to 3 panels: Matt Smith, Doctor Who (Matt & Arthur) and Stephen Amell. My photo ops were with them as well.
Matt Smith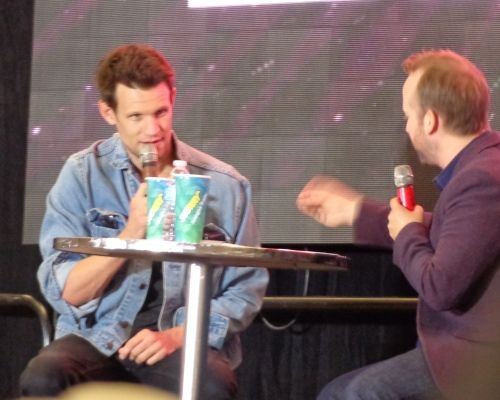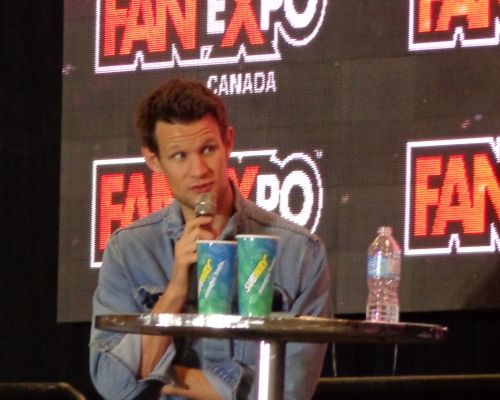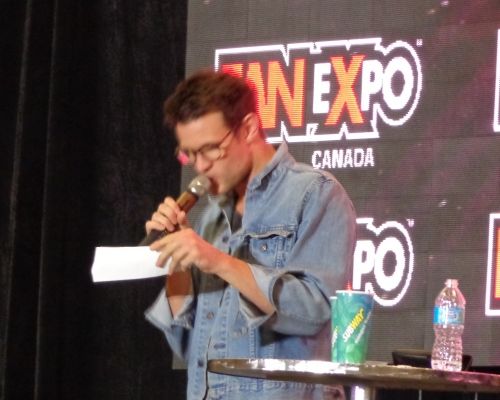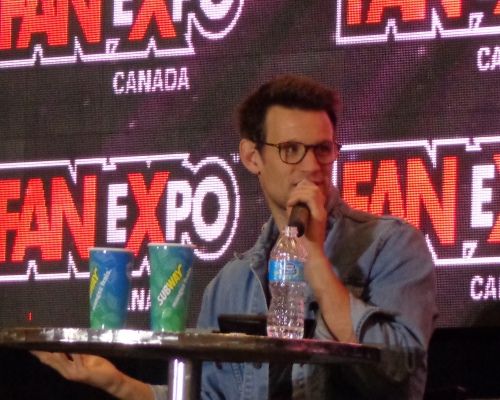 Matt Smith & Arthur Darvill (I find Arthur ridiculously good looking that it annoys me)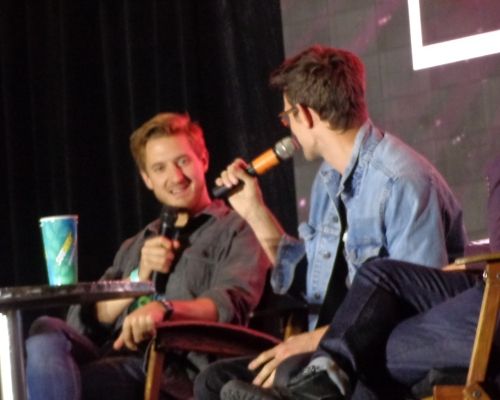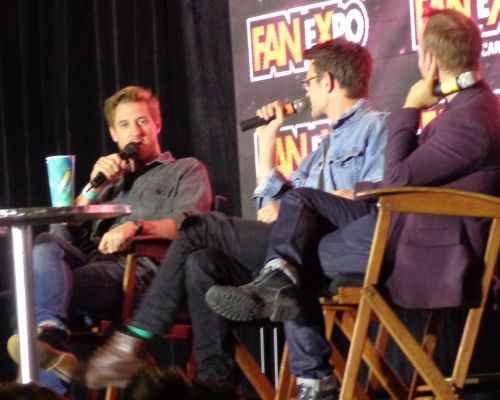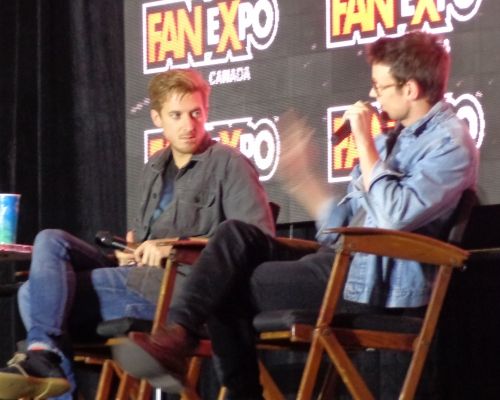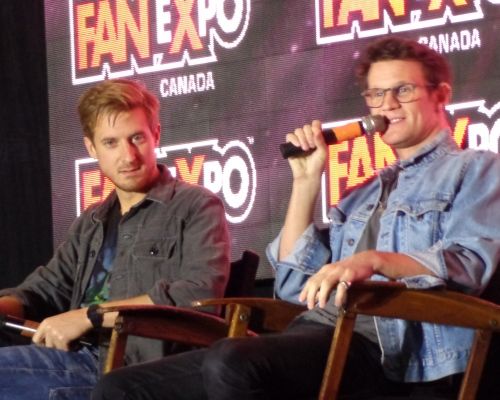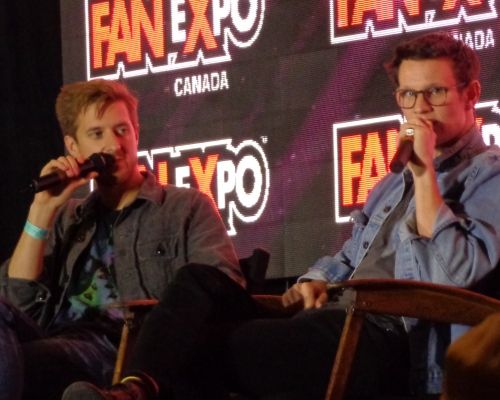 Stephen Amell (total sweetheart)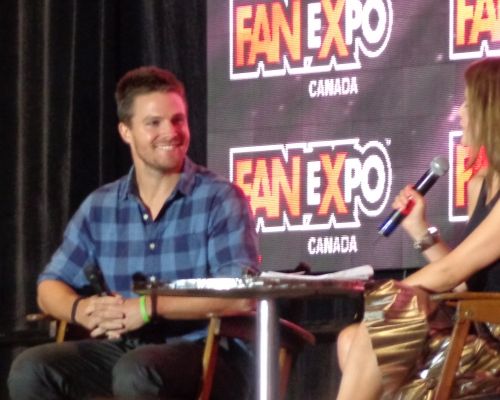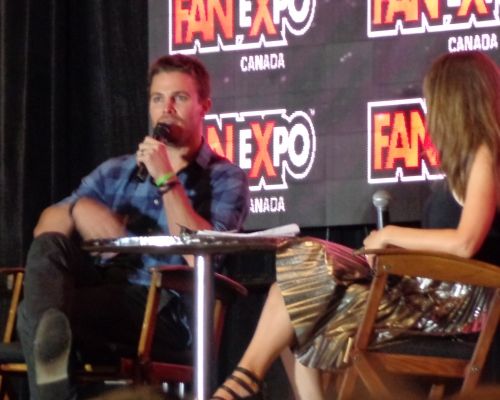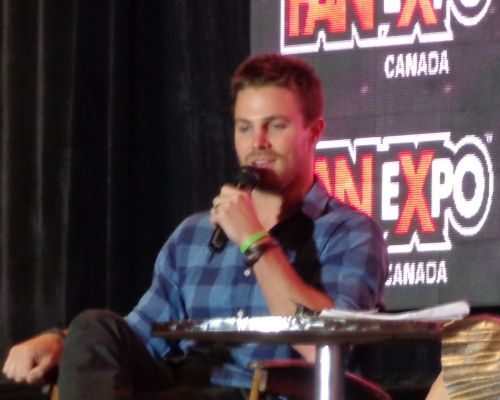 (
photo op pictures under the cut
Collapse
)
Once again, I planned on skipping FanExpo. And once again, they announced guests that I had to see. This year, it was Matt Smith and Arthur Darvill (Karen Gillan too but she cancelled last minute). Spent a lot of time on my feet helping out at my cousin's booth. I was dead tired by Sunday afternoon. Thank heavens Monday was a holiday. I already know I'm going next year - a friend of mine really wants to meet Stephen and chances are very good he will be there.
Current Mood:

tired
(
nick carter
Collapse
)
THIS WEEKEND: FanExpo. I'm so tired. I think I'm going to miss today cause I need a day of rest LOL If I can barely handle FanExpo, how would I survive ComicCon?
(
pictures
Collapse
)
IN-BETWEEN: I discovered this web series called
Husbands
. It's written by Brad "Cheeks" Bell (an ex of Adam Lambert, I believe?) and Jane Espenson of Buffy & Caprica fame. The second season just started & I clicked the link on a whim. The first season was 11 short episodes, a few minutes each. The second season will be 3 episodes of about 8 minutes.
The series is about a recently out baseball player, Brady, who gets drunk married in Vegas to flamboyant actor, Cheeks and what happens. It's actually amazing how much they could fit in such a short time frame. And lots of cameos!!
Here's the first episode



And the link for the rest: GoCheeksGo youtube channel
LAST WEEKEND: CNE (Canadian National Exhibition) with Rina & Shirley. We ate Korean tacos & Rina had her first beaver tail (next time, deep fried mars bars!). Watched the ice skating show with Virtue & Moir. I was finally introduced to the cuteness that is the SuperDogs. Can't believe I've been going to the CNE since I was child and never saw the SuperDogs. Ended the day with a Nick Carter concert.
Current Mood:

tired
So far, the list of sci-fi guests I'm interested in seeing now include
John Barrowman
Alan Tudyk
Gillian Anderson
Patrick Stewart
James Marsters
Juliet Landeau
Sean Patrick Flanery
Norman Reedus
Jason Priestly
Luke Perry (I didn't know the 90210 boys were coming!!)
and more people who I know but don't watch their shows
JOHN BARROWMAN AND ALAN TUDYK HAVE BEEN ADDED TO THE GUEST LIST!!! SUH-WEEEEET!!
Current Mood:

excited


Patrick Stewart
Gillian Anderson
Jason Mewes
Kevin Smith
Stan Lee
Norman Reedus
Sean Patrick Flanery
James Marsters
Juliet Landau

So basically, The MacManus brothers, Agent Scully, Captain Picard, Jay & Silent Bob and Spike & Dru OHMYGOD EXCUSE ME WHILE I GO BUY MY PASS NOW OKAY?!?!?!

Any TO peeps planning on going?
This year's Fan Expo has the following guests lined up
Current Mood:

excited
Current Mood:

lazy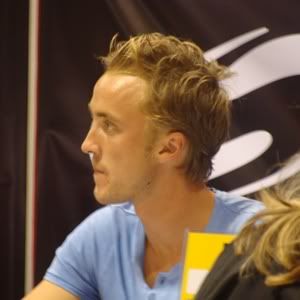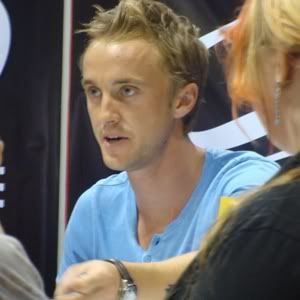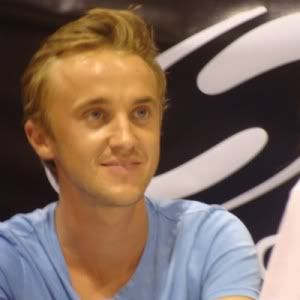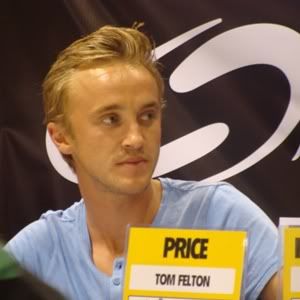 Hopefully more pics tomorrow!
I think I got my AVPM/AVPS quotes mixed up. Oh well! LOL Dropped into the Fan Expo after work today mainly to walk around while it wasn't too crowded, get a feel of the layout & drop by my cousin's booth. Checked out the autograph signing area and guess who was still signing away?! Tom Felton \o/
Current Mood:

impressed


Anyway. Some awesome stuff out of Comic Con!


OMG DOCTOR WHO TRAILER!!!!!!!!

AUGUST 27TH CAN NOT COME FAST ENOUGH.

Bradley being Bradley ♥


I can't get over giggly Tony Head. And Colin! Sweet, adorable Colin *glomps* Watched a really crappy video of the S4 trailer and I WANTS NEW MERLIN NOW.

GLEE!


Loved Harry's gleeful, "you got a name, good job!" So glad to hear Bieste will be back. And the news out of Comic Con is that Chord turned down the opportunity to return to Glee so no more Sam :(

So far, I've already watched the full panels for Community and The Big Bang Theory. Still so much to watch.
As much as I would love to experience Comic Con, I think it's just so better to stay home and watch all the panels on-line. No money spent, no crowds, no hours upon hours of queuing. I'll go once though. My cousin gets a booth there & it would be such a waste of an opportunity if I didn't (they actually had an extra badge this year but I couldn't make it on such short notice).
Current Mood:

tired
In the meantime, enjoy some random awesomeness.
Cory's delightful Gemini opening sketch video
(
pretty pretty pictures of Matt's Details shoot
Collapse
)
Matt Smith on Craig Ferguson. Ferguson being an utter DW fanboy was delightful.
Hey, the
Supernatural Creation Con is coming to town!
Should I go?? Anyone going?? If anything, I might get a day ticket or something. I know I swore off Creation cons (those greedy bastards!) but it's like the boys will be in town, how could I not go?
OK back to working on those HP pics! And to all those who will be watching DH on opening day, I'm jealous. I plan on seeing it this Sunday, hopefully!
OK OK I know I promised the Harry Potter World post and I AM WORKING ON IT RIGHT NOW. I SWEAR.
Current Mood:

busy
Final Fantasy
brought everyone to the yard LOL I guess it was a good thing I didn't go Saturday as I can't stand extreme crowding.
Walked around a bit, snapped a few photos but spent most of the time helping out at my cousin's booth. Well, more "getting in the way" vs "helping" but I tried! And I helped clean up once the con was over. Every time I see them at Fan Expo, I'm always so impressed. They had a steady stream of customers which was great. Their
Alice in Wonderland
stuff were selling so well with quite a few of those prints sold out. I think I'm going to snag a couple next time I visit them ;)
I really really wanted to see Marsters but unfortch, that was not to be :( But all was not lost as I was able to snap some pictures of Summer Glau, Tahmoh Penikett, Sendhil Ramamurthy and William Shatner.
(
a Terminator, a Lieutanent, a Hero and the Captain, plus bonus!Impala
Collapse
)
***
Missed the Emmy opening by seconds! :( Hopefully will be able to catch via timeshifting. If that doesn't work, there's always YouTube.
I am liking this format of splitting the program into 4 major sections -- I watched Comedy (thank you for putting that first) and then switched the channel LOL
Spent the afternoon at Fan Expo and wow, am I tired. My original plan was to go Saturday but my bro & SIL made a surprise visit so we spent the day walking through Live Green Fest, Busker Fest & TaiwanFest. It was a day of fests LOL. I was a little pissed that I couldn't make it but my cousin, who has a booth there, told me that Saturday was packed to the rafters. I guess the combination of James Marsters, Stan Lee and a really popular Japanese artist -- don't know his name, sorry! -- for
Current Mood:

exhausted


White Collar. Matt Bomer & Tim DeKay shaking their groove LOL



Chuck How does one top last year's opening with Jeffster's rendition of Fat Bottomed Girls? This is how:



I <3 this cast so very much. Damn you cameraman, Captain Awesome was about to pop some booty but you cut away! Whyyyyyy did you that???

Merlin. S3 trailer!!!!!



PLEASE PLEASE PLEASE HAVE MORGANA BE AS BADASS AS SHE APPEARS.

Blooper reel!



As much as I love the boys and want to smush them together, giggly!Tony Head may be the best thing ever :)

OMG I'M NOT EVEN A COMIC BOOK FAN BUT THIS MAKES ME SOOOOO EXCITED!!!



Hearing fanboys go nuts is so amusing LOL
So many goodies coming out of Comic Con, so little time. No SPN stuff as I'm sure most of y'all have seen it. I've only watched the gag reel myself but the quality wasn't that great.
Current Mood:

excited