Entries by tag:
Cloud Atlas
cause that movie has a shitton of actors in it!
(
Depp, Kinnear, Berry, Hanks, Grant, Weaving, Lawrence, Ruffalo, Wishaw, Cooper, Smith, Watson, Dobrev and more
Collapse
)
It was a long & tiring weekend. Got about 4 hours of sleep each night. Played host to 2 crazy Darren fangirls and met many more. Thank goodness for
Current Mood:

tired
But before all that, here are pictures from last night from the premieres of
Looper
and
On the Road
.
(
click for pics
Collapse
)
TIFF 2012 begun. 2 red carpets in 1 night. My feet still hurt. Was up VERY early this morning and currently have 2 crazy Darren Criss fans sleeping in my living room after driving all night from NYC because today is DARREN CRISS DAY at TIFF!
Current Mood:

awake
faninohio
♥ Chris Colfer book signing(s) ♥ Sightseeing - have never been to Columbus and only driven through Cincy ♥ Hanging out with
faninohio
♥
~~ I have a new travel points Visa as my main cc which means cancelling my old main cc, my Sony MC. In order to use up my Sony points, I decided to get a new camera cause I can get one with a higher zoom in a slimmer model. Found one I liked on-line but couldn't remember my exact balance of points but I figured, if anything, I would be under and have to pay the difference. Going through the check-out process, I discover my point balance was almost dead-on, under by only $0.69!!!! *self high-five*
Meet my cute new camera.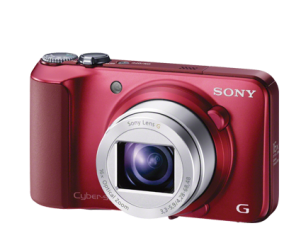 It's got a 16x zoom (my camera now has 10x) and it's red!
~~ Found this cute twitpic of Chord, Darren & Rico backstage at the MMVAs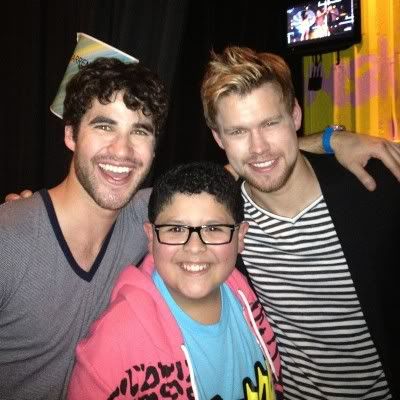 ~~ Did you know
Star Trek: The Next Generation
had their first cast reunion recently at the Calgary Comic Con? I didn't! And a brilliant fan recorded & uploaded the whole panel to YouTube. This is the beauty of the internet. I'm off to watch it, hope everyone's Monday was good (well, as good as Mondays can be) :D
~~ I booked my flight to Cincinatti!!! Hanging out with
Current Mood:

calm
Current Mood:

tired
Killer Elite
:( Jason Statham? Robert DeNiro? Whatever. I wanted to see Sarah Walker!! *criez*
Disappointment: Press conference for
A Dangerous Method
, Fassbender was a no show but did see the other cast
(
basically ignore the fans
Collapse
)
Success: Red carpet for
Melancholia
.
(
Hello pretty pretty men whose shows I never really watched (and one Kirsten Dunst)
Collapse
)
Disappointment/Success: Red carpet for
Drive
. Considering the crowd, I was in a pretty good position to see Ryan Gosling and Bryan Cranston. But the fail that is my camera + night time continued so let's look at R's pictures instead!
(
Gosling and Cranston
Collapse
)
All in all, it wasn't a bad night. Not too disappointed with my Gosling failure as I
got great pictures last year.
Still bummed about Yvonne though.
Off to the suburbs to have lunch with the family for Mid-Autumn Festival. Hopefully will be back in time to see Cory Montieth tonight! From his tweet, sounds like he flew in last night.
Disappointment: Missed Yvonne Strahovski who was here for
Current Mood:

rushed
Moneyball
because of Brad & Angelina, I've declared it a success already!
By the time I got to the red carpet after work, the crowd was already huge, especially the area across from the press. I remembered how the last time Brad & Angelina were here for TIFF, they walked the entire line so I banked on that happening again and waited further down where the crowd wasn't as big. Other stars came -- Phillip Seymour Hoffman, Anna Faris, Jonah Hill -- and not one of them made it down my way.
Brad & Angelina arrive. The crowd goes nuts. Looked like they signed some autographs and then did what I hoped they would do. They walked down to our end, didn't sign anything but just spent about 30 seconds waving to the crowd. I don't know why all the actors don't do this, it takes less than a minute and endears them to the fans.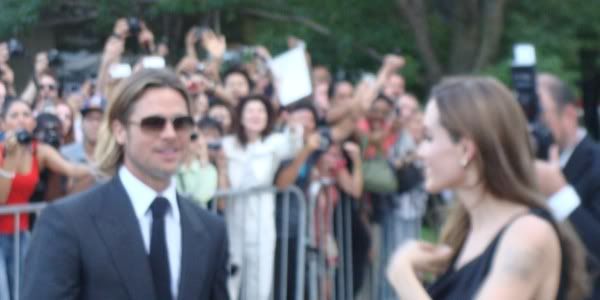 (
a few more under the cut
Collapse
)
The next gala was for
Ides of March
. Clooney is another one that would walk the entire line and he did so again this time. I barely got a glimpse of the other actors. Gone are the days when you can show up about 45 mins earlier and still get a decent spot. People's ladders are getting taller and the crowds are getting bigger. You really have to camp out for hours now if you want a prime location. I miss the good ol' days of TIFF stalking LOL
Then again, it was
only
Clooney and Gosling and I've got great pictures of them in the past so I wasn't too bummed. You know when you've been doing this for too long when your reaction is "Clooney
again
??" :D
For me, this year's TIFF will be a short one. Due to work, not taking any days off cause I've used up all my vacation days and having the Mid-Autumn Festival falling this weekend (read: trekking to Markham for family get-together), my stalking will be limited. However, after tonight's gala of
Current Mood:

pleased
bauersgirl
was able to yay \o/ She scored some great pictures and now I'm going share them with y'all!
(
Mr Schue @ the Eaton Centre
Collapse
)
So Matt Morrison aka Mr Schue was in town yesterday doing promo and an autograph session. Of course, his appearance was scheduled for the middle of the work day (helloooooo, we don't get Memorial Day up here) which means I couldn't attend :( But
Current Mood:

tired
So this post was planned to go up a whole lot sooner but then I was completely distracted by
Current Mood:

exhausted
It is kinda sad that the public doesn't know/watch Canadian television. Entire casts would show up and nothing from the crowd. A few actors joked about it saying stuff like "you don't even know who I am, do you?" (fan asking for autograph: "you're from
Corner Gas
!") and "I could be signing a completely bogus name and you wouldn't even know". At least they were making fun of the situation.
(
a whole bunch of Canucks under the cut
Collapse
)
According to the crowd, the 2010 Gemini Awards (Canadian television) was all about Cory Montieth :D
Current Mood:

tired
Anyway, Wednesday night, R and I split duties -- I went to Ryerson; she went to Roy Thomson Hall.
(
the night of 2 Ryans, a serial killer & a missed opportunity
Collapse
)
**
I have spent the last 2 days spending way too much time reading Merlin Big Bang fanfics. Does anyone have any favourites? I've read about 6 of them, gave up on one and while the others were good, they weren't 'I can't stop reading this!' good.
**
I don't follow tennis at all but thought this was v cute
**
OK this has been all over my f-list but it just needs to be re-posted so apologies if you've seen this a million times already.
OK, if I didn't do RPS before, I do now. COLIN HAS A PIECE OF BRADLEY'S HEART OMG THEY WRITE SONGS TOGETHER OMG OMG ♥♥♥♥
Last post for TIFF 2010 (unless a certain Ms Knightley is in town tomorrow). Can't believe we survived another one. Met some new people -- one just happened to be the wife of the head security guy at the Hyatt so score on that!
Current Mood:

calm