Entries by tag:


OK, I really have nothing else to say LOL Hope everyone's Easter weekend is going well. The weather is so LOVELY.

OMG the download is almost done! Off to watch and squee (by myself!)
The new Doctor Who is downloading right now. OMG I'm so freaking excited!!!! The past few weeks have been insane with all the promos and trailers and interviews and pictures and me trying to avoid spoilers, ahhhhhhh!!
Current Mood:

excited
* I usually don't read romance novels but my uni roommate introduced me to Julie Garwood when I was itching to read something that wasn't a textbook and all she reads are historical romances. I really enjoyed it, purchased a few more of Garwood's books but never got around to reading them. I grabbed one for the flight to Vancouver. Now I'm hooked and am on my 5th book! They're complete brain candy. She uses the same basic formula for her main female (independent, strong, petite, etc) and male (stubborn, gruff, protector, tall, etc) but so far, I'm not tired of it. Great for reading on the subway, too.
* Speaking of brain candy, I downloaded Justin Bieber's CD. But that's not the worst of it. Oh no. I can't believe I'm saying but I *whispers* kinda like it. Damn that
One Time
for being so catchy! Although, I can't stop laughing when I hear these lyrics from his song, "Bigger" --
I was a player when I was little // But now I'm bigger, I'm bigger // A heartbreaker when I was little // But now I'm bigger, I'm bigger
. Who wrote these lyrics for a 15 year-old boy?! LOLOLOLOL
* Corey Haim's (RIP) funeral was today and I found out where he will be buried. The cemetery is actually only 1.5 blocks north of where I work. I kinda want to visit. Am I being creepy? I feel like it a bit.
bauersgirl
said she might be creepy with me though.
*
Doctor Who
starts April 3rd!!! I've seen some of the spoiler pics and man, I am excited for this season! As much as I will miss Tennant, I'm really looking forward to meeting Eleven.
* OLTL has canceled the Kish storyline and let the actors go. BASTARDS!! And now I'm reading that due to low ratings,
Forbidden Love
may be in trouble which means no more Ollian. Lenny & Carsten's storyline will be coming to end in a few months on GSZS. All my fave soap opera storylines are disappearing or in trouble! =( DeRo of AWZ may be the only one left standing.
* Cadbury Mini Eggs are so yummy.
* Dear Adam Lambert, I love you but can we cool it on the promo tour? If only to save my f-list from Adam overload. It's gotten to the point where I've thought about removing the Adam comm from my f-list because it's too much. I'm not even reading the posts anymore, just skimming on by.
* LOVING this weather! It's so glorious outside. Even though I'm still adjusting to DST and waking up in the dark sucks, coming home while the sun's still shining is very nice indeed.
Current Mood:

moody
(
my thoughts on doctor who's end of time
Collapse
)
In other news, today, not only was it freezing (-16C?! WTH Mother Nature!), it was a very theatrical one. First, a matinee of
Fiddler on the Roof
. I, of course, have heard of
Fiddler
but never seen the play or movie. I really enjoyed it, even with the ending leaning on the sad side. Harvey Fierstein is hard to understand sometimes though.
An hour after
Fiddler
, I went to see
The Nutcracker
with
bauersgirl
. First time at the ballet for both of us. I have to say the Four Seasons Centre is gorgeous. I loved the use of light wood. And thank you for making wider seats. Unlike the Royal Alex where I feel like I'm squeezing into an airplane seat.
The ballet kinda lost me during the first act. It's sad but I need some singing and/or talking to go with all the dancing. I may have drifted off a bit during the Snow Queen bit. I enjoyed Act II much more. Of course, it did help that I read synopsis during the intermission. How do the male dancers do that "suspension in the air" thing? They jump and seem to stay there for a bit before coming back down. I guess that's why they're principal dancers and I'm sitting in the audience.
I want to see Michael Bourne's
Swan Lake
and then that will probably end my ballet-viewing. But never say never.
*still has the strains of
If I was a Rich Man
floating through my brain*
Current Mood:

mellow


Am back from the trip! The weather was better than expected *thumbs up* I had sucky throat issues *thumbs down* Our hotel in Quebec City was right beside where the NYE celebrations were taking place *thumbs up* Overall, it was good. A bit quick - a lot of the sightseeing through the bus window. I definitely want to go back to Ottawa in the spring. I'm thinking Easter long weekend. After working in public accounting for so long, I forget that hey, I actually don't have to work on the 2 stat holidays between January and April yay! I'm still at parents' so pictures over the weekend.

I haven't watched the Doctor Who 2-parter yet. I've been sorta staying clear of spoilers but it's HARD. Am I going to cry? I'm flipping between anticipation and dread.

But first things first -- OLTL's NYE episode where Kyle & Fish consummate their relationship make love have sex. God bless YouTube and the uploaders. OH MY GOD that may have been the SWEETEST love scene I've seen on a soap. I gather from other sources that there was also a Gigi/Sky love scene and Kish wasn't shortchanged in any way. There was even humping \o/!! Oh, it was a long shot and with a soft focus but there was definite humping!! Kudos to ABC and OLTL. Two men in bed on daytime television. And the world did not end =)
Watching the NYE coverage, I had no idea the BIG ISSUE was "how will YOU say '2010'?" LOL It's the Twenty-Ten vs Two Thousand & Ten showdown!! Just for the record, I say Twenty-Ten :)
Current Mood:

sleepy
First, the Comic Con Tennant/Barrowman kiss and subsequent reaction from Barrowman was adorable. I would faint/scream too if Tennant kissed me! From John's remarks, it sounds like this was the first time which I'm surprised cause I figured John would've been all over David!
Current Mood:

lazy
Still here at the farm. There are only 2 office staff here and watching them work the past few days... I'm never complaining about my job again. They're doing the work of 3-4 people, they both have young children at home (one's a single mother), no wonder the bookkeeping is so far behind (they haven't done a bank rec all year, and as my fellow accountants know, that's a big problem). Especially the one girl, Holly -- she's like the controller, executive secretary, human resources, office manager, marriage counselor to the owners all rolled into one, she pulls insane hours, working sometimes til past midnight and her pay is like $45k! And now with me here, the owners are coming down on Holly to get things done cause they need statements for financing. I feel so bad. We were here til 10pm last night, the owners left at 3pm and, I kid you not, they must've called Holly once a hour. I wanted to pick up the phone and tell them to leave her the hell alone!

Onto more pleasant things...

#1 -- New Doctor Who today!!!! \o/ I have, shock of all shocks, remained spoiler-free. I'm so excited!

#2 -- New Robin Hood today!!! \o/

#3 -- Zac Efron hosts SNL!!! \o/ Have y'all seen Zac Efron's Pool Party?? Funny stuff. I've never heard of this Funny or Die site; saw the link on my f-list.

#4 -- Spring Awakening tomorrow!!!
Alright, back to the grind and hopefully I'll be out of here at a decent time.
Current Mood:

drained


It was Big News days at the office this morning -- one co-worker announced she's pregnant (yay!) and another announced he got engaged (double yay!) All that good news was an excellent way to start a Monday.

So, Matt Smith as the Eleventh Doctor. I'm liking it. At first, I was a tad disappointed they went the male caucasian route again but the more I watch Matt's interview, the more I like him. Love the talking with his hands, especially the finger waggle when he's trying to think of what to say. The hair can be cut/tamed. He rocks a pair of glasses. The eyebrows do exist but they're really light. I'm looking forward to meeting Eleven although I may shed a tear saying goodbye to Ten. Now that Eleven has been revealed, the speculation is on for his companion. And I really can't wait to see Capt Jack's reaction =) In the meantime, downloading Party Animals to acquaint myself with some of Smith's work.

The Dr Horrible DVD was released to Amazon and I was thisclose to ordering it off the US site and just paying the damn shipping but yay for Amazon.ca for coming through! We're getting it a few weeks later but I can deal with that. I can't wait to hear Commentary, The Musical.

Jersey Boys. Excellent and highly recommend it. I was "singing" Sherry, Big Girls Don't Cry and Oh What a Night for days after.

I'm LOVING the auto-complete tag feature. Thank goodness they finally got that working.


Even though I worked through the holidays, it was still hard to get up and go to work this morning. It was actually kinda nice in the office the last 2 weeks -- no crowd waiting for the elevators, no partners or managers bothering you, no clients calling you for stuff, we turned on the music and actually got some work done.
Current Mood:

hungry
Dr. Horrible's Sing-Along Blog
. It's just so deliciously perfect!! NPH rocks as per usual. Nathan Fillion as the arrogant hero is perfect. And he sings too! I'm definitely buying this when it comes out on DVD.
***
Some randomness -- I finally purchased a new mattress set and it was delivered today. You guys, my bed is so high now! I have to literally climb onto my bed LOL!! Before, I was just using a mattress, this time I have a box (which is the same height as my old mattress) plus the new mattress which is DOUBLE THE THICKNESS!! It's like I traded 1 mattress for 3. My bed is now higher than my nightstand and I can't see my clock anymore. This is just cracking me up!
***
As I mentioned in my Polaris report, there was a masquerade/costume competition. One of my favourites was the group of The Doctors of which I wasn't able to get a picture of all of them. But have no fear, LJ to the rescue! Go
here
to see pictures of 8 of the 10 Doctors and, best of all, their skit was filmed and put on YouTube (link at the bottom of the post). Pretty crappy video quality but you get the idea and the best entrance goes to 10. Fantastic!
***
Created by
bodlon
over at
torch_wood
using one of my pictures: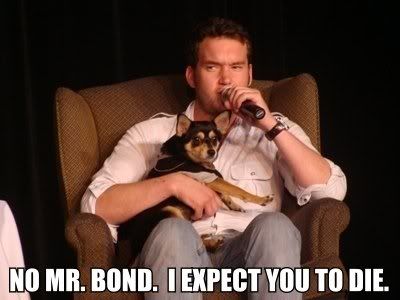 Hee! I love it!!
***
I'm gonna watch Dr Horrible again =)
Finally got a chance to watch Act 1 of
Current Mood:

giggly
Current Mood:

awake