Entries by tag: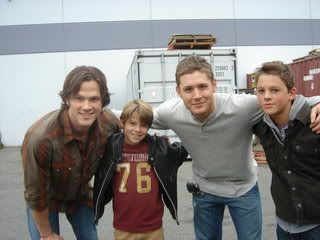 EEEEEEE LOOK AT THEM!! THEIR CUTE FAAAAAACES!!! They're even smiling the same!!
Current Mood:

giddy
Supernatural. What's up with that, Rogers/A Channel? Did anyone else in TO have this problem? Anyway, I just realized that I don't really care. Probably cause I'm just going to download the episode later anyway but it's a strange feeling. I'm not reading spoilers and I always read spoilers. I haven't purchased the S4 DVDs yet, either. Don't get me wrong, still enjoy the show. Just don't love it the way I used to and that makes me a bit sad.
My cable conked out with 15 minutes to go during
Current Mood:

apathetic
here
(no embedded video as he's requesting no reposting).
I feel I need to re-watch S4 cause there were a lot of scenes/people I have no recollection of! I'm such a bad fan.
~~
With all this free time I have, I was thinking about doing an intro to Kish post just cause I've been gushing about them lately. But look!
strippedpink
already beat me to it!
and did a much better job than I ever could (warning: it's a big post so no dial-up friendly).
Her recap ends as of the past Monday but they were also on Tuesday and what an episode that was! We got some great one-liners, some humour after all the angst, jealous!Oliver and the best introduction of a character ever for Nick.
Misha Collins, well, I'm assuming it's him, has posted the Supernatural S4 gag reel on his YouTube channel
Current Mood:

amused
Ahhhh, so nice to finally get the chance to watch
Current Mood:

tired
SPN has a 4-page spread in the current issue of
Entertainment Weekly
which is AWESOME. Scans of the article are
here
(some spoilers so beware). It talks about the fans, the gain in viewership, how Kripke's plan is for 5 years and then he's moving on and same with the boys. All fine and good. But then I read something like this:
Jensen: We don't live at home. We don't sleep in our own beds. Our families aren't here. Our friends aren't here. Our girlfriends aren't here. To do it for another five years, or whatever, I don't know if I could handle it."

Jared: "I enjoy working but what's the point? Do I want to just keep on doing photo shoots and work so I can get more famous so I can do even more photo shoots and work and fly to more places to do more press? I get sick of talking about myself."
Is it just me or does it come across as... self-indulgent whining? Oh, I'm sorry that you're getting paid hundreds of thousands of dollars to work your butt off for 8-9 months out of the year. I sometimes work 12 hours a day, 6 days a week too but with no overtime pay or time coming (yea, don't ask me why I choose my profession). And Vancouver is a short plane ride to LA. How many British/Australian/Canadian/etc actors have had to re-locate to LA/NYC for work? I don't mean to sound insensitive, I really do get where the boys are coming from but it's just something that really annoys me. It annoyed me when David Duchovny whined about it and it annoys me now. OK, rant over and the word "annoy" has lost its meaning. I'm going to re-watch the ep again.
Re-watching the latest ep and it seems like I was laughing so hard, I totally missed the part when the publisher grills the boys on their SPN knowledge. LOVED it!! Question for the f-list -- Sam's score of 174 on the LSAT, is that any good?
Current Mood:

annoyed
Current Mood:

nostalgic
* I am currently in 3rd place in our firm's March Madness pool. And I picked the same winner - North Carolina - as President Obama.
* Eating Smarties for breakfast. Don't judge - I'm hungry and it's a 5 minute drive to the nearest Tim Horton's so Smarties from the vending machine it is.
*
(
cut for supernatural talk
Collapse
)
* Still liking
Castle
. The show itself is average but damn, Fillion looks gorgeous! And I am that shallow that I will continue to watch.
* Video of AfterElton's interview with Jo Weil & Thore Scholermann (Olli/Christian) while they were at Whistler for WinterPride. EEEEEEEEE THEY'RE IN MY COUNTRY, WAVING MY FLAG!!!! :D THEY ARE JUST SOOOOO CUTE AND ADORABLE AND I WANNA SQUISH THEM.
Audio isn't great cause they had to change the location at the last minute. Man, I wish I was there. Damn Whistler for being on the other side of the country!
* TGIF!! Which doesn't really mean anything to me since I'm working tomorrow anyway but still! Friday! Maybe I'll actually leave the office before 8pm tonight. Of course, it will help if I actually did some work so I can leave at a reasonable time so yeah, going to do that right now.
* It's the first day of Spring!! \o/ It's a bit chilly outside but the sun is shining and I haven't worn a coat for the past 3 days.
Current Mood:

cheerful
Current Mood:

tired
(
SPN SPOILERS!! SPN SPOILERS!!
Collapse
)
**
Jakey getting coffee in LA and looking damn fine doing it.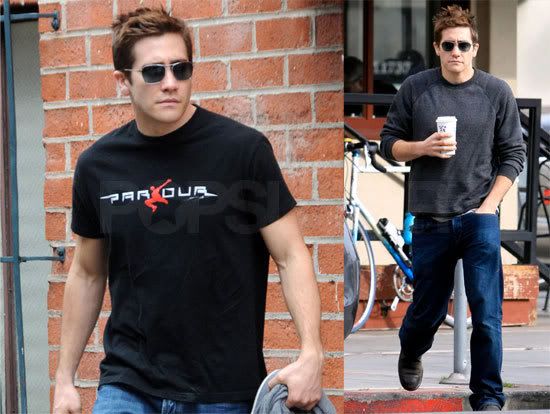 It's being reported that Jake will be in the movie musical adaptation of
Damn Yankees
. THERE IS NOT ENOUGH SQUEE IN THE WORLD TO CONVEY MY HAPPINESS.
**
The Ruby in the Smoke
by Philip Pullman 25 / 50 8,423 / 50,000
The last time I finished a book was back in Oct 08! Ahhhhh, it was good to dive into a book again.
Current Mood:

giddy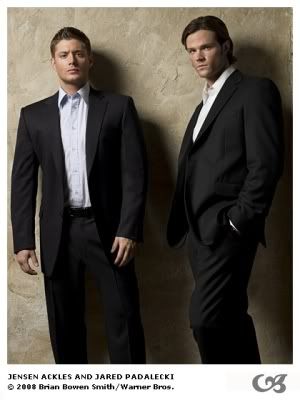 Current Mood:

awake