Entries by tag:
Cloud Atlas
cause that movie has a shitton of actors in it!
(
Depp, Kinnear, Berry, Hanks, Grant, Weaving, Lawrence, Ruffalo, Wishaw, Cooper, Smith, Watson, Dobrev and more
Collapse
)
It was a long & tiring weekend. Got about 4 hours of sleep each night. Played host to 2 crazy Darren fangirls and met many more. Thank goodness for
Current Mood:

tired
But before all that, here are pictures from last night from the premieres of
Looper
and
On the Road
.
(
click for pics
Collapse
)
TIFF 2012 begun. 2 red carpets in 1 night. My feet still hurt. Was up VERY early this morning and currently have 2 crazy Darren Criss fans sleeping in my living room after driving all night from NYC because today is DARREN CRISS DAY at TIFF!
Current Mood:

awake
(
nick carter
Collapse
)
THIS WEEKEND: FanExpo. I'm so tired. I think I'm going to miss today cause I need a day of rest LOL If I can barely handle FanExpo, how would I survive ComicCon?
(
pictures
Collapse
)
IN-BETWEEN: I discovered this web series called
Husbands
. It's written by Brad "Cheeks" Bell (an ex of Adam Lambert, I believe?) and Jane Espenson of Buffy & Caprica fame. The second season just started & I clicked the link on a whim. The first season was 11 short episodes, a few minutes each. The second season will be 3 episodes of about 8 minutes.
The series is about a recently out baseball player, Brady, who gets drunk married in Vegas to flamboyant actor, Cheeks and what happens. It's actually amazing how much they could fit in such a short time frame. And lots of cameos!!
Here's the first episode



And the link for the rest: GoCheeksGo youtube channel
LAST WEEKEND: CNE (Canadian National Exhibition) with Rina & Shirley. We ate Korean tacos & Rina had her first beaver tail (next time, deep fried mars bars!). Watched the ice skating show with Virtue & Moir. I was finally introduced to the cuteness that is the SuperDogs. Can't believe I've been going to the CNE since I was child and never saw the SuperDogs. Ended the day with a Nick Carter concert.
Current Mood:

tired
faninohio
for indulging me and driving me and coming with me to the Colfer signings *BIG HUG*
The Book Loft @ Columbus, OH. They started the line at the front of the store but we went to the back entrance to see if we could see Chris arrive. Which we did but (a) my camera decided to go on a weird fritz & wouldn't focus (b) I was probably shaking too badly to take a decent picture anyway and (c) Fan was looking at a cat so missed the whole thing haha. After Chris arrives, they actually moved the line from the front to the back of the store and as we're trying to find our place in line (everyone got numbers), a girl dressed like Snow White stopped me and said she recognized me. A couple of questions later and we figure out we were TIFF red carpet buddies for Cory's film last year! Such a small world, eh?
For both signings, difficult to get pictures approaching Chris (which was discouraged anyway) so all my pictures were taken afterwards.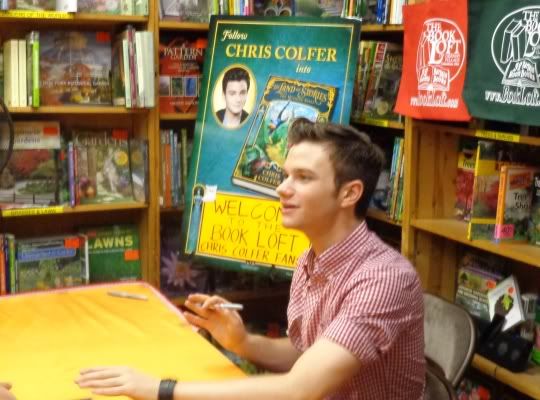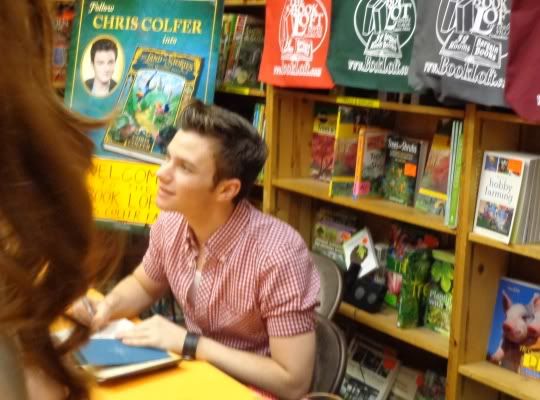 I did pull myself together enough to ask whether or not his movie,
Struck By Lightning
will come to TIFF and he said no. His publicist basically said there was no reason to as the movie already had its premiere at TriBeCa plus a few other festivals and it has already been purchased by a distributor. So there goes my hopes of a Darren/Chris TIFF :(
Cincinnati signing. I really liked this bookstore and we totally scored an awesome parking spot! I didn't ask him anything this time but I did notice how he basically signs the books without even looking and instead will establish eye contact and say, at minimum, something like "thank you for coming".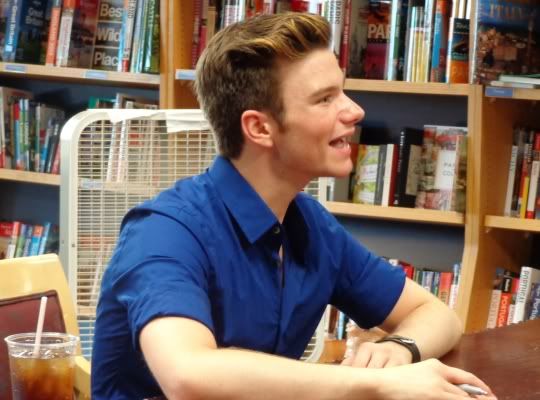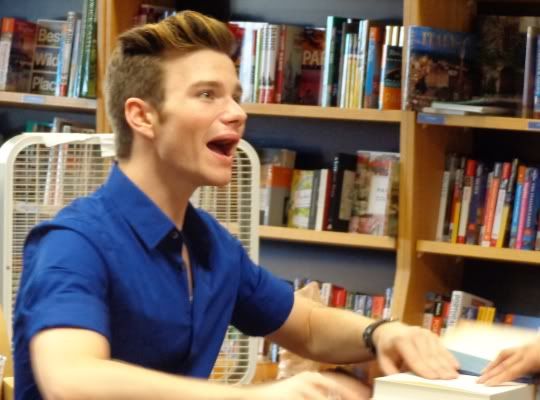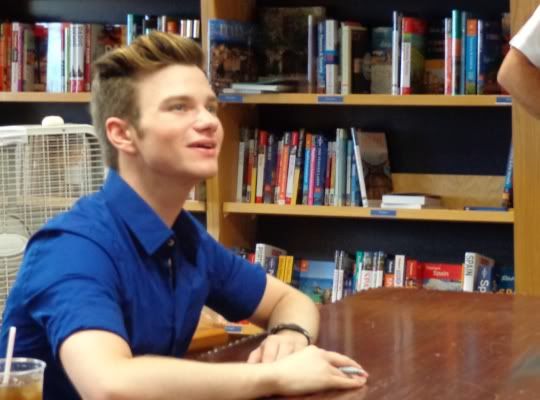 As I was checking in at the airport, the woman in front of me, Connie, totally remembered me as we both flew in on the same flight (there was only 11 people on that flight which was pretty awesome!). So we ended up chatting (she's a sales rep so she could talk lol) for the entire time and throughout the actual flight cause our assigned seats were right beside each other. Anyway, turns out she's a fellow Gleek and had no idea Chris was in the area that weekend. She didn't even know he released a book. Her 5 year old daughter loves Chris too so I offered her one of my signed copies.
For my f-list first, Fan has an extra signed copy so if anyone is interested, let me (or Fan) know!
So wrap up. Had an awesome time. Met Chris and did not burst into tears like I saw so many girls do. So great to see Fan again as it's been too long. Can't believe I actually met someone I knew at one of the signings and I made an adorable 5 year old girl happy. A good weekend was had. And now I can't believe I have to go work, ugh.
First off, I would just like to express my sincerest thanks to
Current Mood:

cheerful
exiled
recovering at the parents' house since then which meant computer time was spotty (I find it amusing that my dad used to lecture us about being on the computer too much and now that he's retired, he probably spends just as long on the internet as we did).
I took pictures, let's have a look :) This was me a few days after the surgery. I was told to keep the gauze on for about a week. I took it off after 5 days cause it was driving me nuts.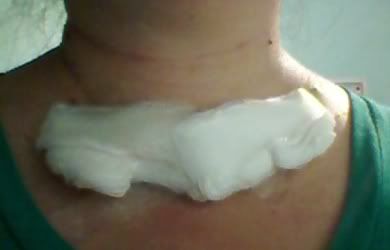 And this is what it basically looks now. I need to wait til the strips fall off naturally but damn, they're like a scab that I can't keep poking at *sits on hands*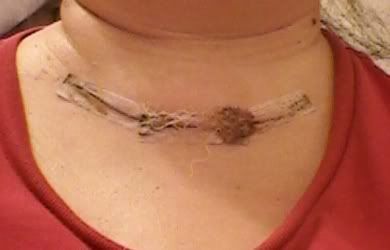 While I was laid up in the hospital waiting to be released, I missed a Chris Colfer sex riot on tumblr :( Mr Colfer recently did a beautiful photoshoot.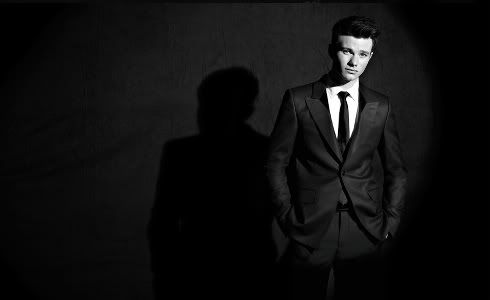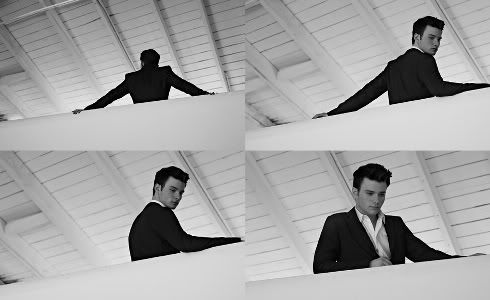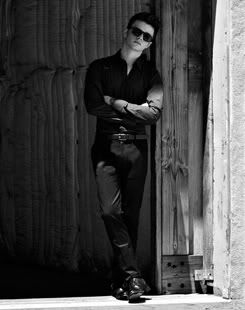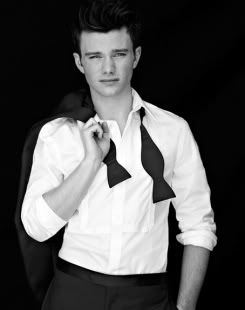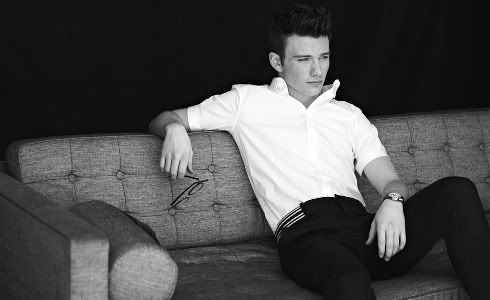 I also had lofty goals of doing lots of reading but that didn't happen. Did catch up on my fanfiction reading though (those should totally count towards my Goodreads goal!) and, thanks to tumblr, I got sucked into
Teen Wolf
and mainlined all the episodes over 3 days. The show is pretty cheesy. The fight scenes are bad. The main couple angst (he's a werewolf! she's from a family of werewolf hunters! oh noes!!) gets boring. And the make-up. I'm pretty sure there is just no way to make a werewolf look cool without going 100% CGI. BUT the show is complete eye-candy, strangely addictive and it has Stiles. Stiles is awesome and everyone's favourite.
The cast at Comic Con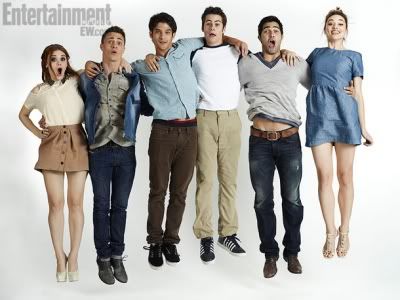 Now that I'm caught up with
Teen Wolf
(except for the last 2 eps cause I can't d/l them here), I'm starting to watch
The Legend of Korra
. Yay for more Avatar!!
OK, have rambled enough. Will be returning to my condo this weekend and life shall resume as normal :)
Sooooooo long time no update. What's been happening with me? Well, the big thing was last week, I had my right thyroid taken out. Everything went fine although apparently, according to the nurses I overheard, I oozed the most of the 3 patients who had thyroid surgery that day. Go me LOL I've been
Current Mood:

good
Wow, this was a crazy year. Got to the red carpet around 5pm and it was already PACKED. There was also the threat of rain -- which never happened other than a few sprinkles, thank you, Mother Nature! -- so all these tents were set up which made everything harder to see. There's a designated fan area and I thought it was full/need wristbands but then, after a few minutes, I noticed a group go in. Did some searching and found the line up pen. Guess they were slowly filling up the space so I tried to get in line. The security let the last group of people in and, seriously, me & this other girl were literally 10 seconds away but security wouldn't budge :( I did score, what I thought, was a pretty good spot -- at the beginning of the red carpet. So I figured this was good, I could see them as they get out of the cars at least. The red carpet show starts and the first car drives onto the red carpet and stops in the middle to let the celebrity out. The 2nd car does the same! W.T.F?! So I asked one of the *many* people on the carpet if that was the procedure and she said yes so my good spot became worst spot ever. Booted my way up the line and am, like, 10 rows back. I've got the boom camera and cameramen constantly in my way. Completely missed certain celebrities like Selena Gomez (I saw the commotion but not the girl cause she's tiny), Kelly Clarkson (cause she went blonde) and Nelly Furtado (when did she show up?!)
Current Mood:

tired
Current Mood:

bored
Over the Easter weekend, I did a bus tour down to Washington DC as I haven't been there in 10+ years. Would've liked to see the cherry blossoms but they bloomed early this year so by the time I went, they were all gone.
Current Mood:

busy
Current Mood:

tired
Tickets to HT$: $284.50
NYC hotel: $180.56 (WTH are all these extra taxes?!) Stayed at
The Sanctuary Hotel
, complimentary breakfast + internet and excellent location (half a block away from Times Square!)
Program: $20
Purses purchased (cause I know y'all are wondering): $0! BUT an adorable MiuMiu bag in blue totally caught my eye omgiwantitsobad had a pricetag of $1,395 which is a very good deterrent.
Being there for Darren's last 2 shows:
(
priceless
Collapse
)
Flight to NYC: $331.58
Current Mood:

content