Entries by tag:
Trying to save some money, I decided to take the bus to NYC. Never again, my friends. Never again. 10-11 hours, trying to sleep in a full bus, didn't work out so well for me. I got a bit of motion sickness on the way down. Left Friday night and arrived in NYC @ 6:30am with nothing to do but walk around as the day's activities didn't start until 11am. As a result, I was in no mood to mingle -- I was tired, I was hungry but too damn tired/lazy to get up and get food, my contacts were killing me so I had to switch to glasses. I was just cranky lol. Ate dinner at the hotel and I crashed so never made it to the party that night.
I was in a much better mood on Sunday (amazing what a solid 9 hours of sleep can do) so my goal was try and get pictures with all the actors. Why not, right? This will most likely never happen again. Mission accomplished \o/ except for Scott Evans who didn't come to the Sunday brunch :(.
As I had the afternoon to kill, I decided to check off an item on my
lifelist
and see a Broadway show. Stood in line Sunday morning for a hour at the discount ticket booth in Times Square and got a great seat for
Next to Normal
. Some of the original actors already left but Alice Ripley, who plays the mother & won the 2009 Tony, was still there and she was fantastic. The show is brilliant and I had tears streaming down my face through almost the whole thing lol.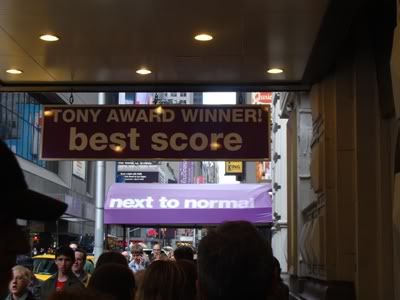 After the show, still had about 90 mins to spare so headed on over to 5th Avenue and started walking. It must've been fate cause just as I was about to turn around and start heading towards Penn Station, I found the Prada store. They didn't have the handbag I had my eye on but evil saleslady was evil and pulled out this bag from the back.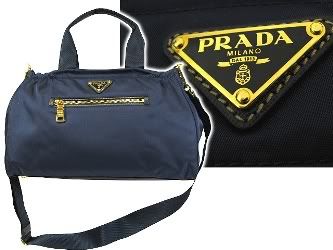 This was the best I could find but it doesn't do the bag justice. It's much cuter in RL. And picture it without the strap cause I won't be using it. I love the blue. It's not leather (yes, I just paid a lot of money for designer nylon... again) but Prada leather bags are just a tad out of my price range. I'll have to slowly work my way up lol.
Shizer, this post is getting ridiculously long!
(
It's picture time!
Collapse
)
This past weekend was the Gays of Our Lives convention in NYC bringing together actors who are currently or have worked on a gay storyline in soap operas and the like. The big draw were the actors from the German soaps. Attendance was maxed out at 80 which was great cause you were able to get lots of facetime with the actors if you wanted.
Current Mood:

tired
(
my thoughts on doctor who's end of time
Collapse
)
In other news, today, not only was it freezing (-16C?! WTH Mother Nature!), it was a very theatrical one. First, a matinee of
Fiddler on the Roof
. I, of course, have heard of
Fiddler
but never seen the play or movie. I really enjoyed it, even with the ending leaning on the sad side. Harvey Fierstein is hard to understand sometimes though.
An hour after
Fiddler
, I went to see
The Nutcracker
with
bauersgirl
. First time at the ballet for both of us. I have to say the Four Seasons Centre is gorgeous. I loved the use of light wood. And thank you for making wider seats. Unlike the Royal Alex where I feel like I'm squeezing into an airplane seat.
The ballet kinda lost me during the first act. It's sad but I need some singing and/or talking to go with all the dancing. I may have drifted off a bit during the Snow Queen bit. I enjoyed Act II much more. Of course, it did help that I read synopsis during the intermission. How do the male dancers do that "suspension in the air" thing? They jump and seem to stay there for a bit before coming back down. I guess that's why they're principal dancers and I'm sitting in the audience.
I want to see Michael Bourne's
Swan Lake
and then that will probably end my ballet-viewing. But never say never.
*still has the strains of
If I was a Rich Man
floating through my brain*
Current Mood:

mellow
Riverdance
on the television and via video but today, I finally saw it live. Amazing, of course. What was especially amusing was a twenty-something year-old guy (with his gf) in our little row who kept making exclamations like "Jesus!" and "Wow!" Awwww, he was completely fanboying the dancers.
The precision and speed is beyond brillant but what always gets me is how the guy seems to float/glide across the stage as if his feet never touches the ground. It awes me. And the flamenco dance is probably one of the sexiest things I've seen on stage.
In other news, I need to STOP SPENDING MONEY. This is especially hard to do when there is all this free time and a freaking mall right outside my building.
The reading challenge is becoming pathetic. I'm 2.5 years into it and I've just passed the halfway mark. That's just sad.
The Shadow in the North
, Philip Pullman 26/50
Faery Rebels: Spellhunter
,
rj_anderson
27/50 (can I have sequel now plz?)
I've seen
Current Mood:

impressed
Spring Awakening
. Really enjoyed it but it didn't grab me like other musicals have. While I do have the soundtrack, I'm not rushing to listen to it. While Kyle Riabko is off filming some stupid pilot for ABC, we were treated to his understudy who, from the back of the theatre, kinda looked like Zac Efron (shut up). Also, can I just say that watching a simulated masturbation scene with your mother sitting beside you is awkward! What I couldn't believe was a lady took her young children to see this! A show with the above mentioned scene, swearing, talk of physical and sexual abuse, sex scene, abortion, suicide, etc etc. I saw an usher talk to her for a few minutes before letting them in. I guess that's all they can do as ultimately, it is her decision. Although, I kinda wonder what her kids thought of the show.
* I can not stop reading Merlin/Arthur fanfic!
nixwilliams
, I've pretty much went through all of your bookmarks, so I'm blaming you for all those late nights :) I am glad to hear that NBC finally has an air date for Merlin which, along with the fanfic reading, will help during this long, long break til S2. And when are those bloody DVDs coming out?!
* Right now, just down the street, there are firetrucks, police cars & ambulances. The 20-odd firemen don't seem to be in a big rush/panic so that's good but then, a couple of them were taking off these blue plastic-y (hazmat?) suits, which doesn't look so good. Then I thought maybe it's for a film shoot but I don't see any trailers, wires, lights, etc. I have no idea what's going on.
* I re-discovered my love for
My Own Private Idaho
and as a result, I went on a mini-Keanu Reeves marathon. Guilty pleasure -- aren't all Keanu movies guilty pleasure? -- is
The Lakehouse
. I recognize all its faults but I don't even care. Keanu/Sandra is like the comfort-food version of Kate/Leo. Next up, a mini-River marathon.
* Just came back from watching
Current Mood:

curious
** After a few days of bone-chilling cold -- made even worse by the fact it came after a couple of days of lovely weather -- Mother Nature has finally taken pity on us.
** I have finally migrated over to using Firefox. Any must-have/cool add-ons I should use, f-list?
** Last week's
Legend of the Seeker
ep had an overused fantasy/sci-fi plot (main characters' bodies being taken over by the spirits of star-crossed lovers) and was complete fanservice but who the hell cares when we got scenes like this: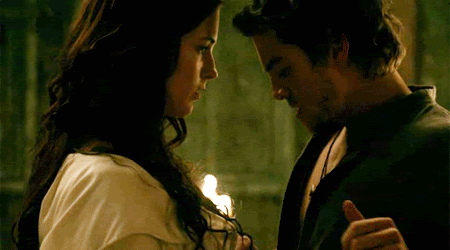 (animation by
cathartic_prose
)
And there was the whole Richard unlacing Kahlan's gown and the hair & back grabbage and the kissing and the belt unbuckling...
... What was I going to say again? I've completely lost my train of thought.
** Saw The Color Purple, the musical. The singing was phenomenal. I only had a vague recollection of the book & movie but according to Wiki, the musical appears to be pretty faithful to the book.
** I have d/l'd the
Twilight
movie. Let's see how long it'll take me to actually watch it.
** The Harry Potter boys continue to age quite nicely. I thought Tom Felton (Draco) went through an awkward phase but he's looking good these days.
(
draco's kinda hot
Collapse
)
IMO, Tom/Draco has been dreadfully underused in the last couple of HP films. Hopefully this will be corrected in the upcoming movies.
** mmmmm, Thai curry for lunch but now I'm stuffed.
** Tomorrow is Toronto's 175th birthday and the Star did a list of
175 reasons to love TO
. I feel all fuzzy and warm inside, lol. A lot of things I've seen/done on that list and a lot of things I haven't. Will have to continue my Discovering My City tour this summer.
** Nathan Fillion has a new TV show!!! Castle on ABC starting March 9th. I hope this show works out for him, I miss my Capt Tight Pants.
Current Mood:

full


It was Big News days at the office this morning -- one co-worker announced she's pregnant (yay!) and another announced he got engaged (double yay!) All that good news was an excellent way to start a Monday.

So, Matt Smith as the Eleventh Doctor. I'm liking it. At first, I was a tad disappointed they went the male caucasian route again but the more I watch Matt's interview, the more I like him. Love the talking with his hands, especially the finger waggle when he's trying to think of what to say. The hair can be cut/tamed. He rocks a pair of glasses. The eyebrows do exist but they're really light. I'm looking forward to meeting Eleven although I may shed a tear saying goodbye to Ten. Now that Eleven has been revealed, the speculation is on for his companion. And I really can't wait to see Capt Jack's reaction =) In the meantime, downloading Party Animals to acquaint myself with some of Smith's work.

The Dr Horrible DVD was released to Amazon and I was thisclose to ordering it off the US site and just paying the damn shipping but yay for Amazon.ca for coming through! We're getting it a few weeks later but I can deal with that. I can't wait to hear Commentary, The Musical.

Jersey Boys. Excellent and highly recommend it. I was "singing" Sherry, Big Girls Don't Cry and Oh What a Night for days after.

I'm LOVING the auto-complete tag feature. Thank goodness they finally got that working.


Even though I worked through the holidays, it was still hard to get up and go to work this morning. It was actually kinda nice in the office the last 2 weeks -- no crowd waiting for the elevators, no partners or managers bothering you, no clients calling you for stuff, we turned on the music and actually got some work done.
Current Mood:

hungry
Slumdog Millionaire so we watched that (really good movie, I recommend it).

25th -- Presents! Everyone liked what I got them, yay! Well, bro didn't like the turtleneck which is fine, we'll get that exchanged/refunded. SIL squeed when she saw the Tiffany's bag, hee! Planned on seeing a movie as it's our tradition but we couldn't decided to what to see and really, this year, there's very few movies out which interested all of us. So instead, I ended up driving bro & SIL all over the Markham for a scouting mission for a place to live and to see where dental / ortho offices have already set up shop. Extended family potluck dinner that night with lots of yummy food (yay leftovers!) My brother wanted to spend some time downtown so after all the guests left, we, the kids, all headed back to my condo (where my laundry was still hanging out cause I wasn't expecting this!) and crashed so we could get up early for...

26th -- Boxing Day shopping at the Eaton Centre. The mall opened at 8am, we were there by 8:15. My brothers headed straight to Abercombie & Fitch where they proceeded to wait in line for 45 minutes before they got into the store. A&F did that whole 'let's shut the doors and control the in-flow and make people lineup outside giving the illusion there's a HUGE sale going on and then even more people will line up' thing going cause the line to get in was insane for most of the day. I spent the day trailing SIL into various stores. Unfortunately, there are very little stores where a size 4 and a plus-size can simultaneously shop together (and I'm not including purses & accessories cause I have enough of them). The very few stores where this can happen, she doesn't shop in (SIL has higher-end tastes). She did feel bad though but what can one do? It's the way of the retail world. That evening, my brothers headed off to the movies while SIL & I went to see the musical, Chitty Chitty Bang Bang. The show ended up starting 45 minutes late because the star (ie the car) threw a diva fit and wouldn't fly. They gave us the option to exchange tickets for another performance but our show will still go on. In the end, Chitty decided to co-operate and we were all very happy cause no one was expecting it.

27th -- Hey, that's today! Just finished watching the Doctor Who Christmas special (really enjoyed it even though I don't like the Cyberman at all). Decided to post as I have some quiet time as everyone is still asleep. Don't know what our plans are but will be heading back to Markham at some point.

28th -- Will visit Grandfather's grave in the morning, have brunch and then go see the matinee show for Jersey Boys.

29th -- Back to work =(

Hope everyone is having a good holiday!
24th -- Worked for half a day and then used the afternoon to make sure all the presents were in order and the condo was in a semi-decent shape before heading to my parents' house. Got stuck in rush hour traffic (didn't time that well, did I?) and it was raining which was good cause my car really needed a wash. Found a d/l of
Current Mood:

awake
dendritejungle
's post, I visited the Art Gallery of Ontario (AGO) this weekend. The AGO has been under renovations and recently re-opened with new architecture by Frank Gehry.
(
cut for AGO
Collapse
)
* Finally got around to watching
Latter Days
and
Shelter
. OMG SO MUCH LOVE. Yay for movies with a happy ending. Anyone have the soundtracks?
* Watched the first 2 epsiodes of
Leverage
. Loved it. The chemistry between the team was great. And yay for Christian Kane being on my screen again! His voice has gotten so gravelly. Gotta talk about the hair though. I don't mind long hair on him but it's pretty ridiculous right now. It needs to be tamed. The show also got me nostalgic for some good ol' Lindsey fun so I watched the "Dead End" episode from
Angel
S2 aka Lindsey Has an Evil Hand and Sings episode. So good.
* The nostalgic feeling led me to re-watching probably my favourite musical of all time,
Seven Brides for Seven Brothers
. I discovered this musical on television when I was in my early teens and have just loved it ever since. My favourite scene has to be the Duelling Dance at the Barn Raising between the Pontipee brothers and the townsmen as they compete for the girls' attentions. Oh just watch it :D
Some trivia: the Brother in orange does very little dancing as he was one of the 3 non-dancers hired and the Brother in blue is Russ Tamblyn, father of Amber Tamblyn.
* I also completed my Christmas shopping. Thank heavens. I checked my credit card balance on-line today and may have had a small heart attack.
(
cut for proof that I'm the best sister evah
Collapse
)
* I actually cooked today. Like, honest-to-goodness bought ingredients and followed a receipe cooked. Turned out pretty decent. And I'm going to make brownies for dessert but that's just Pillbury brownies. Baby steps :)
*
Merlin
finale was good. We got Arthur/Merlin with Merlin's 'goodbye' scene and we got some canon shipping with Arthur/Gwen, yay! It's a testament to the cast that I'm shipping practically everyone with everyone!
Whew, this was one long-ass post. Have some internet cookies for reading it all the way through. But if it was tl;dr for you, that's cool too :D
* Inspired by
Current Mood:

drained
The Sound of Music
with Janna (the alternate) as Maria. I thought Janna did well, sounded beautiful. I never warmed up to the Captain though and felt the jump to them declaring their love was abrupt -- there was no leadup to it. Well, there was, technically, but I didn't see any chemistry between the two. The children were all great and little Gretl was freaking adorable. I absolutely love the movie, seen it countless times, so when the song order changed, it really took me out of the story. Of course, I come home, look it up on wiki and realized that the musical came first and it was the movie that changed the order. Anyway, had to pop in my DVD and watch it again :)
(
ten inch hero
Collapse
)
Yesterday, Mom & I saw the musical
Current Mood:

hungry

While I'm waiting for my Tokio Hotel stuff to load onto photobucket, I figured I would post these videos mainly for my own sake so I can watch them over and over again. Oh Jonathan. You still can't dance. :)

Video #1 -- medley of their hits; breaking out the old dance moves! As for the singing... well, who's watching this for the singing?!



Video #2 -- Summertime. I think my Joey and Donnie crush have pretty much come back full force.



Video #3 -- short interview and performance of Tonight



How did I not know that Joey played Fiyero in Wicked back in 2005? This is "Dancing Through Life" during his last performance.



Current Mood:

giddy