Entries by tag:
faninohio
and
bauersgirl
scored some great pictures. Can't wait to see them!
First official day of the Toronto International Film Festival. I'm too tired to write a recap so let's get on to the important stuff -- pictures!
Current Mood:

satisfied
Did you know that a Supernatural: Official Companion book is to be released in September? I just found out. I'm way out of the loop, aren't I?

TIFF has released the gala schedule and
bauersgirl made an awesome itinerary for us. She even included Supernatural DVD viewing time! So thoughtful. Jake Gyllenhaal. In Toronto. September 7th. I may just DIE.

I'm eating the WORST BEST lunch -- a slice of pepperoni pizza and a bag of Doritios. I've got to stop wasting money on buying lunch, though. I also bought Sour Patch Kids. Damn you, Kyle XY and your product placements!

Share the 10 Things That Make You Happy

1. A sunny day, not too hot, with a slight breeze and the time to enjoy it.

2. When the Doctor puts on his glasses. And David Tennant's oral fixation.

3. John Barrowman's laugh.

4. Fangirling with Fan. And bitching ;)

5. Sushi with R.

6. When the Winchester boys go all badass. Especially Sammy.

7. My friend, Teresa's baby boy, Jack.

8. When my fandoms collide.

9. Boys kissing.

10. Blooper / gag reels.

Current Mood:

lethargic
A Few Good Men
. The squee tripled with the appearance of Jared (I think my heart is *still* recovering from that, lol). Now there's the Creation Convention in November.
July is Harry Potter month. Loved the movie but will need to see it again to fully process. Luna Lovegood was brilliant casting. I'm waffling about Book 7 spoilers though.
ETA:
I just read in the paper that Rupert is in town for a morning appearance at the theatre. Damn it! Couldn't he have shown up last night instead?
Doctor Who
/ David Tennant squee-age. I'm making my way through
Blackpool
-- he sings, too! *sigh* -- and I just downloaded
Casanova
for future viewing.
Release date for Kalan's new CD, finally!
The TIFF is always a source of squee-age but the dial has been turned to 11 due to this
Toronto Star article
(thanks
bauersgirl
for finding it!). The article is about George Clooney, I like him but blah blah whatevercakes compared to:
Jake Gyllenhaal.
Joaquin Phoenix.
OMGFLAILYAWESOMENESS!!!!!
My stalking is a bit rusty as I completely forgot about Zac Efron's appearance at MuchMusic this past Monday. But we'll be in top form come September, right fellow TIFF gals?
I can't concentrate on work anymore cause my brain is still stuck on JakewillbeattheTIFFomgsqueeeeeeeee mode while operating on about 4 hours of sleep.
First it was Jensen in
Current Mood:

bouncy
Supernatural
!! I found the Gage/Spence behind-the-scenes video and it's downloading right now. And once that's finished, I'll be downloading
emcy
's brilliant music mix. Did I mention it's Thursday? 4 BBM fanfics that I'm following all updated today -- 2 of which haven't been updated in an age. I was dreading my credit card statement and the damage done over the Christmas break. Got the statement today and totally forgot I pre-empted the dreaded feeling by overpaying the previous month. So instead of owing, I'm actually in a credit position. I'm home alone so I can squee as loud as I want. Why? Cause it's Thursday. =)
ETA: I just found out that Jakey is on the cover of the next GQ while reading PITNB. Yay!! He's looking might fine. Definitely snagging a copy!
ETA2: Reading the TWoP board after the show is such a buzzkill. I loved this ep. And it looks like I'm in the minority for liking the ending. The nitpicking and the ExtremeDeanGirls are getting ridiculous. It's a friggin' television show. I'm gonna try and stay away from reading the episode threads from now on. PS. Jared has lovely bum. Thank you, Director, for that bed shot.
I had some really good (and cheap) Indian food for dinner tonight. It's Thursday which means new
Current Mood:

happy
And I'm Telling You I'm Not Going. He's a pretty good singer!! And those arms of his!! YUM. Even if the rest of the show sucks, that was all worth it, right there.

OK, back to watching the show. Just had to get that squee out =)

******

A Long Way Down, Nick Hornby 2/15, 830/15,000

A story about 4 very different people with 4 very different reasons for making their way to the local suicide jump on New Year's Eve and what happens when they don't jump and decide to take "the long way down". I found it to be a very quick and easy read. I also caught myself smiling which was unexpected considering the subject matter. Hornby also wrote About A Boy which I enjoyed as well.
And that was just the monologue. Jake put on a wig, stripped off his suit to reveal a sparkly, floor-length gown and sang
Current Mood:

amused
ariadne
- next time, I'll make sure Salad King is open, lol - and she scored with an awesome digital camera purchase (looking forward to your photo posts). Did you brave City Hall last night?
Met up with
bauersgirl
for dinner of sushi then headed off to see
Dreamgirls
. Did it live up to the hype? Certain parts. Eddie Murphy and Jennifer Hudson were great. As was Anika Noni Rose. Jamie Foxx and Beyonce were pretty bland. The movie dragged though. Another fault was that the movie couldn't decide whether it was a "modern" musical where the songs are performances or a traditional musical where the actors start singing out of nowhere. I found the switch pretty jarring. Giggles were heard when they started singing dialogue. Hudson's performance of
And I'm Telling You I'm Not Going
was really good but damn, I don't remember the song being *that* long! I listened to the soundtrack today and it sounds a lot better on CD. We then snuck into a late showing of
The Holiday
and that's how we celebrated the ringing in of the new year. The movie was cute and as much as I love Jude Law, the time spent on the Cameron Diaz/Jude Law romance was way too much. I kept wondering when they'll get back to Kate.
I headed home just as the crowd from City Hall was emptying. Thank heavens I was in the first subway car cause the crowds were crazy. The TTC operator kept saying over the speakers, in this really loud, gruff voice, "Stay clear of the doors. There's another train right behind us. Stay clear of the doors. That means you, Sir." A pause as the subway slowly starts to inch out of the station and then "Happy New Year!" which illicited a round of cheers from the people on the subway.
~~~
Oh
canno
, are you around? *pokes you* I have Jake news!! He's hosting Saturday Night Live on January 13th. I'm so taping it. They're gonna do a BBM spoof, I just know it! Can't wait. Do you think it'll be impossible to get tickets? *ponders wistfully*
Happy belated birthday,
kissedbythegods
!! Hope you had a good one!
ETA: Remember how I mentioned that I planned to move into the condo once the tenants' lease was up at the end of June? Well, I just received an e-mail and they've given me the required 2 months notice for lease termination. Which means, I can start the removations / moving in process a whole 4 months earlier!! SQUEEEEE!!!!!
Hope everyone had a great New Year's. Had lunch with the lovely
Current Mood:

mellow
Brokeback Mountain
Collector's Edition
Release Date: 01/23/2007
Winner of three Academy Awards', including Best Director, the movie that became a cultural phenomenon is now available in a remarkable 2-Disc Collector's Edition. Relive the sweeping epic that explores the lives of two young men (Heath Ledger and Jake Gyllenhaal), a ranch hand and a rodeo cowboy, who meet in the summer of 1963 and unexpectedly forge a lifelong connection. With all-new bonus features, never-before-seen footage and highly collectible postcards, this definitive set magnifies the emotion, drama and power of one of cinema's most groundbreaking films.
2 discs!! w00t! I have never purchased more than one version of a movie before but there's always a first time, right? I'm hoping for a Jake/Heath commentary track. I think it's a long shot but *crosses fingers*
Another Jake tidbit: according to
I Heart Jake
, he's been added to the cast of
Rendition
, joining Peter Sarsgaard and Reese Witherspoon. I don't even know what the movie is about but I'll be watching it!
In other DVD news, looks like
Canadian Idol is being released on 3 DVDs
-- seasons 1 & 2 combined and seasons 3 & 4 separately. Whether or not I purchase will depend on what's being included. Hmm, I wonder if bootleg versions will appear?
I knew this was going to happen when the movie was released last year with minimal special features.
I was going to find the original pictures but I figure Pink is the New Blog just captured my feelings perfectly so why change it?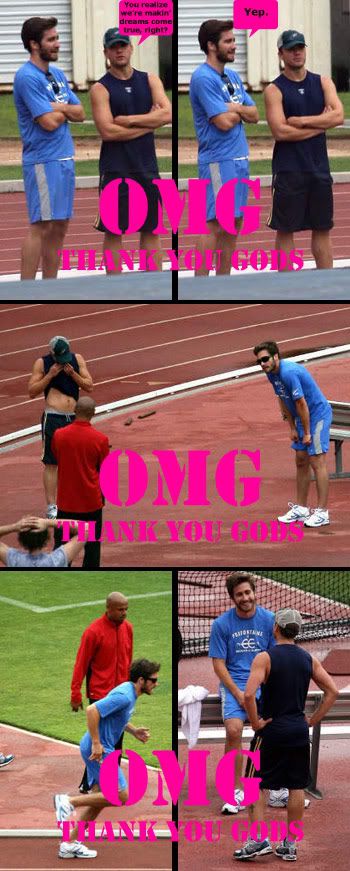 Jake and Ryan. Working out. Together. AWESOME.
Jarhead this afternoon. Not bad, not bad. Some scenes are eerily beautiful (and I'm not referring to the one where Jake shakes his bare ass =} ) It got me thinking, though, of a guy I once knew.

During the summer of 1993, before I started university, I attended a study tour to Taiwan. While there, I met Eric. He made fun of my Canadian accent. I made fun of his New York accent. Now remember, this was a time when the internet was just starting, I had no idea what e-mail was. So after the study tour was over, Eric & I would keep in sporadic touch through letters. I visited him once in NYC. He came up to TO with his girlfriend a few years later.

Why did Jarhead get me thinking about Eric? Cause in the late '90s, Eric joined the Marine Corps. I still have the letters he wrote to me during boot camp and when he was stationed out in California. I still have the pictures of him in his uniform. They're tucked away in the desk drawer and I'll probably never throw them away.

I haven't heard from Eric in years. I have no idea where he is now. I've sent a couple of postcards to his home address but never got a response so he must've moved. I wonder if he was called to duty. I wonder if he's over in the Middle East. I wonder.
I finally sat down and watched
First, let me squee over the new Kalan message.
*SQUEEEEEEEE*
It's amazing how something so simple can just brighten up my day. I know there's speculation about whether or not Kalan actually writes these letters himself or whatever but honestly? Don't really care. I'm sure he, at the bare minimum, has put his stamp of approval on them as he doesn't appear to be the type to let his name be attached to something without checking it out first. And that's enough for me.
I'm easy like that.
The rest of this post is all about certain fandoms/obsessions and is a picspam (my first!) of sorts plus some other goodies. Showing off my newly acquired skill of using LJ cuts... :)
(
Supernatural
Collapse
)
(
Hanson
Collapse
)
Saved the biggest (and longest) for last:
(
Brokeback and Gyllenhaal
Collapse
)
Happy New Year everyone!