Entries by tag:


~~ Still unemployed. Should find out about one possibility tomorrow (the decision keeps getting pushed back, so annoying). Also, have come to the depressing realization after spending almost 3 months reading job ads and interviewing... I think I'm best suited for work in public practice *headdesk* If the aforementioned job doesn't pan out, I'll be expanding the job search into public accounting but, like before, no big firms.

~~ Spent the weekend with my visiting cousin & her 10 y.o. daughter, Ling. Saturday was Centre Island. Well, it was just Centreville (the kids amusement park). We never made it to anywhere else. I rode the ferris wheel with Ling and I felt queasy afterwards. Wow, I am getting old. Sunday was the Toronto Zoo. Bad day to go cause it was so bloody hot. 30C + humidex, it was pushing 40C. After Ling spent 20 mins touching the stingrays and another 20 mins ooohing & ahhhing over the polar bears, she was ready to go. You know it's hot when my born-and-bred Taiwanese cousins are remarking about the heat.

~~ I discovered that the AC in the car wasn't working back in June but it wasn't really needed so I let it slide. Yeah, that sucker is getting fixed this Wednesday. Thank goodness my friend's boyfriend is a mechanic so he's getting me a deal. Still going to cost a pretty penny though.

~~ Chopped off about 4 inches of hair today. My annual haircut, done.

~~ Matt Nathanson concert was fantastic. Good news, he's working on his next album. Bad news, he has no idea when it'll be done.

~~ OLTL and the Kish SL just keeps getting better. Today, we got a small glimpse of Jealous!Oliver when he sees Kyle is ready to move on without him i.e. chatting up a hot guy. Can't wait til tomorrow's ep!! and that's how sad my life has become lol

And yeah, that's basically it.
Hello, hello. Feels like I've been neglecting LJ even though I still read my f-list. So, here's an update.
Current Mood:

listless
Graceland by Paul Simon stuck in my head for the last 2 days.

So yes! Bright 'n early tomorrow morning, my parents & I are off! It's a music-themed roadtrip -- Rock n Roll Hall of Fame, Country Music Hall of Fame, Graceland, Motown Records --plus some outlet shopping and sightseeing and meeting up with Jersey, yay!

7 days confined in a car with my parents. Let's hope the arguments will be kept to a minimum.

I will be internet-less for the week (eek!). If anything major happens, text me (for those with my cell). Be back on the 25th.
HAHA I've had
Current Mood:

good
* Weekend was uneventful. Did some work; did some shopping. Highlight was going to the St Lawrence Market and
finally
getting a peameal bacon on a bun. The line is usually really long but I happened to catch it during a rare slow period and OMG DELICIOUS.
* Had to wake up extra early today as I will be at our Brampton office for this week. Me no like. They page people here, over the intercom, and it makes me jump every damn time.
* The sun is shining though (at least, that's what I heard as I can't see anything from this cubicle) and weather is supposed to be lovely this week.
*
openmydoors
sorta tagged me with the "things you associate with me" meme so here it goes (keeping it short & sweet):
Zac Efron
The boy is adorable and he sings and dances, c'mon, what's not to love?! And, from what I've seen -- yes, I've seen Zac in the flesh! *rubs it in* -- he's super nice to his fans. Appears to have a good head on his shoulders; hasn't fallen into the many pitfalls of young fame (ie partying, drugs, etc)
so far
and has made some pretty good choices re: his career (ie turning down a record contract, thank god). He's also legal, so there :P
That Seeker Show
LOL I'm loving this show! The leads playing Richard and Kahlan are just so pretty, together and separately. I've already mentioned the sword twirling with bonus shirtlessness. And I just realized that Craig Parker, who plays the villian, Darken Rahl, was also Haldir the Elf in
Lord of the Rings
!
I may have shed a tear when Haldir died at Helm's Deep.
No wonder he looked familiar!
Handbags
This is new as my quest for a designer handbag only began a few weeks ago when my mother suggested I should get one as a birthday present to myself. I was going to get a Coach bag but then was told by practically everyone NOT to. Aim higher. So I was introduced to the world of Gucci, Marc Jacobs, Chloe, Burberry,
Louis Vuitton
, Prada, etc etc I've already got an overpriced wallet, now I need a purse to go with it. Hopefully, the search will end once busy season is over.
Asian families
Oh, something
openmydoors
and I have in common. ;) Being a child of immigrant Asian parents makes for an, um, interesting childhood LOL The pressure, the expectations (did you know that my father had my life planned out for me?), trying to reconcile 2 very different cultures. Piano lessons. Chinese school, first on Friday nights, then Saturday mornings (which meant no Saturday morning cartoons). You respect your elders. You will not do anything that will cause your parents to "lose face". Not saying that my childhood was tougher than normal. I had it good and I know it. Not tough, just different.
* It's Monday. BLAH
Current Mood:

working
~ As seen all over my f-list:
When you see this, post another Supernatural quote in your lj.

Dean: Do I look like Paris Hilton?

~ Speaking of SPN, I'll be missing the premiere with the TO fen cause I'll be at the first NKOTB concert in 15 years!! *SQUEE*
~ My Christian & Oliver obsession is rolling along. Not only am I fully caught up on all 109 YouTube clips (and eagerly waiting for updates), I have also ripped & saved every single one of them for personal viewing. That's not too much is it? :D I also have the urge to make screencaps. Lots of screencaps. Maybe next week after all the hoopla has died down.
(
In the meantime, a couple of new pictures of the boys
Collapse
)
~ Y'all know the Katy Perry song "I Kissed a Girl"? Cobra Starship did their own version called "I Kissed a Boy" and it's AWESOME.
~ This Sunday is my brother, Andy & Pearl's wedding ceremony. Their 3rd & last one, yay! Dress & shoes have been purchased. Actually, I ended up with 2 dresses. The first one is blue & gold which I was kinda iffy about but after talking with Pearl, I bought a black dress which I think fits me better. I mentioned back in my Taiwan post that Pearl & Andy did these "glamour shots" and I finally got my hand on the digital copies so now I'm sharing with you guys. :)
(
These are my favourites
Collapse
)
Wow, this post ended up a lot longer than planned.
~ MY SHOES ARE KILLING ME!! THE PAIN. And they are not even new shoes but I haven't worn them in a long time. I can feel the blisters forming. All my co-workers asked me if something is wrong cause I'm seriously limping and now they are mocking me! If I could walk around the office in my barefeet, I totally would. Gonna have to take a taxi home cause there is no way I can walk it. Even walking to the subway station would be too much, it's that bad. I am so lame.
Current Mood:

in pain
Finally found some time to actually post rather than skim skim skim through my f-list which is what I've been doing for the past few days. So, let's see, what have I been up to?

Christmas Day was pretty lowkey. Instead of our tradition of going to the movies, we spent the day getting ready for the Invasion of the Relatives for Christmas dinner. My contribution was mashed potatoes, which was, other than the turkey, the only Western dish on the table. 2 of my aunts are great cooks so there was lots of yummy food.

Next day, we braved the Boxing Day crowd. My SIL and I both purchased a travel bag from Roots. I've wanted one since they came out but no way was I paying $128 (small size) or $198 (big size). Roots had them 30% off so both of us snagged a small one, yay!! I tried to buy my tv but they were all sold out. My brother's friend managed to get one but she lined up outside Best Buy at 5 in the morning. That's just insane. Bought a few books, got my Flip Video and some clothes.

We did manage to catch a movie this holiday season and that was National Treasure 2: Book of Secrets. Not as good as the first (and I really enjoyed the first one) but it was good fun and that's all I was looking for. I also downloaded and finally got around to watching a couple of movies. Waitress, starring Keri Russell and Nathan Fillion, about a small-town waitress who gets pregnant and has an affair with her doctor. Not the best plot summary but in reality, a very sweet movie which I really enjoyed even though I figured out the ending halfway through. Besides, this movie had Fillion which gets a thumbs-up from me! The other was the indie movie, Once, about a busker and an immigrant girl in Dublin who meet and how their friendship over the course of a couple of weeks inspire their music and change their lives. The lead roles were played by non-actors and the songs are lovely so I snagged the soundtrack, too. Shot on very small budget, this only helped with the intimate, almost documentary-like feel to the movie. Really loved this one.

Of course, I watched the Doctor Who Christmas special, Voyage of the Damned. Not the best, Kylie Minogue was decent but really, I was just giddy to see Ten again. Ten in a tux was very nice. Waiting impatiently for the new season of Doctor Who and Torchwood to begin. And I'm even more impatient for the season finale of Robin Hood that is airing right now in the UK. Reading insta-reactions at the RH comm isn't helping but I have to look. *crosses fingers for a link tonight*

The rest of my days have been filled with work and running around with Bro and SIL looking at wedding stuff. The hall and the menu are pretty much done, now it's just everything else -- photographer, DJ, flowers, decorations, wedding favours, bridesmaids/groomsmen, invitations, seating plan, cake, hair & makeup, wedding & traditional dresses, travel arrangements, hotel accomodations for out-of-towners, etc etc etc. Too stressful.

HAPPY BIRTHDAY,
charlea2 !!!!!!!!!!!!! Come January, when I'm back in my condo and at my own computer again, I'll have lots of video to upload for you *wink*

I also wanted to share some music and I had almost half of my CD list up on cd-tracker.com but the site is closing down on the 31st. Anyone know of a similar site?
Current Mood:

tired
Imaginism Studios
) was contracted by Borders to create 2 characters for their Christmas/winter advertising. Since Dad lives in the States, he went to his local Borders and snapped some pictures even though he wasn't allowed to and had staff tell him to stop, LOL. He just e-mailed me the pics.
So if you see Marshmallow & Holly at your local Borders, that's Bobby and his girlfriend, Kai. *feels proud*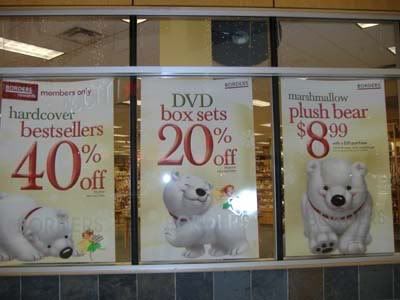 ***
All my shows have gone on hiatus now. Here's wishing & hoping there'll be resolution on the strike soon. I need more Supernatural and Chuck and Pushing Daisies!!!
Well, at least I still have my BBC shows. Robin Hood has been great this season and I can't believe there's only 2 episodes left and they're making us wait an extra week to see them, wah! I'm madly refreshing my f-list waiting for a link for tonight's ep. All the reaction posts in the RH comms aren't helping either!! I've been a Robin/Marian shipper from the start so I've been loving their storyline. I'm also loving Allan this season. Last year, he didn't stand out for me, just kinda faded into the crowd. Hello blue eyes!! How did I not notice them before?? I'm thinking it's the new black wardrobe and boy, does he look good in black.
After RH ends, there's the Doctor Who Christmas special and then in January, there's the new Doctor Who and Torchwood to look forward to.
*returns to refreshing f-list for some Robin/Marian and slashy goodness*
How did I forget about this? My artist cousin, Bobby (
Current Mood:

pleased


Come home last night, jump on the internet and discovered I missed quite a lot.

Jared's birthday. I'm a bad Sammy girl as I had no idea. Well, guess you can say I'm a bad fan in general as I don't when Jensen's birthday is either.

Kalan's video premiere on MOD. If I was in town, I probably would've gone down to MOD, mostly just to say hi to the TO group, but I wasn't so oh well. The video is... okay. The whole premise is Kalan walking through the elements -- wind, rain, snow, etc -- to get to the girl. Kalan wet is NOT a good look. It's the hair, LOL. And there are moments when his lips are barely moving which is distracting. They really need to get a new director as it's the same guy from his previous video shoots.

My brother's engagement. Yep, Brother-in-NYC (soon to be Brother-in-Winnipeg) aka dentist brother got engaged. He's the middle child in my family and the first one among all the cousins to get engaged on my mom's side. They're coming back tomorrow night before they head on over to Winnipeg next week. Big family dinner Sunday night (Shanghai restuarant = YUM) so that'll be fun. I can't believe my younger brother is engaged!

HP7 tonight, weeeee!! The plan was to finish HBP before but as I'm only half-way through, don't think that'll be happening but it'll be close if I speed read right after dinner. On this re-read, I'm finding the book much better than I remember as I was pretty bored the first time around.

I have also finally figured out how to use bitTorrents. Go me. =)
Yesterday was our firm outing day -- spent the morning at Niagara Falls, the afternoon on a wine tour and then dinner. I don't like wine but it was fun. Had my first taste of red ice wine (which supposedly is only made here). Very sweet but I could only handle a little bit. My big purchase was non-alcoholic wine, LOL.
Current Mood:

lethargic
article written about his subway sketch group
in the Globe & Mail. So cool.
I'm also putting the article behind the cut just in case the link doesn't work / expires.
Just received an e-mail that a friend is pregnant and is expected to deliver in late Nov / early Dec. This is friend #4 that's pregnant. It's like a baby boom!
OMG I purchased 7 books today. Damn those Chapters sales!! I really should start, ya know, reading. I have books 10+ years old that I
still
haven't read.
Had a great time Saturday night with 11 fellow crazy Kalan fans. The gathering was in honour of a Winnipegger visiting TO. The food was yummy, the weather was beautiful, the company was most excellent and, to top it all off, there was a violinist who knew how to play
Nature Boy
!
For the past month or so, I've been hearing / reading a lot about this huge phenomenon in the US called
High School Musical
. It's an original Disney movie, it's a musical, it's spawned a whole bunch of singles that hit the Billboard charts and it's the biggest thing at the moment in the tween market (9-14 year old). I heard "musical" and my curiousity got the best of me cause I love musicals. It's out on DVD so I picked up a
bootleg
copy. The storyline is filled with every cliche imaginable. It's squeaky clean (not surprising cause it's a Disney production). The songs are pure bubblegum. And I really liked it. Which kinda scares me considering the target audience is the same one that catapulted Hilary Duff & Lindsay Lohan to celebrity status.
Lately, I've been in the mood to find some "new" artists to listen to so I've been visiting libraries like crazy and borrowing CDs. Artists I'm starting to listen to include Morrissey, Kathleen Edwards, Sarah Harmer, Ron Sexsmith & Rufus Wainwright. Anyone have further suggestions?
My cousin, Bob Chiu, just had an