Yesterday was the 2008 MMVAs and, like the crazy gal that I am, I went to the red carpet cause I wanted to see NKOTB. Yeah, yeah, my inner 14 year old got the better of me, 'k? :P

During the afternoon, it rained twice. I get there around 6pm, all is well. Went to the usual spot -- behind the press -- and found a good spot as the rain kept a good chunk of the crowd away. At about 6:30pm, ominous black clouds started to roll in and everyone got ready for the rain. It wasn't too bad and just as the first guests were arriving, the sun broke through and the rain stopped. But not for long...



This is the crowd at the time when I showed up.
One of the first guests to arrive is... Ryan Malcolm?!? LOL He's the first Canadian Idol winner and is now in a band called Low Level Flight. When he came down the carpet, I was all "wait... is that?... I think that's... hey, it's Ryan!"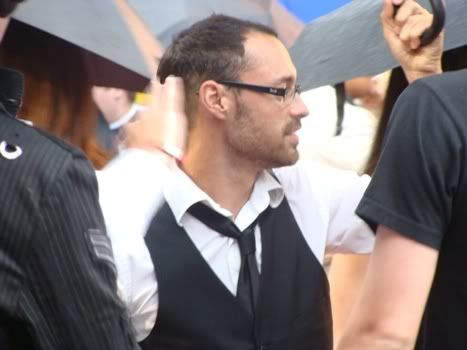 And the Idols keep coming. Next is Eva Avila -- Canadian Idol winner #4. Stupid crew people getting in my way!
Of course, there was also Jacob (CI2 2nd runner up) of Hedley. No pictures sadly as they came down the red carpet in the pouring rain -- shirtless & shoeless riding bikes. It would've been a great pic but I had my camera tucked away. I also read that Kalan (CI2 winner) was there but I didn't see him.
2 rap artists also came through -- Dru and Flo Rider. Also a few girls who I had no idea who they were but found out later they were actresses. Never heard of them myself.
The e-Talk hosts -- Tanya Kim and Ben Mulroney
Dave Foley of Kids in the Hall & Newsradio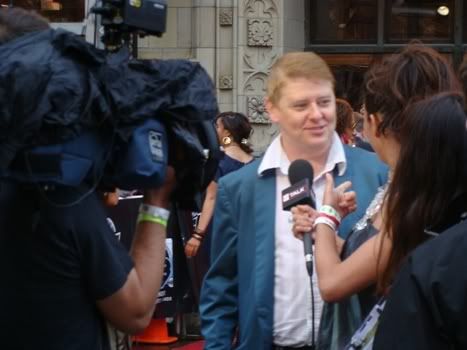 Dallas Green in the bowtie of City & Colour (get it? Dallas (City) Green (Colour)) and Alexisonfire. I really like his C&C stuff which is more acoustic indie. Alexisonfire is screamo which I can't handle.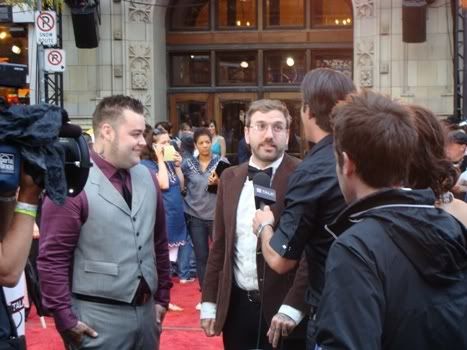 2 members of Simple Plan. I've never given SP much thought... didn't hate 'em or love 'em. But I have to admit, I totally dig their new album.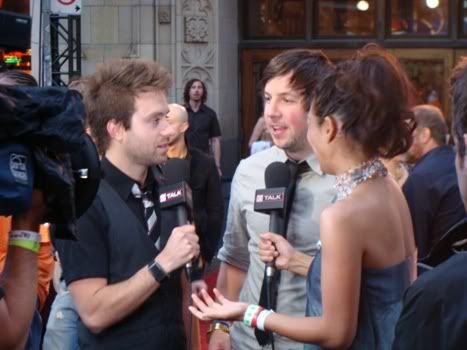 Kristin Cavilleri of The Hills (?) I don't know.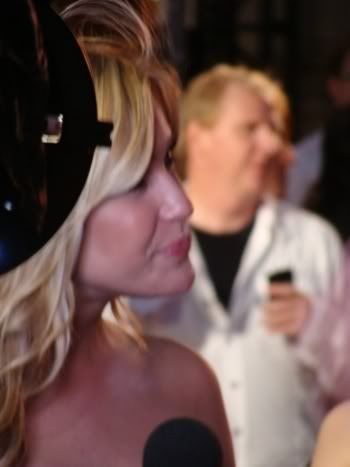 Rainn Wilson of The Office and, of course, the store clerk in Juno :)
Sum41 is in the crowd somewhere but I couldn't find them as the umbrellas started to come out again
and they're short.
Just as Melanie C (Sporty Spice) came up to do her e-Talk interview, the heavens opened up and it just POURED. Cue massive exodus of the red carpet as all the press and guests and photographers all ran inside. But I stuck it out! The things I do for New Kids.
This is who I thought was Rihanna who just walked straight into the building. However, seeing pictures of her later on-line, she's wearing a black, floor-length dress. Now, I'm not so sure. Maybe she changed?
As the rain continued, a few more celebs came strolling down -- the Jabbawockeez dance crew, another rapper (didn't know who it was), oh look! scantily clad females, they must be Girlicious, I was also pretty sure I saw Alexis Bedel (Rory of Gilmour Girls) go by.
And just as the rain started to taper off, who shows up? Chase Crawford (Gossip Girl) and Brody Jenner (The Hills). I don't even watch these shows but I know them! Both guys actually went into the building first but when the rain stopped, they came back outside and spent a lot of time with the fans.
I had a clear view of Brody as he waiting to do his interview.
Unfortunately, Chase did his interview further down the red carpet and he had his back towards me for most of the time. This is the best one I got.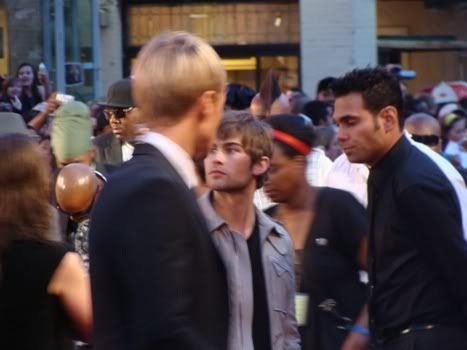 The big group behind him is Kardinal Offishal & Akon with their entourage.
So then the proper show starts and the red carpet is pretty empty. No New Kids =( I figure they've probably just went straight into the building during the downpour. I head on home as the opening acts -- Flo Rider & Simple Plan -- do their performances to watch the rest of the show at home.
I find these pictures of the boys later on-line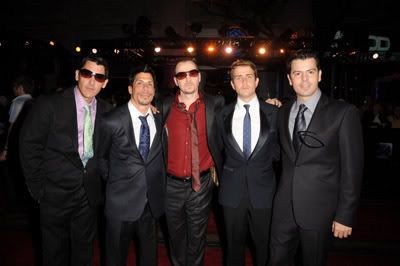 OK. First picture -- they're outside on the red carpet!!! And they are facing exactly where I was standing! Do you see those mini bullhorns Donnie & Joey are holding? I remember as I was leaving, I noticed 2 guys in suits by the doors. They were kinda popping along with Flo Rider and THEY WERE HOLDING THOSE BULLHORNS!!!! OMG I totally saw them and didn't even know!! LOL Man, if I just stayed for a few minutes more...
And that was my 2008 MMVA red carpet experience.