As I mentioned a few posts back, one of my goals this summer is to explore my city -- go to places I've never been or haven't been in years.

A couple of weeks ago, I went to Bluffer's Park to see the Scarborough Bluffs.



The Bluffs are located in the east end of the city. I don't remember the last time I've been there, probably as a child. Even though the day I went was cloudy and windy, there were quite a lot of families having their picnics and people just strolling along the lakeshore. The bluffs weren't as impressive as I imagined, thought they would be higher.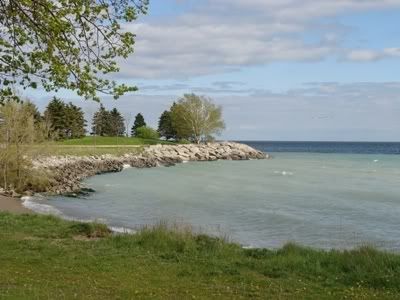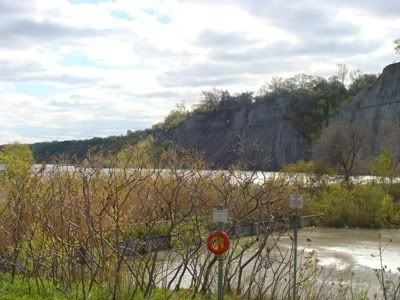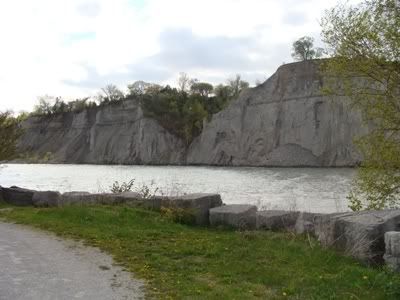 Today, I met up with
bauersgirl and we went to Little Korea. Had yummy Korean food, watched a baseball game and walked a lot. Ended up walking through a few neighbourhoods in fact.



We met at the corner of Bloor & Christie, the west end of Little Korea.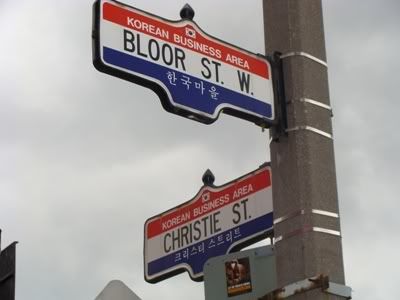 First things first -- lunch!! Yummy dolsot bibimbap -- steamed rice with mixed vegetables served in a stone pot. The chopsticks were made of metal and flat. Neither of us have used chopsticks like that. We ended up using the spoons instead.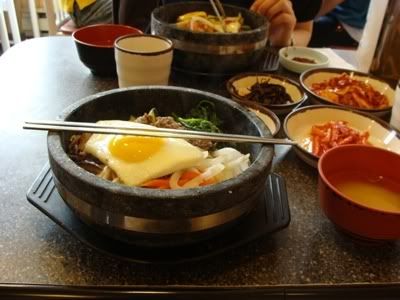 After lunch, we decided to visit Christie Pits Park. The park houses 3 baseball diamonds, one of them being quite fancy with fencing, a scoreboard and everything. There was a game going on and we noticed television cameras which of course intrigued us.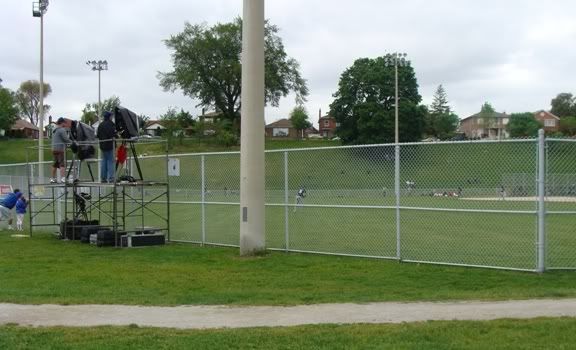 Turns out that this field is home to the Toronto Maple Leafs (what an original name!) Intercounty Baseball Team. BTW, the Leafs lost after giving up 10 runs in the 9th inning!! Shameful.
There's a waterslide & pool, too!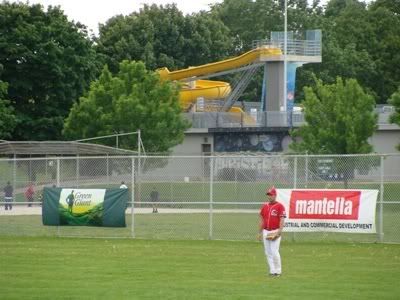 After watching the game for a bit, we headed back to Little Korea and walked east, back towards the city centre. Little Korea is a lot smaller than I thought and many of the stores were closed on a Sunday. What's up with that?
This picture is for
faninohio
=)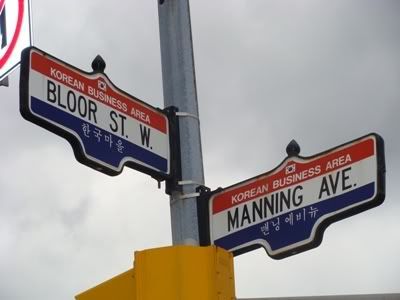 Kept walking east along Bloor St and we enter another neighbourhood of which I have heard of but never knew where it was located: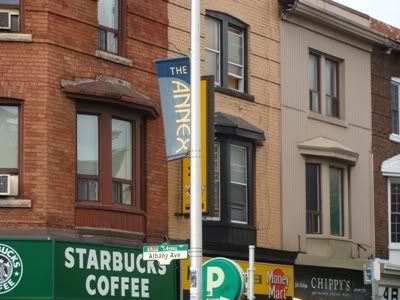 Of course, one end of The Annex is marked by a Starbucks. A very nice stretch of Bloor St with lots of little shops and restaurants. Got information about a farmer's market in the area for which I think I'll definitely drop in for a look. Support the local farmers and get some yummy fruit in the process.
Walk walk walk some more and we arrive at the newly renovated Royal Ontario Museum.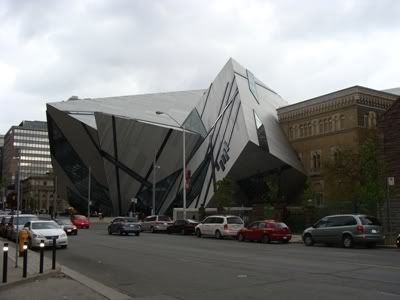 I still don't know if I like the new Crystal wing. It definitely looks funky from the outside but I think my main problem is that they had to tear down part of the original building. I haven't seen the inside yet -- it's on the list of things to do as I haven't been in the ROM in 5+ years -- so I'm looking forward to that.
Next, we window shop our way through Yorkville -- where all the name brand stores are located and where celebrities usually stay -- and head back home where my feet are thankful that I'm finally sitting after walking almost 5 km in about 3 hours.