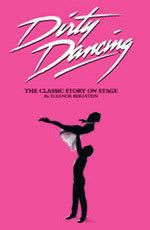 Went to see Dirty Dancing yesterday with
bauersgirl and we both came to the same conclusion: stay home and watch the movie instead. The stage version is basically a literal translation of the movie -- same scenes, same dialogue, same dance moves. I don't really know what I was expecting but it wasn't that. And considering the movie is 100 minutes long and the stage version is over 2 hours long, this means lots of filler. The actress playing Penny has the longest legs I've ever seen! I was highly amused that the audience actually cheered after the "nobody puts baby in the corner" line. The staging and sets were good though. I was wondering how they would do the "learning the lift in the water" scene and it was cool how they did it (using projectors and screens).

***

Our Man Weston, Gordon Korman 16 / 50 5,293 / 50,000

It's December 9th and I didn't even make it to the halfway mark. That's so pathetic.