Finally got a chance to watch Act 1 of
Dr. Horrible's Sing-Along Blog
. It's just so deliciously perfect!! NPH rocks as per usual. Nathan Fillion as the arrogant hero is perfect. And he sings too! I'm definitely buying this when it comes out on DVD.
***
Some randomness -- I finally purchased a new mattress set and it was delivered today. You guys, my bed is so high now! I have to literally climb onto my bed LOL!! Before, I was just using a mattress, this time I have a box (which is the same height as my old mattress) plus the new mattress which is DOUBLE THE THICKNESS!! It's like I traded 1 mattress for 3. My bed is now higher than my nightstand and I can't see my clock anymore. This is just cracking me up!
***
As I mentioned in my Polaris report, there was a masquerade/costume competition. One of my favourites was the group of The Doctors of which I wasn't able to get a picture of all of them. But have no fear, LJ to the rescue! Go
here
to see pictures of 8 of the 10 Doctors and, best of all, their skit was filmed and put on YouTube (link at the bottom of the post). Pretty crappy video quality but you get the idea and the best entrance goes to 10. Fantastic!
***
Created by
bodlon
over at
torch_wood
using one of my pictures: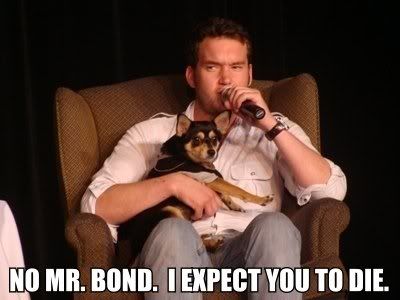 Hee! I love it!!
***
I'm gonna watch Dr Horrible again =)