For those not following the Glee! Live tour here's the basic set up: Brittany comes on stage and says last year she made a fool of herself when she declared her love for Kurt as she wasn't Kurt's type. This year, she's going to go for someone she can get and calls Blaine to stage. Brittany asks Blaine if he wants to make out, Blaine says he's taken *cue audience screaming*, Kurt comes on stage with a "Brittany, are you flirting with my man?!" *cue more audience screaming* Brittany leaves. Kurt & Blaine have a little back-and-forth which Chris changes in every show. Kurt "proposes" to Blaine *scream* ... asking him to join Glee Club. Blaine accepts and its segues into Finn's "Jessie's Girl".

OKAY. Last show of the tour in Dublin.

Starts the same, Brittany calls Blaine on stage. But then Santana comes on stage and OMG BRITTANA KISS!!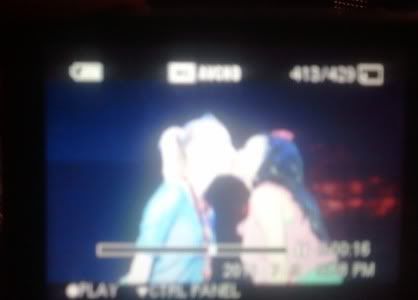 Brittana/Heya shippers and fandom in general explodes.

Kurt comes on stage and recites a poem to Blaine which apparently went something like this:

Blaine warbler Anderson
I have never loved another
except for last year when I was in love with my stepbrother
I admire you almost as much as I admire the late Alexander McQueen
You squint when you sing
How I missed our impromptu performances in the Dalton Academy halls, the rooms, the bleachers
where the hell were all the teachers?
We've seen everything eye to eye, all the pain, all the hurt
at least we did till my last growth spurt
We've shared so many intimate moments, memories that shine and glitter
just the two of us, facebook myspace, tumblr Twitter
Since we've met it's been absolute heaven
For your Emmy consideration, 2011
But through all the glory, the scary and the hype,
I swear to god I'm going to punch the next person that calls me a stereotype
I'm so thankful to have found a partner as talented as me
And forever we shall be unless the writers change things in season 3

♥♥♥HEARTS IN MY EYES Y'ALL♥♥♥

Kurt then proceeds with the proposal, Blaine tells him to get up and...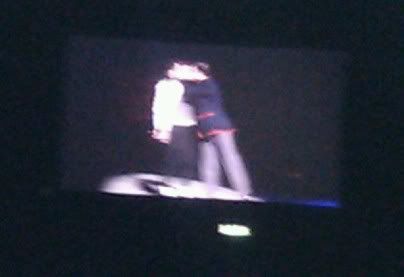 And then says, "you thought Santana would be the only one having fun tonight?"

*ENTIRE FANDOM KEELS OVER DED* I CAN'T EVEN. WHAT ARE THESE BOYS DOING TO ME?!

The pictures are crap but at this point, who cares?! Tumblr is apparently going apeshit. Twitter has exploded and "THEYKISSED" is now trending worldwide. And we now wait with collective breath for video. C'mon Dubliners! You have the entire fandom waiting in anticipation!!

HOLY CRAP I LOVE THIS CAST :D

ETA:


Too busy squeeing and sealclapping and generally flailing to form any coherent thoughts.