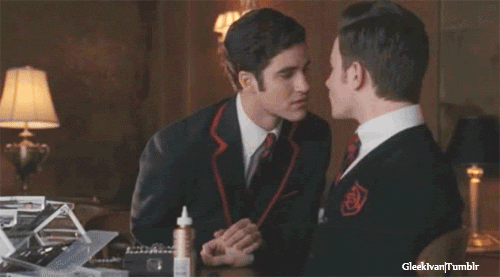 MY MIND BLANKED OUT AFTER THIS I SWEAR. I CAN'T EVEN. NO WORDS TO DESCRIBE THE AWESOMENESS OF THIS EPISODE. YOU CAN ACTUALLY SEE BLAINE FALL IN LOVE IN THE SPAN OF LIKE 20 SECONDS.

Other thoughts: The original songs were hilarious. "Trouty Mouth" was brill and Naya sounded fabulous singing in that style. Sam's "HELL NO" sign. And mad love for "Hell to the No"! Definitely better than "Loser Like Me" which I swear sounds like a HSM reject song (but I still liked it well enough). Kurt's bored face during "Misery" and his dig about 'Blaine + the Pips'. Kurt's mourning outfit was fabulous. I miss fashionista!Kurt. RIP Pavarotti :(

I need a download so I can catch all the things I missed and watch the Klaine become canon over and over and over again. We've got a 4 week hiatus coming up which is going to suck.