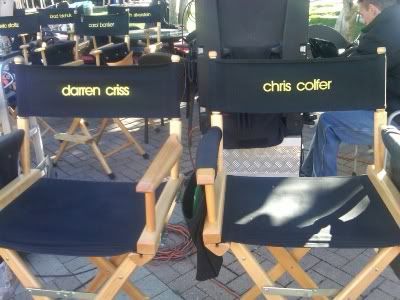 CHAIRS. A picture of freaking chairs is making me go all ~*~
sigh
draws sparkly hearts and throws glitter~*~ THERE IS CLEARLY SOMETHING WRONG WITH ME OKAY.
MUSIC FROM THE SUPERBOWL EP HAS BEEN RELEASED!!!! I admit, when I first heard they were doing
Thriller
, I wasn't too excited (yeah not my fave MJ song). Then I heard it was going to be a mashup and I thought, "hmmmmm interesting". The other song is
Heads Will Roll
by Yeah Yeah Yeahs which I didn't know. LOVE THE MASHUP. And totally d/l'd YYY's 'It's Blitz!' album =)
Thriller_Heads Will Roll (New Directions)
Bills Bills Bills (The Warblers)
Need You Now (Puck & Rachel)
She's Not There (Finn)
Of course, the songs will be added to the Glee music post
here
.
WHAT ELSE WHAT ELSE oh yeah, who watched the SAG awards? Booooooring. Alec Baldwin for the 5th time? Betty White, seriously? I love Betty White but c'mon. Boardwalk Empire is the new Mad Men -- no matter how many awards it wins, I still have no interest in watching this show. Has Claire Danes won all the possible awards for 'Temple Grandin' cause my gosh, I'm getting sick of her. YAY for Colin Firth/The King's Speech :)
This picture made me smile
Current Mood:

thirsty