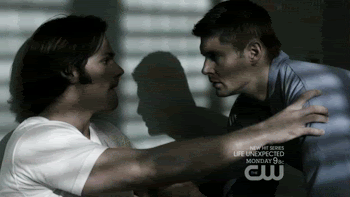 OH BOYS. <3333
** the dream of Jared in a loincloth is no more :( Jason Momoa of SGA has won the role.
** I know some people don't get the appeal of fanfiction. You know what I don't get? Fanmixes. I love music but I don't link songs to characters that way (unless the song was specifically used in the show/movie) and the desire to hear someone else's fanmix? No thanks. Any fandom things which you just don't get?
** Speaking of fanfiction, I read a lot of it but I've never had a problem separating the fanfic from the original source. Until now. In the
Merlin
fandom, there's a fic that uses Bradley & Colin in
Persuasion
. Bradley = Wentworth; Colin = Anne. Now that I'm finally reading
Persuasion
myself, I find that I'm mixing the two! Even though I'm reading about Frederick & Anne, in my mind, I see Bradley & Colin ;)
** Condo reno will commence this Monday! Finally. So tonight & tomorrow will be for emptying out the bathroom & kitchen. Force me to clean/purge.
** On March 26-28, there will be a
Gays of Our Lives convention
in NYC. The main guests are the actors in the gay storylines from the 3 German soap operas that I follow. I think I'm going to go as it's unlikely this will ever happen again. Only 1 or 2 of you on my f-list even watch these soaps but if anyone wants to join me in NYC for a weekend...? I'll definitely be taking in a Broadway show (I want to see
Billy Elliot
). Just putting it out there... :)
** I had no idea SPN was coming back last night so thanks to my f-list for being on the ball and your squee-age! Your squee = my gain =) Best part of the episode:
Current Mood:

thoughtful