Exhibit A: (picture snagged from all over my f-list)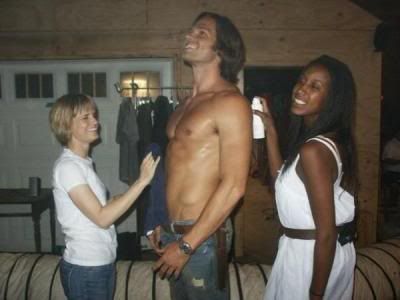 Why is this is not my job? Why did I not go into hair/makeup for movies/tv? WHHHHHYYYYYYY????

Exhibit B: I am not at the Torchsong convention in Chicago (for Torchwood). I didn't even know there was a con until a bunch of bad news sprung up just before. First Kai Owen had to cancel due to a family tragedy. Then John Barrowman injures himself (he fell off his balcony and badly injured his ankle) and is not allowed to fly. Then Tom Price gets hit by a bloody car! (but he still shows up for a bit with a broken arm).

Anyway, Barrowman still made an appearance via video link which was great of him. Now, all these reports are coming in about how Scott, John's gorgeous hubby, made an appearance in A WHITE SPEEDO WITH 'FUEL INJECTION' WRITTEN ACROSS HIS ARSE. Scott, whom fandom has pretty much left alone as it was known that he preferred to stay in the background. Now he's making con appearances 90% naked, getting his arse slapped by John and demostrating sexual positions! All I'm saying is that there better be pictures!

Exhibit C: The refrigerator and cupboards are bare. I have nothing to eat except for Campbell soup which I am really sick of. Must grocery shop tomorrow.