After swearing we would never ever subject ourselves to the madness,
bauersgirl and I, once again, braved the craziness that is the MMVA red carpet.

Being a little smarter this time around -- we only waited 4 hours instead of 6! -- we once again ended up behind the media people. It was hot and sticky. I got sandwiched between a set of parents on one side and 2 self-proclaimed "the biggest fans of Fall Out Boy" on the other side. This is what I heard in my right ear for a good 5 minutes: "PAAAAAAATRIIIIIIICK!!!! PEEEEEETERRRRRR!!! OMG OMG OMG!!! JOOOOOOOOOEEEEE!!!!! OMG OMG!! I LOVE YOU!!!!!"

While we waited, we did get a chance to catch some rehearsals. Could barely see Rihanna but I like her song, "SOS". City & Colour performed "Save Your Scissors". And Hedley with "3-2-1". I could only see Jacob (who was shirtless) and he was pretty normal. No over-the-top spazzing. Sang the song well. This is the Hedley I like.

Some screaming for the VJs -- "TIIIIIIIIMMMM!!! OMG he's sooooo gorgeous!!!" "Sean, I love you!!!!" (OK, he's not a VJ but he was the runner-up in the VJ search) "Sarah!!!" "Deeeevoooonnn!!!" who was wearing some hella skinny jeans.

Oh yes. How could I forget, who I dubbed, Hot Guy. One of the crew members, I had the pleasure of watching Hot Guy pushing & setting up barricades (nice calf muscles & biceps) and sweating and generally looking hot. Unfortunately, no picture of Hot Guy. Maybe next year?

OK, picture time!! All pictures are courtesy of
bauersgirl cause stupid me didn't check the memory card (it was only a 64 MB card which meant 3 pictures and the card was full).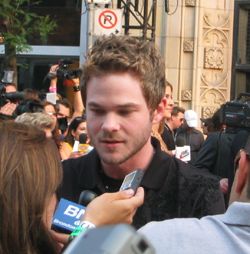 This was my turn to squee!! Shawn was one of the first celebs to come down the red carpet. In fact, I thought we missed him cause it looked like he just zipped by the media and headed into the building. But watching the show, Shawn mentioned that his twin brother was with him so that was probably it. And dear heavens, does that boy have beautiful blue eyes.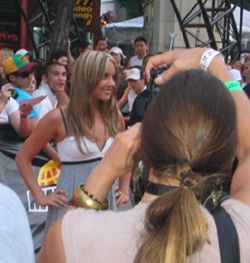 Amanda Bynes. She's a sweetie.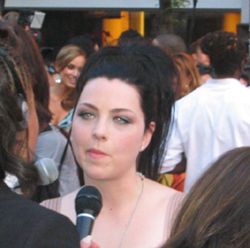 Amy Lee of Evanescence.
Let's play, "Spot the Backstreet Boy"! I wonder why Howie was there? Guess he had some free time, LOL!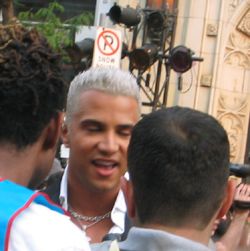 Jay Manuel of
America's Next Top Model
and now,
Canada's Next Top Model.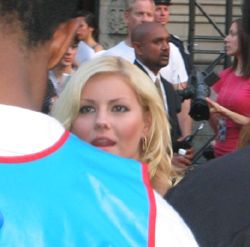 Elisa Cuthbert aka Kim Bauer. Boy, is she tiny. Could barely see her myself.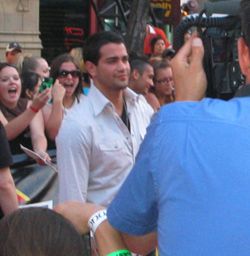 Jesse Metcalfe. Best known as the sexy gardener on
Desperate Housewives
.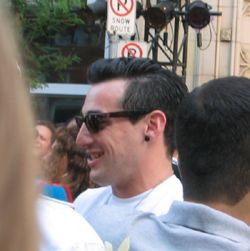 Ah, Jacob Jacob Jacob. Two of his bandmates showed up in handcuffs. And there was mooning. In case you somehow missed the Hedley tattoos 2 of the boys are sporting on their asses, Jacob gives us yet another view:
That poor girl in the white headband. Inches away from Jacob's butt. That is going to be one ugly tattoo once Jacob's ass loses its firmness (I confess, he does have a nice ass). BTW, he was totally covered in the front cause he was tv.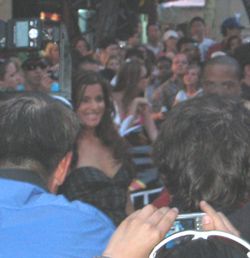 Nelly Furtado. Not a fan of her new song,
Promiscuous
, but I do like
Maneater
.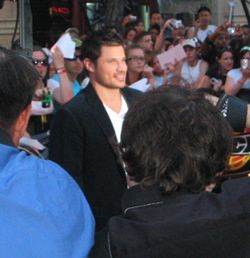 Nick Lachey. He's short.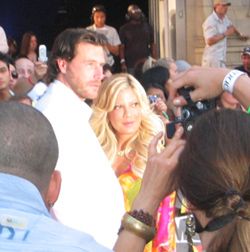 Hey, it's Donna!! (what was her last name?). The whole time they were on the red carpet, the BH90210 theme song was running through my head.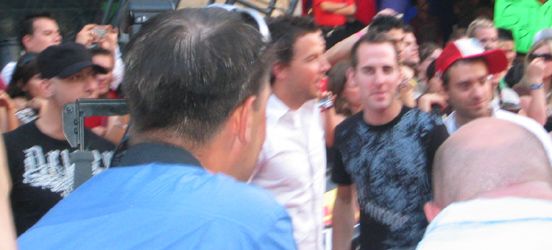 Simple Plan. We have Pierre and Chuck and... I only know those 2.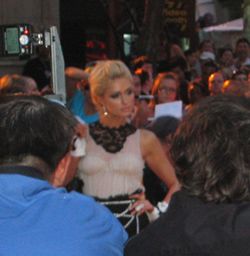 Of course, the last one to arrive, Paris Hilton. That dress was ugly. The crew were literally ripping up the red carpet as Paris made her way down.

OK, that's it!! Lots of other celebrities but no pictures -- Metric, Yellowcard, Fall Out Boy, Mobile, Skye Sweetnem, Rihanna, Mo Pete, Trisha Helfer, The Trews, Kevin Zegers (boy, is that guy cute! I'm definitely going to have to watch

Transamerica

now), a whole bunch of rappers, Massari, Kardinal Offishal & that's all I remember.

The TIFF red carpets are going to be a piece of cake after this!! And I will have my regular camera back by then.


ETA: The Edmonton Oilers lost =(