So we were coverting SGD into yen during Ikoma today right?
Jin and me took an obscenely long time to do it. =_=
Can't do maths! Bah. Awful.
I can't do Sec 1 problem sums anymore either.
Sec 1!!
Ye gods.
Anyway.
Design history and culture started today, it's pretty cool.
It has a totally retarded time tho. 3-6. -_-
Of course, it could be worse, so.
Ernst the lecturer and Devin the tutor tell such amusing stories. XD
The class reminds me of Lit somehow, hoho.
I wonder if we get to do essays?
*is shot* I know, buuuuut...I miss writing stupid canned essays! XD
And Lit essays! lolololol. Wonder how many pages I can manage now.
Sound the bells, ring the alarm! The truth, the truth is coming and it will prowl the streets like a lion! Beat up my children, shun my family..
No wait fail. that's a terribly convoluted quote.
-_- no moar skillz desu.
I miss firing quotes at each other before the exams. :(
PUDDIIIIIIING PANG!!!
I want to do lit againnnnnnn *whines and is annoying*
Anyway.
Shyo and I thought we finished out pairwork project.
sadly it's not to Veron's tastes / the marking scheme.
:/ We really like our final piece...
Buuuuuut Veron likes one of our 2minutesflat! experiments way better =_=
Although I suppose I'd rather she tell us, because what we need is the grade.
But meh.
So we made a ttly gay pride rainbow, 10minuteflat screenprint, which she pronounced, okay. =_=
Not quite happy with it tho.
Wanna do another tmr morn.
Anyway tried draping the one we liked best on Natsuki;
He looks like a total girl. Bahahaha XD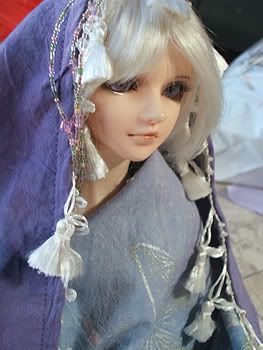 (No one believes me when I say he's a boy.
And then my maid asked me why he has a penis. SHOCKU.
And then my mom asked me where his boobs were, for the Nth time.
And then I realize I got my tenses all confused.)
Of course, I'm the one who's planning to make him a cute pink yukata and that carosel print dress that's been in my head forever.. XD
And he rly needs better hands. I wishwishwish luts hands matched. ._.;
and tabi feet would be nice. ._.
but I don't think you can put 2piece hands/feet on a body that uses 1piece hands/feet? mou.