Entries by tag:
Day 4: A habit you wish you didn't have.
I bite my nails when I'm stressed. This happens a lot especially when I'm studying. while this is okay most of the time (I guess...), some really crazy epic things have resulted from this nail biting, like
this
. Not a good habit.
I know Gwen has been "waiting impatiently" for me to blog about our day out, so here it is: I went out with Gwen on Tuesday. Then I stayed over with her. She was very irritating. The end.
LOL. Okay, okay I'll post properly once I upload all my photos! I've been really really busy nowadays, trying to rush about meeting the last few people I need to meet, buying things to stock up for Sydney and sewing as much as I can in between. I will really miss my sewing machine once I'm back in Sydney. Sigh.
Anyway, this is what I made today!

Description copied from instagram: Today I made a lined drawstring bag with sock monkey cloth! It is slightly less than 50cm long (ie it's huge) because it's a laundry bag :) for my many random sleepover/ short getaways! I find that when I bring plastic bags I get too lazy to take the clothes out of the bag D: so it's easier to throw the entire bag in and sort it later! Of course, I can do this only because I do my own laundry. *pats head
If I have the time to, I also want to make myself a monkey themed (yes, also!) toiletries pouch! The one I've been using just totally fell apart D:
2 more days to Sydney. Meep meep.
(
finally had time to fulfill my pinterest dreams
Collapse
)
I also got some totally wicked cloth and I've been thinking of starting to sell some of the things I make. Just something small like pouches etc. but I'm secretly afraid that no one would be interested? So idk. D: It really sucks to start to have an idea like this exactly 8 days before I'm due back in Sydney... I need more time in Singapore, pretty pleeeease?
Edit:
I finally got sick of the layout I was using and I changed it, but the images are now coming up ghastly and large D: Sorrzles everyone!
I did some sewing yesterday and today:

What won me Daughter of the Year.
Just a fewwwww more weeks till I go home (5 weeks and a bit!). Why yes, I posted just to show off my Mother's Day gift hehe. I spent a few months sewing it and sent it over to my mum! My parents love it. What can I say, I have a knack of being an amazing daughter~~~~ (who works hard to make sure that her family doesn't forget her!) *flips hair*
Today has been one heck of a busy 8 am to 9 pm in uni day! Shall finally sleep early and continue working hard tomorrow- Totally cannot wait for my project to be submitted so I'll FINALLY be done with it. :)
Current Mood:

chipper
I am officially proud of myself for learning how to use a sewing machine! It is actually very badly sewn, lol, but I'm glad I managed to make something that sort of looks like a skirt? I have to make my sister another one, then sew one for her friend. After that I'll start trying new things to sew! *excited*
Oh, and halfway through sewing the skirt I actually burned it with an iron. If you look closely at the photo on the top left hand corner, you can see a stripe where it got burned.
The next thing on my to-learn list is
definitely
learning how to use an iron properly. )':
I've had a very happening Saturday! Went Chinese New Year visiting with my friends. Hehe. ♥ Next week shall be extremely happening too. I'm totally going to make full use of my last month in Singapore!!!!!
Current Mood:

chipper
Say hello to Felix Softpaws. (:
Took quite awhile with his smile and his eyelashes, oh the eyelashes!!!!! but I think I managed to get it done rather decently, no? I can at least pass its wonkiness as being cute.
Haven't done any sewing at all for a million years so I decided to start with something simple before tackling my newest mission- to sew skirts for my elder sister and her friend.
This is a gift for my brother, Felix (yes srsly). Don't you think this little kitty looks a little like Felix the Cat? Hehe.
Current Mood:

chipper

Current Music:

The Ting Ting's- Great DJ
And so today I went out with my dad and I got lots of exciting things!

Glue gun plus golf tees (or whatever they are called) = whole evening burnt
(
Read more...
Collapse
)
Hi guys, after a whirlwind of events, I can finally say that I am free and have lots of time to do nothing ♥ I got back home from a crazy holiday in Hong Kong last night, and though it was extremely amazing I'm glad to finally be home, and to be able to spend time on my hobbies, which I have been deprived of the past 4 months.
Current Mood:

chipper
Current Mood:

chipper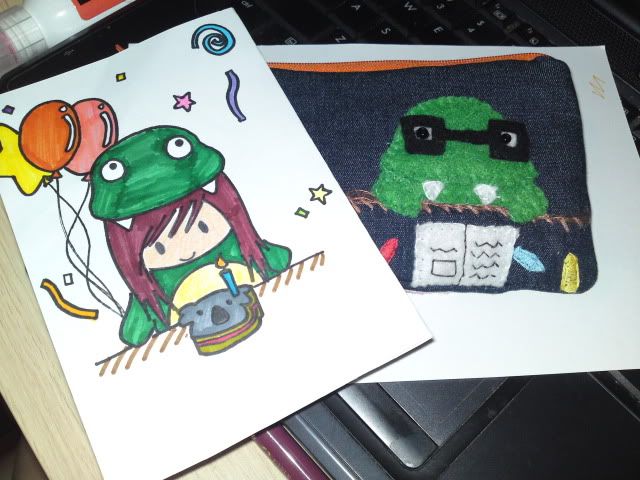 Just HAD to post photos of this cause I spent like 5 days sewing like mad, and it was so hard to sew that I actually broke a needle!!
(
Tokyo Friend Park Pencilcase
Collapse
)
Okay yes I posted specifically just to post photos of my proud work LOL. I spent a lot of time today thinking about my wife ): Our birthdays are two days apart and we made a pact to celebrate on the 27th November every year, but now that we're separated those days are no more ):
Oh it just passed 12am so
HAPPY BIRTHDAY DARLING WIFE!!! ♥
Current Mood:

chipper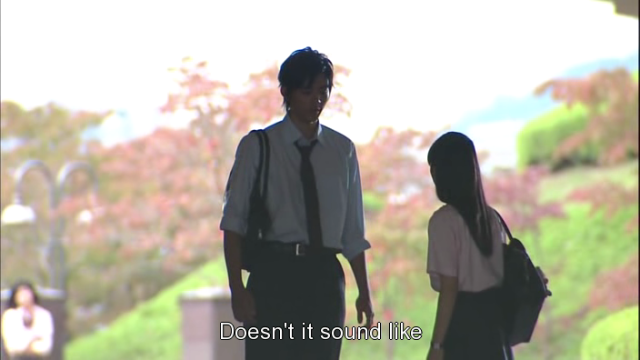 The height difference is so huge but I love the awkwardness. ♥
Shida Mirai is so pretty now ♥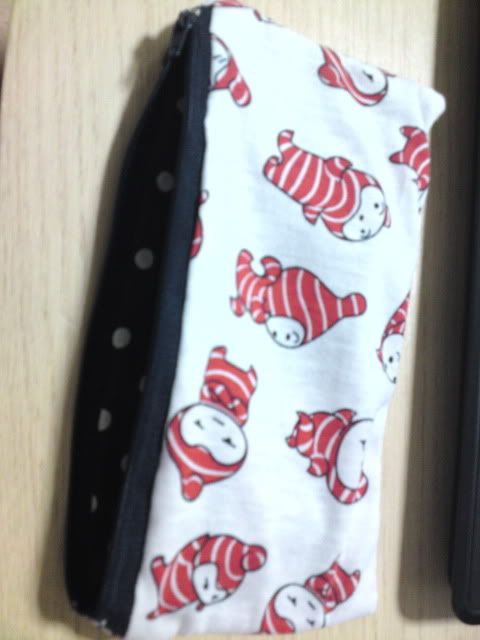 This is the pencil case I made, and the lining is black with white polka dots, I couldn't resist buying the cloth when I saw it. $1.50 for 25cm of the cutest ninja men, and I used only about 1/4 of it to make this.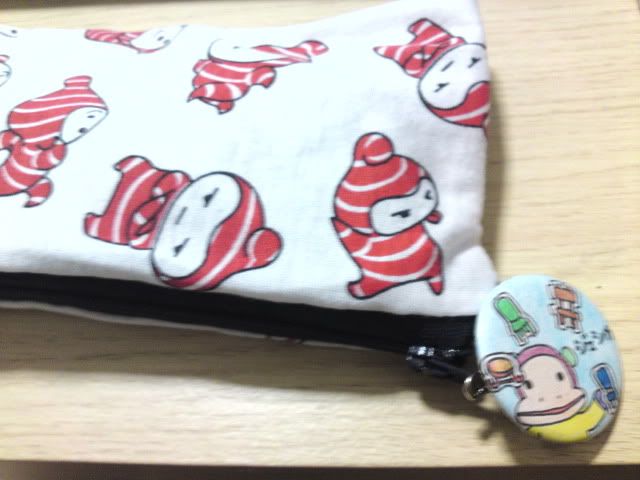 My favourite ninja is the one with the tongue sticking out! Adorbszx
Back to back tuitions, and when I'm back I shall start on the next episode of YY Jumping. I hope the file can be converted properly...
Current Mood:

weird

Sewed a really cushy pouch for my dictionary! It's really cushy cause I overdosed on the stuffing. I was this close to sewing branches and attaching sequins to make a sakura tree type of thing, but meh, I got lazy.
I spent many many hours doing this, I have no idea why! The design is simple enough, and even though it has checkered cloth as lining that didn't take long to make either. Anywaaay my dictionary is so shiny *O* I really love using her kekeke. Yes, she's a girl! (:
(
plus photos from the Charlie St. Cloud day
Collapse
)
Oh, and my dad sent the whole family a real cute text in the morning: "Am going home now. Hooray" HAHAHAHA omg my mum and dad are so cute ;__;
My mum is so cute she calls money Vitamin M hehehe and she still gives me money though I'm giving tuition 'cause it's my hard earned money hahaha. Make me wonder why she didn't give me money when I was working more hours + earning less when I was working as a factory assembly line worker. O_O
Current Mood:

chipper