Entries by tag:
♥
Because he is made of pure awesome. ♥♥
Okay e-learning has been well... not too bad. I woke up at 1pm and stopped e-learning at 4.20pm. Now I feel bad so I'm attempting to revise Biology a little. Haha.
The weekend has been great. I went for 2 concerts. One with
smileyphase
and
thevapour
, the other with the whole tkclan. I think we took a whole lot of photos, which is why I havent gotten any of them. Haha. I shall talk about their awesomeness and how much I love them some time later.
(
Read more...
Collapse
)
Typing all of these out feels very, very good.
Current Mood:

thoughtful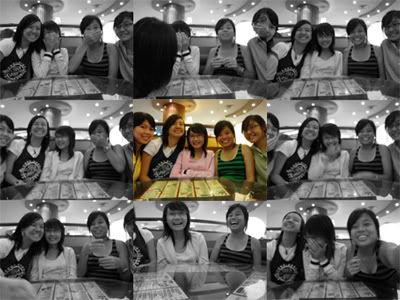 Trying to trick the camera's smile detector thingy by covering our mouths. ♥
Funny how it's been more than 7 months since we were all in the same class together, but everything still remains the same. Yesterday I went out with my girlfriends to eat/catch up on our lives.
Every single time after I meet up with all of them, I go back to my new school, and look at everything that's in my life right now. And I can honestly say that all of it. sucks. I am just being stupid, I know, but nothing can ever match up to what I had in the past. Maybe I am just not allowing it to happen, not showing others who I really am. But whatever the case is, no matter how much I laugh and smile in school, I am slowly dying inside. ):
Tomorrow will be a better day, right?
You know what, I'm going to watch gokusen3 right now, and I'm going to feel so much better. (is it just me or does everyone else think that Miura Haruma's deep voice is extremely hot? ♥)
Current Mood:

chipper
From
goldpaperclips
If you read this, if your eyes are passing over this right now, even if we don't speak often, please post a comment with a memory of you and me. It can be anything you want - good or bad. Comment and I'll:
1. Tell you why I friended you. (You can comment even if you're not my friend on LJ)
2. Associate you with something - random, a song, a colour, a photo, etc.
3. Tell you something I like about you.
4. Tell you a memory I have of you.
5. Ask something I've always wanted to ask.
6. In return, you must post this in your LJ.
-----
♥
Current Mood:

chipper