| | | | | |
| --- | --- | --- | --- | --- |
| [ | mood | | | curious | ] |
see that userpic? I have plans for it, yo. there are many ideas - including some fantastic stencil designs - but for now I'm looking for a good technique for drawing high-contrast, outsized teeth in that hole. pointed or not, either is good in its own unique way.

otherwise, I have been to the London and the British Museum therein. and now I bring you the pictures I could be bothered to resize and compress and upload. hold on to your hats...



some fantastic glyphery from one of the assorted middle-american civilisations. I love this stuff. I'm looking for translatable stuff at the moment for my own nefarious purposes.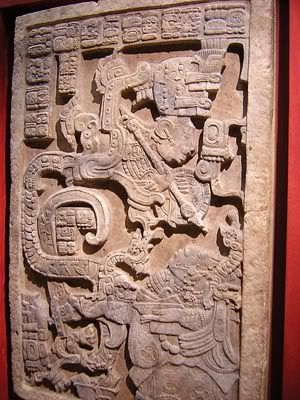 more, and with illustrations and everything. a beautifully lit section for these, but people kept setting of the alarm by leaning too close to them and it got on my nerves, so I left sooner than I might have.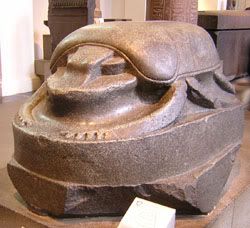 a scarab. a bloody huge scarab. about 1 and a half metres long, all black and shiny. I want one as a coffee table, with little ones as footstools, or low seats.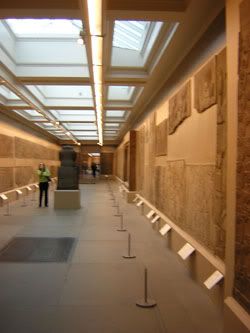 one of the truly wonderful galleries of Mesopatamian reliefs (most of the pictures I took in them were a bit iffy, so you might see them if I spend time tweaking, but not before). there were three of them, all in a line. person in green top is american with camera. not pictured: her mardy daughter. dear god, I wanted to hurt the little cow. I can sympathise with bored teenagers, but not when you're in a long gallery with walls covered in ancient pictures of hawk-headed gods, battles, sea creatures, incredible beards and some of the most impressive calf muscles you'll ever see. and most of them at least half-covered in cuneiform. wonderful, I tell you.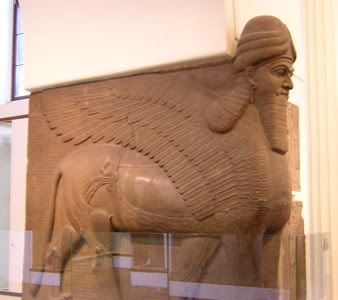 and I love these. who doesn't? the one with the roaring lion's head was incredible, but also very blurry.

I felt a bit let down there wasn't any fudge in the shape of a winged bull. they had the most massive gift shop (well, shops), but hardly a novelty sweet to be found. that is no way to run a museum.