Sep. 3rd, 2009 08:33 am What is that smell?

Well living in my apartment for a year now I have noticed it's random smells but today I decided to write about it.
I got back home about 8am and I was walking down my hall.
It smelled of fabric softener and some type of food.
It wasn't Indian, Chinese, Italian, or Latino. It just reeked. Wowie!!

But I guess that is what happens when you live in an apartment.

I am thinking about starting a new Livejournal blog. It's gonna be about me writting my book.
Yes I have recently decided to start my writting career. I am hoping that I will get some help from people on here. If not that's ok. But here goes nothing.

Current Location: Maryland
Current Mood:
dorky
Current Music: The sound of the air conditioner


2 comments - Leave a comment
Sep. 1st, 2009 10:53 am Writer's Block: As the Cookie Crumbles

"WHAT'S THAT BEHIND YOU???"


I would like that one. I would love to see who would look.

Current Location: in the living room in my apartment
Current Mood:
bored
Current Music: Will and Grace theme song

Leave a comment
Aug. 3rd, 2009 03:02 pm Writer's Block: Do Not Open Until 2059

If you were to make a time capsule today to be opened in 50 years, what would you put in it?



Well since I just saw the movie "The Knowing" yesterday, with Nicholas Cage, it is a little odd for me to read the writers block.

I am not really sure what I would put into the capsule.
I mean there is one thing I guess I could put in there that was interesting to me.
My movie ticket collection. I have tried to keep as many movie tickets that I can over the years.
Maybe my journal that I kept in High School also. That way they could see how it was for me in High School and read about Sept 11, 2001.

Current Location: My apartment living room
Current Mood:
geeky
Current Music: Nothing Left To Loose ~ Mat Kearney

Leave a comment
Mar. 5th, 2008 02:28 pm I feel crazy!

I didn't realize how difficult it was to work in a school system. I mean I have heard rumors and I have worked with children before but I feel like everything is crazy as hell.

Teachers are nothing but dramatic to me. Ever since I was in school I thought they were dramatic even. But the parents have gotten worse over time as well and I feel like going insane.

Parents are wanting so much from the kids in my school but don't want to make the time and effort to do it or are OVERLY expecting too much from their kids that the kids seem like they are failing, which they aren't.

This week has been nothing but stressful for me let alone my co-workers (the ones I like that actually do there job). Besides the fact that my kids lost their special education teacher to the pregnancy outbreak in the school. There are atleast 6 teachers that left at basically the same time because they had their's at the same time. Hopefully there will be no more until later. Maybe they can have the rest during summer. lol

Well I vented a little bit but I have to get back to watching the little Girl I watch after school.

Pray for me please!!!! I might need it!!!

~*Peace Out*~

Current Location: Work a.k.a. Elementary school computer.
Current Mood:
frustrated
Current Music: summer of '69 ~ Bryan Adams

Leave a comment
Jan. 6th, 2008 05:05 pm Goals?

Today I went to church like I do on ocassion and the message today was about our life Goals. Pastor Mark wants all of us to start making goals for ourselves because our minds crave it.

I have had a list of my life goals before but unfortunatly that list is now gone thanks to my brother for getting a virus on my laptop. I can't remember exactly everything on the list but I am sure I still want most of the goals that are on the list.

I am taking my time to think of all goals that I would like to do in life. I will have to get a new journal/notebook to write some of my ideas down and get started on some of these goals.

Pastor Mark started talking about this man who is 74 years old and is still working on all of his "interesting" goals. I put it here so people can see it.
I will have more about my goals later on this week.
Take care all!
~`*PEACE OUT*`~



Current Location: New Home~ in the Family Room
Current Mood:
accomplished
Current Music: the t.v.

Leave a comment
Oct. 8th, 2007 05:57 am grrr!!!

My mom is driving me insane.
She has been nothing but byist this past week.
Not just towards random strangers but also her family as well and it is pissing me off.

ugh!!
I will have more details later. Too fuming mad to type.

peace out

Current Location: in spinning chair
Current Mood:
aggravated
Current Music: Because of you ~ Reba McEntire and Kelly Clarkson

Leave a comment
Oct. 1st, 2007 12:12 pm New!!

Well life is starting to change slowly.
I have a new job working at Beltsville Elementary school.
I kinda quit working for starbucks. I will get more into that topic later.
basically life is good.
Let's see if I can keep this up.

Current Mood:
hot
Current Music: Ass like that ~ Eminem


2 comments - Leave a comment
Aug. 18th, 2007 01:02 pm Writer's Block: Trading Spaces

If you could be another person for a day, who would it be and why?


I would be my boyfriend JT. I would stay at Kenny's house and not leave until morning so I knew I had enough sleep to drive my truck and make it home the next day instead of being in that accident and not making it through.

I miss him so much.

Current Location: on my bed
Current Mood:
crappy
Current Music: The one I love ~ R.E.M. (on radio)


4 comments - Leave a comment
Aug. 12th, 2007 10:28 pm Rest in Peace JT. I Love You.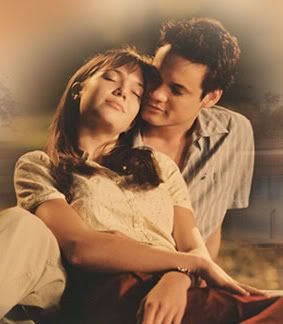 "A Walk to Remember" 2002
I might just being getting this but I have started to notice that all this time there was so many different stories of loss and heart ache.
It's just that when the movies do it your just not feeling the full pain.
I mean you can pretty much get the idea but you never really fully understand.
Well as most of you know I know what it's like now to loose someone that means so much to you and has changed your life. You just don't know how to go on without them but you learn how to deal and move on.




"Deeply" 2000


I am moving along slowly as most of you have seen and I am trying my damndest not to just fall apart or break down in front of everyone. I hate people seeing me cry or loose self control over emotions. I usually run to the bathroom or to a room where I know no one will be and cry. Then I lift myself up, put my chin up, wipe my face and get back to what I was doing.




"Ghost" 1990
Keeping busy with work or friends is my number one prioity right now because it distracts me. From this I have been doing alot better and thanks to them, aka friends and family I am slowly but surely getting my life back together again after this huge crash. But because of this crash and him (JT) I am stronger and trying to live my life to the fullest. I know that sounds like a line from a movie but it is so true. I want to do things that will make me feel like I am moving on and doing things that challenge me to make life better and make life great. And because of JT I am gonna do what he told me when were talking about his brother . . .
"when i talk about my brother it makes me remember all the fun times we had together."
Current Location: in my room
Current Mood:
sad
Current Music: It's not over

Leave a comment
Jun. 10th, 2007 01:30 am I feel more settled.

I have been feeling more settled now that I have taken the Health test for me to get my Health Department license.
I just took it yesterday and I will be receiving my results in the mail. I sure hope I passed it. Everyone tells me I did but the questions were very tricky and I might have to go back and take it all over again.
I have to make at least an 80% to get my license.
Now that that is all over. I can finally relax and spend some time with my boyfriend.

Current Location: living room
Current Mood:
calm
Current Music: I think I'm paranoid~Garbage


2 comments - Leave a comment